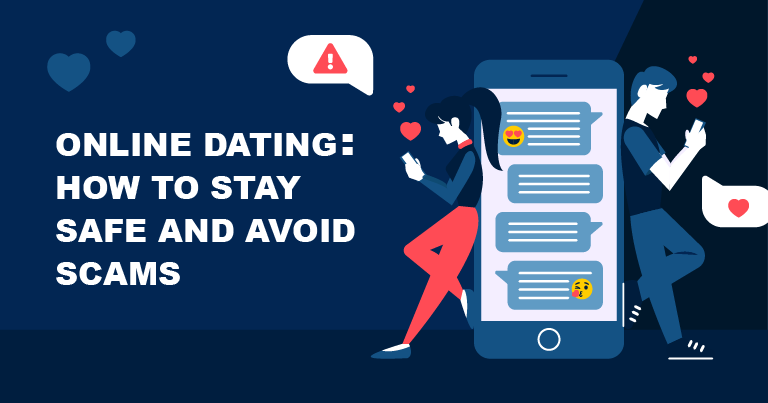 Online Dating Safety and Security 2021
Online dating is a recent phenomenon of the internet age, and while you can have plenty of positive experiences - these platforms are not without their fair share of risks. This is our guide to online dating safety and security.
I'm sure, like many of us, you have been on a date that's gone horribly wrong. I suppose you are probably wondering: 'Just how wrong can online dating go?'
That's a good question. When we're sat behind a screen it's easy to feel a false sense of security when we speak to people online. After all, they don't know your full name or location, and there's a physical distance between you and the person you're speaking to.
In reality, if you tell people the wrong information online you can put yourself in serious danger. Online harassers, stalkers, fraudsters, scammers, and abusers could do you harm without ever even meeting you, and these issues can easily spill over into everyday life.
Your data is not always safe at big online dating corporations, either. So before you head blindly into the world of online dating, read this article first. It might just save you a considerable amount of time.
5 Quick Facts About Online Dating and its Risks
Tinder is the most popular dating app amongst millennials and the highest-grossing non-game app in the world.
Over 30% of Americans use dating apps, with the number increasing every year.
In Australia, Romantic and Dating Scams are the 2nd most costly scams in 2020, after investment scams. Australians have lost AU$28.9 million this year.
More than half of women using dating apps have been sent sexually explicit images and texts without giving consent.
At least 3,000 porn websites have dedicated 'revenge porn' categories for videos uploaded by their users.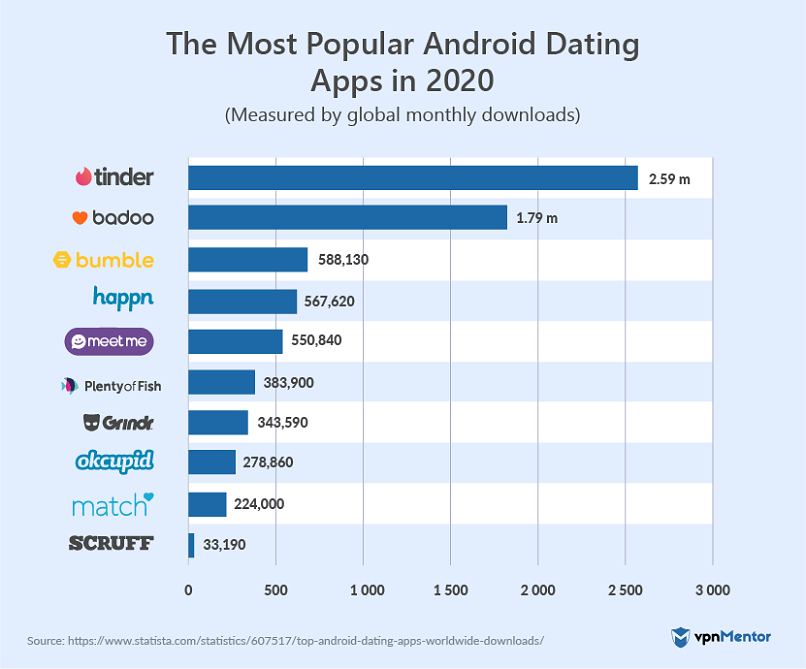 The Biggest Risks of Online Dating
Believe it or not, online dating can be a risky business.
We've all heard horror stories from friends (the type that will make the hairs on the back of your neck stand up), but, in reality, what are the most common risks we can face when looking for love online?
Fraud, catfishing, harassment, abuse, and data leaks are just some of the obvious threats. No one ever said love was easy, but with a better knowledge of the risks of online dating, we can make it less dangerous.
Online Risks
Fraud and scams from fake dating websites.
There are 1,000s of fake dating websites around the world, scamming lonely people through blackmail, fraud, and much more.
Catfishing and fake profiles.
Fake and dishonest accounts are a huge issue, even on real dating sites. They can trick people into sharing private information, sending money, or sharing sexual imagery later used in blackmail and extortion schemes.
Stalking, harassment, abuse.
Stalking and harassment have been issues long before dating went online. They're probably as old as dating itself. But technology has made it easier and easier to become a victim.
A potential stalker can quickly access your social media and follow your entire life online. They can do it anonymously. And never even have to leave their home.
Revenge porn and image-based abuse.
Despite progress towards making revenge porn illegal, this type of abuse continues to be a major issue. Women, in particular, are vulnerable and must take precautions so they are not victimized by having private images released by ex-partners, hackers, and people they meet online.
Unwanted and negative attention on social media.
Even with all the dating sites and apps in the world, many people still insist on using social media like Facebook and Instagram to solicit sex and relationships.
Real Life Risks
Stalking, harassment, abuse.
These aren't just issues online. Many people report being harassed in real life by people they've met online.
Potential stalkers have access to your social life (Facebook, Instagram, etc.), your work (Linkedin), your contact information (phone number, email address, home address, etc.) and exploit it all to make your life miserable.
Infidelity and cheating.
Sadly, a huge portion of people on dating sites are already in relationships - even married. This can affect spouses, families, and people who get drawn into unneeded drama. Of course, this has always been an issue. But dating apps make cheating much easier, reducing the risk of getting caught, and allowing potential cheaters to meet people far outside their normal social or professional circles.
Safety on Dates.
There is always a small risk when going on dates, but these are elevated when meeting someone from a dating app. It will usually be your first time together and you can easily misjudge someone's character online.
Data Leaks and Breaches
You can take all the appropriate precautions and still have your life put in jeopardy.
Dating sites and apps are constantly targeted by hackers hoping to steal sensitive data from users. They're also notoriously bad at protecting user data and constantly suffer data leaks.
While you can't control how a company or app stores your data, you can take steps to reduce the harm of any data leak that originates from an app you use.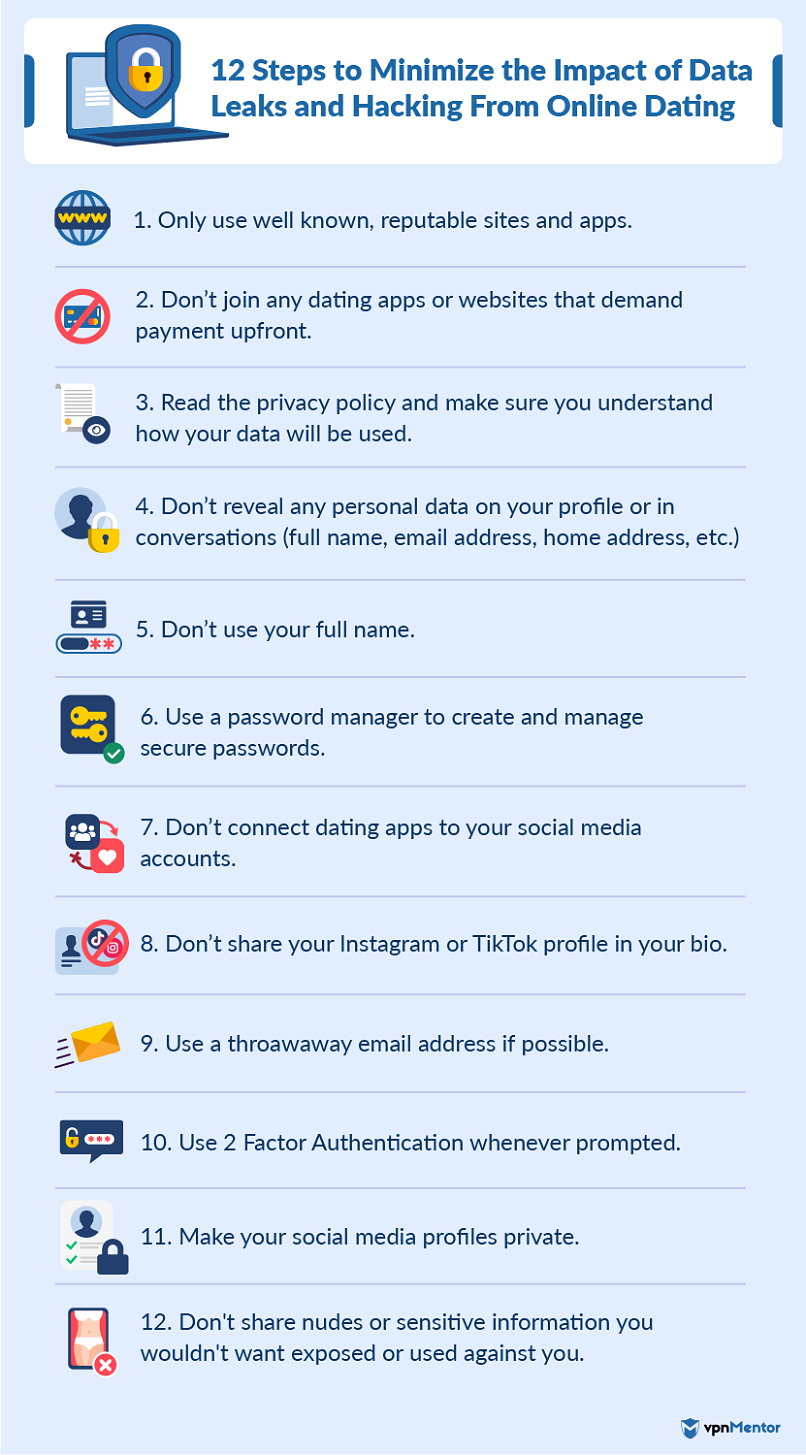 6 Quick Steps to Staying Safe with Dating Online
Only use well-known, reputable dating sites: OKCupid, Tinder, Badoo, Match, Bumble, and many more. If you've never heard of a dating site from friends before signing up, it's probably risky.
Never reveal personal information that can be used to identify you on Social media and in real life. Never reveal details about your work or home that could be used to locate either.
Know your rights. Don't be afraid to report people for harassment, abuse, and threatening or inappropriate behavior. Every app and social network has support for blocking and reporting other users.
When meeting someone from a dating site in person, take steps to ensure your safety for the entire date. Tell your friends about the date, only meet in public places, don't let them pick you up at home.
When sexting and sharing intimate photos and videos, make sure they can't be used against you in the future. Use apps that automatically delete images you send so the receiver can't keep them.
Do background checks for matches before meeting. Ask your friends if they've matched with a potential date in the past. Do a quick search on Google and social media to see if any red flags appear.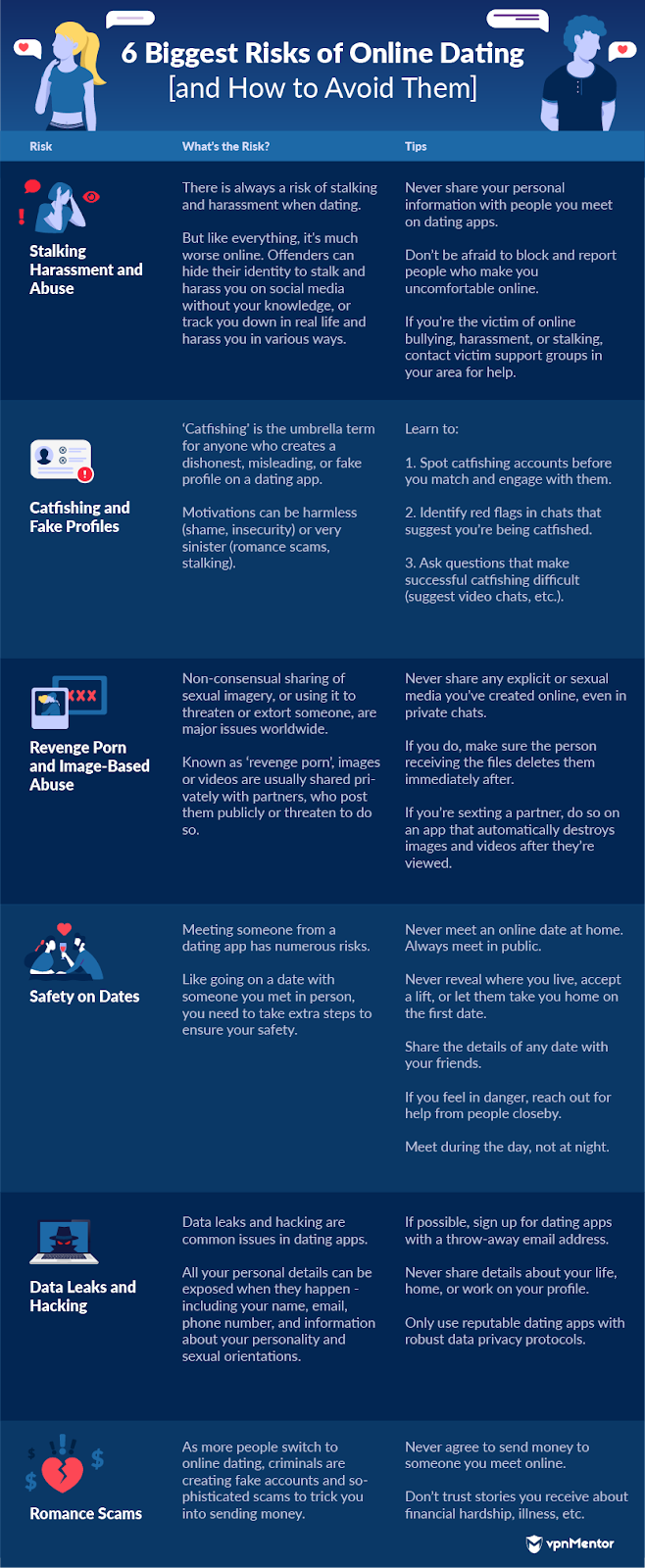 Online Risks
Now you've had an overview of the biggest risks of online dating, let's take a closer look at each online risk.
How can you spot them? How can you avoid them? What should you do if one happens to you? And what does the law say about certain online risks?
We'll cover those overtly obvious issues, like harassment and fraud, along with risks that perhaps you are not quite so clued-up on, like revenge porn or unwanted social media attention.
Fraud and Scam Dating Websites
While most dating websites and apps are legitimate and trustworthy, like everything on the internet, there are plenty of bad actors using the space for fraud and all manner of illegal activities.
Fraudulent online dating websites will pose as a lawful business. They will try to collect your personal data or credit card details, and they may even scam you out of money with sign-up fees and phony charges.
Online dating scams abuse people's trust and exploit their loneliness to trick them into handing over large sums of money, or blackmailing them with embarrassing photos.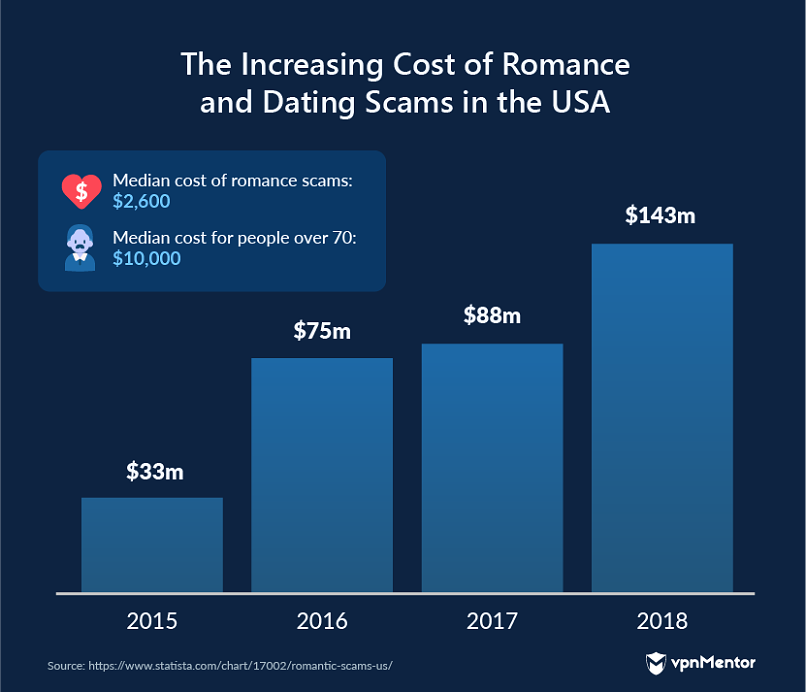 Often, these websites appeal to specific niches, where they think people will be loneliest and most vulnerable for exploitation.
How to Spot Scam Dating Sites and Apps
Fraudulent sites often have a few glaring characteristics. Whenever you try out a new dating site or app, you should be alert to any warning signs that suggest the business is fake.
So, what exactly should we be looking for?
The website uses stock images.
Scam dating sites probably don't have legitimate users, so they rely on stock images of models from websites like Shutterstock and iStock to fool people.
Such images are usually incredibly glossy, with beautiful people photographed to perfection.
Basically, they're too good to be true.
If you think a website is using stock images, do a reverse Google image search to see where the image originates from.
The website asks for too much personal information.
You need to submit various personal details when signing up for an online dating service to build your profile, but if the site is asking for too much information, it could be illegitimate.
Basic information and preferences are fine, but no site should ask questions about your finances, banking passwords/security answers, or your social security number.
These details can be used for identity theft and fraud. Be wary of sites that offer rewards for data/personal information, too.
The website or app requires payment upfront.
Scam dating websites usually have one objective: convincing you to pay or provide credit card details.
They generally won't let you take any action - including signing up - without paying a small sum and sharing your credit card details in the process.
Most legitimate websites allow you to take limited actions before requesting payment. At the very least, you should be able to join the site and look around before you're asked to pay anything.
Bad reviews.
Of course, the easiest way to find out if a website is scamming people is by reading reviews. In theory, this will help you avoid any dishonest or fraudulent dating sites.
However, due to the nature of these sites, many people may be too embarrassed to publicly reveal they signed up and were scammed. Meanwhile, anonymous review websites could be full of fake reviews submitted by the sites themselves.
Ashley Madison is known for building fake review websites criticizing Ashley Madison for being unethical, but still enticing people to sign up.
If you only see bad reviews, anonymous positive reviews, or no reviews at all - it's probably a scam and best avoided.
The website is based 'offshore'.
If somebody is trying to scam you, they're probably based somewhere secretive and located far away from international authorities.
Check the website's privacy policy. If it's based in the British Virgin Islands, Panama, Cyprus, or similarly shady countries, it's probably doing something unethical.
Stay away.
Promises to match men with young women from developing countries.
There's a lot of websites out there, promising to connect successful men with beautiful young women from exotic places like Brazil, Vietnam, China, and Mexico.
Most of these sites provide very little information about how you're going to meet women living 1,000s of miles away. They also require that you pay upfront to use their services.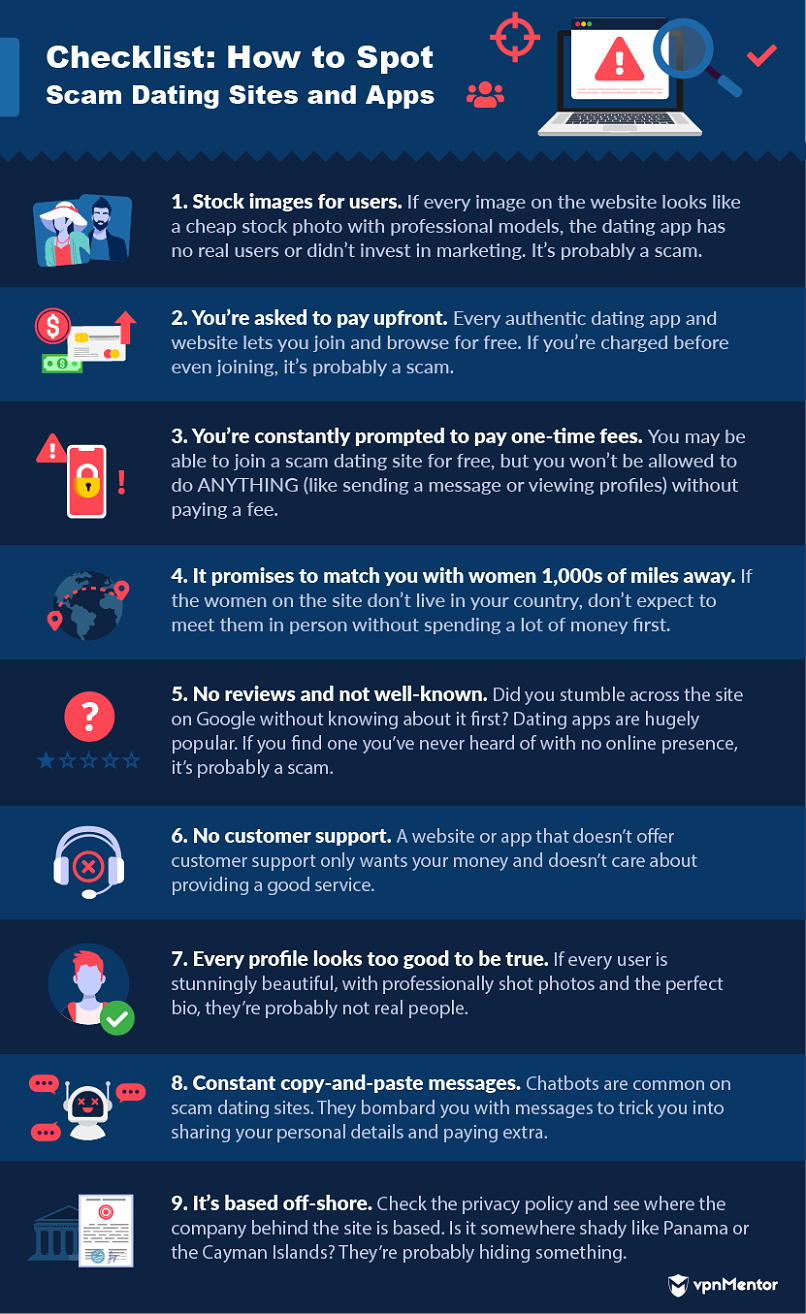 Catfishing and Dishonest or Fake Profiles
Catfishing is a popular term for anyone who creates a fake online profile and persona, in the hopes of tricking people into engaging and starting relationships with them.
People create catfish profiles for a wide range of reasons. Many people are simply insecure and don't feel comfortable revealing their true identity, so they create false personas to hide behind.
Unfortunately, catfishing cases are often motivated by more sinister intentions.
Dating apps are full of fake or exaggerated profiles created with criminal intentions: tricking people into sharing money, ensnaring them in blackmail schemes, and targeting them for romance and sextortion scams.
People catfishing with criminal intent often steal photos and bios from real profiles, tricking people with a believable online persona. They then manipulate victims, prey on their vulnerabilities, and exploit their insecurities and emotional needs - often for months.
Eventually, when enough trust is built up, the scam kicks in. You're asked to send money for help. Or you start sexting, sharing explicit messages that are used to blackmail or extort you.
The consequences can be devastating. Most people only discover they've been catfished when it's much too late.
The problem is especially prevalent on online dating sites. 10% of all accounts on these platforms are fake profiles used by scammers.
There's a high chance you've already had a conversation with a catfish, so we must know how to protect ourselves. The best way to avoid falling victim is learning to identify catfishes before they get their claws into you.
How to Spot Catfish and Fake Accounts
Look out for these red flags when dating online and stay away from catfishes.
A single profile pic.
Most people on dating apps and sites these days put at least a little effort into their photos.
If someone has only uploaded a single photo, they're probably not interested in making real connections.
No photo revealing their face.
If the person who made the profile doesn't want you to see their face, they're probably hiding something.
Catfish accounts can be run by anyone, male or female. By hiding their face, they can reduce the risk of getting caught by victims before meeting up.
The profile is too good to be true.
At the other end of the spectrum, if a profile is TOO good, with beautiful, professional photos and a bio to match, be cautious.
Almost everyone lies on their dating profiles, but a catfish takes that to the extreme. They often use stock photos or steal images from real social media profiles.
They may target people with specific tastes, desires, hobbies, or kinks by creating a persona tailored to a small group of people who may otherwise struggle to find matches.
If you look at a profile and it ticks every box, make sure you verify it's real before getting too involved.
One-word answers and bad grammar.
If the person you're chatting with constantly gives short, clipped answers with bad grammar and spelling, they may be managing the account from a foreign country.
They could also be running numerous chats or profiles at once, sending out rushed messages until they know you're hooked.
Probe them with some questions about where they're living, and find a polite way to ask about their language issues. That might be enough to scare a catfish away.
They deflect or ignore suggestions to meet in person.
A catfish is usually trying to trick you in some way.
Their end goal might be financial, or they may plan on manipulating you in another way.
Regardless of their intent, meeting in person will jeopardize whatever scheme they're planning. They will try to keep a conversation going and avoid any attempt to meet for as long as possible. You'll be offered plenty of excuses, and they may even use it to gain sympathy, claiming that personal issues are the reason why meeting up isn't possible.
They don't share personal details.
If someone is catfishing you with a fake profile, and they've made most of their bio up, they won't want to reveal anything that could get them caught.
They'll speak vaguely about friends, jobs, and family, and will always try to steer the conversation to other topics.
They include contact info in the app (like phone numbers).
If a profile has been set up for some kind of scam, they won't mind sharing private contact details like phone numbers.
Most people keep this information hidden for obvious privacy reasons, but a catfish or scam account may want you to move off the app ASAP.
They ask for money or some kind of help.
It will probably only happen after a lot of conversation, but for many people catfishing, money is the end goal.
No matter how strong your connection is with someone, if they're asking you for money before you've even met, this has most likely been their goal all along.
They immediately suggest 'hooking up'.
Hooking up is often a euphemism for sex work.
Even if it's not, if someone immediately suggests sex, they're probably bad news for you anyway. Avoiding them would be the best course of action.
They ask for nude or sexual images.
Blackmail is a common tactic when scamming people on dating sites.
Remember, just because someone sends you nudes, doesn't mean they are legitimate. They could easily be stolen or altered from a real profile, or simply found online.
If you're asked to share or swap any explicit images or information with someone you meet online, consider how they could use this against you in the future.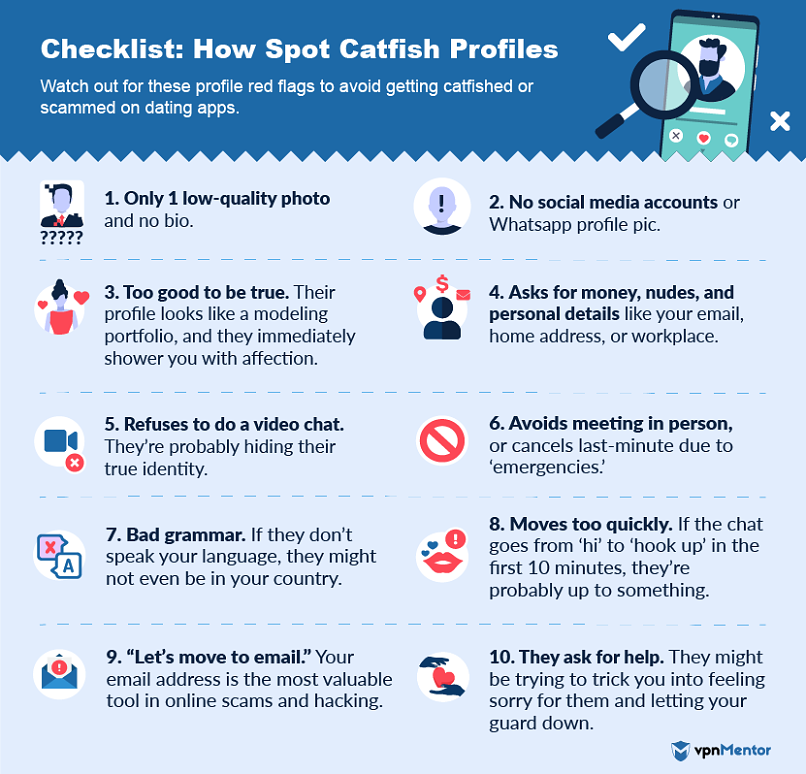 Stalking, Harassment, and Abuse (Online)
Online stalking, harassment, and abuse are three huge issues. 1 in 4 women claim to have been victims of online stalking or harassment, and dating apps provide harassers with the perfect platform to launch these attacks.
Harassment, in a broader sense of the word, is any behavior from another person that is unwanted, as it causes you to feel humiliated, distressed, or intimidated.
Harassment goes hand-in-hand with abuse, which describes any improper treatment from another individual with bad intentions. Abuse is unjust, wrongful, and malicious. The difference between the two is that harassment is persistent abuse, whereas abuse can be a one-off event. 'Online harassment and abuse' defines the application of these practices through the internet.
Unwanted sexual advances, unwelcome sexual images (such as 'dick pics'), reputational slander, and general threats (including sexist comments) are just a few forms of harassment and abuse that can occur on dating apps and sites.
Harassment and abuse can begin on dating sites and worryingly spread to persistent attacks across different channels of communication. This is called 'cross-platform' harassment.
In this sense, harassment can easily become a form of stalking.
Stalking is when someone persistently targets another person with obsessive behavior. Stalking intrudes on the personal life of the victim and can cause distress and fear of violence to the person who is targeted by a stalker.
Stalking is a form of harassment. Cyberstalking describes these intrusive behaviors when exerted through social media platforms and online communications.
Stalkers could obsess over a victim's online content, or constantly visit their address on Google Maps. Stalkers might look for geotags to find out a person's location, or even hijack webcams to monitor people they have met online.
Stalkers may pursue online daters because they desperately seek a romantic connection, or because they have some delusional attachment to the victim. Hate and intolerance can be another cause for harassment in general.
Altogether, these forms of abuse can cause significant mental torment for victims, and if the harassers have enough information, the threat of harassers finding victims in real life is significant.
It's therefore important we know how to protect ourselves from these risks.
How to Protect Yourself from Online Stalking and Harassment
Many people are too relaxed with the information they post on their social media accounts, and if a person doesn't have security settings on their account, they can be vulnerable to harassment and stalking.
It's for this reason that we must take steps to safeguard ourselves, by safeguarding our personal information. When using dating apps, preventing risks should be at the forefront of our minds. Here are some things you can do to secure your content, and protect yourself from stalking and harassment in the world of online dating.
When speaking to someone new online, keep personal information (like your last name or address) to yourself until you can definitely trust them.
Stay vigilant - suspect anyone who pushes you for personal information.
Restrict social media posts so that only trusted people can view your content.
Be careful about linking social media accounts to dating sites.
Make sure your router is secured.
Disable geolocation and geotagging on your social media accounts.
Install anti-spyware, anti-virus, or anti-malware programs, as some harassers use malicious software to continue their abuse.
Password protect all of your accounts with a strong password (one that combines numbers, symbols, and letters). Never give these passwords to someone you're speaking to.
Update passwords regularly.
Never open attachments from people you don't know.
Be careful with what you say online. Flirting with someone you don't know could result in stalking or harassment down the line.
Make sure policies around stalking and harassment on dating sites/apps are satisfactory.
Turn off your phone's GPS if people have access to your phone number. Stalkers can find you with these details.
Set up a dedicated email for online dating services, instead of using your personal email.
Google yourself to monitor your 'online footprint.'
Use software that tracks who views your content, or website (if you own one).
Taking these steps to prevent incidents is all well and good, but you cannot completely negate the chance of online harassment, abuse, and stalking.
If you are already under attack from online harassers, here's what you should do:
Be assertive. Harassers prey on shame and vulnerability. Deny them of that satisfaction, and they may just leave you alone. Voice your desire for them to stop what they're doing, and don't concede to their demands.
Ignore them wherever you can. Do not feed their objectives with your energy.
Change your passwords, account securities, and generally implement all of the preventative measures above.
Gather evidence of their communications, taking screenshots or saving messages, and log everything that you collect. Make sure these records are non-computerized, you can use them if any case goes to court.
Stop using your device if you have any reason to believe the harasser has hacked it. Take your device to a professional to check it over.
Block them on dating apps/sites and across other communications through which you are being harassed.
Report the harasser to regulators of the apps or social media sites that they attack you through. Report the harasser to your local police force, too.
Revenge porn and image-based abuse
Revenge porn and image-based abuse describe a situation where a person's private sexual imagery or materials, (which can be photos, videos, or text messages) are shared without that person's consent.
Sexual materials can be shared electronically or uploaded to the internet, either onto social media, pornographic websites, or other forums and websites. 'Sexual materials' are any images that show sexual organs, a sexual behavior or act, or even something as simple as a provocative pose.
Often sexual images are posted by an ex-lover of the victim, either as a spiteful act or out of jealousy and anger. The images are posted as a form of 'revenge.' Hackers or online recipients may also disseminate someone's sexual content.
Sexual images are private and highly sensitive to the victim. They are often sent to a single person. Once these images are circulating in the public, the victim of revenge porn or image-abuse is no longer in control of their content. This can have devastating effects.
The victim's trust in the other person has been violated, and they are likely to feel embarrassed that their private life is out in the open. The victim will come under scrutiny and malicious shaming from the public, or even their friends and family.
The victim may suffer mental trauma and this type of abuse can have long-term effects. Victims could lose their job, and even struggle to find work in the future because of their damaged reputation.
Women are targeted by revenge porn with alarming regularity. 3 out of every 4 revenge porn victims are female, research shows, while 9 in 10 of these women suffer intimate image abuse.
When sending sexually explicit imagery, things often don't go according to plan. 32% of people who were pressured into producing sexual imagery say something went wrong, like an image was distributed without their approval. This shows how important it is to trust the person you send sexual images to.
Despite progress from activists around the world, the scourge of revenge porn is actually getting worse.
While some countries have criminalized acts of revenge porn, image-based abuse, and non-consensual porn, reported cases have steadily increased over the years.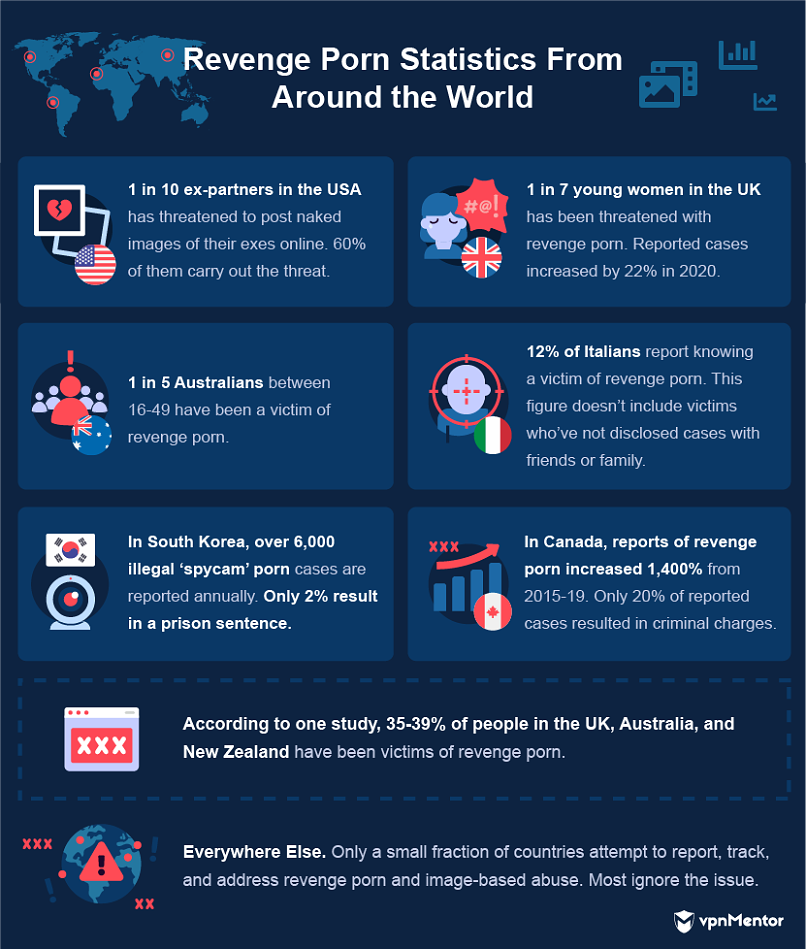 While there's evidence that more victims of revenge porn now feel comfortable reporting when they've been threatened, it's also clear more people are resorting to revenge porn as a form of abuse and harassment.
High-profile cases of revenge porn and image-based abuse over the years show how widespread the issue is, the entitlement offenders feel sharing it, and how it can affect just about anyone.
In 2019, US politician Katie Hill was forced to resign after somebody leaked nude photos to the press that revealed she may have had an affair with members of her staff.
In 2016, Lastonia Leviston successfully sued rapper 50 Cent for $5 million after he bought a tape of her having sex with an ex-partner, added commentary and a soundtrack, and published it on his website.
In 2014, over 50 female celebrities were targeted by hackers who stole and leaked private photos from women's iCloud accounts. The photos consisted mostly of nudes and sexually explicit selfies.
These are just three high-profile cases of well-known women that have garnered attention in the press.
Tens of thousands of cases go unreported every year all over the world.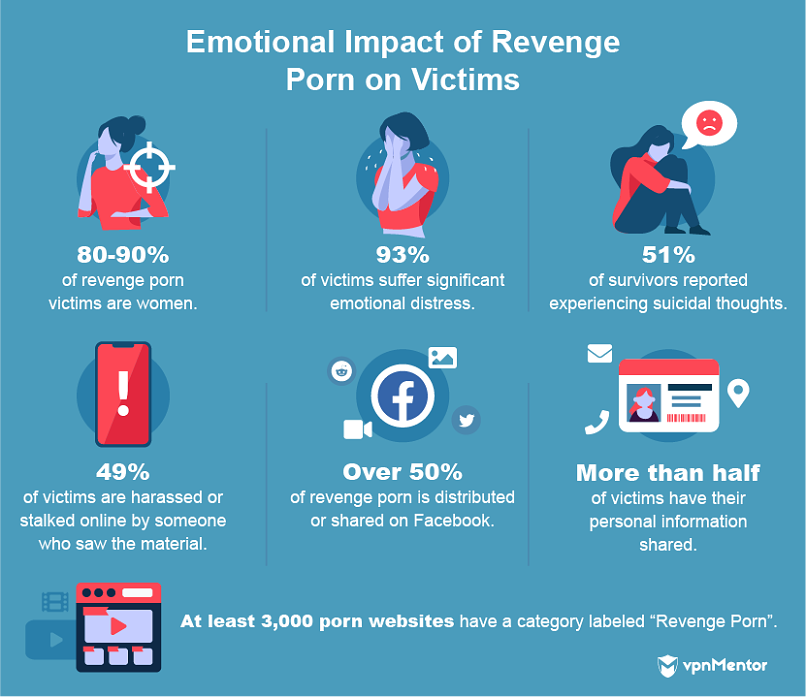 How to Stay Safe From Revenge Porn and Other Forms of Image-based Abuse
The best way to avoid becoming a victim of revenge porn is by preventing anyone from obtaining your compromising images or videos and using them against you.
There's nothing wrong or shameful about sexting and sharing intimate pictures or videos with your partners. But once something is leaked or shared online, it's almost impossible to make it disappear.
Follow these steps when sharing something intimate so you never have to worry or regret it in the future.
Don't show your face or any other identifying features.
Come up with creative angles so you can never be identified.
If you have any tattoos, piercings, or birthmarks, this might prove difficult to achieve, so bear that in mind before sending anything.
2. Make your photos self-destruct.
The Disckreet app was built specifically for safe sexting. It's unique for enabling you to delete your photos, videos, and messages from the device you sent them to. Meanwhile, your partner needs your explicit permission to view anything you send
Finally, if your partner tries screenshotting anything you sent, you'll be notified by the app.
Similarly, Snapchat, Telegram, and Confide alert you whenever someone takes a screenshot of something you've shared or sent privately. However, plenty of forums show ways around these features.
If someone on Snapchat, Telegram, or Confide is determined to break your trust, they'll find a way.
3. Never share your passwords.
We all fall into the habit of sharing passwords with our partners - usually for convenience - and then quickly forgetting about it.
But giving someone access to your private folders makes it way too easy for them to betray you on a whim.
Resist the temptation to share everything and maintain a degree of privacy.
4. Hide and password protect your most intimate photos and videos.
To add another layer of protection, store your nudes and similar files separately from everything else and secure them with a password.
5. Only ever sext with long-term partners. Ask them to delete after and show proof.
Sexting is a great way to add some spice, excitement, and playfulness into a relationship. But it also requires a huge amount of trust.
Someone you've just met may not feel obligated to respect that trust, and happily share your sexts amongst their friends - or worse, use them against you after you've broken up.
Wait until you've built a strong bond with a partner before you start sexting. Create some grounds and insist any sexts must be deleted after they've been sent. You can also Disckreet, a 'secure messaging app for couples.' Disckreet lets you delete images, videos, and messages from the receiver's phone, along with some other security settings.
6. Never sext drunk.
Of course, this is easier said than done. Alcohol lowers our inhibitions, increases our horniness, and dulls our common sense and self-control.
So, it's easy to say 'don't sext drunk' when you're sober. It's much more difficult to stick to it after a few drinks.
But if you commit to never sexting drunk and really internalize it as a golden rule, you're much less likely to slip up or give in to pressure when you're intoxicated.
What to Do if You're a Victim of Revenge Porn
Unfortunately, it requires a lot of work from the victim. You also need to act quickly so the offending material doesn't spread too far.
While you may not feel like you have the energy or strength to act, follow the steps below ASAP to reduce the harm and protect yourself from further bullying and harassment. You may also be able to seek justice for the crime committed against you.
1. Don't blame yourself.
There's nothing wrong with sexting or sharing intimate images with someone you trust. Most young people have done it at some point.
Unfortunately, some people choose to betray this trust due to bitterness or dishonest intentions. If someone threatens you with revenge porn or shares your private images, videos, or texts online, they're at fault, not you.
Whatever their intentions, it shows a deep weakness in their character. While they'll try to make you feel guilty, ashamed, and afraid, remember that you're not to blame for their actions.
2. Stop communicating with the offender immediately.
If somebody threatens you with revenge porn, stop communicating with them immediately. They will try forcing you to respond with threats, insults, and emotional manipulation, but replying to these tactics will only make things worse.
Once you've collected evidence (see below), block them on all social media sites and email so they can no longer harass or intimidate you.
3. Collect evidence. Record any messages and take screenshots.
As difficult as it may be, don't delete messages or any images that expose the person targeting you.
Any evidence you can collect makes it easier to 1) Get the offending media offline and 2) Hold them accountable.
In countries with revenge porn laws, any evidence you collect can be used to file police charges.
If you don't feel able to collect the evidence yourself, ask a friend or family member to help.
The U.S.A, Canada, Australia, New Zealand, Israel, South Africa, Japan, South Korea, Singapore, The Philippines, and many European countries have strict laws against revenge porn.
4. Make your social media private.
If the revenge porn has been shared publicly or you've been doxed*, you may be targeted for further bullying and harassment.
To protect yourself, make sure all your social media profiles have the highest possible privacy settings. This will also prevent your harasser from further intimidating or bullying you.
Change passwords to any private accounts, in case your attacker has obtained them at any point.
Doxing definition: Doxing is the malicious act of tracking someone down online, finding as much private information about them as possible, and broadcasting or sharing it online, in the hope groups of people will harass, bully, and intimidate them.
5. Reach out and find support.
If you've been victimized or threatened, don't be afraid to speak up and ask for help. Tell your friends and, if possible, your family. Hopefully, they will understand and can support you in the next steps you take.
The person targeting you with attacks wants you to feel alone, scared, vulnerable, and too ashamed to tell anyone. But remember, there's no shame in sharing intimate photos with someone.
Furthermore, friends and family can work to take down any revenge porn that's been shared so you don't have to view it or relive any trauma.
Finally, Google revenge porn victim support networks, charities, and law firms in your country to get professional help and support.
6. Check the laws in your country.
An increasing number of countries have dedicated anti-revenge porn laws in place or larger privacy laws that criminalize the act.
Check online to see if your harasser is breaking the law by threatening you or publishing anything without your consent. If there are laws in place to protect you and prosecute them, don't inform them, as they may try to delete any evidence.
Regardless of the revenge porn laws in your country, you may still be able to file a police report against your offender. Look online to see if anyone in your area has shared their experiences involving the police in a revenge porn case.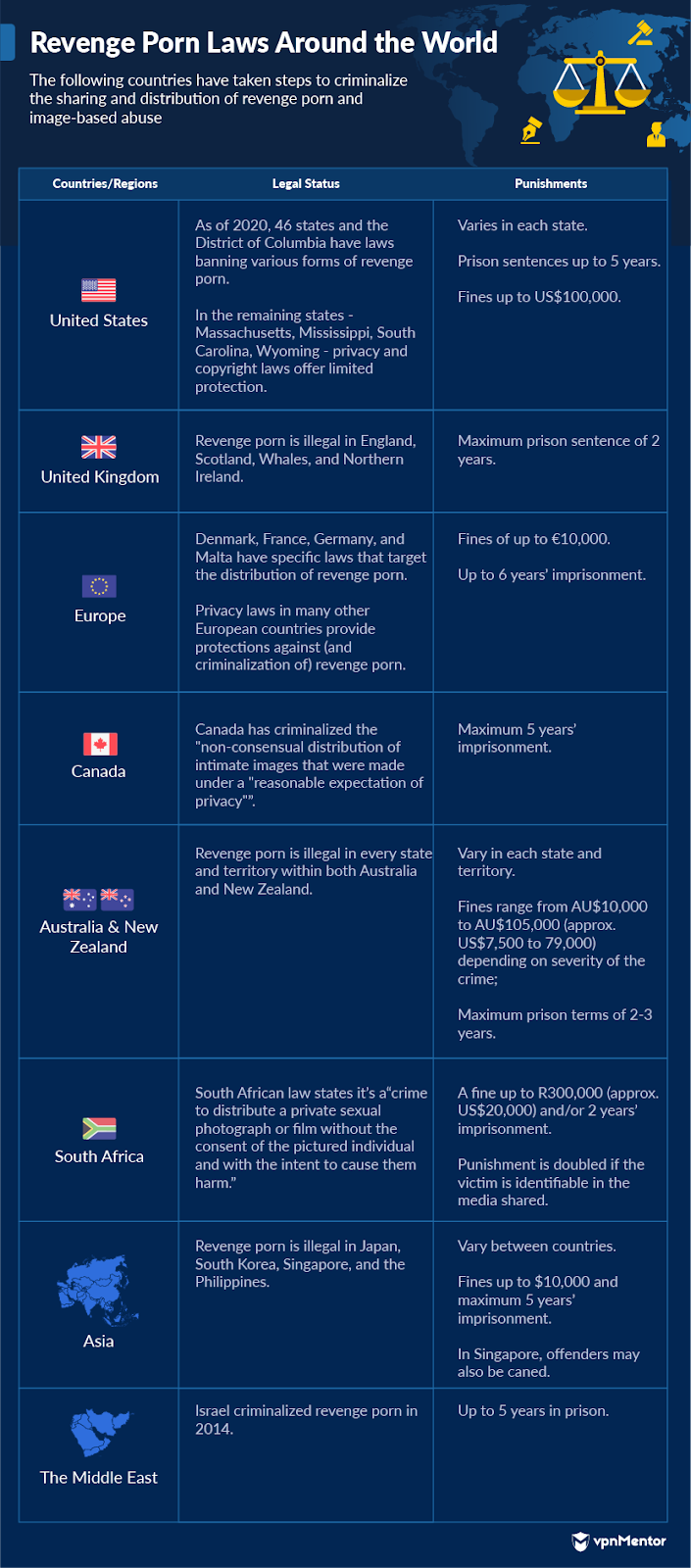 7. Seek legal advice.
Whether or not your country has laws in place against revenge porn, you can still seek legal advice for the best way forward.
Trained lawyers with experience in violations of privacy, cyberbullying, and harassment can offer support and guide you through the process, show you what options you have to seek justice, and have any material taken offline.
8. Take steps to get the content taken offline.
Google, every social media platform, and many well-known sites have established processes dedicated to getting revenge porn removed from their websites and taken offline.
You or a friend can follow the relevant steps on each platform to have any images or videos taken down. Alternatively, you can hire a law firm or 'take-down' service to represent you for a small fee.
C.A. Goldberg law firm, DMCA Defender, and the Cyber Civil Rights Initiative are three well-respected organizations in the USA dedicated to fighting revenge porn and supporting victims.

Unwanted and Negative Attention on Social Media
As online dating continues to grow in popularity, many people don't understand the boundaries between social media, dating apps, and even professional platforms.
In recent years, increasing numbers of women (and some men) have complained about being solicited for sex, proposed to for marriage, sexted, and otherwise sent unwanted advances from random men on Facebook, Linkedin, Twitch, Reddit and so on.
Unfortunately, you can't stop random people from sending you inappropriate messages on most websites. However, to spare yourself the discomfort and frustration, follow a few simple steps:
Don't add people you don't know on social media or Linkedin.
Increase the privacy settings on your profile to cut down on the number of people who can find you.
Don't be afraid to block or report someone immediately after they've sent you an inappropriate message.
Real Life Risks
The online space can often feel like a different world altogether. When we date online, it's easy to forget about the carryover of risks into everyday life.
Online harassers or stalkers could become real-life assailants, a promising date could turn into a dangerous interaction, and we must know how to suspect people who are cheating on their partner.
Stalking, Harassment, and Abuse (IRL)
As we've already mentioned, stalking, harassment and abuse can be huge problems when using online dating apps or websites.
Harassers and stalkers may choose to confront victims with all of the same abusive and intrusive behaviors in real life once the 'thrill' of online harassment wears off. Hurtful comments, attempts at public slander, and even threats of violence become increasingly terrifying when the perpetrator is stood in front of you.
A stalker or harasser could use something as simple as a phone number or geotag to locate the victim in real life. The compulsive nature of stalking and harassment, coupled with the lengths abusers will go in order to find their target, suggests these individuals are prepared to cause serious harm to victims.
Online daters can find themselves in dangerous real-life situations almost unexpectedly.
The issue has been covered in popular culture before. Netflix's psychological thriller 'You' tells the story of Joe Goldberg - a stalker who uses social media platforms to follow the life of his infatuation, 'Beck.'
Joe is able to find out where Beck lives through these platforms while learning everything about her network of friends and her on/off love interest.
Without spoiling the series altogether, Joe's stalking inevitably spreads into the real world - with violent implications. Blinded by his obsession for Beck, Joe removes any obstacles that stand between the two, destroying her life in the process.
How to Protect Yourself from Stalking and Harassment IRL
Protecting yourself from online stalking is the first step towards preventing stalking and harassment in real life. If stalkers and harassers are not able to conduct their attacks and gather your information online, then they will likely not be able to find you in real life.
All of the preventative measures outlined in the 'online' section of this guide still hold true. Though, sometimes these attacks can occur unexpectedly. What should you do to protect yourself from the real-life risks of stalking and harassment?
Meet in public for a date. If you have met someone through online dating and decide to take that interaction into real-life, make sure you meet in a public place. If things don't go well, harassment and other forms of abuse are less likely to occur in public.
Reduce your online footprint. This is essentially the focus of our 'online' section, but it's so important that I'll repeat it here. Secure your social media sites, hide your phone number, disable geotagging. Without this information available to harassers, online problems can't become real-life ones. Also, block your stalker or harasser if you haven't done so already.
Ignore them whenever you can. Just like stalkers and harassers on the internet, in real life these people feed off your energy, whether that is positive or negative. Ignore them where you can, don't look them in the eyes, and walk away from the situation.
Stay strong. Harassers want you to believe what they are saying. They want to affect you. Don't give them that pleasure, and try to appear unfazed by their presence.
Communicate. If your stalker or harasser is becoming increasingly problematic, tell your loved ones about the situation. Update your friends and family whenever you go somewhere by yourself, and report the situation to law enforcement.
Improve home security. Install deadlocks and alarms, lock your letterbox, remove any hiding spots in your home, and ask for a home security check from your local police force. This will maximize your protection in the worst possible circumstance.
Take self-defence classes. Learn how to protect yourself in a physical attack or altercation.
If you ever feel like you're being followed on the streets, enter a shop, restaurant or any building with a reception or service staff who can help you.
Take extra precautions at night. Share your location and plans with friends and consider carrying a whistle or self-defence tools.
Infidelity and Cheating on Dating Apps
In the same way single-pringles can look for love on dating apps, people who are already in relationships use these apps to facilitate their adulterous behavior.
It's more of a widespread issue than you'd think. According to one study, 42% of Tinder users have a partner, and 30% of these users are married. The gender split shows that 55% of these married users are men, and 45% are women.
Tinder offers people in relationships the 'quick-fix' they want, along with a 'no-strings attached' situation that limits the risk of getting caught. If the user is away on business or in a different location, Tinder provides them with a relatively low-risk platform to fulfill their impulsive sexual desires. Some apps even actively market themselves to this group, though not without certain dangers of their own.
Take 'Ashley Madison,' a dating site that promotes itself as the place for married members to have a fling. "Life is short. Have an affair" is one of the company's memorable taglines.
However, in July 2015, its promise of a '100% discrete' service was rendered laughable.
A group calling themselves the 'Impact Team' accessed AM's database and stole files on every single user.
They leaked files for more than 30 million of Ashley Madison's users, located across 40 different countries. Names, addresses, even body dimensions, and sexual preferences were all exposed. The breach was cataclysmic, putting millions of marriages in jeopardy and inviting a swathe of public shaming and abuse for AM members.
However extraordinary, breaches like this one aren't the only way people can find out about the wrong-doings of their other half.
Apps like 'Buzz Bumble' or 'Tinder Profile Search' offer people a way of searching for people on dating apps. Curious partners or daters use the site to check if the person they're with is 'faithful.' There's perhaps a debate to be had here about data privacy, though at least the apps are exposing people for who they really are.
How to Spot Married People on Dating Apps
You could be branded a 'homewrecker' if you get involved in someone else's relationship problems, and in the process, you risk being ditched at the drop of a hat.
For these reasons, it helps to know exactly what you're getting into when you meet someone online.
Dark/blurry photos. Married people want plausible deniability. They often have just one or two unclear photos on their account, with the promise of better images once they get to know you.
Weird patterns of communication. Someone who's married might say they don't have a home phone, and will only call you from a mobile or private number. They may only speak to you sporadically, at night, or on the weekends when they're not at home. If your calls go to voicemail outside of times when you've pre-scheduled a chat, that's a big red flag.
'I travel a lot,' 'my battery died' or 'I'm with a client' are three common justifications as to why they couldn't answer your call. While these claims could well be true, just how often do they use them?
Cheaters won't share much information with you. Stuff like their last name or home address. You may just think they're being cautious at first, but if they don't tell you anything about their personal life once you've known them for a while - they could well be married or in a relationship.
No social media. And nothing else appears when you search their name online. In this case, they've probably given you a fake name or erased their online presence altogether to avoid getting caught.
Look for a wedding ring in photos. Yes, you'd be surprised. Some people get sloppy.
Ask them. Don't be afraid, you might get a frank and very honest confession. If it scares them away, you've probably saved yourself a whole lot of hassle down the road.
Safety on Dates
If you meet someone online (and things are going well), inevitably you'll both decide on a time and place for a hot date. However, do not be totally surprised if things don't go according to plan. Chemistry online doesn't always translate into real-life chemistry, and should the worst-case scenario transpire (god-forbid), you don't want to be trapped in a room with an angry or potentially violent individual.
For this reason, meet in a safe public place the first time around - somewhere with lots of people. This will reduce the risk of your date 'causing a scene,' and there'll be plenty of help should things turn hostile. You should also tell your friends exactly where you're going, share your location, and keep them in the loop if plans change.
Keep your wits about you on a date, too. Turn up in a taxi or your own car. Don't let them know where you live or work, and guard any personal details that could put you in danger until you know things are going well. Limit your alcohol consumption, and don't leave your food or drink unattended (roofies and 'date rape' drugs are a shockingly common occurrence).
Carry something to protect yourself, like pepper spray, and if things start to go south - get out of there pronto! Leaving the situation before things escalate further is the best way to avoid a serious altercation.
If you can't leave a dangerous date immediately, excuse yourself and go to the bathroom, or wait for your date to leave the table. Signal to the staff or people nearby that you feel unsafe, or text a friend or family member to come pick you up - just make sure you're not followed when you leave.
Dating Apps and Data Leaks
Dating sites and apps are a fairly recent phenomenon, but even over the last decade or so they're building a lengthy list of privacy mishaps and data scandals.
Dating services collect all manner of valuable, sensitive data from their users. All of this data can be used by hackers to identify targets for cybercrime or other ill-intentioned activities. User names, ages, photos, email addresses, and telephone numbers are all collected by dating apps. Some even store your sexual orientation, sexual preferences, medical data, or geolocation data without you knowing it.
It's this backlog of precious data that makes dating apps and sites such a popular target for hackers. In recent years, there've been several high-profile incidents.

How Can Someone Access Your Data Via Dating Apps?
The answer to that question is somewhat controversial. Not only do security flaws exist in dating apps, these companies often sell your data to other businesses without your permission.
While they're not surrendering your data to a hacker, you still can't be sure where that data is going, how safe it will be, or what will be done with it. In 2018, gay dating app 'Grindr' admitted to sharing the HIV status of its users with other companies.
The issue is pretty widespread. A report by the Norwegian Consumer Council found that 10 of the most popular dating apps transmit user's sensitive information to a collective 135 different third-party businesses.
Under the cover of 'adtech', this is essentially a form of corporate spying. Grindr's app also includes a technology that tracks each user's IP address across a number of different devices.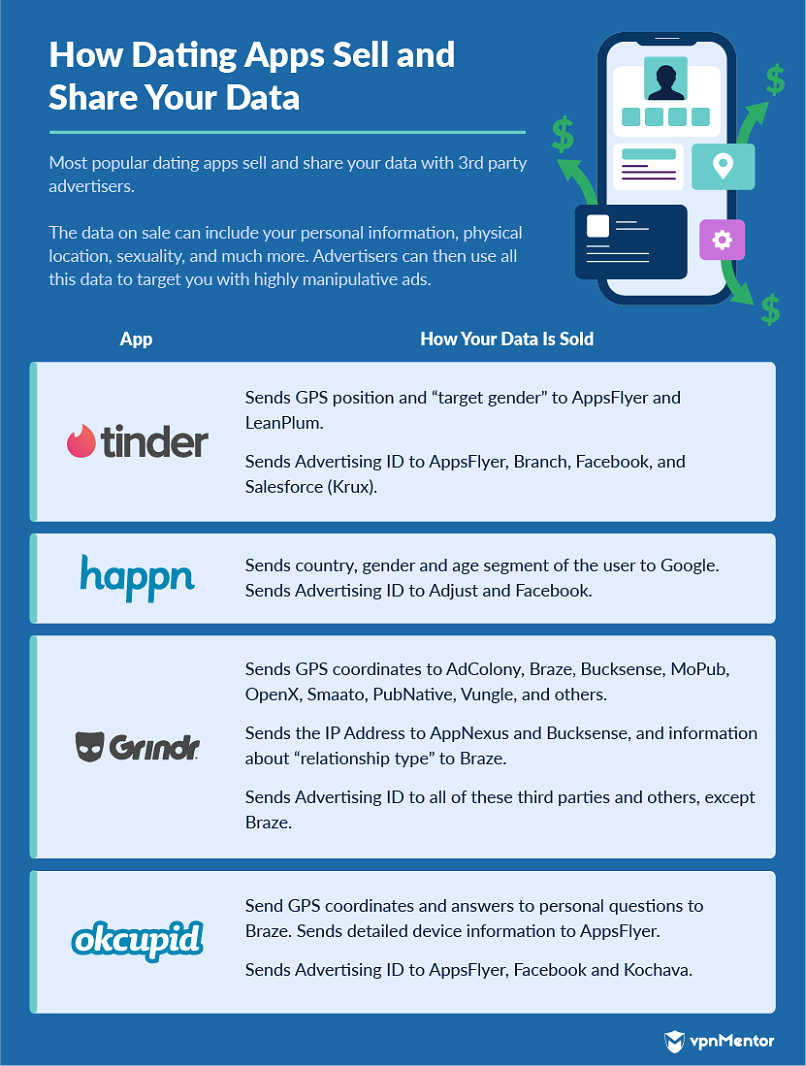 Pretty scary stuff, but big companies aren't the only ones who are after your data.
Loads of dating apps are vulnerable to hacks and breaches, and have poor security systems in place.
A study from Kaspersky found that dating apps were susceptible to man-in-the-middle attacks* from hackers, while 60% of users on these platforms could be traced back to their social media profiles - just from the information available on their dating profile.
100% of iOS dating apps and 71% of Android dating apps have a poor level of privacy, with user data at risk. 100% of iOS-based apps and 93% of Android dating apps have below-par security, and many of them contain critical vulnerabilities.
Dating apps are susceptible to reverse engineering and usually fail to install secure systems of communication. Data storage is insecure in a staggering 82% of tested apps, and many of these are vulnerable to code tampering. We found a DOM-XSS vulnerability in Tinder's app that could've exposed user's profiles, too.
Like any business, dating app leaks don't always happen because of some technical hitch. There can be an element of 'human error,' and most data breaches occur because someone forgot to password protect a database. In 2020, we reported a breach at Mailfire that leaked 320 million records for users of 70+ dating sites. The cause? An unsecured ElasticSearch server.
*In a man-in-the-middle attack, an attacker inserts themself into communications between a victim and a real entity, like a bank. They may then intercept information between the two parties, or pose as the bank and trick the victim into providing sensitive, private data (ie. credit card details or account access codes).
Impact of Data Leaks and Hacks
Dating sites collect your data in ways you couldn't possibly imagine (and probably aren't aware of).
We wouldn't expect dating apps to record our precise geolocation or swipe history, but a lot of them do. They often sell this information to third parties. Dating apps don't always make it clear how they collect our data, and what they do with it. Some of the data they collect isn't relevant to the function of their services, either.
In certain jurisdictions, these practices potentially break data protection laws, yet in some countries dating apps can get away with this misuse of customer information.
In America, a lack of comprehensive law means dating apps are able to collect personal details of users and set their own privacy policies. They can protect their misuse of user data and often force people to consent to their terms of service before they can access the app (Bumble vaguely declares "We think our Bumblers are awesome, and we want you to share how awesome you are with the world").
In Europe, dating apps are probably breaking GDPR laws - which regulate the ways in which companies can collect, store and use customer data. Data leaks and hacks are another misuse of data that is likely to come under scrutiny from governing bodies.
These events can ultimately have terrible consequences. Poor data privacy and security on dating apps can lead to blackmail, scams, fraud, doxing, or identity theft from cybercriminals. Harassers and stalkers could access your data, which can then be used to inflict image-based abuse or emotional & reputational damage on the victim.
The Ashley Madison breach is an extreme example, but a relevant barometer of the damage dating app breaches can cause. In this case, 30 million people had their love lives, or marriages, thrown into jeopardy.
While some may believe these individuals got their just desserts, it's clear no one should have to deal with the effects of their private life becoming public.
Online Dating During Covid-19
The Covid-19 pandemic has thrown a proverbial curve-ball at hopeful lovers looking to meet someone new. Social contact has been cut down to a minimum by distancing measures and lockdowns. People have really struggled in truth, with loneliness and the desire for connection.
Throughout the pandemic, meeting up for a date physically has often been impossible - but not virtually. Millions of people have flocked to online dating services to look for love online.
Any easing of restrictions might give you the opportunity to meet up with someone you've spoken to online, but the risk of Covid-19 remains. Here's how you should navigate this risk, and the world of pandemic dating as a whole.
1. Be extra selective.
With all the increased risks of dating during Covid, more than ever, you want to avoid bad dates.
While the temptation to compromise and lower your standards is strong, you should be doing the exact opposite.
Don't feel like you have to go on a date with someone you're unsure about. Follow the steps outlined below to filter out bad matches and ensure you only talk to people you're truly compatible with.
This will save you considerable time and stress, guaranteeing that your dates are enjoyable and as risk-free as possible.
2. Think about the risks for those around you.
If you live with housemates, your parents, or in close proximity with at-risk people, going on dates will have implications for them too.
It's important to factor this into your plans and act accordingly so you don't put those close to you at increased risk.
3. Find a safe way to travel to and from the date(s).
If possible, avoid public transport. If you don't have private transport and walking isn't an option, use taxis and ride-hailing services like Uber.
The last thing you want is getting infected on your way home from an amazing date, going into quarantine for two weeks, and never seeing them again.
4. Communicate your expectations and concerns clearly.
Make sure any potential dates are aligned in their views, concerns, and expectations about the pandemic.
Don't wait until meeting in person to discuss. Bring it up early in the chat and have the 'Covid talk'. Find out what they believe, if they take responsible precautions, or they believe the whole thing is a hoax.
Even better, be completely honest and explicit in your profile. Outline exactly what you're looking for, your views on the pandemic, and how you expect matches to behave. This will create a solid filter and save you time.
5. Be extra vigilant for scams and untrustworthy people.
News stories, surveys, and campaigns from victim support groups around the world show a worrying trend.
As the pandemic has dragged on, reported incidents of dating scams and revenge porn have skyrocketed. With more people than ever switching to dating apps, scammers and predators are exploiting their loneliness and inexperience, extorting victims and threatening to ruin their lives.
Don't fall prey to bad actors. If someone you've met online starts asking for money or nude photos, unmatch and block them. You can also report their profile to admins so they can't victimize anyone else.
6. Stay updated with case numbers, community transmissions, and restrictions in your area.
We live in unpredictable times and everything can change in a flash. Just because it's safe to go out in crowded areas this week, doesn't mean it will be next week.
If you're lining up a date, check the news in your area. If cases are increasing and you're no longer sure it's responsible to go on a date, cancel.
Don't feel obligated to commit to a date if it poses a risk to your health.
7. Go for outdoor dates where social distancing is easy.
Make use of open spaces in your area, like parks, gardens, and outdoor restaurants. But make sure there's still people closeby, so you're not in danger or need to ask for help.
Don't go on dates in small, crowded, indoor spaces. Not only is the risk much higher, but it's much more difficult to relax and enjoy your date if you freeze every time someone sneezes.
Also, outdoor dates are great! They're more memorable than sitting in a loud bar and they force you to be a bit more creative - which can easily impress your date.
Instead of lunch at a restaurant, think about a socially-distanced picnic in the park, during the day, when other people are closeby doing the same thing.
8. Don't rely on ex's.
In times of stress and loneliness, you might feel like a safer option is reconnecting with your ex.
While this might seem easier than meeting new people, remember: that relationship ended for a reason.
If you weren't compatible with someone before Covid, you're probably not going to be any more compatible during the crisis.
9. Check-in post-date.
Whether or not the date went well, you should both agree to check in after a few days and update each other on your health status.
If you're diagnosed with Covid-19 (or just show symptoms), your date deserves to know. And vice versa. It doesn't mean either of you is to blame. But you can each take the necessary steps to protect yourself, and those around you.
10. Plan for sex.
Whether it was your goal from the start, or it just happens the way things do, hooking up during a pandemic can present some challenges.
While you can't plan for spontaneity, you can preemptively put some measures in place. Yes, this isn't the sexiest sounding idea, but it will make things much more enjoyable.
Take some basic steps like informing housemates in advance if you're bringing someone home, communicate clearly with your partner how it's going to happen, make sure you have some hand sanitizer ready, etc.
If you live somewhere under curfew, don't risk getting stuck at someone's house if you don't know them well (or having them stuck at yours). It might sound like fun, but it could end up being incredibly unsafe - or just awkward. Give yourselves plenty of time to finish up and get home safely.
Finding Support
If you experience any issues while dating online, the most important thing to remember is that you're not alone. And you should never feel ashamed or embarrassed if you're a victim of harassment, bullying, or any form of abuse.
If someone you've met online has started acting in a threatening manner or has harmed you in any way, make sure you ask for help and, if necessary, report them to the police.
Reach out to the following groups for support, guidance, and help:
Friends and family - Many victims are too afraid to tell their friends or family when they've been harassed or attacked by people they meet online. Don't be. Your friends and family can shelter you and support you, without judgment or shame. Depending on the seriousness of the abuse or harassment, they can provide crucial support as you take steps to end it and take back control of your life.
Victim support groups - most countries have networks of support groups for victims of crime and abuse. Many specialize in helping women. They're usually run by NGOs and staffed with volunteers who know the laws and best practices in your area. They can provide practical support and legal assistance, should you need it.
The police - Depending on where you live, members of your local police service may be trained to assist you. If you are concerned for your safety or have been attacked in any way, the police can take steps to keep you safe and hopefully arrest your attacker.
Conclusion
Despite all of the associated risks, we mustn't forget the excitement that accompanies romance. People use online dating sites and apps because they're enjoyable. The chance of a life-changing encounter at the end of our fingertips is a pretty special feeling.
Knowledge is power. If you follow the advice in this guide, you will massively reduce your risk of falling victim to threats on online dating services. You'll spend less time dealing with problems, and more time speaking to the people who make you smile.
Don't let the threat of harassers, stalkers, or fraudsters derail your love life online. Stay vigilant, remember what you have learned. And most importantly - have fun!