PIA Not Working With Netflix in 2023? Here's a Nice & Easy Fix
Private Internet Access didn't work with Netflix for a long time. Now it's actually a good option if you want a VPN to watch Netflix content. However, there are still times when they don't work well together. The streaming site is constantly updating its geoblocking technology, so even the best VPNs can run into problems.
If you're having trouble accessing Netflix with PIA, there are several easy solutions. Usually, all that's required are a few simple adjustments in your VPN settings. Sometimes it's as simple as using a different web browser, for example.
If you've already tried these quick fixes and the problems persist, then you might want to try a different VPN. I recommend ExpressVPN because its servers can consistently access more than 15 Netflix libraries. On top of that, its superfast speeds let you load shows in a couple of seconds and watch without lag. Plus, it comes with a 30-day money-back guarantee, so you can try ExpressVPN completely risk-free. If you're not satisfied you can easily get your money back.
Quick Guide:
How to Access Netflix with Private Internet Access in 2023
Get PIA. Go to the PIA website, sign up for a subscription and download the app.
Connect to a server. Select a server in the Netflix country of your choice. For example, if you need to access US Netflix, connect to a US server.
Start watching Netflix! Watch your favorite shows that you couldn't before!
PIA Still Isn't Working? Here's How to Fix It
If you connect to a PIA server that can't access Netflix, there are several simple ways to solve the problem. These solutions don't require any technical knowledge and they can also help you if you're struggling with another streaming platform. If none of these solutions work for you, then your best bet is to try a VPN that's been proven to work reliably with Netflix, like ExpressVPN.
Check your IP address. Sometimes, your IP address won't change when you connect to a server, which means you still won't be able to access Netflix. A quick check to see if your IP address has changed can sometimes do the trick.
Change your protocol. You may be using a protocol that isn't compatible with Netflix, which means you're better off changing it. The best protocols for Netflix are OpenVPN and WireGuard, which can be selected from your settings.
Check your Firewall settings. Antivirus software and firewall settings can stop PIA from accessing Netflix. Therefore, you should try to disable your Firewall or Antivirus software and see if anything changes.
Flush your DNS. The DNS server you're using could be preventing PIA from working with Netflix. This happens when Netflix detects your default DNS, so you'll need to flush your DNS. The instructions for doing this are different for both Windows and macOS users.
For Windows:
Open the command prompt and select "run". Then, type "Click Command Prompt" before typing "ipconfig/flushdns".
For macOS:
Open Terminal and type "sudo dscacheutil -flushcache; sudo killall -HUP mDNSResponder" in the command line. Then, enter your Mac password to make changes.
Why Should I Use PIA to Watch Netflix?
PIA gives you access to 29,650+ servers in 84+ countries, which means you have plenty of ways to access Netflix from anywhere. This includes 18070+ servers in the US, which has the most extensive Netflix library. During my tests, I connected to 3 US servers and 2 UK servers and accessed Netflix every time in under 1 minute.
You can also watch Netflix on 10 devices simultaneously under a single PIA account. It has native apps for Windows, Android, macOS, iOS, and Linux, which can be installed in under a minute. But you can also install PIA on your home router, which lets you connect an unlimited number of devices, including smart TVs and gaming consoles.
Its fast speeds will provide you with a lag-free streaming experience. When I watched Netflix on its US servers, my download speeds averaged 42.8 Mbps. This is much faster than the 5 Mbps needed for HD streaming.
PIA also keeps you secure with its automatic kill switch, which has 3 modes (off, automatic, and always). "Automatic" blocks your traffic when you're disconnected from the VPN, while "Always" only lets you browse the internet while using PIA. It's convenient when watching Netflix on public networks — it instantly disconnects you if your VPN connection drops unexpectedly, ensuring no one else on the shared network can see your personal info.
Even though PIA can access Netflix, it can only unblock 6 Netflix libraries (US, UK, Germany, France, Italy, and Japan). If you want to access a different library, then you need to use another VPN. But since these ones are the most popular, you'll have access to most Netflix shows worldwide. Since you can get a subscription for as low as $2.19/month,  that's a pretty good deal.
What I liked most about PIA is that you can try it for free using its 30-day money-back guarantee. It requires an upfront payment first, but you'll be fully refunded if you're not impressed (and remember to cancel within 30 days). When I canceled my subscription, I got my money back after 5 business days.
Alternative VPNs if PIA Doesn't Work for You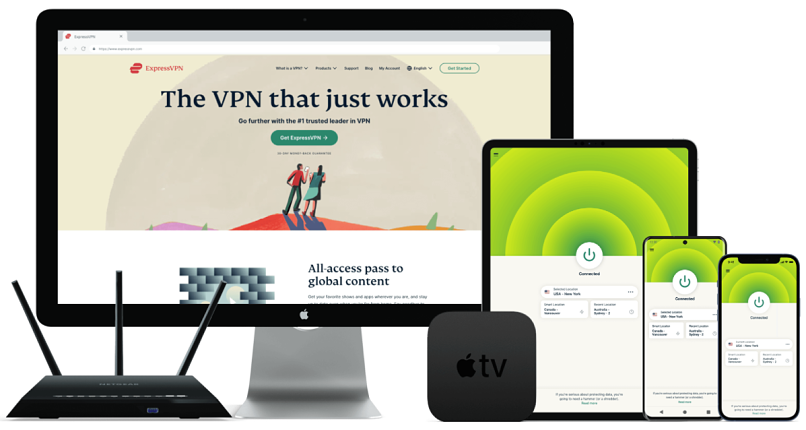 Editor's Choice
Editor's Choice

Tested February 2023
Try Risk-Free for 30 Days
Can access:
Netflix
Disney+
APV
HBO Max
Hulu
BBC iPlayer
Sky
More
www.ExpressVPN.com
Lightning-fast speeds that ensure a smooth streaming experience on Netflix
3,000+ servers worldwide including 20+ US servers for accessing Netflix
MediaStreamer lets you watch Netflix on any WiFi-enabled device
5 simultaneous device connections
30-day money-back guarantee
Can unblock: Netflix, Disney+, HBO Max, Hulu, BBC iPlayer, Vudu, and more
Compatible with: Windows, Mac, iOS, Android, Linux, Chrome, Firefox, and more
ExpressVPN's lightning-fast speeds make it an excellent choice for watching Netflix. During my speed tests, my download speeds averaged 45.7 Mbps when watching shows on the US Netflix library. This was a lot more than the 5 Mbps needed for HD streaming, so I didn't experience any lag. ExpressVPN can also access 15+ different Netflix libraries, including the US, UK, Australia, and Japan. Wherever you are in the world, you can watch Netflix in crystal clear quality on long-distance connections.
It's even possible to watch Netflix on devices that don't normally support VPNs. I installed ExpressVPN on my PlayStation using its MediaStreamer feature. It took less than 3 minutes to set up and the simple guide on ExpressVPN's website was very easy to follow. I was able to watch US Netflix on my big screen using my PS4 without any issues.
You can also try ExpressVPN for yourself risk-free since it's backed by a money-back guarantee. Just request a refund within 30 days if you're not satisfied. I wanted to test this policy, so I used its 24/7 live chat feature to cancel my subscription. The representative asked me a couple of questions before going ahead with my request. After 3 business days, I was fully refunded.
Superfast speeds that provide lag-free streaming
2,000+ servers in 75+ countries for accessing Netflix
Unlimited simultaneous device connections
30-day money-back guarantee
Can unblock: Netflix, Disney+, HBO Max, Hulu, BBC iPlayer, Vudu, and more
Compatible with: Windows, Mac, iOS, Android, Linux, Chrome, Firefox, and more
IPVanish lets you connect as many devices as you want with a single subscription, which is great for large households. I was eager to try it, so I connected my MacBook Pro, smartphone, old Windows laptop, and my Android tablet simultaneously to watch Netflix. There weren't any noticeable drops in device performance or connection slowdowns.
It also has 2,000+ servers in 75+ countries, making it really easy to access different Netflix libraries. When I tested it out, I connected to 4 of its US servers and 3 of its UK servers and accessed Netflix shows from both countries. The process took me under a minute every time. It doesn't matter where you are, you can access Netflix libraries in multiple locations.
Every IPVanish subscription comes with a 30-day money-back guarantee, so you can test its features without any risk. It was really easy to cancel my subscription. I didn't have to contact customer service at all. I just logged in to my account and clicked a couple of buttons. I didn't even need to give a reason for canceling. After 4 business days, I had my money back in full.
Impressive speeds that ensure a smooth streaming experience
9,753 servers worldwide, including optimized Netflix servers
7 simultaneous device connections
45-day money-back guarantee
Can unblock: Netflix, Disney+, HBO Max, Hulu, BBC iPlayer, Amazon Prime Video, and more
Compatible with: Windows, Mac, iOS, Android, Linux, Chrome, Firefox, and more
CyberGhost has a global network of 9,753+ servers, which includes optimized servers for Netflix. These servers are dedicated to accessing Netflix libraries worldwide. When I tested its optimized Netflix servers in the US, UK, and France, I accessed their Netflix libraries in under 2 minutes every time. You can also use its regular servers to access even more Netflix content.
Its fast speeds are also great for watching shows on Netflix. During my speed tests, my download speed averaged 43.5 Mbps across all Netflix servers, while they were 42.5 Mbps on its regular US servers. It doesn't matter how far away you are from your CyberGhost server, you can watch Netflix without interruptions.
You can even try CyberGhost for free using its 45-day money-back guarantee, which is one of the longest available. I tried canceling my subscription on day 45 by asking a live chat representative. They kindly approved my request after I provided my reasoning, and I got my money back after 5 business days.
FAQs on Watching Netflix With PIA
Does PIA work with Netflix?
Yes, PIA works with Netflix. However, it only unblocks 6 Netflix libraries including the US, UK, France, and Japan. If you want access to more Netflix content, you should try another VPN instead. In addition, since Netflix is always cracking down on VPNs, you may occasionally face the dreaded Netflix proxy error. So, you might have trouble depending on which library you're trying to access.
Can I use a free VPN to stream Netflix?
Streaming Netflix with a free VPN is pretty much impossible. A low-cost premium VPN is a much better option.
Netflix constantly upgrades its anti-VPN technology, which means free VPNs don't stand a chance. This is mainly because they don't have the budget to maintain and update their already small server networks. That means lots of people are using the same servers to access Netflix, so the site can easily block those IP addresses. It also means that they're heavily congested, which can cause really slow speeds and a ton of buffering during your stream.
Also, many free VPNs are known to collect user data and sell it to third parties, such as advertisers and governments. This is a serious breach of online privacy as your data and online behavior can be collected and used against you.
Which Netflix libraries can I access with PIA?
The Netflix libraries that PIA can access are US, UK, Germany, Italy, France, and Japan. All you have to do is connect to a server in one of these countries and start watching Netflix. Unfortunately, PIA can't access Netflix libraries in other countries, so you'll be better off if you change to another VPN service instead.
Will Private Internet Access slow my internet connection?
Like all VPNs, PIA will slow down your internet connection a bit. This is because your data has to travel to the VPN server. Also, it takes time to encrypt data, so this causes a bit of slowdown as well.
When I conducted my speed tests, I recorded an average download speed of 42.8 Mbps on PIA's US servers, a 27% reduction from my original speeds. This might seem like a lot, but it was still more than fast enough to watch Netflix in HD, which only requires a download speed of 5 Mbps.
Can I access Netflix Japan with PIA?
Yes, you can access Netflix Japan with PIA. The first thing you need to do is connect to one of its Japanese servers. Then just log in to your Netflix account to start watching your favorite shows from Japan. If you're experiencing difficulties, then you can contact customer support for any help or try a different VPN.
Is it legal to use PIA for Netflix?
Using PIA with Netflix is mostly legal but it can be complicated. VPNs are legal in most parts of the world since they protect people's online privacy and security on public networks. Only a few countries like China and Russia have either banned or heavily restricted VPNs, so check the laws and regulations in your country if you aren't sure.
Even though a reliable VPN will keep you secure and private, using one to access Netflix libraries primarily outside your actual location goes against Netflix's terms and conditions. This means that they have the right to ban you from their service if you get caught, but this is extremely rare.
Therefore, it's best to only use PIA for accessing Netflix libraries that you're entitled to. For example, if the US is your home and you're overseas, then you can use PIA to access US Netflix because that's the library you rightly paid for.
Watch Netflix With PIA Today
PIA now joins the ranks as one of the leading VPNs that can access global Netflix libraries. This includes Netflix US, UK, Japan, Germany, Italy, and France. But like other VPN providers, it's not always guaranteed to work with Netflix, which means you'll need to have some solutions ready.
If you consistently have problems accessing Netflix with PIA, I'd recommend using another VPN instead. There are many other reliable VPNs that work well with Netflix. I recommend that you test out ExpressVPN risk-free. Since it's backed by a money-back guarantee, you have 30 days to claim a full refund without hassle.
The best VPNs for Netflix in 2023 are...
Privacy Alert!
Your data is exposed to the websites you visit!
The information above can be used to track you, target you for ads, and monitor what you do online.
VPNs can help you hide this information from websites so that you are protected at all times. We recommend ExpressVPN — the #1 VPN out of over 350 providers we've tested. It has military-grade encryption and privacy features that will ensure your digital security, plus — it's currently offering 49% off.