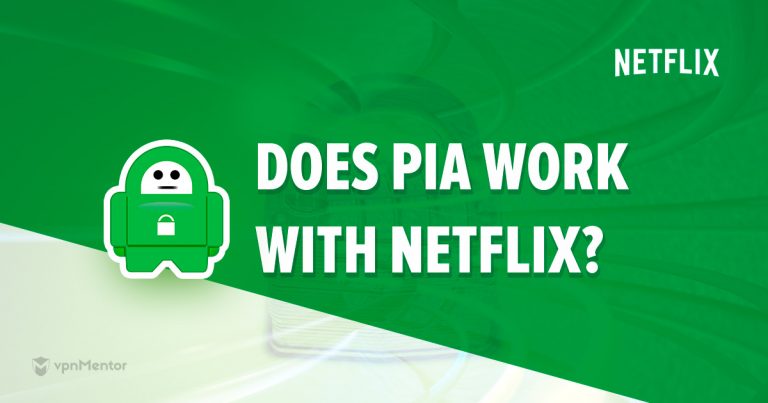 Unblock Netflix in 2021 With PIA | Watch Anywhere
Updated on 11th March 2021
Private Internet Access, or PIA as fans call it, is now fully capable of unblocking Netflix!
Not only is PIA powerful enough to unblock Netflix's sprawling libraries across the globe — it can also unblock other streaming providers, including Hulu, BBC iPlayer, Amazon Prime Video, Sky Go, and more.
Not only is the security incredible, Private Internet Access offers lightning-fast speeds for streaming your favorite Netflix libraries buffer-free. Plus it offers a 30-day money-back guarantee, so you can test the service risk-free.
Quick Guide:
How to Unblock Netflix with Private Internet Access
Sign up to Private Internet Access.
Download the VPN and connect to a server in the country you want (for instance, to watch Netflix US, connect to a server located in the US).
Log into Netflix and start watching!
Why Use PIA to Access Netflix?
Private Internet Access can be used to unblock Netflix's unique libraries in a wide range of countries, from the US, Canada, and Australia to Singapore, Japan, and Israel — just to name a few. PIA can even unblock Netflix and other streaming services in countries with high levels of online censorship, like Dubai and the United Arab Emirates.
Netflix libraries accessible


US
France
Germany
Denmark
Czech Republic
Belgium
Austria
Australia
Hong Kong
Hungary
Ireland
Israel
Italy
Japan
Norway
Poland
Romania
Singapore
Spain
Sweden
Switzerland
Turkey
United Arab Emirates
Finland
Netflix libraries unaccessible
Brazil
India
Luxembourg
Mexico
New Zealand
South Africa
Like many other popular streaming providers, Netflix uses powerful anti-VPN technology that detects and blocks VPN IP addresses from accessing its services. Although many streaming providers have taken steps to eliminate VPN use, Netflix has taken this fight to a whole other level. Private Internet Access is one of the few VPNs that is powerful enough to bypass Netflix's strict security measures.
Will Private Internet Access Slow Your Internet Connection?
A VPN is dependent on the speed of your internet connection. You should expect a slight drop in speed when using a VPN due to the software having to encrypt every packet of data in real-time; however, this drop is typically quite low, roughly 10-20% compared to your connection without the use of a VPN. In most cases, it won't even be noticeable.
Be sure to take a look over the following video quality recommendations and their corresponding Internet speeds from Netflix:
Minimum quality for 500 kbps of internet speed
Less than 480p for 1.5 Mbps of internet speed
480p or better (standard quality video) at speeds of 3 Mbps
720p or better (high definition video) at speeds of 5 Mbps
Ultra HD at speeds of 25 Mbps. This is 1080p or better quality
During my speed tests, I could access and stream multiple Netflix catalogs, all in Ultra HD, with no buffering or lagging. On the off chance that you notice your internet connection slowing down, simply switch to a faster server within your target location.
The Many Benefits of Private Internet Access
High Speeds: Private Internet Access passed every speed test I threw its way, proving itself to be a great option for streaming Netflix, as well as torrenting, gaming, and video-calling.
Massive Server Count: With over 35,550 servers spread throughout 77 countries, PIA gives you access to many streaming platforms all around the world.
No-Logs Policy: This feature guarantees that your personal information will not be stored and handed over to third-parties. Even if the government were to request a copy of this private information, a copy could not be handed over as, with a no-logs policy, the data simply doesn't exist.
Kill Switch: This feature automatically disconnects you from the Internet, preventing any IP or data leaks should your VPN connection drop.
Apps For Every Device: With one subscription, you can use PIA on up to 10 devices. This way you can stream Netflix, torrent, and game safely even when you're on-the-go.
Avoids Censorship: Bypassing geo-blocks also means you can bypass government censorship. When you connect to a server outside your home country, your government has no control over your online activity.
24/7 Customer Support: If you're new to VPNs, 24-hour customer support can go a long way. PIA has support agents standing by at all times, to answer any troubleshooting questions you may have.
Money-Back Guarantee: If you only need a VPN for a short time, choosing a VPN with a money-back guarantee is a wise decision. Private Internet Access comes with a 30-day money-back guarantee so you can try it completely risk-free, that way if you don't love it you can ask for a full refund.
Try Private Internet Access Risk-Free
Try Private Internet Access for Free
As mentioned, Private Internet Access offers a 30-day money-back guarantee with every subscription. Sign up, binge watch Netflix on the house for one month and if you're not satisfied, simply cancel your subscription within the 30-day limit. Don't just limit yourself to Netflix, with PIA, you'll gain access to tons of streaming providers and services that would otherwise remain inaccessible due to geo-blocks — explore and have fun!

Try Private Internet Access Risk-Free
FAQs about VPNs
? I am using PIA, why can't I access Netflix?
If you were able to access Netflix yesterday, but not today, chances are the server you were using was probably detected by Netflix's anti-VPN software and blacklisted. No need to worry, all you need to do is swap your IP address. To do this, simply disconnect from your current server and connect to another server in the same target area. That's it, you should now be able to access Netflix.
If that doesn't work try clearing your browsing history and temporary files, and then attempting to access via an incognito window or private browser like Duck Duck Go or Cake. If all else fails, try one of our best VPNs for streaming.
? Can I use a free VPN to stream Netflix?
Not anymore. Ever since Nexflix implemented its powerful anti-VPN technology, it's been virtually impossible. Even if a free VPN could access Netflix, when conducting my speed tests, I found that they often perform poorly due to network congestion and data caps, meaning they aren't great for streaming — expect long periods of inaction due to buffering.
? Are VPNs legal?
Yes, VPNs are completely legal in most parts of the world. Still, some countries do ban or restrict the use of VPNs; for example Belarus, Russia, China, and North Korea. While no tourist has ever gotten in trouble for using one, citizens can end up with expensive fines and even jail time for using a VPN in some areas. If you are traveling to one of these countries, make sure you install your VPN before leaving.
If you want to know more about the legality of VPNs, check out our guide on where VPNs are legal and illegal.
Try Private Internet Access Risk-Free
Final Verdict
Private Internet Access is one of the top VPNs for bypassing Netflix's anti-VPN measures. Simply download the app on your devices to watch content from all around the globe with speed and security.
Aside from unblocking geo-blocked content, Private Internet Access encrypts your internet connection, preventing hackers, spammers, and even the government from spying on your online activity.
If you want to find out about more VPNs that can be used for streaming, check out our list of the best VPNs for Netflix.
Privacy Alert!
Your data is exposed to the websites you visit!
The information above can be used to track you, target you for ads, and monitor what you do online.
VPNs can help you hide this information from websites so that you are protected at all times. We recommend ExpressVPN — the #1 VPN out of over 350 providers we've tested. It has military-grade encryption and privacy features that will ensure your digital security, plus — it's currently offering 49% off.