PIA Not Working With Netflix? Here's What To Do
Updated on 11th June 2020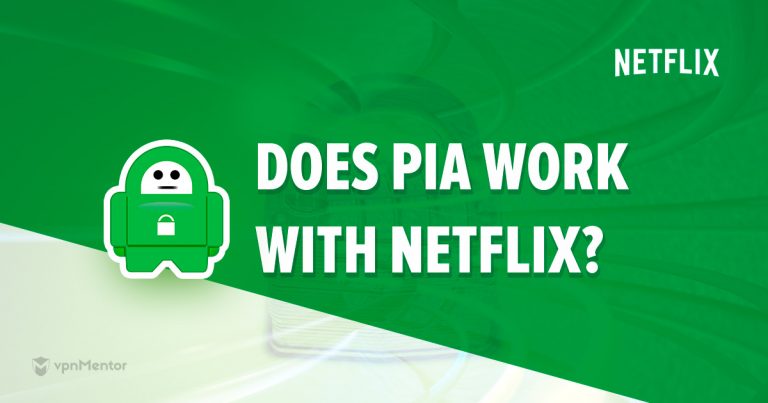 PIA stands for Private Internet Access and seems like a good name for a VPN service that is highly focused on data security. But does this VPN work with Netflix?
PIA boasts plenty of exceptional security features such as high-grade encryption, Open VPN protocol, and an advanced firewall to block ads, trackers, and malware. The problem is that, when it comes to unblocking Netflix, PIA simply doesn't offer a dedicated streaming service.
While there have been some reports of users unblocking Netflix US with PIA's East Coast servers, speeds are reported to be incredibly low. Netflix in other countries cannot be unblocked at all.
Unfortunately, this forces us to conclude that you cannot rely on PIA to bypass Netflix geoblocking.
Why Can't PIA unblock Netflix?
Sometimes VPNs are unable to get around Netflix geo-restrictions because they don't have the network of servers or resources required to keep up with Netflix's anti-VPN software.
Netflix geoblocks its content because of copyright and licensing issues, where different content is licensed or unlicensed in different countries. When the streaming service realized customers were using VPNs to get around geo-restrictions, it introduced sophisticated VPN blocking technology too.
Netflix works to block VPNs by detecting encrypted traffic and blacklisting the associated IP address. It has been known to block entire ranges of IP addresses from one data center if the center is known to host VPN servers.
VPNs need to have a huge network of servers available to offer users alternatives should existing servers get blacklisted.
Interestingly, PIA is not exactly a small VPN service. It has 3,300+ servers around the world — enough to compete with some of the most powerful VPNs out there.
Despite this impressive network, PIA cannot reliably connect to Netflix.
As we mentioned before, PIA seems much more focused on providing its users with privacy and security when browsing the internet. Supplying a reliable streaming service does not seem like a priority.
Perhaps the service doesn't want to dedicate the time and money required to keeping up with the blacklisting process. Or perhaps they would rather concentrate on offering an excellent privacy service, rather than try to compete with other VPNs that are dedicated to streaming.
NordVPN Unblocks Netflix
Don't give up hope just yet! While PIA cannot unblock Netflix, there are plenty of VPNs out there that are capable of bypassing geo-restrictions and outsmarting Netflix's anti-VPN software.
One example is NordVPN, which can reliably and easily unblock Netflix from anywhere in the world.
NordVPN has a huge network of 5,200+ international servers and this network is continuously being expanded. This first-rate infrastructure, combined with a dedicated staff, means that NordVPN is able to keep track of which IP addresses have been blacklisted by Netflix.
When a blocked server is detected, NordVPN can simply switch users to a new server that still works with their favorite streaming services.
In fact, NordVPN even includes SmartPlay technology, which automatically connects you to the correct server for unblocking your chosen streaming service. SmartPlay comes as the default setting on all accounts so there's no complicated setup involved.
NordVPN also operates obfuscated servers. Obfuscated servers add an extra layer of protection to encrypted data, to hide the fact that it's been encrypted. This makes encrypted VPN traffic look the same as traffic from a regular ISP.
Since Netflix's anti-VPN software cannot detect any VPN-encrypted traffic, it will not blacklist the server and its IP addresses. NordVPN's servers are therefore less likely to be blocked by Netflix.
Other Benefits of NordVPN
An impressive network of servers and unlimited bandwidth guarantee excellent speeds for streaming.
Some ISPs throttle bandwidth when streaming is detected. Using a VPN, and particularly one with obfuscated servers, can even improve connection speeds by hiding your activity from your ISP.
Intuitive, user-friendly apps on all major devices and platforms.
Highly-affordable long term and short term plans with a 30-day money-back guarantee.
Unique CyberSec software blocks ads and malware to avoid annoying interruptions.
256-bit AES encryption, automatic kill switch, and DNS leak protection safeguard your privacy while you stream.
Conclusion and Further Reading
Of course, all these added benefits mean that NordVPN isn't just a great choice for streaming. According to our users, it is also highly capable of unblocking other geo-restricted content online and will keep you safe from hacking, tracking, and monitoring.
That's why it's one of our highest rated VPNs.
If you want to find out about more VPNs that can be used for streaming, check out our list of the best VPNs for Netflix.