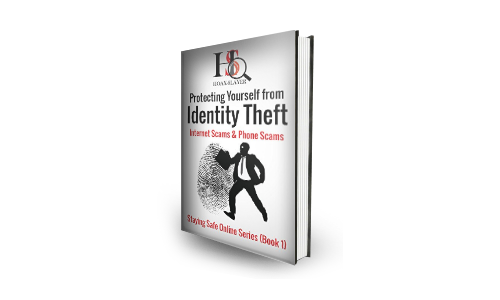 Free Chapter of Protecting Yourself from Identity Theft, Internet Scams & Phone Scams
Brett and Deborah Christensen have been a Hoax-Slayers since 2003, researching and writing about online scams and frauds and raising awareness to email, Internet and computer security issues that most common users know nothing about. In this article we give you a sneak preview to their book Protecting Yourself from Identity Theft, Internet Scams & Phone Scams. Share
What made you write this book?
We decided to write this book because we realized that, despite a lot of publicity about identity thefts and common scams, many people are still vulnerable to such attacks. We felt that a lot of the available information on the topic was somewhat fragmented and often used technical terms or concepts that ordinary computer and Internet users might not easily understand.  Our goal was to present information about identity theft and scams in a way that ordinary users could more easily understand and act upon.
What new knowledge did you gain whilst writing the book?
Before writing the book, we were unaware of how often people were victimized by friends or family members rather than criminals at large. We also learned a lot about medical identity theft and how thieves can steal the identities of people who died for their personal benefit.
Where can one acquire your book?
Users of vpnMentor can purchase copies of Identity Theft, Internet Scams & Phone Scams via Amazon.
Following is the first chapter of 

Protecting Yourself from Identity Theft, Internet Scams & Phone Scams (Staying Safe Online Series Book 1)
by Brett Christensen and Deborah Christensen
What Is Identity Theft?
Identity theft occurs when someone steals your personal information (online or offline), which they then use to fraudulently operate as you, usually to commit theft, fraud or other crimes.
It does not matter if you are a child or adult, alive or dead, your identity can be stolen.
Depending on what country or even state you live in, there are multiple definitions of what constitutes identity theft or identity fraud.  In most countries, debit and credit card fraud does not fall under the definition of identity theft.
What Are Internet Scams?
Cybercriminals regularly use Internet connected computers, smartphones, and other digital devices to perpetrate various types of online scams. These scams are designed to fraudulently obtain personal and/or financial information from victims.
The information stolen in online scams may be used not only to steal the identity of victims, but also to commit credit card fraud, hijack online accounts, and use compromised accounts to perpetrate spam, scam, and malware campaigns.
What Are Phone Scams?
Criminals commonly contact potential victims by phone. They try to trick or intimidate victims into sending money or divulging sensitive personal and financial information.
Personal information stolen via phone scams may be used to steal the identities of victims or commit credit card and other types of fraud.
How Much Of A Threat Is Identity Theft?
Identity theft is now one of the fastest growing crimes around the world. Due to the wide variance in definitions of identity theft, the ability to obtain meaningful data for comparison, in relation to the numbers of people affected is difficult.
According to the United Kingdom's Fraud Prevention Service, identity theft fraud cost £3.3 billion in 2013. Identity fraud in the UK provides criminals with £10 million cash flow every day.
In 2013, the Canadian Anti-Fraud Centre reported that they logged over 6,275 complaints in relation to identity theft fraud, totalling $11.1 million in losses.
According to a 2014 report on Australian website Government News, over 900,000 Australians report being victims of identity theft each year, costing more than $1.6 billion a year.
In October 2013, the International Business Times stated that India accounts for 11% of the world's identity theft incidents.
Identity theft in Japan is reported as being a significant issue, with over 200 million yen reportedly stolen in the 12 months prior to April 2014. Account takeover and phishing attacks also reportedly increased.
Who Are Identity Thieves?
Family and friends, especially in regard to identity theft of the elderly and children.
Organized crime gangs. These gangs sometimes operate by means of black-market websites where they sell stolen payment card information, and bank account information to criminals.
Human traffickers wanting to use false identities for themselves and their victims.
Terrorists intent on hiding their identities.
Individual criminally minded people.
Global credit information management service TransUnion explains:
"32% of identity theft victims discovered a family member or relative was responsible for stealing their identity. That same study found 18% were victimized by a friend, neighbour or in-home employee"
In 50 percent of cases the identity thief KNEW the victim.
Why Would A Criminal Want To Steal Your Identity?
To apply for a credit card in your name.
To apply for a phone account in your name or open other utility accounts.
To open a bank account in your name.
To run up debts in your name.
To obtain a loan in your name.
To apply for housing benefits, tax benefits, income support, or child benefits in your name.
To get a drivers license in your name.
To register a motor vehicle in your name.
To apply for a passport in your name.
To assume a new identity to escape a criminal past.
To assume a legal identity for an illegal immigrant.
How Much At Risk Are YOU?
During the course of a normal week you will likely engage in activities that involve a myriad of transactions that may put you at risk of identity theft.
You often have to reveal personal information such as your:
Social Security number (SSN)
Insurance Details
National Identity Number
Medicare Number
Drivers License
Birthdate
Address
Phone Number
Bank Account Details
Credit Card Number
If a person accumulates enough of these different types of information, they could use it to assume your identity or commit fraud.
Identity theft can have a massive effect on your life that can take hundreds of hours, and even months or years to try to resolve the situation.
It has been estimated it can take between 175 to 600 hours of time to restore ones identity once it has been stolen.  In 25 percent of cases it is reported that people never completely resolve the issue.
What Can Happen To You as a Result of Identity Theft?
You may have your money stolen.
You may get arrested.
Legal action may be taken against you.
Your credit rating may be downgraded or red flagged.
You may be denied loans.
You may lose work opportunities or even get fired.
Your name may be associated with unpaid debts or fines.
This is not even taking into account the emotional trauma resulting from such a crime.
Signs That Could Signal That You Might Be A Victim Of Identity Theft
Unauthorized purchases appear on your credit or debit card statements.
Statements arrive in the mail for credit cards or bank accounts that you do not have.
Debt companies or debt collectors call regarding debts you know nothing about.
Errors show up on your credit report when you check it.
A credit or finance application is denied, and you do not know why as you believed you had a good credit rating.
You notice that mail is going missing and bills are not arriving when expected.
Medical bills arrive for procedures you have not had.
Police arrive to arrest or question you over fraudulent activities or other crimes committed in your name.
In summary:
It is often people close to you who are more likely to take your personal information and use it to commit fraud or steal your identity.  Knowing how to keep your personal information safe, both online and offline, is the best form of defence.
  "An ounce of prevention is worth a pound of cure"
Benjamin Franklin