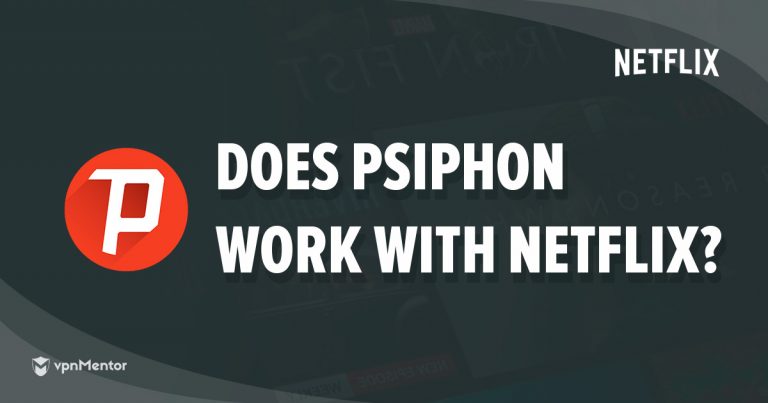 Psiphon Not Working With Netflix? Here's What To Do
Updated on 29th April 2021
If you've ever tried to access your Netflix account while traveling, you'll have no doubt found out about the streaming service's strict geo-restrictions.
Content like TV shows and movies is often subject to different licensing in different countries. Netflix has to geoblock this content to avoid violating copyright laws.
The annoying side effect for users is that you are not able to access another country's version of Netflix from outside its borders.
This can be especially frustrating when your favorite shows are released earlier on another version of Netflix. The geoblocking might also cause problems for those who are traveling abroad and cannot access their own Netflix account.
The good news is that a reliable VPN will help you bypass Netflix's geo-restrictions.
A VPN will hide your IP address and route your traffic through an alternative server. If you choose a server in the correct country, this tricks Netflix into thinking you are logging in from that country. You can unblock and access geo-restricted content in just a few clicks.
The bad news is that not all VPNs are able to unblock Netflix.
According to our tests and research, Psiphon is one of these VPNs and does not work with Netflix.
Why Can't Psiphon Unblock Netflix?
Lots of people are tempted to use Psiphon because it is completely free and has a great reputation for being extremely easy to download and use.
Psiphon is also designed exactly for the purpose of accessing geo-restricted content. The Psiphon website states, "We are uniquely suited to help you get to the content you want, whenever and wherever you want it."
So why can't Psiphon unblock Netflix?
The issue is that Psiphon is aimed at users in what it calls 'freedom-restricted countries'. It is designed to allow people in repressive areas to access content that has been censored by their government.
Psiphon has not been designed with streaming in mind and general speeds are reported as very low. It also does not have the server network or resources to bypass Netflix's geo-restrictions.
Psiphon has always been very upfront about its limitations. The home page states that the VPN, "should not be considered or used as an online security tool."
This likely means that Psiphon also does not provide the level of encryption required to deceive Netflix's sophisticated VPN blocking technology.
That's not to say Psiphon isn't great at giving its users access to censored content. The VPN seems absolutely fine if you want to access geo-restricted websites. However, it does not have the resources, streaming speeds, or security to work with Netflix.
NordVPN Unblocks Netflix
Thankfully, a larger and more powerful VPN such as NordVPN can give you exactly what you need.
NordVPN is able to unblock Netflix because of several key features.
Firstly, NordVPN has a huge number of servers — 5,200+ at latest count. This large network allows NordVPN to avoid detection as they constantly add new servers.
If any of these servers are detected and blacklisted by Netflix, NordVPN can simply replace it with a new server that hasn't been blocked.
NordVPN's servers are also automatically obfuscated. This means that any traffic routed through them will be disguised.
Netflix identifies VPN servers by detecting encrypted information. Obfuscated server traffic cannot be detected in this way so NordVPN uses this technology to successfully avoid blacklisting.
Lastly, NordVPN's innovative SmartPlay technology is engineered specifically for streaming. SmartPlay automatically connects you to a server that has been optimized for streaming Netflix — no setup required.
Other Benefits of NordVPN
5,200+ servers in 61 countries guarantee some of the fastest streaming speeds available.
Unlimited bandwidth means no throttling.
Block ads and malware with CyberSec technology.
Stream in safety with 256-bit AES encryption, automatic kill switch, and DNS leak protection.
Affordable, straightforward plans.
Easy-to-use apps across all major operating systems and devices.
30-day money-back guarantee.
Conclusion and Further Reading
It's no wonder our users only have good things to say about NordVPN. Whether you want to unblock Netflix, stream from another site, or just browse the internet with peace of mind — NordVPN can do it all.
Find out which other VPNs join NordVPN on our list of the best VPNs for Netflix.
Or, check out our rundown of the best VPNs overall.