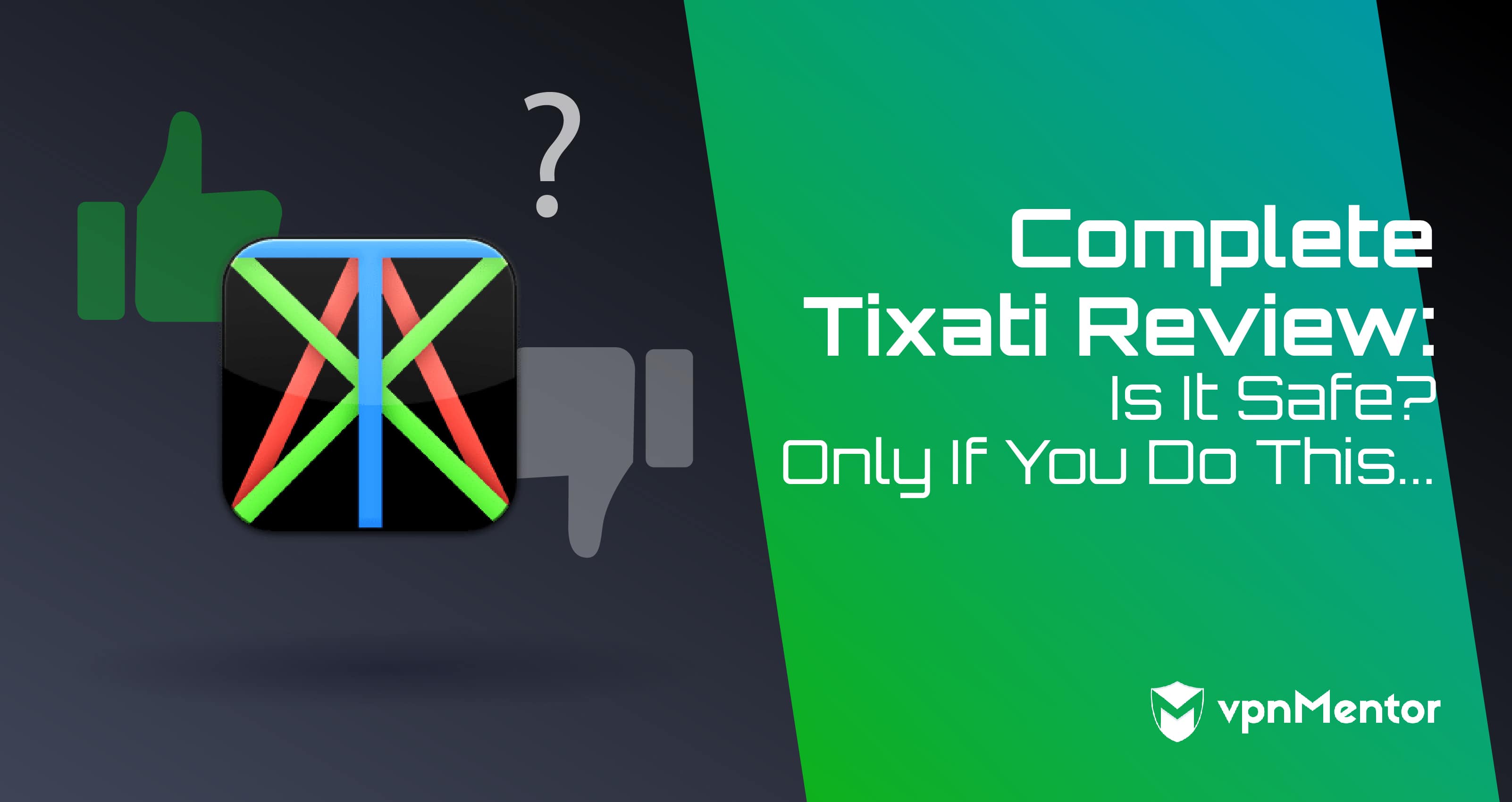 Complete Tixati Review 2023: Is It Safe? Only If You Do This...
Perfect if you're looking for a rapid, ad-free alternative to uTorrent, Tixati is becoming one of the most popular BitTorrent clients on the market.
But is Tixati safe?
Our in-depth Tixati review aims to find out.
Torrenting itself isn't illegal but it's important to remember that it can be a legal gray area in some countries.
vpnMentor never condones the illegal use of torrenting but we do want you to be safe whatever you choose to do with your client.
The only way to guarantee your safety when using Tixati is to first connect to a secure and reliable VPN like
ExpressVPN
. ExpressVPN protects your anonymity and safety without compromising your download speeds.
How to Set Up Tixati
1. Head to the Tixati website and click 'Download Tixati Now'.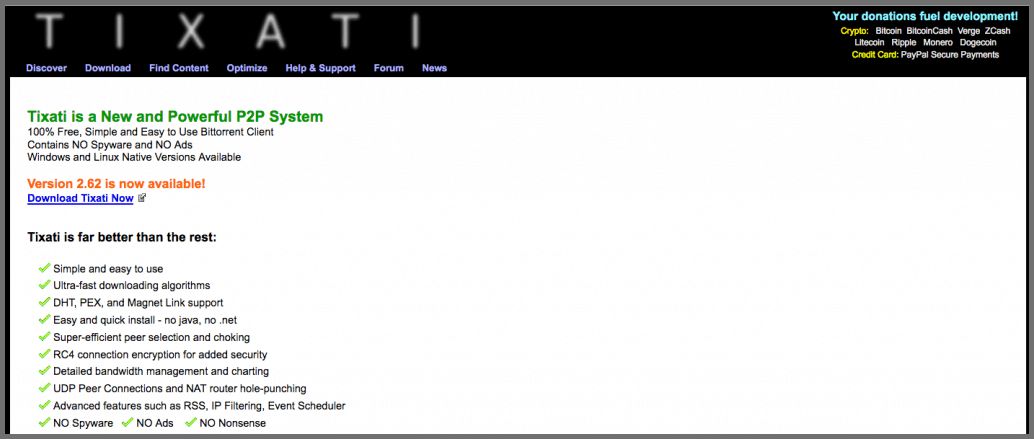 2. Choose the right version of Tixati for your operating system.

And it's as simple as that! Once Tixati has installed, you can adjust your settings to make sure you're getting the best download speeds possible.
Tixati offers the following advice for optimizing your client:
Set your outgoing throttle to 70-80% of its total capacity.
Enable incoming connections.
Make sure DHT can receive incoming UDP packets.
You can also try out these top tips:
Enable Peer Exchange and DHT.
Under 'General' settings and 'Queueing', disable 'Recycle unused download slots' for both downloads and uploads.
Under 'Network' and 'Connections' change network mode to IPv4 or IPv6 'Preferred' instead of 'Only'.
And remember, always connect to your VPN before opening Tixati. This will ensure you are completely protected while you torrent.
User Experience
Unusually, the Tixati website is not able to detect your operating system. You need to manually select which version of the client you need to download for your device.
Although there are only three options to choose from, it can be a bit time-consuming to find out which version of Windows you're using if you're not sure.
Mac users have even worse luck. Tixati is not compatible with macOS at all.
Once downloaded though, Tixati is intuitive and easy to navigate. The interface design is a bit outdated but tips and pop-up help windows are on hand to help you find your way around.
Tixati provides more configuration options than many other clients, making it very customizable. The interface also provides a surprising amount of detail about swarms.
Tixati has no built-in search function but it does have popular encrypted chatrooms where links can be shared or searched.
Can You Block Ads from Tixati?
One of the most appealing things about Tixati is that it has no ads in the first place.
Despite being free and closed-source, Tixati has managed to stay ad-free. The client is run on donations so doesn't have to include adware to generate revenue.
Not only does this mean no annoying pop-ups or loud ads, but it also means you get an extra layer of security against malware that might be hidden in advertising.
Does Tixati Support RSS?
Good news for automatic download fans: Tixati fully supports RSS.
RSS support allows you to automatically download any torrent files you have set up in an RSS feed. Every time the feed updates with new files, Tixati will instantly download them with no manual input from you.
Tixati's built-in RSS reader can be activated under the 'RSS' tab in settings. This will initiate 'RSS View', where you can configure all of your RSS feeds and properties.
Is Tixati Safe?
Open-source fans often take issue with the fact that Tixati is closed-source. However the client promises no spyware and no adware, and there have been no reported issues with malware bundling in Tixati software downloads.
Tixati supports forced RC4 encryption and SOCKS5 proxy. However, it's worth noting that both of these can have a detrimental effect on speeds and that SOCKS5 proxy only covers TCP connections in Tixati.
Tixati has no built-in commenting or rating system. However, the client's chatrooms can be used to verify file quality.
How to Stay Safe When Using Tixati
While Tixati's software itself might be considered safe, you are still at risk of downloading malicious files by accident when torrenting with the client.
Tixati also displays a huge amount of your information when you join a swarm, including your IP address and even your location.
The only to protect your anonymity and safety is to use a VPN with Tixati.
ExpressVPN is our favorite Tixati VPN because it encrypts your traffic, hides your IP and has superfast speeds for downloading. However CyberGhost is another good option because it comes with built-in software designed to automatically detect and block malware.
Reliability and Support
One downside of Tixati is that many users report frequent crashes and downtime.
However, there is a comprehensive Help & Support section on the Tixati website with plenty of guides, helpful hints, and troubleshooting should you experience these problems.
There is also a lively community forum where knowledgable users seem to offer advice and support fairly rapidly.
Remember to Use a VPN with Tixati
Tixati's crashing issue is worrying news for your security, even if a resolution can eventually be found in the Help Center.
That's why it's vital to always use a VPN like ExpressVPN with Tixati.
We recommend ExpressVPN because it boasts over 3,000 servers that all work with P2P sharing. It also has a recommendation tool that will automatically connect you to the fastest server for best performance.
ExpressVPN ensures your safety and privacy with its strict no-logs policy, AES 256-bit encryption, kill switch, and DNS leak protection. That's what makes it our most well-reviewed VPN among real users.
Start Torrenting with ExpressVPN
Conclusion and Further Reading
Tixati might have a few niggling faults but overall there is much more to praise than there is to criticize. Its highly customizable settings, simple ad-free interface, and feature-heavy design make Tixati extremely impressive for a free torrent client.
It even features on our rundown of the fastest BitTorrent clients we could find.
You can even use our discount code to enjoy 49% off ExpressVPN, our top recommendation.
New to BitTorrent and using clients? We've written a complete guide to torrenting safely and anonymously just for you.
Privacy Alert!
Your data is exposed to the websites you visit!
The information above can be used to track you, target you for ads, and monitor what you do online.
VPNs can help you hide this information from websites so that you are protected at all times. We recommend ExpressVPN — the #1 VPN out of over 350 providers we've tested. It has military-grade encryption and privacy features that will ensure your digital security, plus — it's currently offering 49% off.