How to Watch the 2018 American Music Awards from Anywhere
The American Music Awards is a must-see for music fans all around the world.
The event will be broadcast live on ABC on November 19th.
Since 1974, the Music Awards are ABC's version of the Grammys. It is a favorite of music fans because the winners are not chosen by a panel of experts. Instead, they are nominated based on a range of factors including radio airplay, digital sales, social activity, and touring.
However, for viewers outside of the U.S., watching the 2017 American Music Awards live – rather than relying on reruns or highlights – can be tricky, if not impossible.
ABC is one of the biggest U.S. television networks, which covers a wide range of entertainment, sports, and live events.
It has fully engaged with digital technology allowing viewers to watch shows, sports and events via live streaming. But, to benefit from this access you need to confirm that you are in one of the regions where the live ABC stream is available – namely the U.S.
So, does this mean that if you are outside America, you can't access any of ABC's live content, including the American Music Awards? No, you can, but you need a VPN.
Watch the American Music Awards Anywhere with a VPN
A VPN (Virtual Private Network) changes your IP address so that it appears if you are in a different location.
This gives you access to geo-restricted channels and content, including ABC. Using a VPN also means that you benefit from high levels of encryption. This keeps your identity anonymous and your online activities protected.
For those that are new to VPNs and their many benefits, our VPN guide can walk you through it all.
Unfortunately, not all VPNs are able to access geo-restricted content successfully. Before the show or event, it's important to take some time to research the providers who do offer this service, and which ones can specifically access U.S. content (the good ones can access Netflix).
Below is our list of tried and tested VPNs for unblocking U.S. geo-restricted content.
Access ABC Live Streaming with a VPN
With your chosen VPN provider, you can access ABC live stream via the Watch ABC app or ABC.com, but you need a TV provider.
Luckily, one of the available TV providers is Hulu. So, as long as you have a Hulu account, you can stream the AMAs live on ABC.
Get a Hulu account outside of America
Hulu is a subscription-based website that offers thousands of TV shows to stream from.
In order to subscribe to Hulu, you must have an American credit card, but there is a workaround!
Hulu offers these great online gift cards that you can pay with PayPal using any credit card.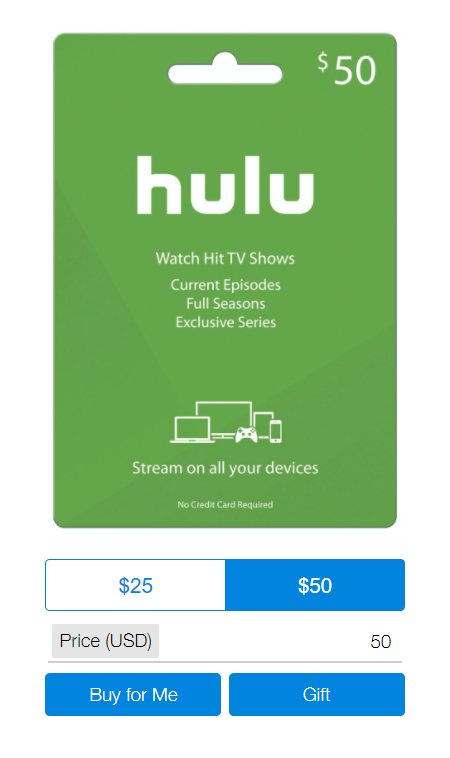 Here's how to do it:
Go to PayPal gift cards and purchase a Hulu gift card. (We recommend purchasing $50 to cover everything you need.)
Turn on your VPN and sign up for Hulu using your gift card.
Log on to abc.go.com (with your VPN still on) and click on 'more providers'

Choose Hulu as your provider
Login with your credentials and enjoy live-streaming the American Music Awards on November 19th at 8 p.m. EST.
Watch your favorite shows ANYWHERE!
The best part about using Hulu with a VPN to unlock the American Music Awards is that you can watch hundreds of shows, not just those on ABC.
With a top-quality VPN, you can watch the American Music Awards and more, no matter where you are!