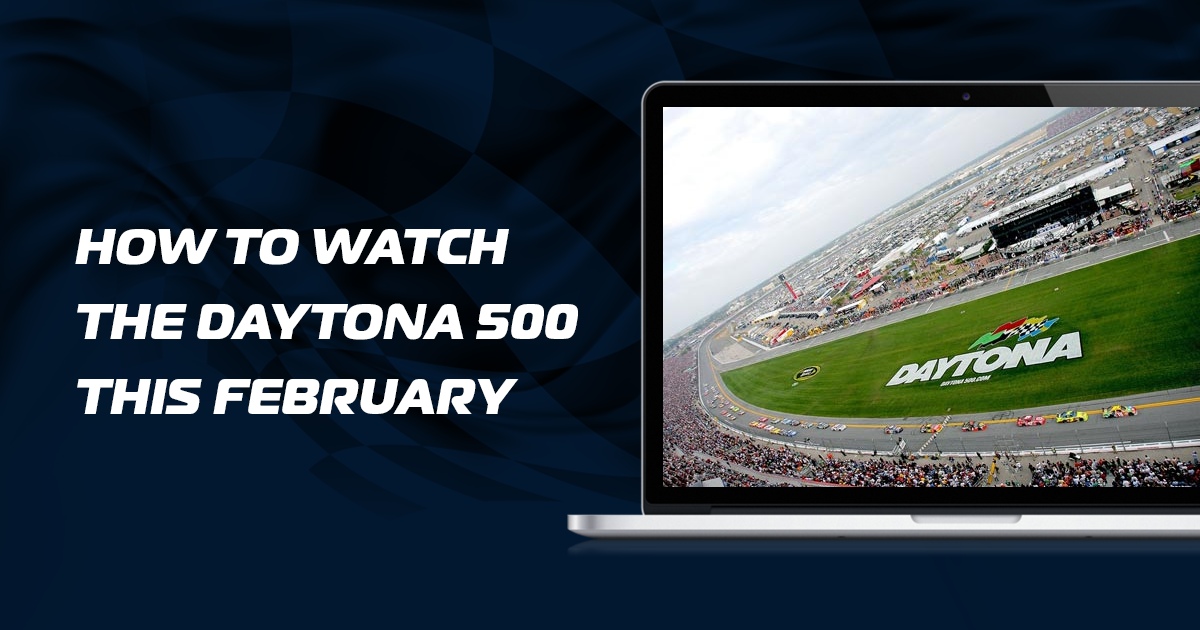 How to Watch the Daytona 500 From Anywhere
Whether you're a moderate racecar enthusiast or an absolute diehard fan, there is every reason to be hyped for the Daytona 500 this February.
Unfortunately, you may be disappointed to find out that watching the Daytona 500 is not a straightforward process if you're outside the United States or you don't have American cable.
If you want to watch the Daytona 500 no matter where you are, VPNs are here to help you. We'll show you how!
Where Can I Watch the Daytona 500 Online?
Since 2007, FOX Sports has been the official and exclusive broadcaster for the Daytona 500.
While the race is aired on FOX Sports, there is also a live stream option available via FOX Sports GO, but with a couple of caveats.
FOX takes your geolocation into consideration when you access their online streams.
If you are in the United States, you won't notice anything out of the ordinary. However, access from overseas is severely limited:

FOX Sports GO's International Access has a variety of programs, but the Daytona 500 isn't included.
So, the restrictions on the official live stream will make the race off-limits to those trying to watch abroad.
There are workarounds, but even if you were to circumvent this issue, it isn't the only one you will need to address.
The other obstacle is FOX's requirement of American cable to sign in and get unlimited access.
You get 10 minutes of streaming before you must log into your account, which requires you to select your cable provider:
At this point, it may look like all hope is gone for those accessing FOX overseas, but we promised you a way to catch the Daytona 500 and we aren't about to let you down.
Watching FOX Sports straight from the source is not an option, but there is an alternative — Sling TV.
Watch the Daytona 500 with Sling TV and a VPN — No American Cable Required
Sling TV is a streaming platform that offers almost all popular US channels, including the FOX roster. It also gives expats and travelers a way to watch American TV online without a cable provider.
However, you will run into the same problem you initially encountered on the FOX live stream — geoblocking:

To get Sling TV outside of the United States, you are going to need something extra. This is where a VPN can help.
Virtual private networks make your time on the Internet private, secure, and anonymous.
Furthermore, they eliminate all restrictions related to your geolocation – popular examples include unblocking Netflix, BBC iPlayer, and a wide variety of TV live streams across the world.
There is a lot more to VPNs and how they work – make sure to check out our beginner's guide to get a full understanding of the various ways a VPN makes your online activities better and safer.
As with any other product or service, there are excellent and mediocre VPNs out there, and the difference can be significant.
A solid provider will make sure you never have to worry about VPN blocks, log keeping, or server bandwidth and uptime.
It's important to choose a VPN that will meet your needs, but it may be a difficult task due to the sheer number available.
We rounded up the best VPNs for video streaming below.
Each one of them will ensure you don't miss a single moment of the Daytona 500, thanks to unlimited-bandwidth servers, fast connections, and high accessibility:
Gain Access to Daytona 500 with Sling TV and a VPN
Now that you know how to bypass the Sling TV geoblock, it's time to learn how to gain access to FOX Sports. What you want is the Sling Blue package, currently at $25 a month.
However, subscribing requires an American credit card. Assuming you don't have one, you can redeem a gift card after purchasing it via PayPal.
This article explains how to easily subscribe to Sling TV without an American credit card. 
Watch the Daytona 500 from Anywhere, Thanks to a VPN
You won't have to miss one of the most hyped events in NASCAR sports just because of your geolocation. You can join in on the race Daytona 500 excitement with a reliable VPN and Sling TV.
For more information about choosing the right VPN for you, check out our comprehensive guide.
To summarize, the best VPNs for watching Daytona 500 in 2023 are...
Privacy Alert!
Your data is exposed to the websites you visit!
The information above can be used to track you, target you for ads, and monitor what you do online.
VPNs can help you hide this information from websites so that you are protected at all times. We recommend ExpressVPN — the #1 VPN out of over 350 providers we've tested. It has military-grade encryption and privacy features that will ensure your digital security, plus — it's currently offering 49% off.