How to Watch the 70th Primetime Emmy Awards from Anywhere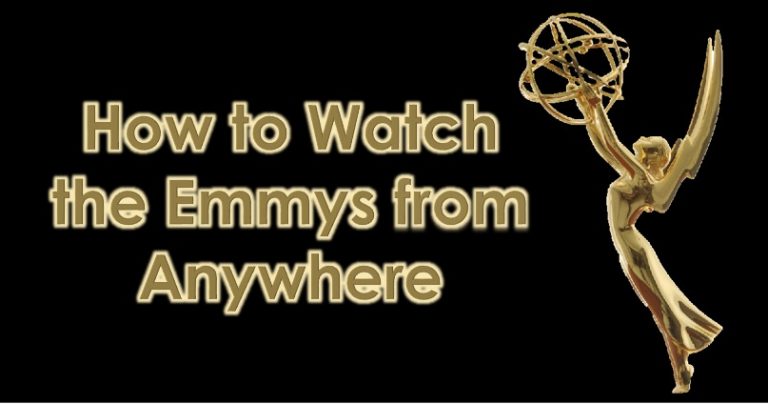 If you are a fan of even one American TV show, you are probably eagerly awaiting the 70th Primetime Emmy Awards on September 17, 2018. Imagine how frustrated you will be if you get together with your friends and family to stream the event known as "television's biggest night," only to find out that it's not available in your area!
The problem is that NBC, the network that will broadcast the Primetime Emmys, is geoblocked outside the US. That's why whether you live outside the US or are a US resident who will be traveling abroad this September, you need a reliable virtual private network (VPN) to get around those geoblocks so you can enjoy the show.
The good news is that we've solved the problem of how to watch the 70th Primetime Emmy Awards from anywhere on earth using a VPN. Read on to learn our simple, step-by-step method and also get some help choosing the best VPN for you.
How to Watch: Quick Guide
A good VPN will allow you to connect to streaming services that carry all geoblocked US television stations, including NBC. Here is our easy, 5-step method to get access to geoblocked shows like the Primetime Emmys no matter where you are:
Choose a reliable VPN. (You'll love CyberGhost.)
Use the VPN to connect to a server in the US.
Go to MyGiftCardSupply and purchase a Hulu gift card. This will enable you to sign up for Hulu Live TV without a US address or credit card.
Go to Hulu's gift redemption page to redeem your gift code and sign up for Hulu Live TV service.
On the day of the Primetime Emmy Awards broadcast, go to NBC.com, choose LIVE on the menu bar, then select Hulu from the full list of providers. You will be prompted to sign in to your Hulu account to begin watching.
Why You Need a VPN to Watch the 70th Primetime Emmy Awards
Like all major American television networks, NBC TV is only available in the United States. As a result, no matter which streaming service you use, if your IP address is outside the US, geoblocks will prevent you from watching the 2018 Primetime Emmys. By masking your true location and allowing you to select a new IP address within the US, a VPN gets you past those geo-restrictions so you can see the Emmy Awards and all of your favorite US shows.
VPN providers are not all the same, however. Some VPNs slow down your internet connection, while others are unstable, causing annoying service interruptions. Getting around geoblocks doesn't matter very much if you end up with a slow, unreliable connection that makes it hard to watch video. That's why our experts have studied hundreds of available VPNs to find the best choices to watch the 2018 Emmys with no hassles.
The Best VPNs for Watching the 70th Primetime Emmy Awards
For the best possible Emmys viewing experience, you need a VPN provider known for high speeds, reliability, and servers optimized for streaming. Here are the best VPNs to use to watch the Emmys, and what makes them stand out above the rest.

CyberGhost offers one of the most user-friendly VPN interfaces on the market today, along with excellent security features, up to five simultaneous connections, and a wide array of servers spanning the world. It is also one of the most affordable premium VPNs, winning our 2018 award for Best VPN Value. There have been some reports of service interruptions during heavy use times, so it is possible that this VPN is not quite as reliable as the previous two. However, enthusiastic user reviews show that these problems are rare, and there is every reason to believe that CyberGhost will provide you with a great Emmys watching experience.

NordVPM offers fast and reliable connections with servers across the US optimized for streaming. Advanced usage meters guarantee that you will always have access to the fastest server available. In fact, NordVPN won our 2019 Best Overall VPN Award. With no caps on bandwidth, no throttling of service under any circumstances, and up to six connections on different devices, NordVPN can provide a great Primetime Emmy Awards streaming experience for your whole family. Excellent security measures ensure that your online activity will never be tracked. Read our user reviews to see many more reasons why NordVPN is a crowd favorite.

ExpressVPN is the go-to VPN if you want to avoid slowdowns when online traffic is high, which will definitely be the case during the 70th Primetime Emmy Awards. With its large US server network that guarantees 99% uptime, ExpressVPN was our award winner for Best VPN for Speed in 2018. In addition, ExpressVPN has a proven ability to get past the VPN-blocking software some streaming services use. Outstanding security features like 256-bit AES security, DNS/IPv6 leak protection, and a kill switch make this VPN a popular choice among VPN users.

PrivateVPN is a rising star in the VPN market. Although PrivateVPN has significantly fewer servers than the above VPNs, those servers are well distributed across the US and around the world, ensuring that you will have no trouble accessing the Primetime Emmy Awards broadcast. PrivateVPN also offers everything you need in a VPN for streaming, including six connections, a no-log policy for privacy protection, and high speed. With all these features and a very affordable price, it is easy to see why in spite of not being one of the biggest VPNs, this provider is rated by users as one of the best.

Are you looking for a reliable, budget-friendly VPN with all the important features like unlimited bandwidth and AES encryption for security? Then Private Internet Access (PIA) might be the ideal choice for you. Although it has the fewest servers among the providers on this list (only 25 worldwide), PIA still delivers fast speeds, gets you around geoblocks, and protects your privacy with SOCKS5 Proxy and port forwarding capabilities. Low prices on short-term subscriptions make PIA a good choice for people who only need a VPN for a short time, such as while traveling. Unfortunately, its limited server array means that this provider cannot offer access to specialized servers for streaming, which could cause some minor issues during periods of high traffic. Nevertheless, many users rate this VPN highly.
Summary
Don't let geoblocks prevent you from enjoying all the fun and excitement of the Emmys. Now that you know the secret of how to watch the 70th Primetime Emmy Awards from anywhere in the world, all you have to do is choose your VPN. We hope the advice of our experts has helped you decide which one is best for you, but since the top VPNs we recommend offer money-back guarantees or free trials, you can try them out with no risk.
Best of all, we can even help you get the best possible deal on the VPN you choose! We have gathered up all the best coupon codes so you'll get the lowest price available on these VPNs and many more. Get started with a VPN today so when September 17th arrives, you will be ready to sit back and enjoy the Emmys!