Watch ESPN Live Even if You're Outside of the US in 2020
ESPN is one of the most popular live sports television brands in America attracting millions of viewers. But if you live outside of the US, it can be difficult to access. Share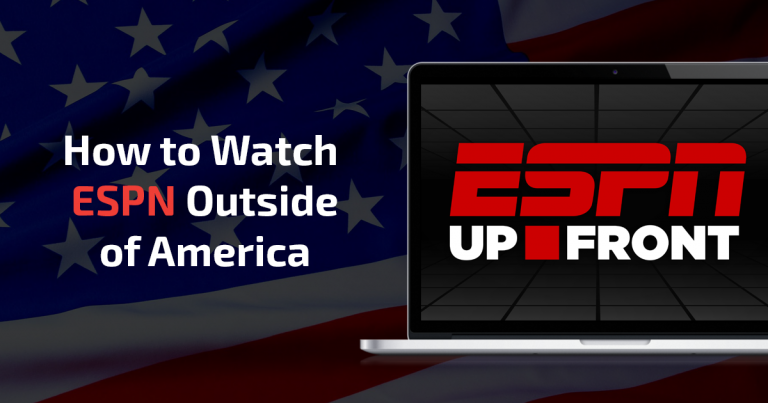 Whether it's NBA or NFL, Wimbledon or The World Cup, if you're a sports fan, we know you'd do just about anything to watch ESPN.
But what do you do if you prefer not to subscribe to a cable network? What if you want to watch on the go or while traveling abroad?
There are several ways to get access to all ESPN. However, ESPN itself is geo-blocked, which makes it available only in the US. If you try to access its services from anywhere else, you'll get an error message saying just that. So annoying, right?

We don't want you to miss that game, so we're going to tell you how you can watch ESPN at any time, no matter where you are in the world. You can even start watching right now if you like. You won't believe how easy it is.
How to Quickly Watch ESPN
Choose a VPN, sign up, and install the application. We recommend CyberGhost– a fast VPN for streaming – and you can try it for 30 days, risk free.
Connect to a server in the US.
Go to the ESPN website, create an account, and start watching.
Yes, it's that simple!
Why You Need a VPN
There's more than one way to watch ESPN. However, it's accessible only from within the US, meaning that if you try to watch from anywhere else in the world, it'll show that your IP is coming from a different country and will be blocked.
A VPN allows you to connect to a server in the US, hiding your true IP and replacing it with a different IP in the country you choose. In other words, it changes your virtual location from where you actually are to the server location you're connected to.
Once you connect to a VPN server in the US, yourVPN's US IP address will be detected and you'll be given access to any geo-blocked service.
This method works for almost any geo-restricted service online. In addition, the VPN encrypts all your online traffic to protect your online privacy and security. Not only will you be able to bypass geo-restrictions, but you'll be also secure and anonymous online.
The Best VPNs to Access ESPN
While there are countless VPNs on the market these days, not all of them are suitable for accessing US-based services like ESPN. What you need is a VPN that has different servers across the US.
Keep in mind that most VPNs protect your online security, privacy, and freedom at the cost of speed. Live streaming requires a fast internet connection; you don't want to wait for buffering while you're watching the most important game of the season on ESPN! You need a blazing fast VPN that won't slow down your connection speed. Lags can differ from one provider to another.
Other important features you're going to want are a stable connection, a high level of encryption, and the ability to bypass the anti-VPN measures taken by some websites.
Picking the right VPN for ESPN can be a time-consuming process, but no worries. We did all the research for you and compiled a list of the best VPNs for streaming ESPN.
How to Watch ESPN using CyberGhost  VPN
Unlike other VPNs, CyberGhost has a very unique feature specially made for unblocking geo-blocked streaming websites such as ESPN. This feature makes the whole process a lot simpler. Let's see how that's done
1. Close your browser if it's open, and open the CyberGhost application.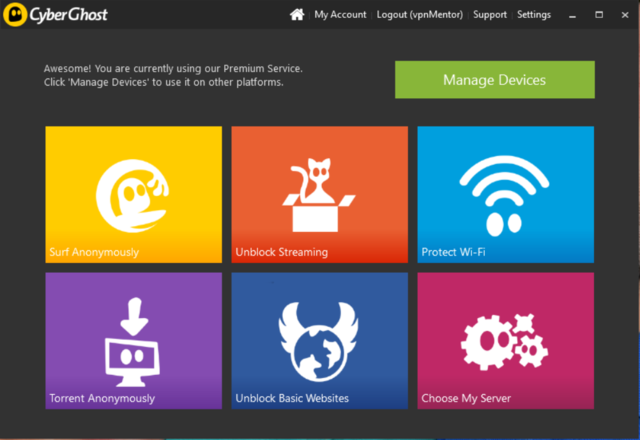 2. Click on "Unblock Streaming" and search for ESPN in the search field above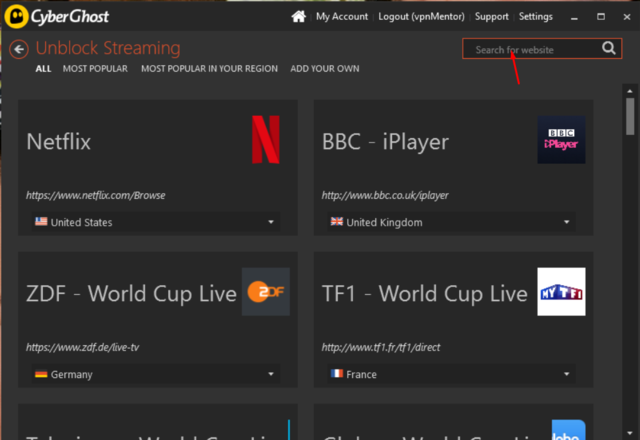 3. Click on the ESPN window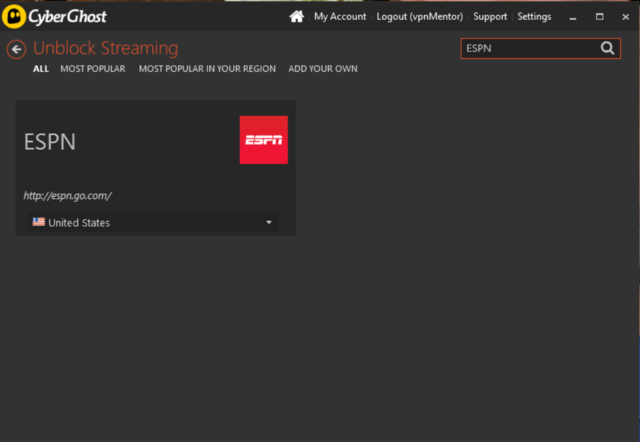 Note: At this point, the CyberGhost app will automatically configure its connection settings to be able to connect to the most suitable VPN server in order to access ESPN.
4. Wait while CyberGhost establishes a connection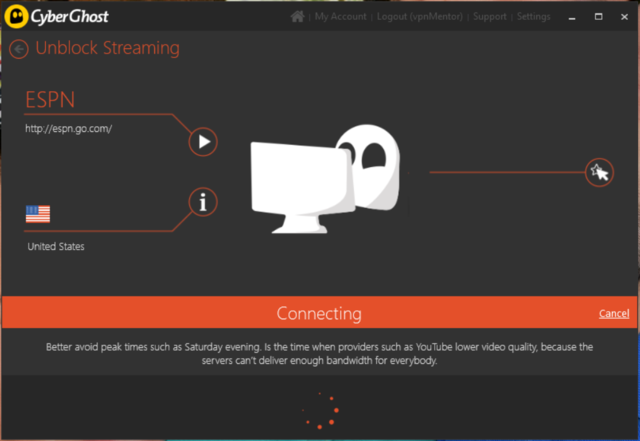 5. Once the connection is established, the app will automatically open the ESPN website and you'll have full access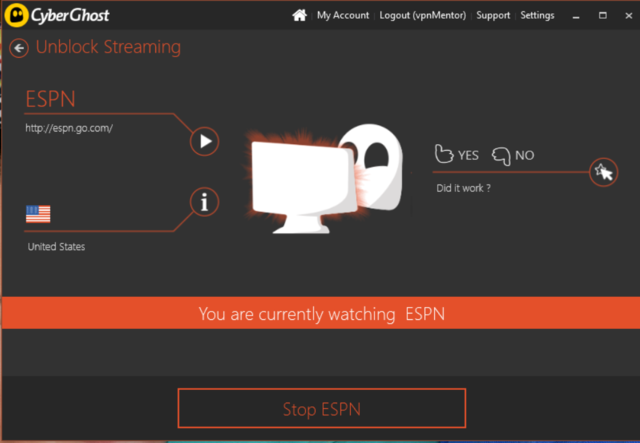 Congratulations! You're now watching ESPN.
As previously mentioned, CyberGhost allows you to simply choose the streaming service you want to unblock from within the application and it does the rest. Once you choose the service, the application automatically connects to the most suitable server and opens the website.
This method is very useful to users who already have a subscription to ESPN or have an American credit card. However, if you don't meet these requirements, you can still watch ESPN, but through Sling TV, which allows you to create an account without needing an American card. This article tells you how.
There's a lot going on in the sports world today, but now you won't miss a thing!
Worried about spending too much money on a VPN service? Well, don't! Save time and take a look at the hottest VPN deals and coupons.
You might also like: