How to Watch Lost in Space Anywhere Online
Updated on 2nd October 2020
Ready for Season 2 of Lost in Space, but don't have Netflix in your location? You've come to the right place. I've found the top three VPNs for unlocking Netflix so you can enjoy speedy, high-quality streaming wherever you are. Share
They've landed on an alien planet and now it's a case of survival and escape. I'm talking about the Robinson family, of course. Season 2 of Lost in Space returns to Netflix, and it's set to be bigger, better, and scarier than before.
Lost in Space is available on Netflix globally. But, if you're one of the unlucky few in a country where Netflix isn't accessible, you might feel as though you're lost in another dimension like the Robinsons. Geo-restrictions will stop you from tuning in.
Don't worry though, I have a way around it. Installing a VPN on your device allows you to access Netflix, even if you're in an unsupported location.
How? A VPN connects you to a server in another country where Netflix is available, hiding your IP address and bypassing geoblocks to unblock content for you.
Netflix uses some of the toughest geoblocks around to lock down its content and finding a VPN that can get past them isn't easy. But, I've rounded up three that will so read on to find out which VPNs I recommend.
Quick Guide – How to Watch Lost in Space on Netflix
Choose a VPN. I recommend NordVPN for its impressive unblocking capabilities and lightning-fast speeds.
Install the VPN and connect to a server in a country where Netflix is available, such as the UK, US, or Canada.
Head over to Netflix, sign up/log in, and press play!
Start Streaming Lost in Space Now!
Why You Need a VPN to Watch Lost in Space
Netflix places geo-restrictions on its content and is only available in certain countries.
It uses your IP address to track your location, so once you're in a restricted location, geoblocks will stop you from streaming anything. Annoying, right?
There's a solution, though. A VPN creates a secure connection between your device and another server. You need to choose a server in a country where Netflix is available, such as the UK or US.
Your connection is secured through an encrypted tunnel that hides your real IP address, so Netflix can't find your location.
Instead, you're given an IP address in your target country, so Netflix thinks you're watching from the UK, US, or wherever you've selected. And that means, you have full access to the whole Netflix library, including every episode of Lost in Space.
That's Not All a VPN Can Do
A VPN is a great way to bypass geo-restrictions and unlock geoblocked content, but that's not the only benefit.
With a VPN, you're highly secure while you're online.
When it hides your location, it routes all your traffic through an invisible encrypted tunnel. This means no one knows you're there. So, there's no need to worry about privacy thieves or other risky business compromising your privacy by intercepting your traffic.
Invisibility also means your Internet Service Provider can't throttle your bandwidth, which many do, especially during busy periods or once they know you're streaming. This causes slow speeds, buffering, and annoying lag, which isn't ideal when you want to keep up with the Robinsons' adventures.
A VPN can also help you bypass digital censorship. If you're in an intensely geoblocked country like China, a VPN can unblock Google, YouTube, and social media, while keeping you securely hidden.
3 Best VPNs for Watching Lost in Space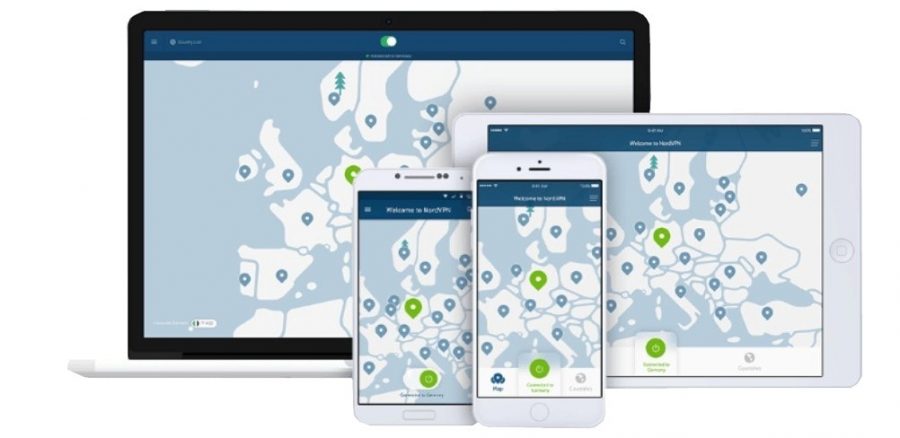 NordVPN has over 5,300+ servers worldwide, including in every Netflix location. It's my top recommendation, and it's our #1 choice for streaming Netflix.
It offers the best coverage in the UK, US, and Canada, with over 2,300 servers in these locations combined. I'd recommend you connect to one of these areas, as there's less risk of servers becoming overloaded. Although slow speeds aren't something you need to worry about with NordVPN.
It's reliable for unblocking Netflix on any of its servers, which you don't get with every VPN. It's often the case that some servers work and others don't, which is more trial and error than you'd probably like.
NordVPN has unlimited bandwidth and data, and lightning-fast speeds for the best streaming experience. You can watch every episode of Lost in Space with no limits and in ultra HD.
It keeps you secure with AES 256-bit encryption, an automatic kill switch, and that all-important ad blocker which prevents malware and blocks pop-ups.
NordVPN has a zero-logging policy and it's one of the most transparent policies I've seen. The only data you need to provide is the information you need to sign up. You can read more about NordVPN's no-logs policy in our detailed review.
The app is easy to set up, but if you need any support, NordVPN has a 24/7 live chat. You also have up to six simultaneous connections.
Tempted? I don't blame you. You can try it out for yourself risk-free with its 30-day money-back guarantee. Check out our discount page to cut the cost of your subscription.
5,300+ servers in 59 countries
Blazing speeds
Unlimited bandwidth and data
Military-grade encryption, automatic kill switch, and an ad blocker
Zero-logging policy
24/7 live chat
Works with: Netflix, BBC iPlayer, Disney+, Hulu, HBO GO, ITV Hub, SHOWTIME
Compatible with: Windows, Android, macOS, iOS, browsers, routers, Apple TV
Stream Lost in Space With NordVPN!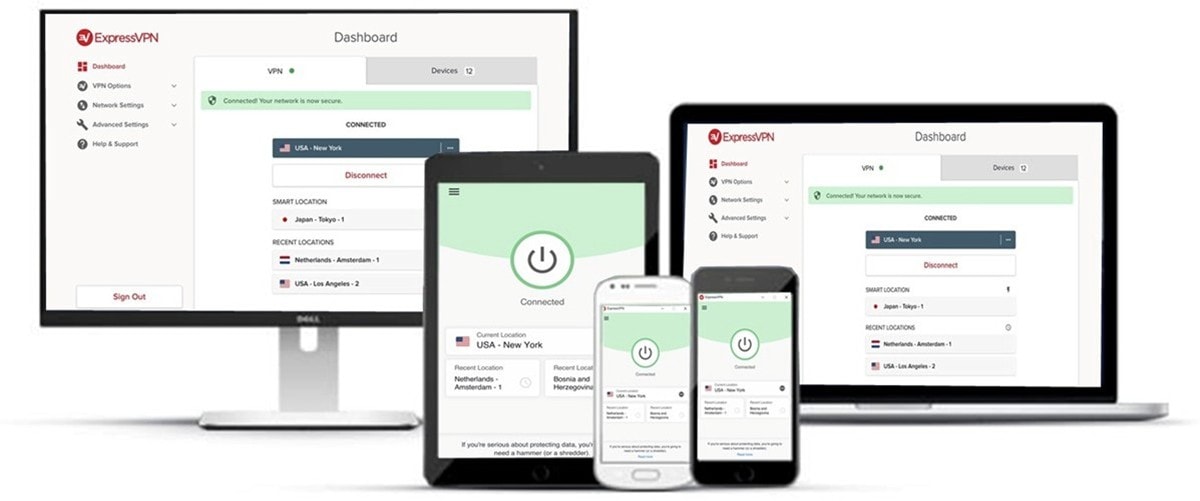 ExpressVPN offers some of the best speeds around and is ideal for streaming on Netflix.
It has over 3,000 servers in 90+ countries, and offers access to every Netflix library around the globe.
It has a built-in speed test in the app which allows you to see which servers are performing well, and you have unlimited server switches. This means you can watch Lost in Space from the UK one day and the US another, so you get the best speeds every time, rather than being restricted to one location.
ExpressVPN has no limits on data or bandwidth. You can watch as many episodes of Lost in Space as you like, without having to worry about missing out.
Your activity and location are secure with 256-bit AES encryption and strict no-logs policy. There's also an automatic kill switch, alongside DNS and IP leak protection for extra privacy. You can read more about ExpressVPN's advanced security features in our comprehensive review.
You can connect five devices simultaneously, so you can catch up with the Robinsons on your mobile, laptop, or tablet.
Questions on your mind? You can use ExpressVPN's 24/7 live chat. There are also plenty of helpful guides on its website.
Try it out risk-free with its 30-day money-back guarantee and use our coupon to get a discount on your subscription.
3,000+ servers in 90+ locations
Super-fast speeds
Unlimited bandwidth and data
Five simultaneous connections
24/7 live chat
AES 256-bit encryption, no-logs policy, and automatic kill switch
Works with: Netflix, BBC iPlayer, Hulu, Amazon Prime Video, CBS, ESPN, Disney+
Compatible with: iOS, macOS, Windows, Android, Linux, Chrome, Firefox
Stream Lost in Space With ExpressVPN!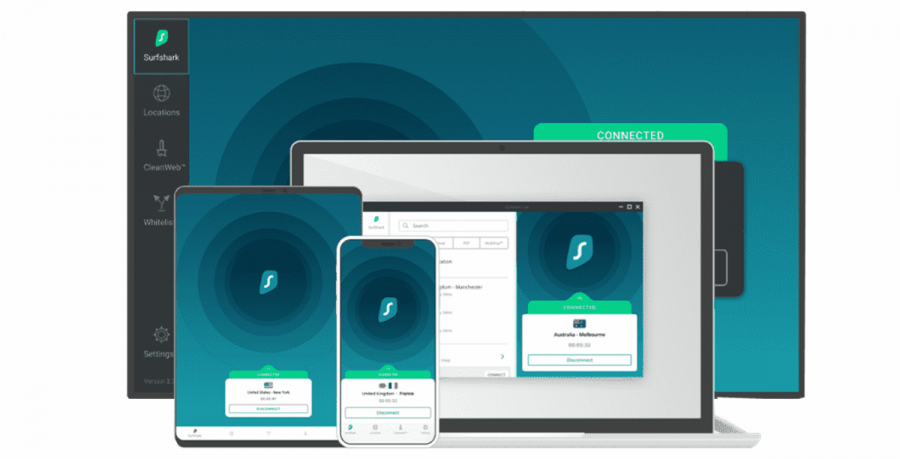 If you're looking to watch Lost in Space at home, on-the-go, or even at your friend's house, then Surfshark is ideal. It allows an unlimited number of simultaneous connections, so you can watch on any device.
Surfshark has impressive global coverage, with 1,040+ servers in 61+ countries. You can access any Netflix library with Surfshark to watch Lost in Space.
Its speeds are fast, reliable, and guarantee high-quality streaming wherever you connect.
Worried about annoying ads? Surfshark has a CleanWeb feature which makes streaming hassle-free. This blocks suspicious ads, malware, and trackers that may compromise your privacy or your device.
It also has a Whitelister feature which allows you to control which apps go through the VPN. This means you can browse locally and encrypted at the same time. Check your emails or update your social channels, all while streaming with another IP address on Netflix.
If you want to find out more about how the Whitelister feature works, we've put it to the test so you don't need to. Check out the results in our review.
Surfshark offers a strict no-logs policy, military-grade encryption, and an automatic kill switch.
It also adds even more privacy with its MultiHop feature where you can connect to multiple servers to make you harder to trace.
If you're looking to torrent as well as stream, Surfshark allows P2P sharing on every server.
For any support queries, there's 24/7 live chat and email support.
Want to try it out? You can test Surfshark's premium packages risk-free with its 30-day money-back guarantee. And yes, you guessed it – we have a coupon you can use to get your subscription even cheaper.
1,040+ servers in 61+ countries
Lightning-fast speeds
Unlimited simultaneous connections
Industry-leading encryption and automatic kill switch
Whitelister split tunneling feature
CleanWeb ad and malware blocker
Works with: Netflix, Hulu, BBC iPlayer, HBO GO, Sky, ESPN, DAZN
Compatible with: Android, Windows, iOS, macOS, browsers, Linux, routers
Stream Lost in Space With Surfshark!
FAQs
? Where is Lost in Space filmed?
Season one of Lost in Space on Netflix was filmed in Vancouver, BC and surrounding areas. For season two the cast filmed in both Vancouver, and Iceland.
? When does Lost in Space season two come out on Netflix?
Season two was released on December 24, 2019, and is now available for all Netflix viewers. You can also find season one, if you need to catch up or just started watching the series.
Netflix just renewed Lost in Space for a third season as well. While there is no specific release date yet, the third season is expected to drop sometime in late 2020.
? Will Netflix know I'm accessing from a VPN?
Netflix does run IP addresses against a know list of VPN IP addresses, so it's possible they will detect you. Using a high-quality premium service like NordVPN, makes this less likely. If you do run across an issue on a specific server, accessing from a different server in the same country usually resolves the issue.
The Bottom Line
Don't give up with Netflix because a few geoblocks got in your way. While Lost in Space might be locked behind geo-restrictions, a VPN can help you access Netflix even in restricted locations.
It connects your device to a country where Netflix is accessible and spoofs your location so Netflix thinks you're tuning in from elsewhere.
My top choice is NordVPN. With its impressive unblocking capabilities, super-fast speeds, and worldwide coverage, it's a clear winner.
Want to see what more entertainment you could enjoy? See which VPNs are best for unblocking BBC iPlayer.
Has split tunneling sparked your interest? It's a highly unique feature, and not every vendor offers it. Read our guide to split-tunneling to learn more about how it works and how to use it.
Privacy Alert!
You are exposing yourself to the websites you visit!
The information above can be used to track you, target you for ads, and monitor what you do online.
VPNs can help you hide this information from websites so that you are protected at all times. We recommend NordVPN — the #1 VPN out of over 350 providers we've tested. It has military-grade encryption and privacy features that will ensure your digital security, plus — it's currently offering  68% off.