How to Watch the 54th Super Bowl LIVE from Anywhere in 2020
Updated on 24th January 2020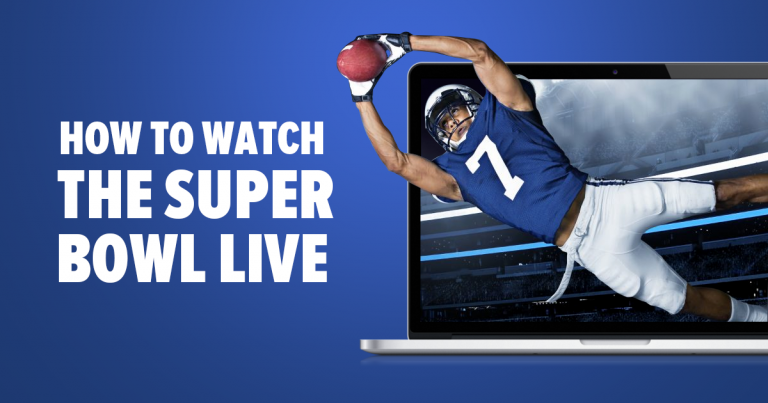 It is the broadcasting event of the year. Two teams colliding for the sport's biggest championship. It is the Super Bowl, and it is being played for the 54th time on February 2.
The Kansas City Chiefs take on the San Francisco 49ers in a battle for NFL supremacy. But geographical restrictions could block you from watching the game.
If you're abroad or outside the US, how can you watch the one event everyone will be watching? With a VPN, that's how. VPNs can make it seem like you are in another country, allowing you to watch the streams from that country.
The NFL is making it hard on you, though. They want to block VPNs and keep you from seeing the Super Bowl. But I know some VPNs that can avoid those blocks.
A top-notch VPN can break through geoblocks and allow you to watch the game. In my research, I've discovered that ExpressVPN is the best for watching the NFL. Fast streaming speeds and the ability to avoid geoblocks make it your best choice for the Super Bowl.
Take a look at the other services that I recommend for streaming the Super Bowl.
PRO TIP: Watch the Super Bowl and Save On NFL International
NFL International is the best and cheapest option for watching the Super Bowl. And, with a VPN, you can make the game even cheaper by choosing which country you watch the game through.
For example, in the UK, you would pay £9.99 ($13.13). In South Korea, you would pay ₩ 23,200.00 (19.88). In India, the game is $9.99. And, in France or Germany, it costs € 8.99 ($9.97). So France, Germany, or India are your best choices for watching the game (depending on what the exchange rate that day).
Quick Guide – Watch the Games with NFL International Super Bowl Pass
Sign up for a premium VPN. I recommend ExpressVPN, as it has the speed you need for NFL live streaming and ability to break through geo-restricted content.
Connect to a server in France, Germany, or India.
Sign up for the Super Bowl Pass.
Stream the Super Bowl live!
Quick Guide – Watch the US Broadcast on Hulu
Choose a premium VPN with US server. ExpressVPN has great network speeds and the ability to unblock Hulu. Register and install the app.
Run the app, log in, and choose a server in the US.
Go to hulu.com and subscribe to Hulu + Live TV.
Log into Hulu, go to FOX, and stream the Super Bowl!
3 Best VPNs for Watching the Super Bowl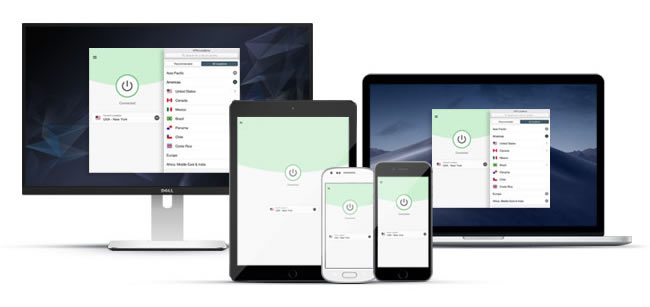 ExpressVPN's Key Features
Unblocks ESPN+, ESPN, Sling TV, Amazon Prime Video, HBO GO, Netflix, Spotify, YouTube, CBC, and NBC.
Available for Chrome, iOS, Android TV, Windows, Linux, macOS, Firefox, Android, Safari, some routers, and certain game consoles.
30-day money-back guarantee
Over 3,000 servers
Excellent speeds
Allows 5 simultaneous connections
Support available through 24/7 live chat
Streaming football in HD requires a lot of bandwidth, and ExpressVPN delivers it with one of the fastest networks available. And that network is excellent for breaking through geographical restrictions around the world.
If you need to stay connected to your local network, ExpressVPN's split tunneling features lets you do that. You can use it to keep your local devices available as you stream the Super Bowl from the other side of the world.
The ExpressVPN network includes over 3,000 servers located in 94 countries. That gives you a broad range of options when you search for a deal on the NFL Network.
With up to 5 simultaneous connections available, you can even share your freedom with friends and family.
ExpressVPN offers a 30-day money-back guarantee. So you can watch the game and still get a full refund.
Want to know more? Visit our comprehensive expert review and get an in-depth look at ExpressVPN's streaming and other features.
Watch the Super Bowl on ExpressVPN Now!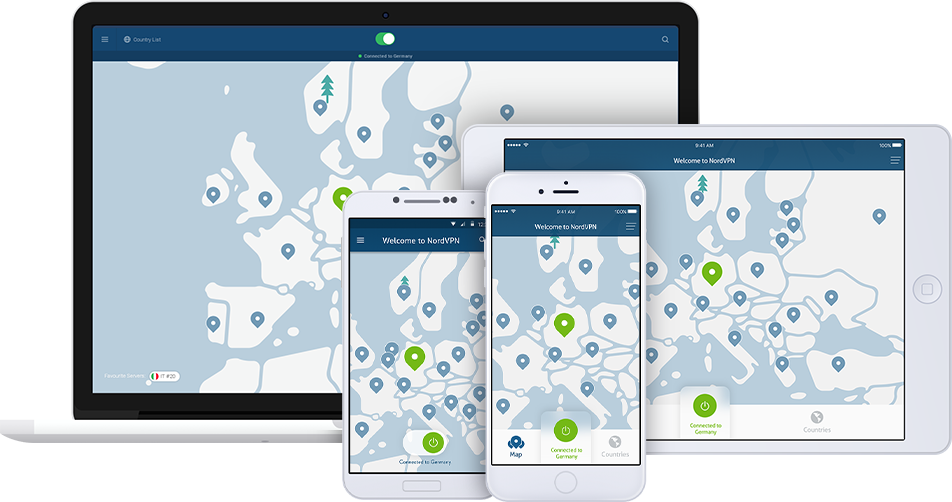 NordVPN's Key Features
Unblocks ESPN, ESPN+, Amazon Prime Video, Sling TV, BBC iPlayer, Showtime, Hulu, Netflix, and HBO GO
Works on Windows, macOS, Android, iOS, Android TV, Linux, Chrome, Firefox, and certain routers.
Over 5,500 servers
Can connect on up to 6 devices at once
Amazing speeds
Tons of advanced features
Great network speeds
30-day money-back guarantee
A fast network with the ability to dodge geographical restrictions. NordVPN offers a fantastic streaming experience for watching the Super Bowl.
Picking a country is easy with NordVPN. Just open the app and choose a country on the map. You now have a virtual location in that country.
NordVPN's network includes over 5,500 servers in 58 countries. That gives you plenty of options for finding a connection abroad.
If you want your family or friends to see what a VPN can do too, NordVPN allows up to 6 connections at once.
You even get a 30-day money-back guarantee with NordVPN. So you can cancel after the Super Bowl and still get a full refund.
Watch the Super Bowl on NordVPN Now!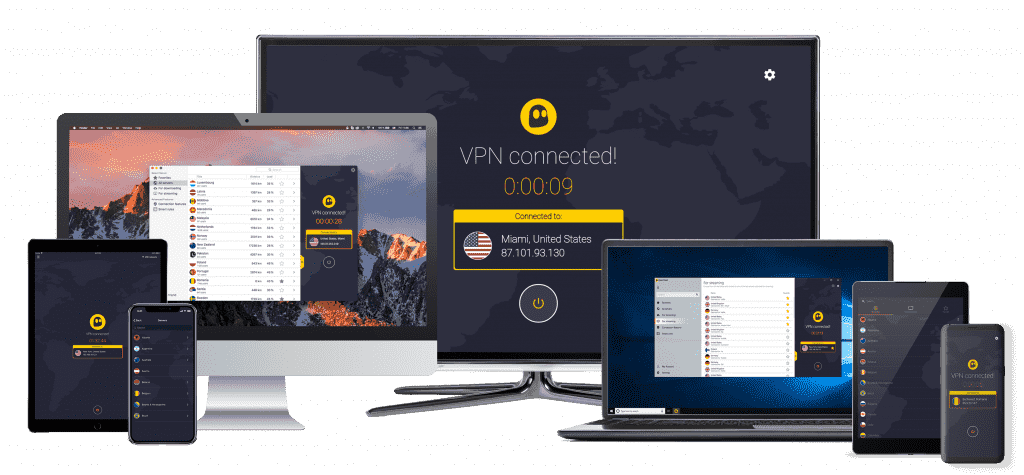 CyberGhost's Key Features
Servers dedicated for ESPN, ESPN+, Eurosport, Sling TV, DAZN, MTV, BBC iPlayer, Netflix, Amazon Prime Video, and Hulu.
Apps available for Amazon Fire TV, Linux, macOS, Firefox, iOS, Windows, Android TV, Chrome, Windows, Android, and many routers.
Full refund available within 45 days of signing up
Over 6,100 servers
Fast network
Allows 7 simultaneous connections
CyberGhost can guarantee you'll be able to see the Super Bowl. Just connect to CyberGhost's Hulu-dedicated server, sign up for Hulu + Live, then watch the game. That's the beauty of CyberGhost's streaming-dedicated servers.
Even if there isn't a server dedicated to your broadcaster, CyberGhost has you covered. All of the over 6,100 servers in 90 countries are blazing fast and great for breaking through geoblocks.
You can share your VPN even more with CyberGhost's seven simultaneous connections.
CyberGhost even offers you extra time to enjoy its service by giving you 45 days to cancel for a full refund.
Watch the Super Bowl on CyberGhost Now!
FAQ
Will Sling TV stream the Super Bowl on FOX?
Sling TV only streams the FOX network in some designated market areas. So, you could potentially stream the Super Bowl on Sling TV, but I can't guarantee it will work for any given service.
Can I stream the Super Bowl through FOX Sports GO?
You can, if you have a TV provider in the US (for example, Dish, AT&T Now, or Cox). However, if you are outside the US, you need to connect to FOX Sports GO through a VPN with US servers.
What does a VPN with unlimited bandwidth mean?
The best VPNs have unlimited streaming bandwidth. This means that your ISP can't throttle your connection because you're doing too many high-bandwidth activities, like streaming sports. A VPN with unlimited bandwidth gives you a fast connection with no lag or slow loading times.
Bottom Line
Two great teams will battle for the highest championship in all of football. With a VPN, you can see every down between the Kansas City Chiefs and the San Francisco 49ers. Sign up today and be ready for kickoff.
If you are having trouble deciding on a VPN, ExpressVPN is a great choice for streaming the Super Bowl. Its ability to break through geoblocks gets you connected, and its fast network keeps up with the action on the field.
You can even save extra on your subscription by visiting our deals and coupons page.
If you want to watch ESPN too, we can help.
Take a look at our recommendations for watching Sky Sports.
Watch FOX Sports GO from anywhere with a US television provider.