3 Ways to Watch the 2018-19 Premier League Season from Anywhere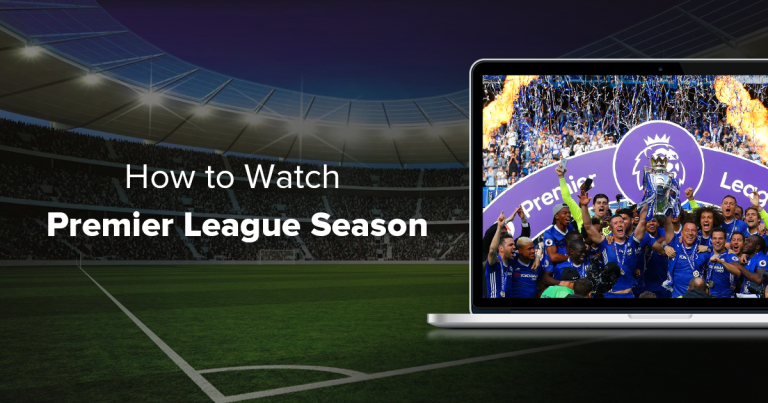 With millions of viewers all around the world eagerly anticipating the 2018/2019 English Premier League Season, it's sure to be a thrill! With everything from the transfer activities to pre-season and match day activities, it's no wonder this is one of the most watched tournaments worldwide.
Unfortunately, there is no legal way to watch the 2018/19 English Premier League Season online for free, but we found three great ways you watch it all over the world with a VPN.
Plus, since you need to pay for a subscription to stream the Premier League, we found a way for you to save money on a VPN!
Watch the Best Matches on Sky Sports
For those UK fans out there, Sky Sports not only covers most matches, but it also comes with great British commentary. While it is sharing some of the matches with BT Sports, you can still catch the best ones on Sky Sports.
The only problem is SkySports is only available to those in the UK, but you can use a VPN to access it from anywhere.
Choose a VPN that can access SkySports in the UK. We love using ExpressVPN  to stream.
Connect to a server in the UK.
Sign up for a Sky Sports subscription with Now TV
Start watching!
Readers should note that you need a UK credit card in order to sign up for Sky Sports with Now TV.
Watch it on Hotstar for Less Than $3
Hotstar Premium is streaming the Premier League, but it's blocked to anyone outside of India.
Here's how you can access Hotstar and stream every match.
Choose a VPN with servers in India. For this we recommend ExpressVPN .
Connect to a server in India.
Go to Hotstar's live stream.
Sign up for a subscription and start watching the Premier League Season.
While Hotstar's premium service only costs less than $3 a month, you need a credit card registered in India.
Watch the Premier League on NBC Sports with SlingTV
NBC Sports is streaming the Premier League, and you can access it with SlingTV, but it's blocked to those outside of the US.
With a VPN, however, you can access NBC from anywhere. Plus, since you do not need an American credit card to pay for a subscription, you can get it from anywhere.
Here's how to do it:
Select a reliable VPN with dedicated US servers. We personally like ExpressVPN because of it's easy to use "Unblock Streaming" feature.
Go to PayPal and purchase a $30 gift card to SlingTV
Turn on your VPN and connect to a server in the US.
Sign up for SlingTV's SlingBlue plan.
Tune in and watch NBC (plus loads of other great channels!).
For more details on how to use SlingTV without an American credit card, check out our guide here.
Save Money on a Premium VPN
If you're not located in one of the countries where the Premier League is broadcasted, you're going to need a VPN.
We get it, VPNs cost money, and if you're going to have to pay for some sort of streaming subscription to watch the Premier League, you're not going to want to pay for a VPN, too.
But, free VPNs are dangerous, and while they claim they are free, they are making money from you in some way. Whether this is with marketing your details or compromising your security, free VPNs are not worth it.
Luckily, you can get a premium VPN for free. Most VPNs come with a free trial or a money-back guarantee. So you can try out the VPN, use it to watch the Premier League, and then ask for a refund.
The Best VPNs for Watching the Premier League
If you want high-speed streaming, ExpressVPN is your answer. This VPN is intuitive to use, works on all popular devices and can bypass almost any geoblock. For streaming the Premier League, you definitely want this VPN. The best part is you can try it out for 30-days, risk-free.
With CyberGhost's "Unblock Streaming" feature, all you need to do is type in the website you want, and CyberGhost will do everything else to unblock it for you. This secure VPN with strong encryption is all you need for streaming your favorite content, no wonder it's a favorite. Plus, with its 7-day free trial and 45-day money-back guarantee, there's no reason not to try it.
This dependable VPN is constantly improving, and it's becoming a favorite among many. You get the full package with this VPN – security, streaming, encryption, and more – and it comes at a super cheap price.
NordVPN offers a 30-day money-back guarantee, so you know you can't go wrong.
If you prefer boutique-style, then PrivateVPN is the one for you. This small, yet powerful VPN has servers in 56 locations, and it's proven itself to bypass geoblocks over and over.
With great customer service and a 30-day money-back guarantee, this VPN has everything you need for watching the Premier League.
Although not as well-known as some of the other VPNs listed here, Trust.Zone has a pretty good deal when it comes to streaming sites. The VPN can bypass georestrictions on popular websites, and speed is pretty good as well.
While the customer support is not available 24/7, you do get a 3-day free trial and a 10-day money-back guarantee.
With the world cup nicely rounded up and attention swiftly shifted to the 2018/19 football season, the English Premier League promises action like never before. The networks highlighted above will offer high-quality streams throughout the season. Whether you plan on streaming from them or from an alternative source, you'll need to use a VPN to make sure you stay protected.
Looking for a great deal on a VPN? Check out our discounts and deals!