Bitdefender is known for its powerful security suites but it doesn't specialize in VPNs. Honestly, there may be a good reason for that.
While Bitdefender VPN offers lightning-fast servers powered by Hotspot Shield, it requests unnecessary permissions and is fairly basic considering its offered by a company known for security software.
Short on Time? Here Are My Key Findings:
Unblocks several Netflix libraries, including Netflix US.
High-speed servers for P2P/torrenting activities.
Kill switch available on mobile apps.
Try Bitdefender VPN Premium FREE for 7-Days!
Can It Unblock Netflix?
Yes, Bitdefender VPN can unblock Netflix libraries worldwide. I was also able to access Amazon Prime Video and Disney+.
Speeds
I was expecting lightning-fast speeds on Bitdefender's servers since it utilizes Hotspot Shield's server network and I wasn't disappointed. My speeds were blazing to begin with, but didn't take too much of a hit once I connected to the VPN.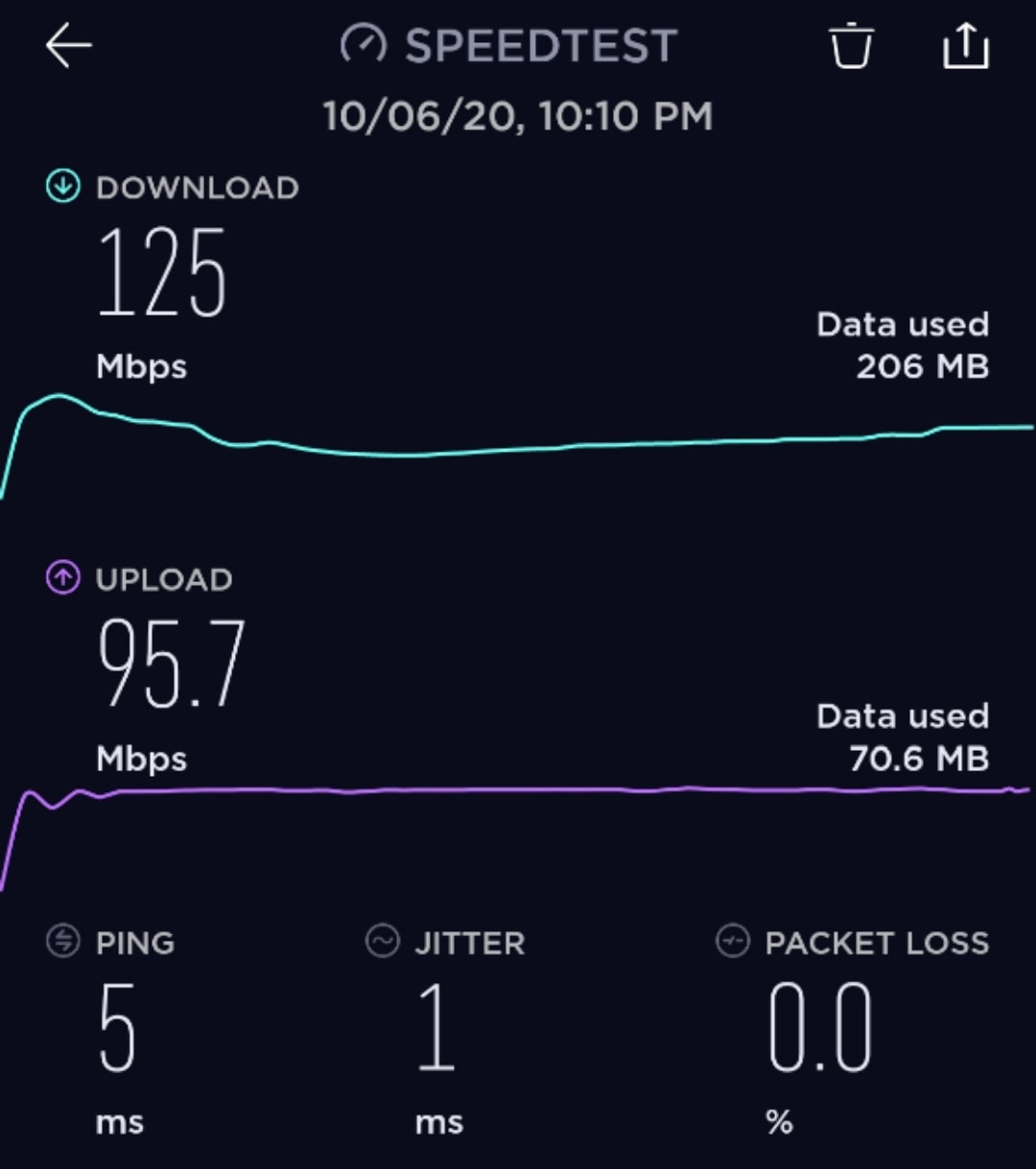 Results of a speed test before connecting to Bitdefender VPN.
Download: 125 Mbps
Upload: 95.7 Mbps
Ping: 5
As you can see my base speeds are excellent for streaming, gaming, browsing, torrenting, and anything else I'd like to do on the web.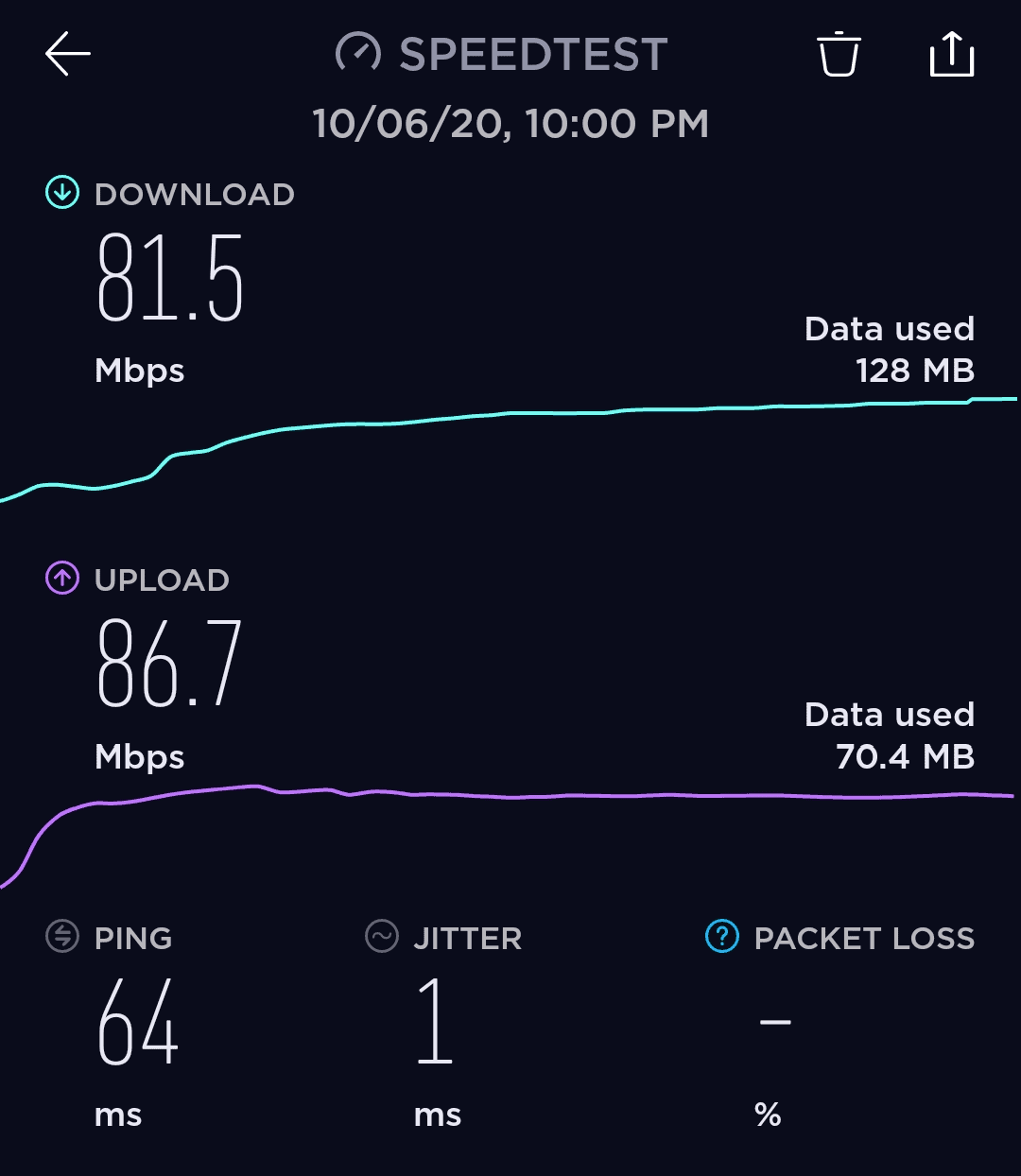 Speeds while connected to a server in Los Angeles, California.
Download: 81.5 Mbps
Upload: 86.7 Mbps
Ping: 64 ms
I connected to a US server first and only had a 34% drop in download speed, and my upload speed barely suffered at all. I expected ping to increase significantly the further I got from my true location, so the steady increase with each new connection wasn't unusual.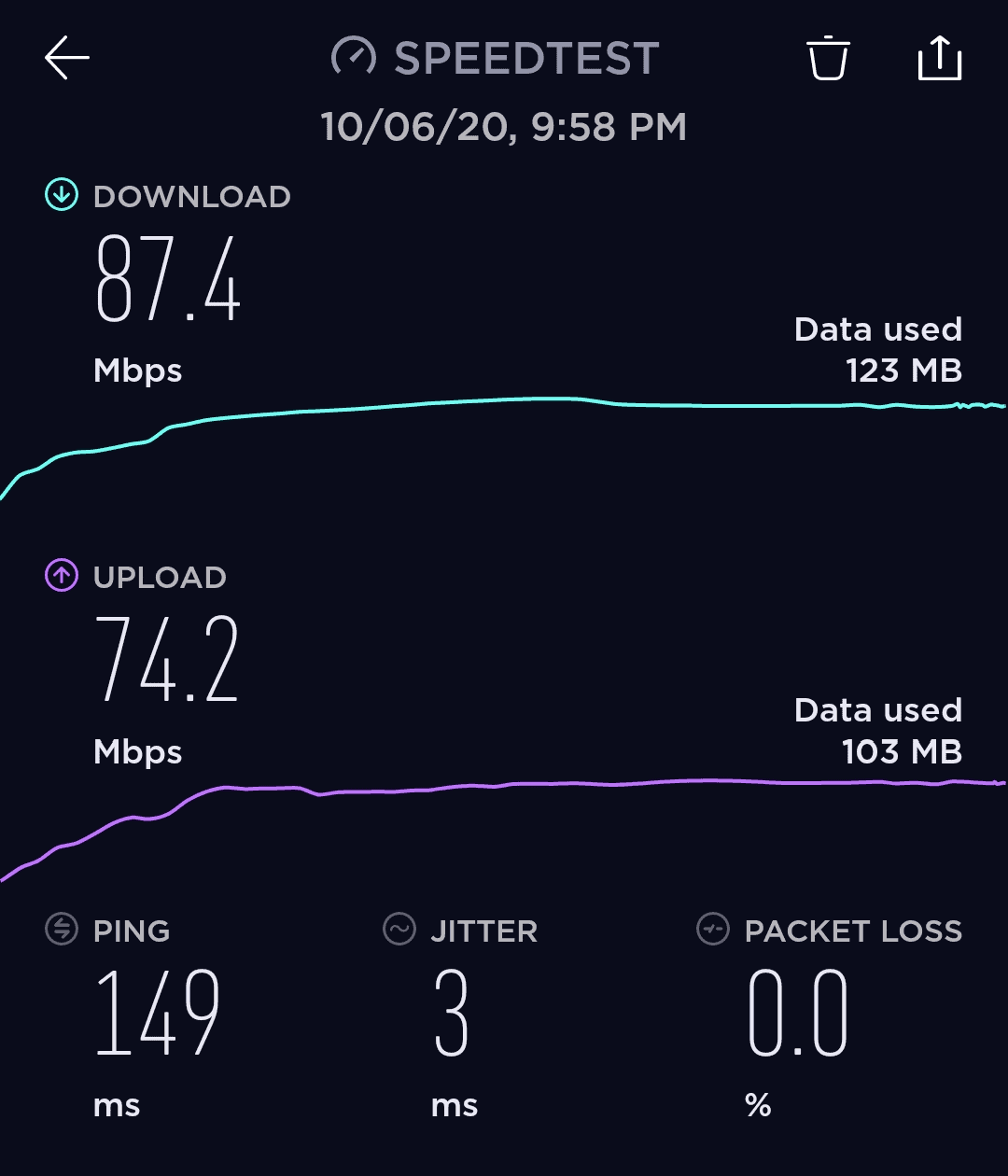 Speeds while connected to a server in Moscow, Russia.
Download: 87.4 Mbps
Upload: 74.2 Mbps
Ping: 49 ms
Surprisingly, the Moscow server gave me faster speeds than the L.A. server. The download speed only dropped 30% from my base speed, and once again upload speeds barely dropped at all.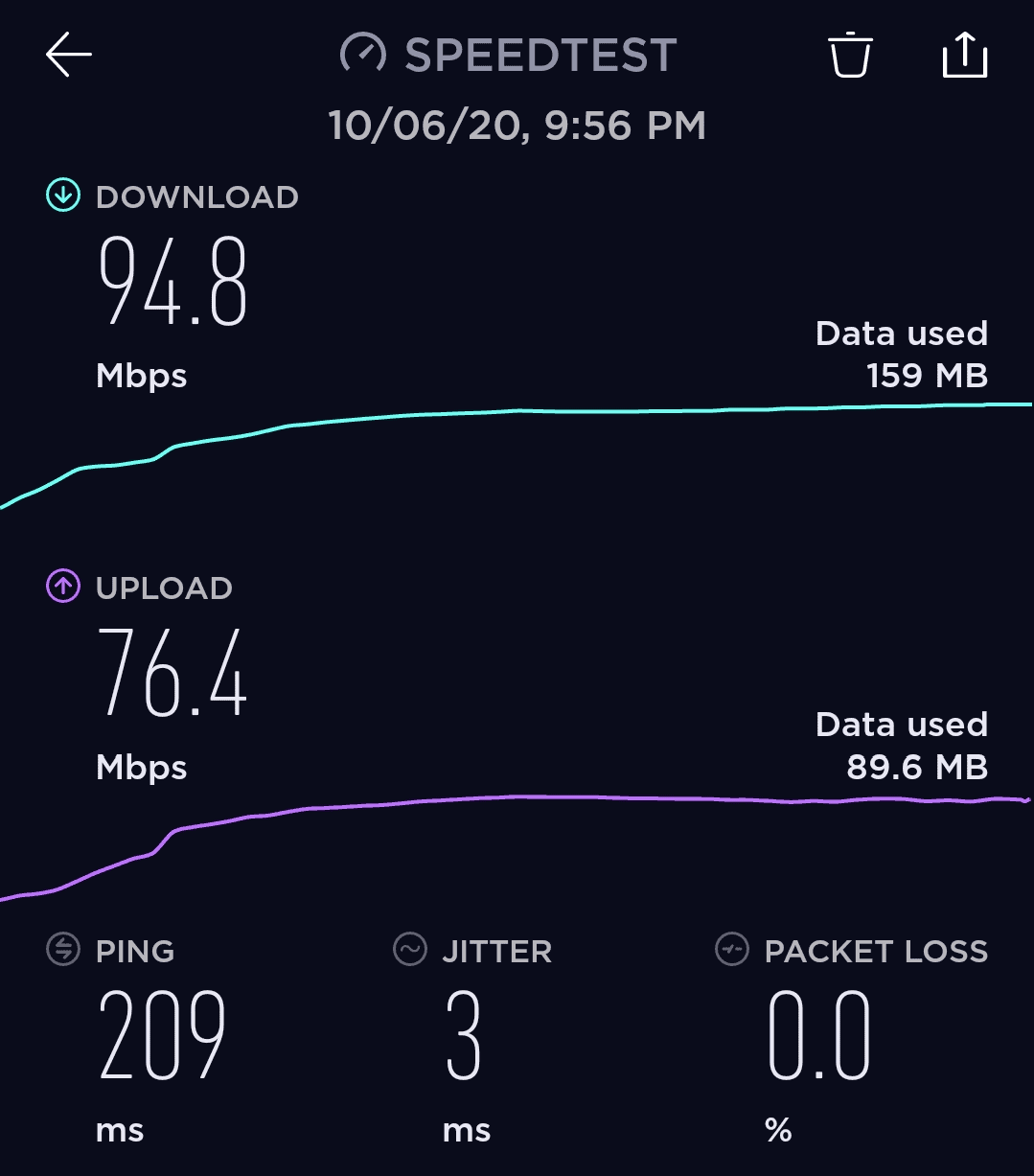 Speeds while connected to a server in Sydney, Australia.
Download: 94.8 Mbps
Upload: 76.4 Mbps
Ping: 209 ms
Australia is known for having slower internet speeds, so I was truly interested to find out if I would notice a significant drop. Nope! Again, my speeds were better than the last Bitdefender server I tested. The drop from my base download speed of 125 Mbps was only around 24%, and upload speeds held fairly steady at 76.4 Mbps.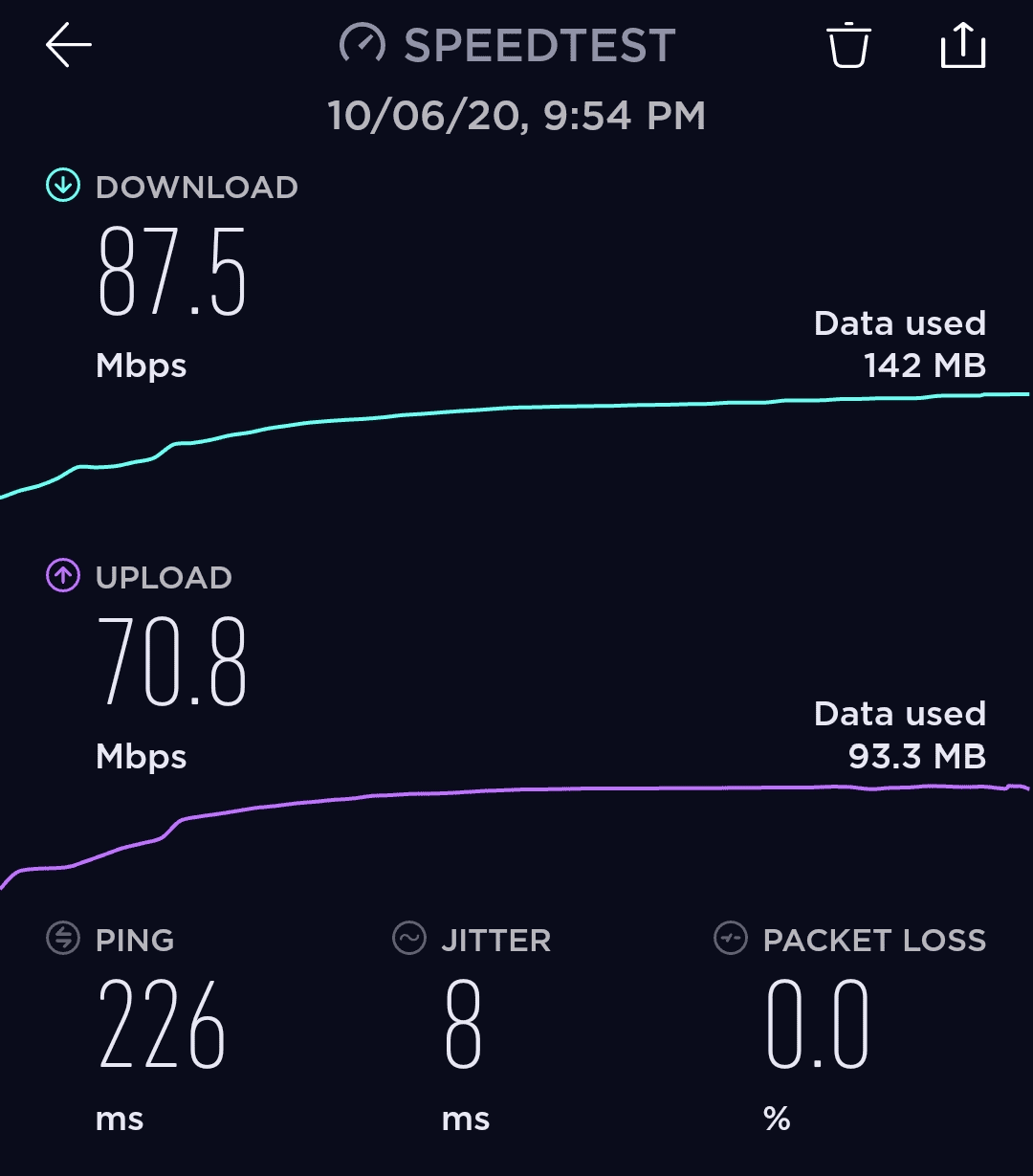 Speeds while connected to a server in Hong Kong, China.
Download: 87.5 Mbps
Upload: 70.8 Mbps
Ping: 226 ms
Even the Hong Kong server I connected to offered incredibly-fast download speeds, and upload speeds were consistent with the other available Bitdefender VPN servers I tested.
Get Lightning-Fast Speeds with Bitdefender VPN
Security
Since Hotspot Shield provides the servers for Bitdefender VPN, user data is protected with military-grade AES 256-bit encryption.
For its part, Bitdefender's app provides a kill switch for iOS and Android, public wifi protection, and an auto-on feature to connect the VPN the moment you start your device.
Privacy
While connected to the server no logs are kept by Hotspot Shield, but Bitdefender does keep some user logs. Keeping some logs isn't unusual, most VPNs keep non-personally identifiable data to fix glitches in the system or develop upgrades that benefit users.
Still, it requires extensive device permissions that I believe are unnecessary.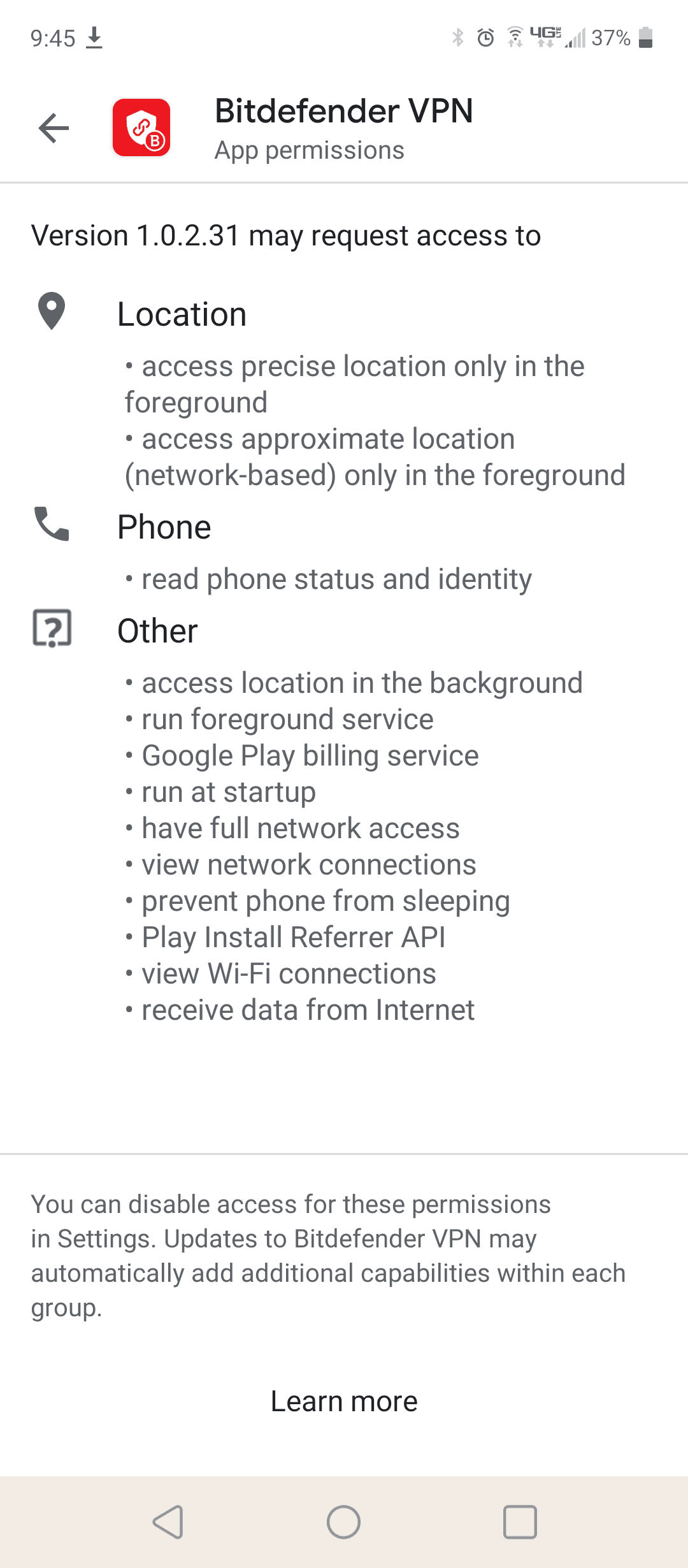 Bitdefender App Permissions
If you aren't paying attention and don't disable the ability to read phone status and identity, you may put yourself at risk. Since Bitdefender doesn't explain why it needs the information, it's best to disable this permission.
Apps can use this permission to get your IMEI and a ton of personally identifiable information along with it, including but not limited to: name, phone number, and address. Please note obtaining this information isn't easy and I don't want to make it seem easy in any way, but it can be done and we want our readers to be informed of any unusual practices.
Just to show how unusual it is for a VPN app to request access to this information, I checked the app permissions for ExpressVPN, CyberGhost, NordVPN, and Hotspot Shield. Not one of these providers requested the ability to read phone status and identity, even if a free version of the service was used.
When I contacted live chat support to ask why this specific permission was necessary, I wasn't reassured. Instead, I found out it doesn't offer support for non-paid versions (even the 7-day free trial), not even enough to answer a question from someone who wanted to "buy a subscription."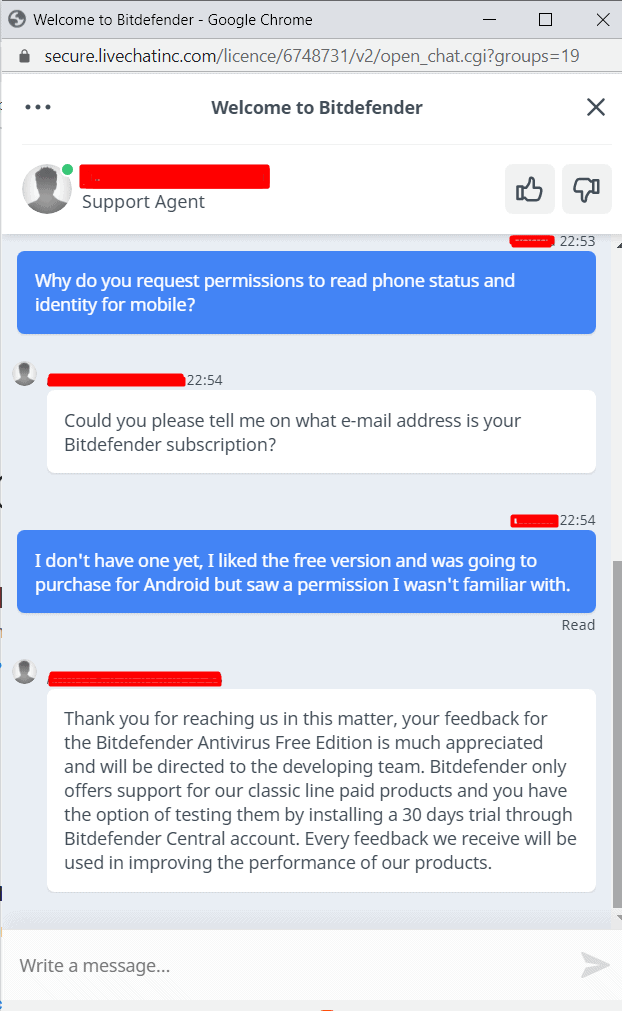 Live chat support wasn't helpful at all.
Torrenting – Allowed On All Servers
With high-speed servers provided by Hotspot Shield, you're free to torrent on any available server. The kill switch feature is a nice addition to the Bitdefender mobile app and helps protect your true location if the VPN fails.
| Features | Details |
| --- | --- |
| Number of countries with servers | 30 |
| Number of servers | 1300 |
| Does VPN keep logs? | No |
| Does VPN include a kill switch? | Yes |
| Number of devices per license | 10 |