CasVPN Reviews 2020 - Why 4.0 Stars?
CASVPN operates 127 servers across 57 countries. Impressive? It was, until we remembered that NordVPN offers over 5,000 in 60+ countries. It doesn't keep any record of your browsing activity, and offers an optional kill switch in the app. There is also DNS leak protection and a NAT firewall.
Streaming - Does CASVPN Work with Netflix?
Unfortunately, I was unable to connect to any of CASVPN's US servers. So, I wasn't able to unblock Hulu, HBO GO, or Netflix during my tests.
I was able to establish a connection to its UK server, but it wasn't able to unblock BBC iPlayer, either.
Netflix: No
Hulu: No
HBO GO: No
BBC iPlayer: No
CASVPN Speeds
Speed is one of the most important things to consider when you're choosing a new VPN. You don't want to wait forever for a website to load, so it's crucial that you choose a service with high-speed connections.
It's normal for your connection speed to drop a little bit when you connect to a VPN because your data has to travel farther to reach the server. It also takes some time to encrypt and decrypt your data. However, this speed loss should be barely noticeable with a premium VPN.
My base speed before I connected to CASVPN was:
Download: 4.8 Mbps
Upload: 0.81 Mbps
Ping: 36 ms
This was about 55% slower than most Australian connections, so I knew that I was facing some network congestion or ISP throttling.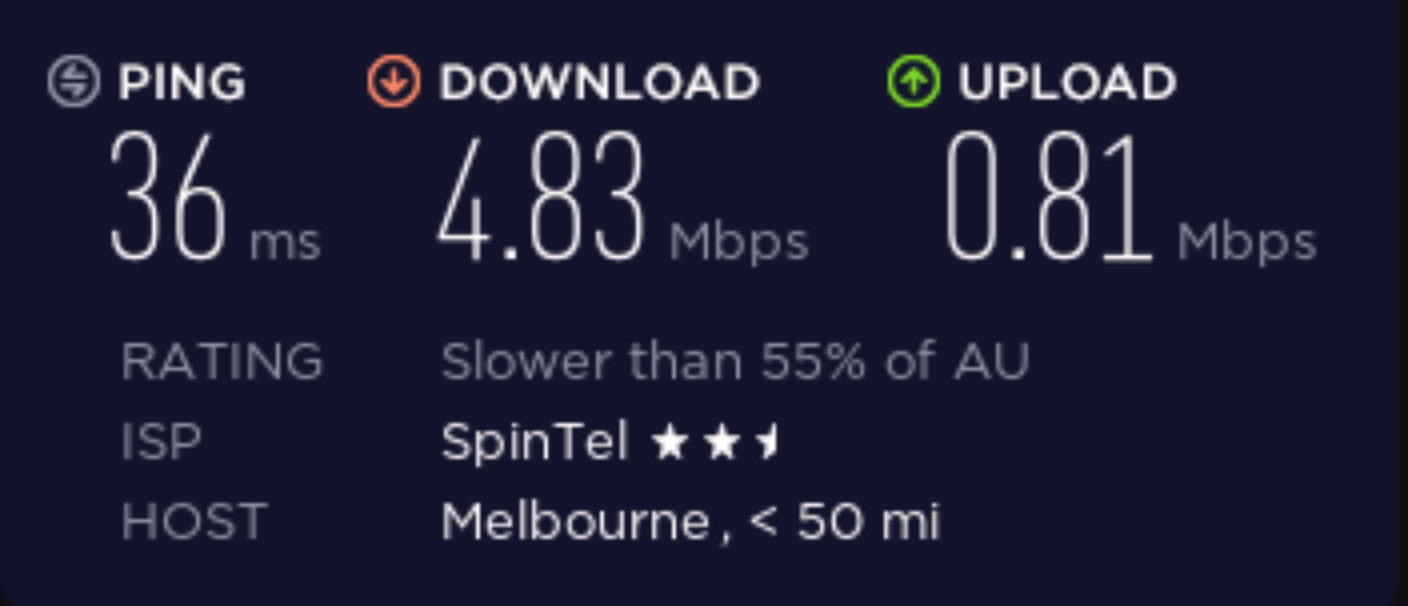 When I connected to CASVPN's Australian server, my internet speed increased to:
Download: 9.58 Mbps
Upload: 0.81 Mbps
Ping: 37 ms
CASVPN's Australian server allowed me to bypass the congestion or throttling, and enjoy high-speed internet access.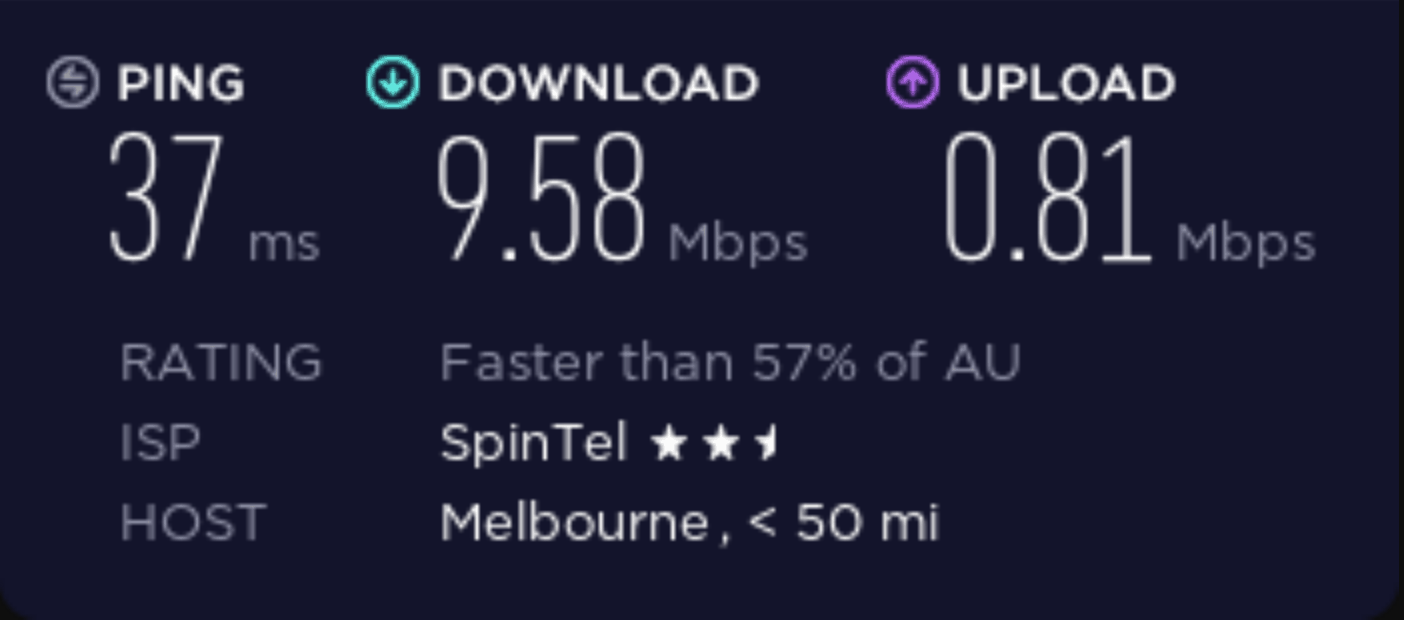 Unfortunately, I wasn't able to connect to CASVPN's US server to test its speed.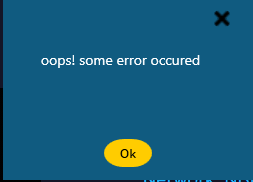 Is CASVPN Good for Torrenting?
CASVPN allows P2P connections. However, its connections are unstable and, because of this, I wouldn't recommend it for torrenting.
Security - Is CASVPN Safe?
CASVPN offers some strong security features. Unfortunately, the dropouts I experienced while testing it threaten the security of your data. If you don't manually configure the optional kill switch in the app, you risk leaking your data without knowing.
Does CASVPN Keep Logs?
CASVPN keeps a strict no-logs policy. It's based in Hong Kong, which is not a member of the 9/5/14-Eyes alliance.
Does CASVPN Have an Adblocker?
CASVPN does not offer a built-in ad blocker, but it is compatible with third-party programs.
Does CASVPN Work in China?
CASVPN claims to work in China. However, based on its performance and instability, it may be unsafe to use in China.
Price and Value for Money
CASVPN charges premium prices, but doesn't deliver a premium service. There are similarly-priced VPNs on the market with better features and functionality. Because of this, CASVPN offers poor value for money.
Does CASVPN Have a Free Version?
There is no free trial, but you can use its money-back guarantee to test it out risk-free.
CASVPN's Refund Policy
CASVPN offers a 7-day money-back guarantee.
Is CASVPN Compatible with my Device?
You can use your CASVPN account on up to three devices at the same time.
It offers apps for:
Android
iOS
MacOS
Windows
Encryption
CASVPN uses 256-bit military-strength encryption.
NAT Firewall
NAT Firewall is an additional layer of protection that blocks unrequested inbound traffic when you're connected to the VPN network.
CASVPN Customer Service
I reached out to CASVPN via live support because I wasn't able to connect to any of its servers using the Windows app.
It took 20 minutes to receive a response from a customer service representative. This was a little off-putting. I'm used to receiving near-instant responses via live chat from other premium VPN providers.
The representative I spoke with was polite, but informal.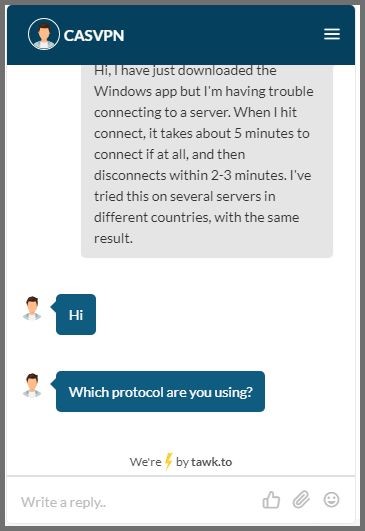 I spent about an hour in total speaking with the customer service representative trying to resolve my issue. I did have to explain the problem a few times because the representative said it was normal at first. But in the end, they confirmed this was an unusual error.
After they confirmed that the servers were working on their end, there wasn't much they could do to help.
I thanked them anyway and requested a refund under the money-back guarantee.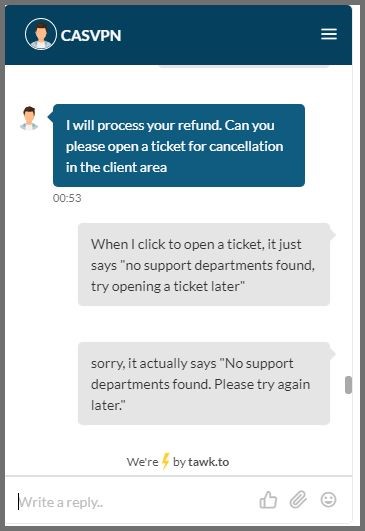 This was a frustrating process because I had to submit a separate support ticket through the website to request a refund, and the form wasn't working. In the end, I got my money refunded, but I'm a little sad because there is no way to get a refund on the time I wasted here.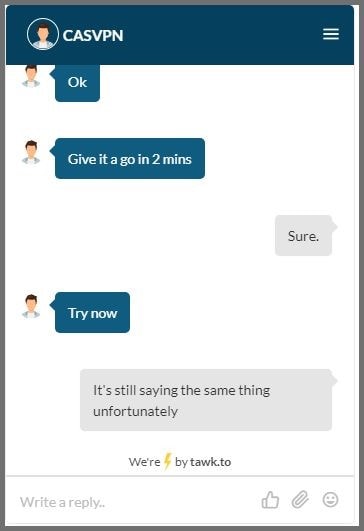 User Experience
CASVPN's app is aesthetically pleasing, but functionally disappointing.
Upon signing in, you can select a profile to use based on your needs. I chose 'streaming,' but wasn't able to unblock any streaming services with it.
You can select a server and connect to it from the main page of the app. It's worth noting that the app froze almost every time I clicked a button, or tried to connect.
You can customize your connection in the settings menu, or by changing the protocol you're using.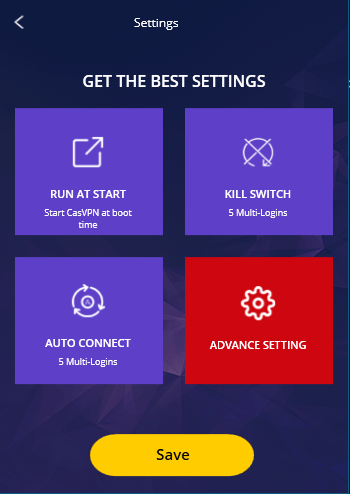 I decided to test the Android app to see if it worked any better. Unfortunately, it didn't; most of the buttons were non-functional and I couldn't connect to the network.
Conclusion
CASVPN was full of glitches. I wasn't able to maintain a connection to any of its servers during my tests.
It charges a premium fee, but doesn't deliver a premium service. Even if I had been able to connect, I was disappointed with its lack of features. With other premium VPNs offering automatic server switching and double encryption, I expected a lot more for the price.
Customer service was polite, but ultimately unhelpful. I had to wait 20 minutes for a response via live chat. Who has time for that when companies like NordVPN respond almost instantly?
The bottom line? Save yourself some trouble and check out a more reliable premium VPN, like NordVPN or ExpressVPN. Why not take a look at the top 10 best-rated VPNs too?
| Features | Details |
| --- | --- |
| Number of countries with servers | 57 |
| Number of servers | 127 |
| Number of IP addresses | 50 |
| Does VPN keep logs? | Yes |
| Does VPN include a kill switch? | Yes |
| Number of devices per license | 5 |
At first glance, CASVPN's app is simple and user-friendly.
I wish this were actually true.
As soon as I opened the CASVPN app, my device became sluggish and started to freeze. My PC isn't particularly powerful, but it's never had an issue with the dozens of VPNs I've tested in the past.
I put my frustrations aside to explore the app a little further. Once you've logged in, you can select a server and connect on the main page of the app. You can configure your connection from within the settings menu, but there's no need to. It's ready to go once you sign in.
Unfortunately, I couldn't connect to most of its servers during my test. The couple I was able to connect to dropped out within a few minutes.
This prompted me to get in touch with support, which I'll talk more about below.
CASVPN offers monthly, six-monthly, and annual subscriptions. The longer subscriptions attract a heavier discount, with the annual plan being the best value for money.
You can pay with PayPal, American Express, Mastervard, VISA, and Discover. There is no option to pay anonymously with cryptocurrencies.
Reliability & Support
4.0 / 5.0
You can reach out to CASVPN support via live chat or by submitting a support request on the website. There is also a FAQ section and troubleshooting guide on the site.
After experiencing some connectivity issues, I decided to reach out to CASVPN via live chat. I received a response 20 minutes after submitting my question.
The representative I spoke with was polite, but lacked the customer service skills I've come to expect from premium VPN companies like NordVPN and CyberGhost.
I wish I'd been able to successfully connect to CASVPN, but after an hour speaking with support, I still didn't have a reliable VPN connection. I was only able to connect to the Australian and UK servers.
CASVPN is priced similarly to premium VPNs like NordVPN, so I expected similar functionality and features. Unfortunately, CASVPN couldn't deliver.
Money Back Guarantee (Days) :
7
Mobile app :
Number of devices per license :
5
Jawwad Rohani
A good VPN on discounted prices
CASVPN is a lot better than other VPN's that i have tried like cyberghost for one or slick VPN. I bough a year's account for 70% off and i wouldn't have bought it. I used USA server and also tried Australian server and they both proved to be better at browsing and downloading and really enjoyed streaming via their servers. I would recommend users to get CASVPN as they do use good encryption as well and severs are faster than most.
---
See Plans
Reply to this review
Did you know? We approve all user reviews. Companies can't pay to include or exclude any.
Anonymous
First time using a paid vpn service, i bought casvpn because of their discount
Initially it did not work. After talking to their customer support they finally helped me in successfully login in. Since then it has been working good. I currently use it on my android phone and desktop. I normally stream a lot and i am yet to find any issues on streaming because of vpn.
---
See Plans
Reply to this review
Compare CasVPN with the top alternative VPNs