Hoxx VPN is the product of a US company called VPN1 LLC from Coral Gables, Florida. It is more of a proxy service than an actual full-fledged VPN. It offers a premium and a free plan.
The premium plan uses the outdated 4096-bit RSA encryption while lacking advanced security features such as a kill switch and relies on the Shadowsocks protocol. I also found WebRTC leaks in my security tests.
It provides 50 server locations, and it's cheap. However, it logs user data.
Hoxx VPN's Windows client also has a barely functional design with lots of bugs. That is not surprising since it mainly focuses on browser extensions.
Along with that, Hoxx VPN has incredibly slow server speeds. Though, it unblocks geo-restricted platforms, including Netflix, YouTube, Disney+, and HBO Max.
Overall, the big claims that this company makes are nothing but overestimations. To learn more about VPNs, read our other VPN reviews and guides.
Short on Time? Here Are My Key Findings
Hoxx VPN Features — Updated in January 2022
5.4
💸

Price
$0/month

📆

Money Back Guarantee
7

📝

Does VPN keep logs?
Yes

🖥

Number of servers
100

🛡

Kill switch
No

🗺

Based in country
United States

📥

Supports torrenting
Yes
Streaming — Long Loading Times and Buffering Delays
I tested multiple servers via the Chrome extension to check whether Hoxx's free version works with popular streaming services.
Based on my tests, I would say that Hoxx is not suitable for UHD or HD streaming.
Unblocked: Netflix, YouTube, Disney+, and HBO Max
First, I tested Hoxx VPN with the US Netflix library, and it successfully unblocked it. There were no buffering delays, but the video quality was subpar at best. However, I could only see official movies and shows made by Netflix.
To test whether this was the case with other locations, I connected to the 15 other server locations available on the free plan. See my speed tests on all of these server locations here.
Germany and the Netherlands were the only 2 server locations where I was able to access movie titles not made by Netflix along with official Netflix titles, while France gave me a loading error.
Next, I ran a performance test on YouTube with each of the servers. While the initial loading time was slow, I was able to play YouTube videos at 720p quality without any buffering delays. However, as soon as I switched to 1080p, I experienced significant delays.
Then, I tested it with Disney+, and Hoxx seamlessly unblocked its libraries while connected to the servers where the platform is available. There were no delays in the loading times, and the picture quality was decent.
Lastly, Hoxx VPN also unblocked HBO Max. However, it took 5 minutes for the movie title to load. Even after that, the picture quality remained choppy, with constant buffering delays.
Blocked By: Amazon Prime Video and Hulu
I was unable to access Amazon Prime Video with Hoxx's US server because the platform detected the VPN. To access Amazon Prime Video, consider taking a look at our list of the best VPNs for Amazon Prime Video.
Hoxx VPN failed to unblock Hulu on both the US and Japan servers, as the VPN got detected, and I received an error message.
Speeds — Slow, With Massive Drop-Off Percentages
I tested Hoxx's speeds on all of its free server locations and made a comparison with my base 4G internet speed. For that, I used the Speedtest by Ookla.
First, I ran tests on some of Hoxx's server locations that are considerably far from my location, and I got very slow speeds.
Based on the data obtained after running a speed test on every server location available on the free plan, I calculated the drop-off percentage and organized the results in a table.
| | | | | |
| --- | --- | --- | --- | --- |
| | Ping (ms) | Download (Mbps) | Upload (Mbps) | Drop-off percentage |
| Base level | 16 | 28.87 | 9.35 | 0% |
| South Korea | 760 | 0.04 | 0.00 | 99.9% |
| Italy | 277 | 5.70 | 6.13 | 80.2% |
| Germany | 324 | 1.16 | 0.96 | 95.9% |
| India | 259 | 2.49 | 6.64 | 91.3% |
| Canada | 500 | 3.75 | 4.75 | 87% |
| United Kingdom | 345 | 14.59 | 0.00 | 49.4% |
| Switzerland | 314 | 1.01 | 1.36 | 96.5% |
| United States | 620 | 10.25 | 6.63 | 64.5% |
| Singapore | 218 | 3.02 | 7.12 | 89.5% |
| Russia | 379 | 6.56 | 8.10 | 77.2% |
| Australia | 388 | 6.80 | 7.08 | 76.4% |
| Japan | 615 | 1.98 | 5.09 | 93.1% |
| Sweden | 392 | 7.98 | 7.03 | 72.3% |
| Netherlands | 327 | 3.13 | 9.10 | 89.1% |
| Poland | 355 | 9.65 | 5.79 | 66.4% |
| France | 324 | 2.83 | 1.97 | 90.2% |
Though, Hoxx claims to offer 4 times the regular speed on the premium plan.
Are Hoxx VPN's Speeds Fast Enough for Gaming? No
No, they aren't because the ping remained above 200 ms on all server locations. Simply put, ping (network latency) measures how fast your device can communicate with any given server (the minimum time taken to send and receive a data packet). For online gaming, a ping lower than 150 ms will give you a better experience.
The best gaming VPNs offer gaming-optimized servers with low ping, but Hoxx VPN isn't one of them.
However, since Hoxx VPN is primarily browser-based, it can technically only work for browser games. To check its performance, I decided to test it with Pokemon Showdown.
The Pokemon Showdown website loaded without any errors. However, when I clicked on "Battle" to connect to an online match, I received an error message and couldn't play the game.
Server Network — Claims to Offer 50 Server Locations
Hoxx does not state the exact number of servers, but it claims to "have over 100 servers all over the world."
The website promises unlimited bandwidth and 50 server locations. It also mentions that the server locations change daily while new servers are added every week.
However, unlike the browser extensions, the Windows, iOS, and Android apps only show a limited number of server locations.
The Chrome extension contains 37 server locations, out of which 16 are available on the free plan and the rest on the premium.
The Windows client only offers 6 free server locations, including the US, France, Germany, Japan, Netherlands, and Canada, with additional options in the premium plan.
The iOS app shows only 1 server location on the free version, with no information of what is included in the premium plan.
Lastly, the Android application shows 12 server locations in the premium plan and 1 in the free plan.
Security — Not Secure Enough
Hoxx VPN doesn't state the encryption on the free plan. However, it uses the outdated 4096-bit RSA encryption (which security professionals cracked in 2013) on its premium plan.
Hoxx VPN relies on the Shadowsocks proxy protocol for the Windows and the Android application and HTTP tunneling for browser extensions.
I tested its Windows installer on VirusTotal before running it on my PC, and no viruses were found in the file.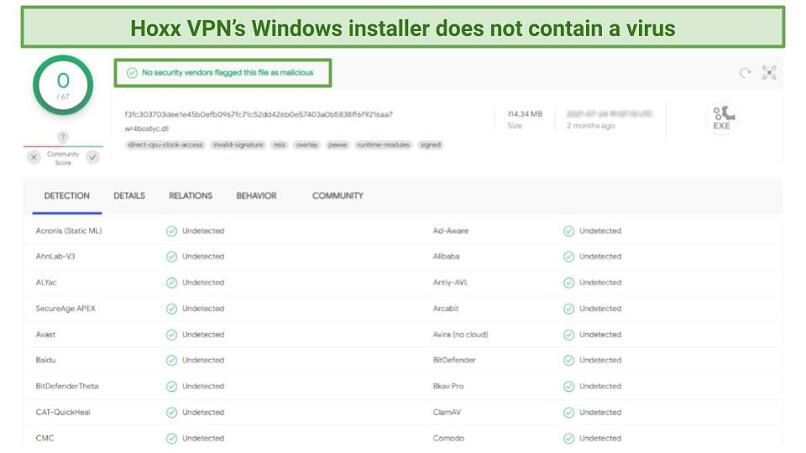 Then, I tested its US server for DNS leaks via dnsleaktest.com, dnsleak.com, and ipleak.net.
No DNS leaks were found in any of my tests.
However, a WebRTC test at browserleaks.com while connected to Hoxx's US server revealed my public IP address.
The support page on its official website claims that Hoxx blocks certain ports commonly used by spammers, such as port 25,465, to provide protection from attacks, and it blacklists some malicious and illegal websites on its network.
The team also claims to prevent tracking from advertising networks and provide protection when using a public WiFi network.
Hoxx does not offer standard security features like the OpenVPN protocol, a kill switch, advanced AES 256-bit encryption, split tunneling, multihop, Tor over VPN, nor dynamic and shared IPs. However, it supports PAC functionality, but on the premium plan only.
Privacy — Your Data Is Not Safe
On the official Hoxx website, in the FAQs, it says that Hoxx keeps logs for a specific period for abuse prevention but doesn't state for how long exactly.
The company also states they "will only act if some legal authority contacts us and requests logs about your visits."
In its privacy policy, it is mentioned that Hoxx VPN keeps logs of your name, email address, password, contact number, websites you have visited, browser type, access times, IP addresses, pages viewed, and the language used.
Hoxx VPN also tracks user data via Google Analytics and Google Advertising.
Besides being headquartered in the US, a member of the Five Eyes Alliance, it also reserves the right to save all the information it collects, and it doesn't guarantee the safety of your personal information.
Torrenting — Not Recommended
I wouldn't recommend torrenting with Hoxx VPN because it isn't safe as it doesn't have a kill switch. So, I'd suggest you avoid using torrenting services such as The Pirate Bay or the BitTorrent client with it.
Hoxx VPN has an extensive DCMA policy on its website and takes notice of copyright infringement very seriously.
The team and I don't encourage the violation of copyright laws or illegal torrenting.
Does Hoxx VPN Work in China? Yes
When I asked customer support about its usability in China, their response was affirmative but quite vague.
Simultaneous Device Connections — Multiple on the Premium Plan
Hoxx VPN states that it offers multiple device connections per license on the premium package only.
Device Compatibility — Compatible With a Range of Devices
Hoxx VPN is available for Windows, iOS, Android, Linux, and macOS. It also offers browser extensions for Firefox, Chrome, and Edge. Support for Opera and Chrome OS is going to arrive soon.
The company mentions that the current focus is on the mobile and browser market. Though, despite that, the Android app looks rather outdated.
Also, you cannot install Hoxx VPN on routers, smart TVs, and gaming consoles, including Wii, Xbox, and PlayStation.