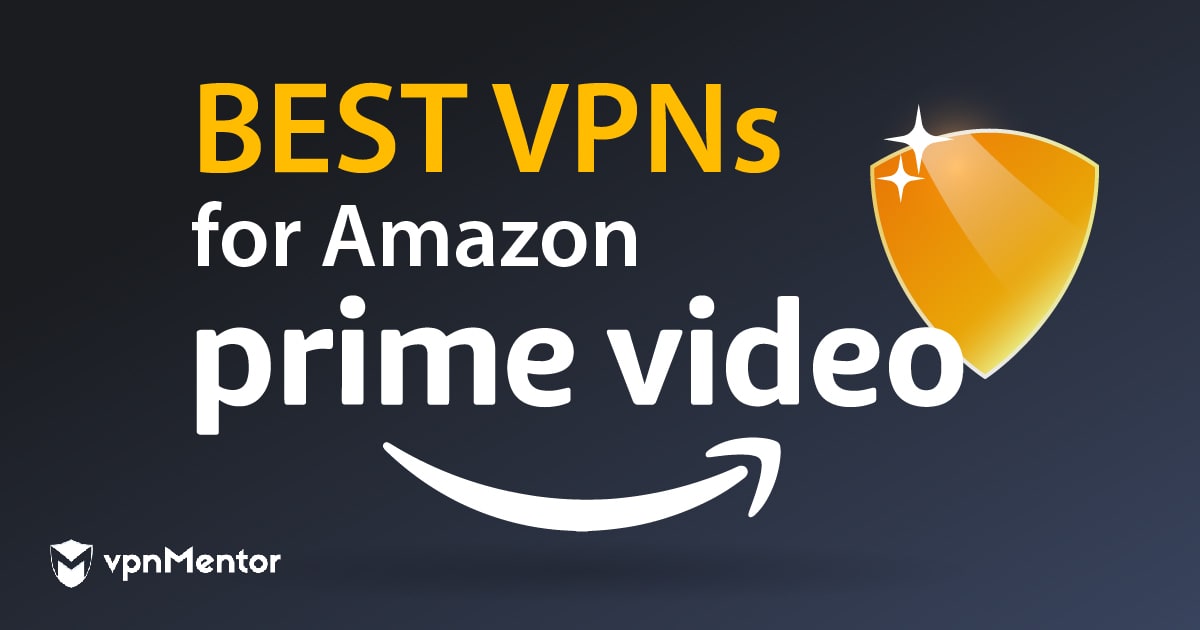 5 Best VPNs for Amazon Prime Video — Still Working in 2023
Updated on 6th February 2023
Important: Based on the tests we ran in February 2023, Amazon Prime Video blocks most free VPNs. Only 2 of the free VPNs we tried can access APV at all, and they don't work because they are too slow for streaming in standard definition.
Amazon Prime Video uses tough geoblocks that most VPNs can't get past. Even many of the VPNs that claim to unblock the site simply do not work or are inconsistent. If you're traveling abroad and want access to the APV library you're used to from home, you'll need a VPN that's proven to work to get past those pesky VPN blocks.
My team and I tested 90 VPNs to find the best ones that actually work with Prime Video. Most of them were blocked every time. However, I've shortlisted a few options that gave reliable access to Amazon Prime Video during our tests.
Of these, ExpressVPN is my top choice. It has a huge server network that bypasses Amazon Prime's geoblocks effortlessly and speeds fast enough to watch in Ultra HD. Plus, it comes with a money-back guarantee, so you can test ExpressVPN with Amazon Prime Video risk-free. If you don't like it, then you can claim a full refund within 30 days. I tested the guarantee myself to make sure it's trustworthy and they stood by it — getting my money back was no hassle.
Watch Amazon Prime Video With ExpressVPN
Short on Time? Here Are the Best Amazon Prime VPNs in 2023
Watch Amazon Prime Video With ExpressVPN
The Best VPNs for Amazon Prime Video - Full Analysis (Updated February 2023)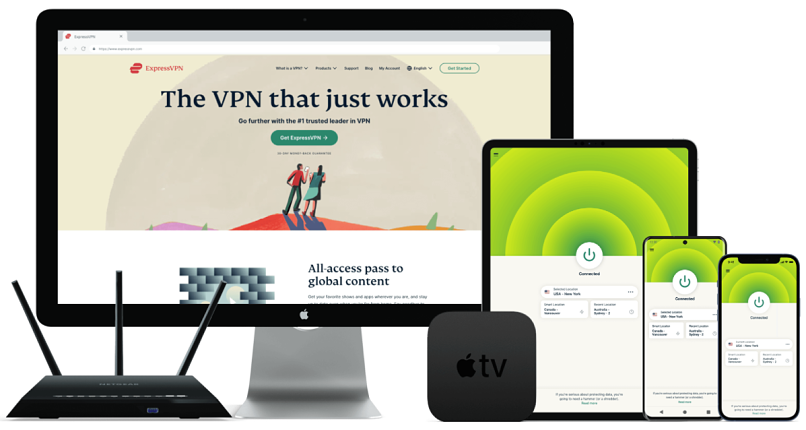 Editor's Choice
Editor's Choice

Tested February 2023
Try Risk-Free for 30 Days
Can access:
Netflix
Disney+
APV
HBO Max
Hulu
BBC iPlayer
Sky
More
www.ExpressVPN.com
3,000 servers in 94 countries for consistent access to APV
The fastest VPN we tested, ensuring a smooth streaming experience
5 simultaneous device connections to stream Prime shows on multiple devices at once
Compatible with: Windows, Mac, iOS, Android, browsers, Amazon Fire TV & Fire TV Stick, routers, and more
Of all the VPNs I tested, ExpressVPN is the most reliable at unblocking Prime Video libraries. During my tests, I connected to 4 different US servers and each of them worked seamlessly with Prime Video US. I could also access the UK, German, and Japanese libraries right away. Unlike with many VPNs, I never had to switch between servers or use its 24/7 live chat for advice on which locations to use.
It's more than fast enough for streaming Prime Video in the highest quality. While watching The Tomorrow War on a nearby London server, everything loaded as if I was using my normal internet connection. Even on the faraway Japan server, I didn't notice any drop in quality or lag, even though it's common for distant VPN servers to cause this.
It comes with apps for all Amazon devices, including Fire TV Stick. This was really convenient because I prefer to watch APV on my TV, and most VPNs can't be installed on them. Downloading the app onto my Firestick took about 2 minutes, and I could then watch US APV content directly on my smart TV.
If you don't have an Amazon streaming device, you can still set ExpressVPN up easily on other TVs and devices that don't normally work with VPN software. Its MediaStreamer feature provides a short code you can input into your device's network settings that changes your online location. It's designed specifically for accessing streaming apps like Amazon Prime Video. I was able to watch US APV on my TV through my PlayStation 5, and it took 5 minutes to set up.
On the downside, ExpressVPN is a bit more expensive than many other top VPNs — the cheapest price is $6.67/month. However, ExpressVPN offers generous discounts throughout the year that can make your subscription a bit more affordable.
Each plan is backed by a 30-day money-back guarantee. If you're not satisfied, it's easy to get a full refund. I used its 24/7 live chat to request a refund and saw the money in my bank account in 2 days.
Streaming servers designed to unblock Prime Video libraries easily
Fast speeds and unlimited bandwidth for smooth streaming
7 simultaneous device connections to watch APV on all your streaming devices
Compatible with: Windows, Mac, iOS, Android, browsers, Amazon Fire TV & Fire TV Stick, routers, and more
CyberGhost offers dedicated streaming servers for APV libraries in 6 countries. These make it a simple process to find a server that will work with APV right away. You can find them easily within the app, under the "For Streaming" tab. Using them, I could unblock Prime Video US, UK, Japan, France, Italy, and Germany without hassle.
You can use its regular servers (spanning 91 countries) to access more APV content, too. During my tests, its regular US servers could unblock Prime Video US just as easily. The regular Germany and France servers didn't work though, so the streaming servers are more reliable.
Like ExpressVPN, CyberGhost also offers apps for all Amazon Fire devices, making setup quick and painless. You can also save all of your favorite servers in 1 tidy list. For example, I found its regular Miami server had better speeds and worked well for Prime Video, so I saved it for quick and easy access.
While the speeds are great on nearby servers, its long-distance connections can sometimes be a bit slow. For example, I experienced a speed loss of 40% on its Australian servers. But, as long as you have a fast baseline connection, you won't notice any buffering. Even with the 40% decrease, I could stream shows in 4K without buffering.
You can get CyberGhost for just $2.19/month with its long-term subscription. Monthly plans are a bit more expensive and come with a limited money-back guarantee period (14 days vs 45 days with the annual plan). If you plan on using the VPN long-term, you're better off with its annual plan as it will save you the most money overall.
I found its money-back guarantee process quick and reliable. When I finished testing, I requested a refund via its 24/7 live chat feature and had all my money back in 3 days.
NordLynx for fast speeds across all servers
Native Amazon apps for easy installation on FireStick and other Fire devices
6 simultaneous connections to watch APv across devices
Compatible with: Windows, Mac, iOS, Android, browsers, Amazon Fire TV & Fire TV Stick, routers, and more
NordVPN comes very close to ExpressVPN in terms of speeds, thanks to its proprietary NordLynx protocol. I tested 5 servers — 3 in the US, 2 in the UK, and 1 in Australia. No matter which location I tried, the speed drop was never more than 15%. Since I have a fast baseline connection (145 Mbps on average), I was able to watch Blacklight in full HD on Prime Video US with zero buffering.
It has a reliable server network of 5,384 servers in 60 countries. During my tests, I could access Prime Video US, UK, Japan, and Germany right away. I actually found NordVPN's 24/7 live chat useful for determining which servers to use. The chatbot is set up to tell you all the APV libraries NordVPN can currently access (but you can always connect to a real person).
While NordVPN has a Smart DNS feature (called SmartPlay), it's built in to the VPN itself. SmartPlay is one of the reasons NordVPN is so reliable at accessing Prime Video (and many other streaming sites). But, I found it a shame that you can't set it up on gaming consoles or smart TVs, like you can with ExpressVPN's MediaStreamer.
You can sign up for $3.49/month with its longest standard subscription term. Upgrades are available, too: you can add a password manager and a data breach scanner if you want. Just be aware that these initial prices are only valid for your first term and increase upon renewal. But, even when considering the renewal price, it's still cheaper to go with a long-term subscription.
NordVPN's subscriptions are all backed by a 30-day money-back guarantee, as well. So, if you find you're not really impressed, then you can get a full refund.
Unlimited device connections great for large households
3,200 servers in 100 countries to access multiple APV libraries
User-friendly interface that's easy to use across devices
Compatible with: Windows, Mac, iOS, Android, browsers, Amazon Fire TV & Fire TV Stick, routers, and more
Surfshark allows an unlimited number of connections per a single subscription, making it a solid choice for large households. Most VPNs limit the number of devices you can connect, so if you use multiple streaming devices or want to share your VPN subscription, Surfshark is the best value.
To put this to the test, I connected my MacBook, iPad, and iPhone to the same US server and asked 3 of my roommates to stream on their phones while also connected. I expected there to be significant performance loss but was actually surprised that so many devices connected didn't affect anyone's streaming quality at all. My stream of Homecoming on Prime US remained stable the entire time.
Surfshark has good speeds, too, which is probably one of the reasons it can handle so many device connections. I did notice a significant drop on long-distance servers (about 30%), but I could stream shows on Prime Video in top quality without lag despite this.
Plus, It's pretty reliable at bypassing geoblocks too — I could access APV US, UK, Japan, and Germany without any issues.
The live chat support agents were available around-the-clock, but they didn't seem to be as knowledgeable as the other VPN support systems I've used. Since most people have a list of active Prime Video servers on hand that they can share, it's a quick way to choose a server. But when I asked Surfshark if it worked in a particular country, they were able to respond.
As far as pricing goes, Surfshark is affordable with plans starting from $2.30/month and a 30-day money-back guarantee included with all of them.
29,650+ servers in 84 countries give you plenty of options to unblock APV
Good speeds to stream in the highest video quality
10 simultaneous device connections
Compatible with: Windows, Mac, iOS, Android, browsers, routers, and more
PIA has one of the largest networks of any VPN. If the server you're connected to is ever too congested or doesn't work, you have hundreds of alternatives. For example, its Las Vegas server failed to unblock Prime Video US. However, I switched to its US East Streaming server and got immediate access. The streaming servers in Japan and the UK also worked seamlessly with the platform. That said, I couldn't get it to unblock Prime Video Germany.
Its speeds are good for streaming, too. I tested 8 locations, including the US, the UK, Australia, and Canada, and even the servers located more than 10,000 km away let me stream in HD without choppiness or lag.
The main issue with PIA is that it isn't the most dependable when it comes to accessing streaming services. This VPN is undoubtedly more geared toward security-conscious, tech-savvy users and can be a little difficult to use. Their 24-hour live chat wasn't very effective at resolving streaming issues, which is understandable.
This is remarkable considering that many other VPNs were unable to connect to the APV.
It's also really reasonably priced with subscriptions starting at $2.19/month. And, if you want to try it out, all subscriptions are backed by a 30-day money-back guarantee, so you can easily get a refund if you find it's not for you.
Quick Comparison Table: Amazon Prime Video VPN Features
The table below compares the features of each VPN. This includes the lowest monthly price, average speeds, number of servers, and whether each VPN has native apps for Amazon Fire devices.
I've also included whether each VPN offers a Smart DNS feature. This can be useful if you want to watch APV using a gaming console or smart TV that doesn't support a VPN app. It's a simple alternative, but I found in my tests on my PS5 that smart DNS wasn't reliable for accessing Prime Video (it worked well for other apps like Hulu, though!). It only takes a couple minutes to set up, so it might be worth giving it a try.
Tips on How to Choose the Best VPN for Amazon Prime Video
The best VPN for Amazon Prime Video should reliably access the streaming platform. On top of this, it should be superfast and highly secure. I chose the VPNs in my list based on these criteria. Here is a breakdown of what to look for:
Can unblock Amazon Prime Video. Choose a VPN that lets you access your favorite APV library consistently. It's even better if it can access other popular streaming platforms, like Netflix, Disney+, and Hulu.
Fast speeds. Make sure your VPN delivers fast speeds across all its servers. The speed drop should not be more than 25% on nearby servers and 40% on distant servers. This way, you can stream APV shows in top quality with minimal buffering given you have a decent baseline connection.
Extensive server network. More servers help you avoid overcrowding and allow you to access Amazon Prime Video from any location. I made sure that all of the VPNs in this list offer several US and UK servers since these are the largest Amazon Prime Video libraries.
Compatible with streaming devices. Some VPNs are better for streaming than others, so be sure to check that the VPN you choose has apps for the devices you use to watch Prime Video. VPNs with Smart DNS configurations can be easily set up on smart TVs and gaming consoles, so that's a bonus to look for.
Easy to use. The top VPNs are super easy to use. You should be able to find any server you want, switch protocols, or change any other setting without any issues.
Hassle-free money-back guarantee. Look for a free trial or, even better, a risk-free money-back guarantee. This way you can test the VPN to be sure it works with Amazon Prime Video before committing to a full subscription.
Reliable customer support. It's best if the service offers a 24/7 live chat feature in the VPN app. I tested each VPN for the quality of its customer service — regardless of the method, they all replied within 24 hours.
These VPNs Don't Work with Amazon Prime Video
These are some of the VPNs that Prime Video consistently blocks.
PureVPN — PureVPN couldn't unblock Amazon Prime Video. Instead, Prime Video displayed an error message asking me to disconnect from my VPN and try again.
Windscribe Free — Like many free VPNs, Windscribe's free version isn't up to the task of unblocking Amazon Prime Video.
Betternet — Betternet couldn't get past Amazon Prime Video's tough geoblocks.
SaferVPN — SaferVPN was not successful in unblocking Amazon Prime Video during my tests. I tried out a few different servers in both the US and the UK but none worked.
Quick Guide:
How to Unblock Amazon Prime Video With a VPN in 3 Easy Steps
Download a VPN. I recommend ExpressVPN for its lightning-fast speeds and huge server network that gives you access to Amazon Prime Video's full library. Plus, it offers a 30-day money-back guarantee, so you can try it risk-free; you can always ask for a refund if you don't like it.
Connect to a server. For access to the most content, use a US or UK location from the server list.
Start watching Amazon Prime Video! Log into your Amazon Prime Video account and start streaming.
FAQs on Watching Amazon Prime Video With a VPN
What if my VPN stops working with Amazon Prime Video?
First, only a handful of VPNs can actually access Amazon Prime Video. I tested a lot of VPNs that simply couldn't (and their customer service reps confirmed this). So you need to make sure your VPN is suitable for accessing the platform.
If you're still unable to access the site, try the following troubleshooting tips:
Connect to a different server. Even if you're using a VPN with strong unblocking capabilities, you still may need to switch servers sometimes.
Try different browsers and log in methods. First thing, if you're using the Prime Video app, try a browser instead. You can also try to log in through the regional Amazon site for the library you're trying to access (for ex., go to amazon.co.uk for access to UK Prime).
Clear browser cache and cookies. Sites like Amazon may use your cookies to find out your true location. However, you can easily fix it by clearing your browser's cache and cookies.
Disable IPv6. Some VPNs fail to protect you from IPv6 leaks. But you can prevent that from happening by disabling IPv6 on your device.
Change protocol. Some VPN protocols are better at bypassing geo-restrictions than others. Keep experimenting with available protocols until you find something that works.
Make sure your VPN app is up to date. If you're experiencing connectivity issues, it's possible that your VPN software is buggy or a file is corrupted. You can easily fix it by re-installing the latest version of the app.
Why does Amazon Prime detect my VPN?
Licensing agreements and broadcasting restrictions prevent some content from being accessible in every country. While the US and UK offer the most extensive Amazon Prime Video libraries, you can't access them without an IP address in these locations.
VPNs give you an IP address in the country of your choice, which can help bypass these geo-restrictions. Streaming platforms like Amazon Prime Video go to great lengths to block VPN connections to protect those licensing and broadcasting rights.
Will Prime Video ban me for using a VPN?
Amazon's Terms of Service doesn't state anything in particular about VPN use. And I haven't heard of a single instance where someone was banned just because they were using a VPN with Prime Video. VPNs are simply a tool to protect your online privacy, after all, so it wouldn't really be fair to ban people just for wanting to protect themselves.
That being said, the terms do state that you only have the rights to watch the content that's licensed in the country where you purchased your account. So, consistently using a VPN to do that in fact break those terms. That's why Prime Video tries to block VPN connections instead and why only a few VPNs work with APV.
Can I use a VPN on all the devices I watch Amazon Prime with?
Yes, but some VPNs are available on fewer devices. All of the VPNs in this list are compatible with all the major operating systems and can be set up on a router to connect to any device you want. These include Windows, Mac, Android, iOS, and Linux devices. Many of these VPNs also have native apps available for Amazon Fire TV, Fire TV Stick, and Nvidia Shield.
Other VPNs, like ExpressVPN and CyberGhost, even come with a smart DNS feature, which makes it easy to change locations to unblock streaming sites on your Xbox One, Playstation 5, Nintendo Switch, Roku, and most other devices that don't work with VPNs. That way, you can unblock APV without complicated router setups.
Will a VPN slow my streaming speeds on APV?
Yes. To hide your location, a VPN routes your traffic through one of its own servers. This extra step between you and the internet (and encryption on top of it) will slow down your connection to some extent.
However, you won't notice the drop if you're using a high-quality VPN. For example, I experienced a speed drop of only 3% using ExpressVPN's nearby servers, which isn't noticeable at all.
In some cases, a VPN can even improve your connection speeds. That's because some ISPs throttle your bandwidth when you're doing bandwidth-intensive activities or during peak use times. However, when you use a VPN, all your traffic is encrypted. This means ISPs can't throttle you because they can't see what you're doing online.
Is it legal to use a VPN with Prime Video?
Yes, using a VPN with Prime Video is legal. However, you should be careful about using a VPN in countries that regulate or ban their use. For example, in China, only government-approved VPNs are legally allowed.
I don't condone illegal activities, so be sure to check the most recent local laws regarding VPN use.
Can I use a free VPN to watch Amazon Prime Video?
Due to Amazon's tough geoblocks, very few free VPNs work with Prime Video. For consistent access to the site and fast streaming speeds, it's best to use a low-cost premium VPN that's been tried-and-tested to work with APV.
Most free VPNs are very limited with data caps, slow speeds, and intrusive ads. Some shady free VPNs will even expose or sell your data and track your activities. It's simply not worth it when you can get any of the trustworthy VPNs I've listed with a money-back guarantee.
Watch Amazon Prime With ExpressVPN
Get the Best VPN for Amazon Prime Video Today
Amazon Prime Video uses seriously tough geoblocks — it's hard to find a VPN that works with the site. However, I was able to find a handful of VPNs that work reliably with Amazon Prime Video.
From these, my top recommendation is ExpressVPN. It's lightning-fast, so you can stream in HD. Plus, it has a huge server network that allowed me to unblock Amazon Prime Video without hassle. You can test it out with Amazon Prime Video risk-free because it offers a 30-day money-back guarantee. If you're not happy with it, you can claim a full refund without hassle.
To summarize, here are the best VPNs for Amazon Prime Video…
Privacy Alert!
Your data is exposed to the websites you visit!
The information above can be used to track you, target you for ads, and monitor what you do online.
VPNs can help you hide this information from websites so that you are protected at all times. We recommend ExpressVPN — the #1 VPN out of over 350 providers we've tested. It has military-grade encryption and privacy features that will ensure your digital security, plus — it's currently offering 49% off.