Keezel Review & Test 2020- Keep This in Mind Before Buying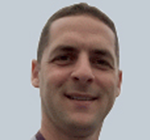 Ran Greenberg |
Updated on 4th December 2019
New-Media and online expert, Venture Capitalist and investor
Tired of installing VPN clients on your system? Keezel might be your answer.
Although Keezel's prices may be shocking to some, there's a good reason behind this. Unlike commonly known VPN software providers, Keezel is a sleek small-sized hardware device designed specifically to act as a mediator between your devices and unsecured WiFi/hotspot networks to encrypt your data using VPN technology. If you're worried about connecting to public WiFi networks though, we still think you'd be better opting for a top-level VPN provider like NordVPN or ExpressVPN.
The pocket size of Keezel makes it very easy to move around wherever you go without the need for AC power or any complicated procedures. It's not just the size that makes Keezel stand out; Keezel uses strong 256-bit encryption to secure your Internet connection without the need to install or configure any software on your devices. In addition, it protects your browsing activities from malware and annoying popup ads. Keezel is also very flexible and adaptable with different platforms. It can run on Windows, Mac OS, iOS, Android, Linux, the Internet of Things gadgets, Apple TV, Chromecast, Roku, Amazonfire TV, and more.
You can connect more than 5 devices simultaneously and access to 1250 servers in 160 locations. Further, Keezel offers a 15-day money-back guarantee with full access to the service.
| Features | Details |
| --- | --- |
| Number of countries with servers | 160 |
| Number of servers | 1250 |
| Number of IP addresses | 1250 |
| Does VPN keep logs? | No |
| Does VPN include a kill switch? | Yes |
| Number of devices per license | Unlimited |
Keezel is a device that you pay for and it comes with a service that protects all of your WiFi devices. Their plans differ depending on the length of service.
A smart little device that solves your VPN needs
Keezel is something we haven't really seen before. Instead of installing a VPN on each of your devices, Keezel acts more like a VPN on your router that protects any device hooked up to your WiFi. With access to blocked content and high encryption, it secures your internet and makes it easy to enjoy.
It might be different, but we think it's still best to choose a premium VPN provider such as NordVPN or ExpressVPN. For a low monthly fee, you'll receive the same protection on public WiFi networks, advanced security, and access to streaming services like Netflix.
Protects all of your devices without installing a VPN on each one
Military-grade encryption
Blocks ads and filters phishing
No software installation
Money Back Guarantee (Days) :
15
Mobile app :
Number of devices per license :
Unlimited