My Secure VPN is a simple service that exclusively offers manual configuration, meaning it is provided through open-source OpenVPN applications. While this is not the norm, the manual installation is not nearly as complicated as you may think.
It offers 150+ servers and 300+ IP addresses in 5 different countries. Dedicated IP addresses are offered as well.
Let's get into this service and find out how it performs across different categories.
Streaming – Does My Secure VPN Work with Netflix?
Netflix, Hulu, and other popular streaming services have gotten better at detecting and blocking VPN traffic from unlocking their content.
Unfortunately, My Secure VPN was unable to access US Netflix. I was immediately stopped by the dreaded VPN error message with any of the servers that I tested.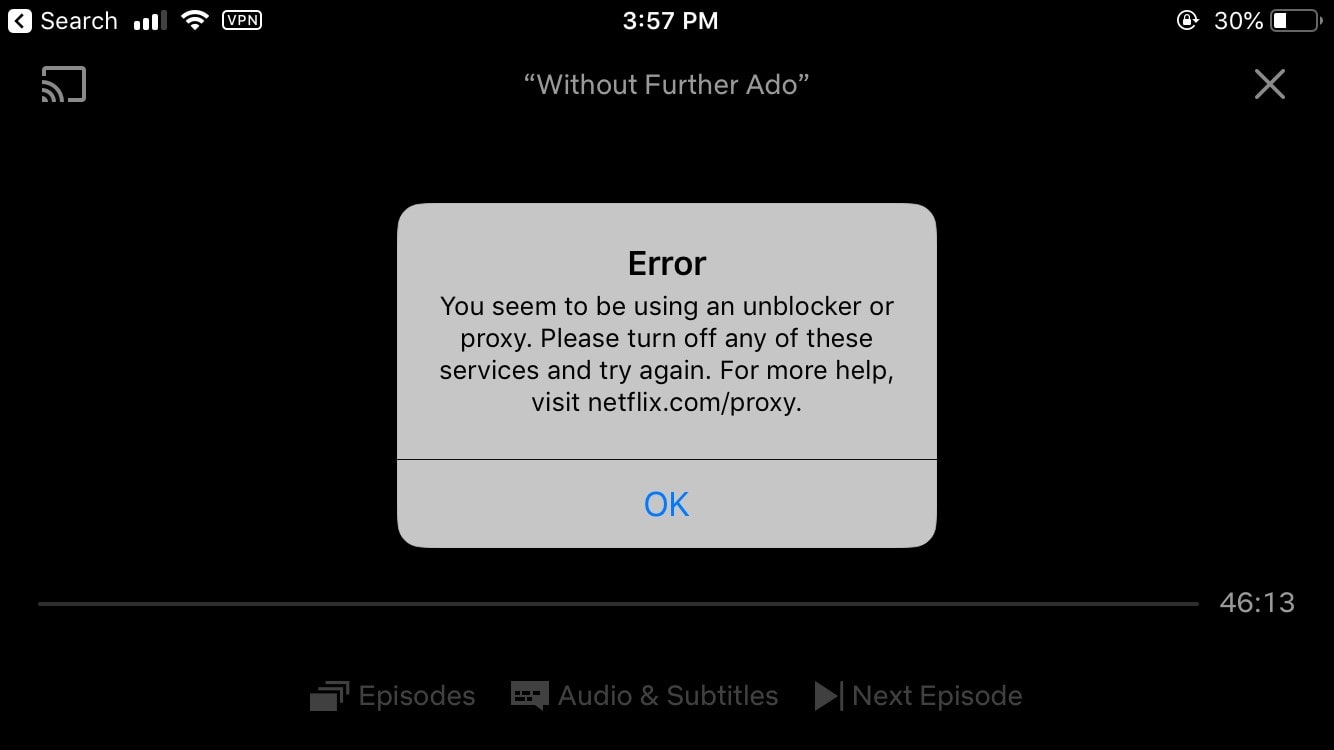 The VPN was also unable to access Hulu, HBO GO, BBC iPlayer, and Amazon Prime Video.
My Secure VPN Speeds
No matter how many websites and services your VPN can unblock—it doesn't mean a thing without fast connection speeds.
I checked my download speed before connecting to My Secure VPN: my average was 71.5 Mbps. Comparing this to my speed while using the VPN showed me whether or not the VPN was slowing me down.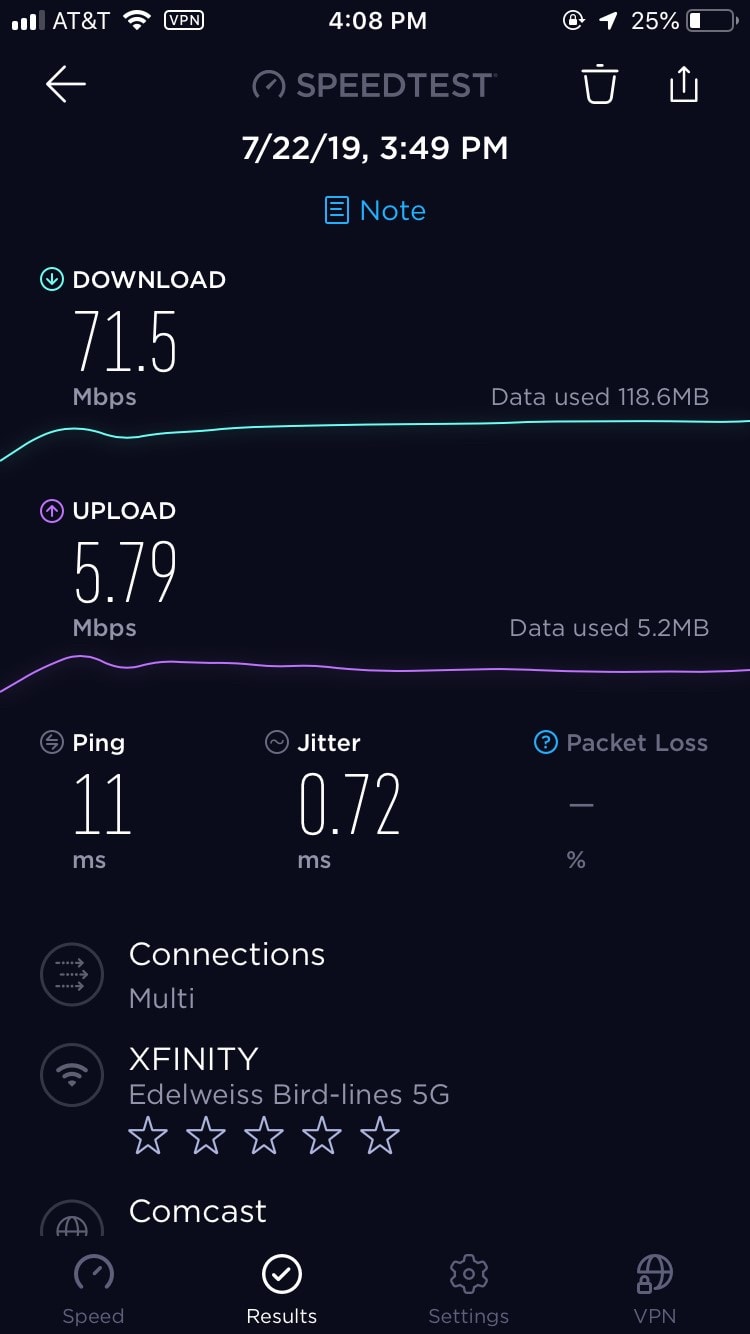 I connected to a My Secure VPN server in the US, close to my real location. Nearby servers tend to give you the fastest connections. My download speed was 38.3 Mbps.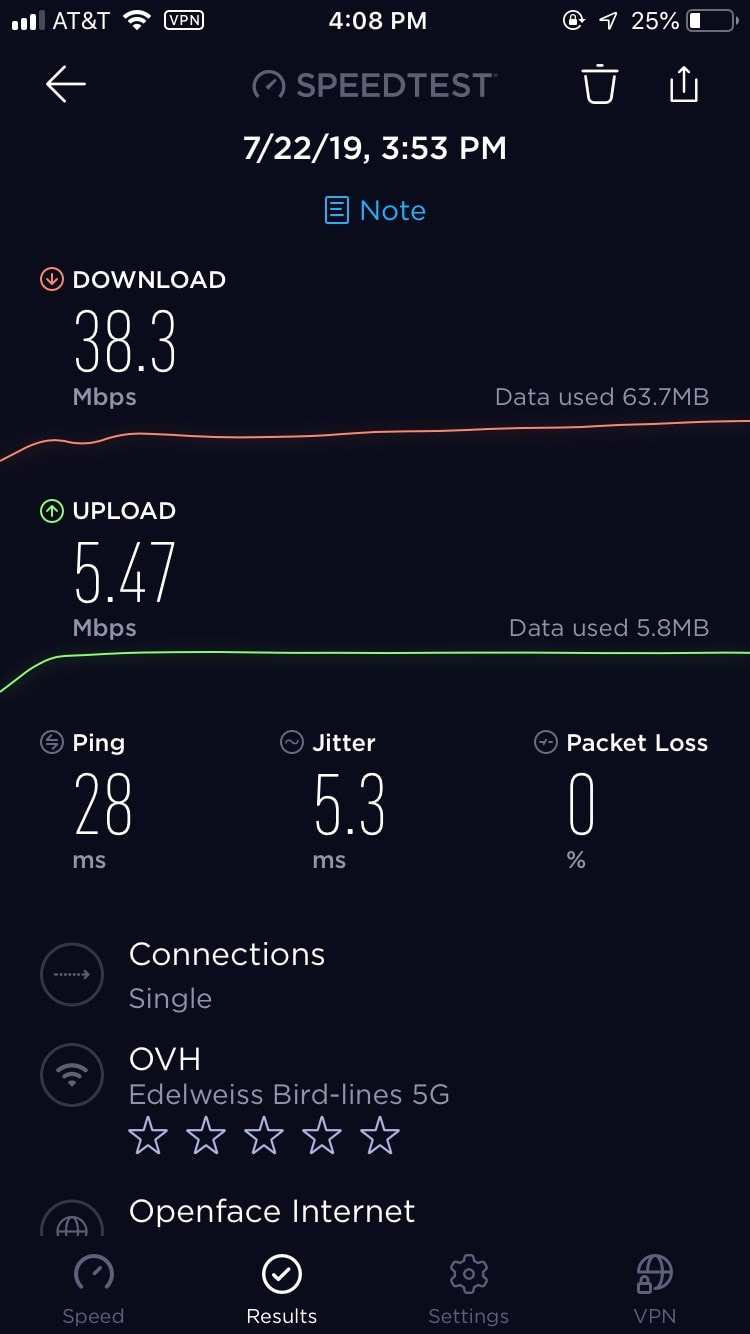 Although there was a noticeable drop, this is still a pretty good speed compared to many competitors.
Next, I connected to a VPN server located in the UK. This time my download speed was 20.4 Mbps.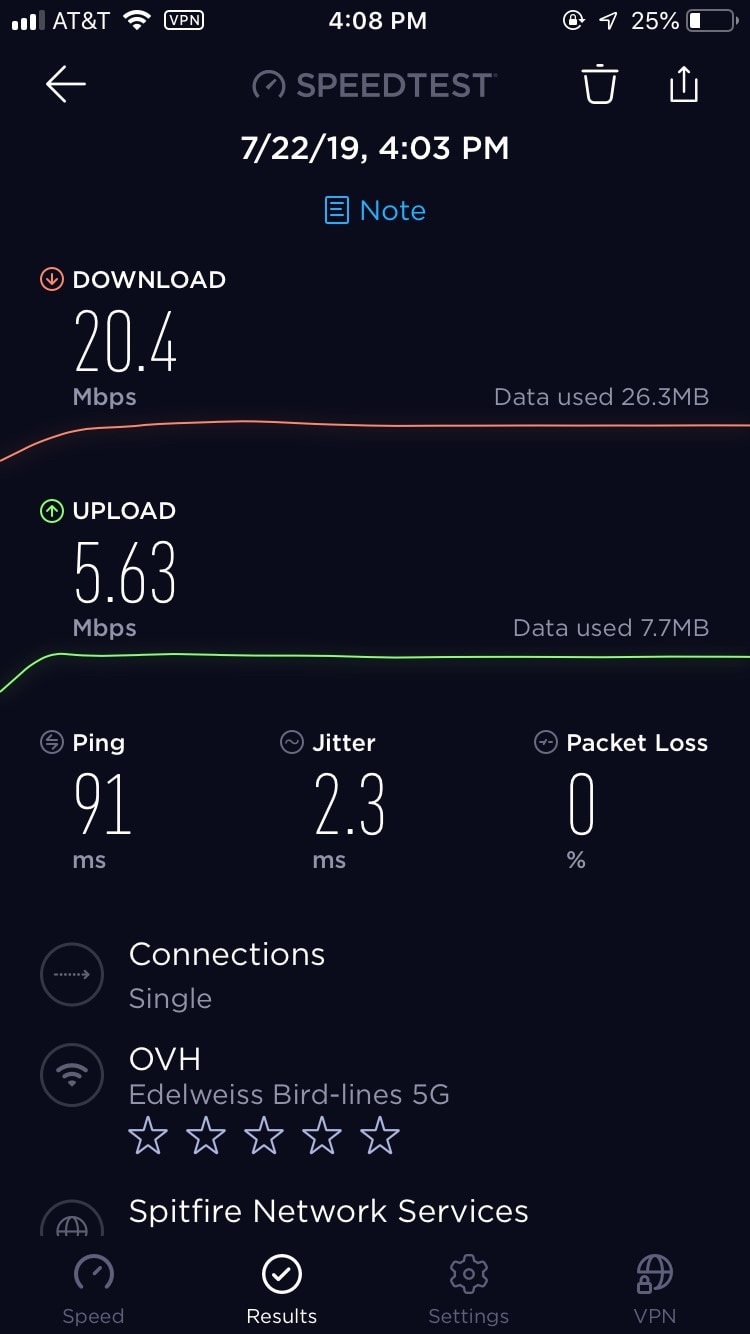 When I tried a VPN server in France, my download speed was 22.0 Mbps.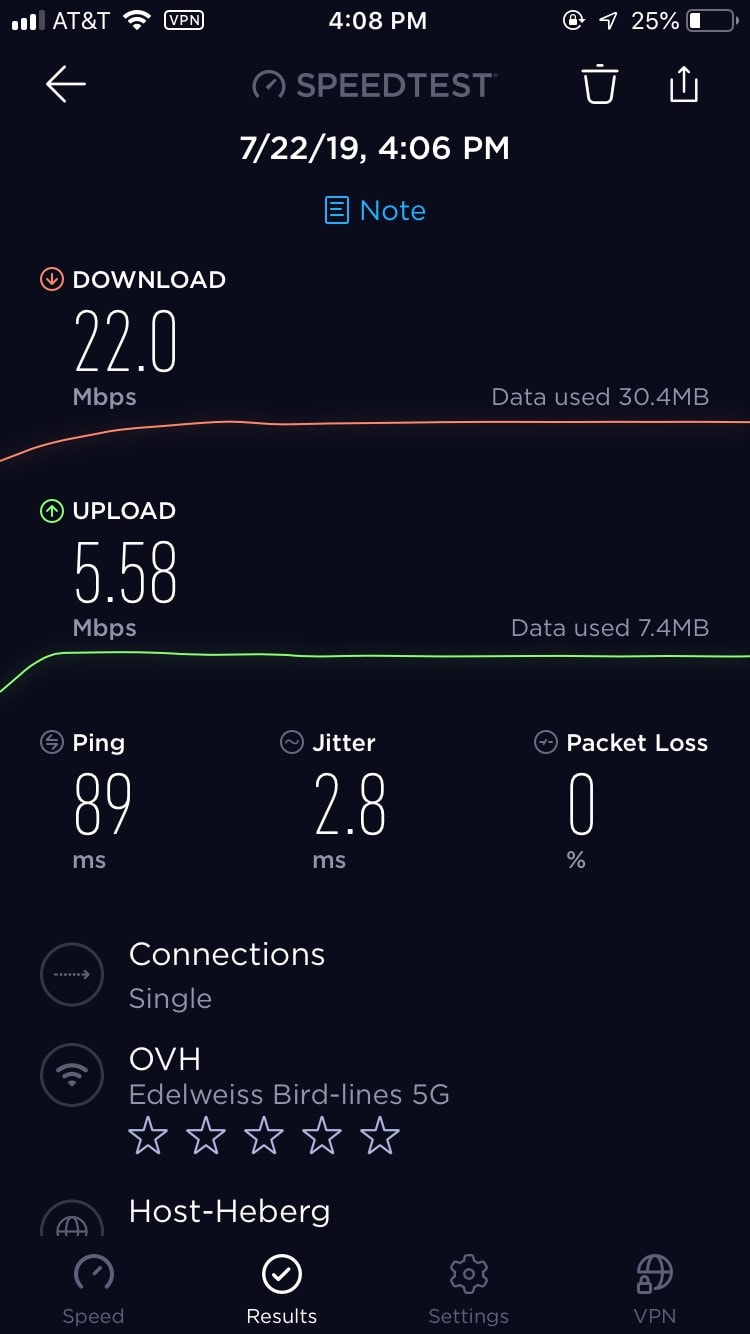 These tests show that while My Secure VPN is not the fastest VPN on the market, it can definitely provide reliable connections that are fast enough for streaming, torrenting, and other high-bandwidth activities.
Is My Secure VPN Good for Torrenting?
My Secure VPN allows P2P file sharing on all servers. You can easily use the VPN with your favorite torrenting application to protect your privacy, anonymity, and safety as you torrent.
The VPN connection speeds should be fast and reliable enough for downloading and sharing large files.
The one downside is that the VPN lacks a kill switch, which could put your data at risk if the VPN connection were to suddenly drop.
Security – Is My Secure VPN Safe?
There are a lot of VPNs out there, and all of them promise to keep you safe and private. Not all of them succeed.
In fact, some VPNs leak your data or even contain malicious software. Luckily, My Secure VPN is not one of them.
My Secure VPN is safe to download, and I did not detect any IP leaks during my tests.
When I connected to a server in the UK, this is what was visible to the websites I visited: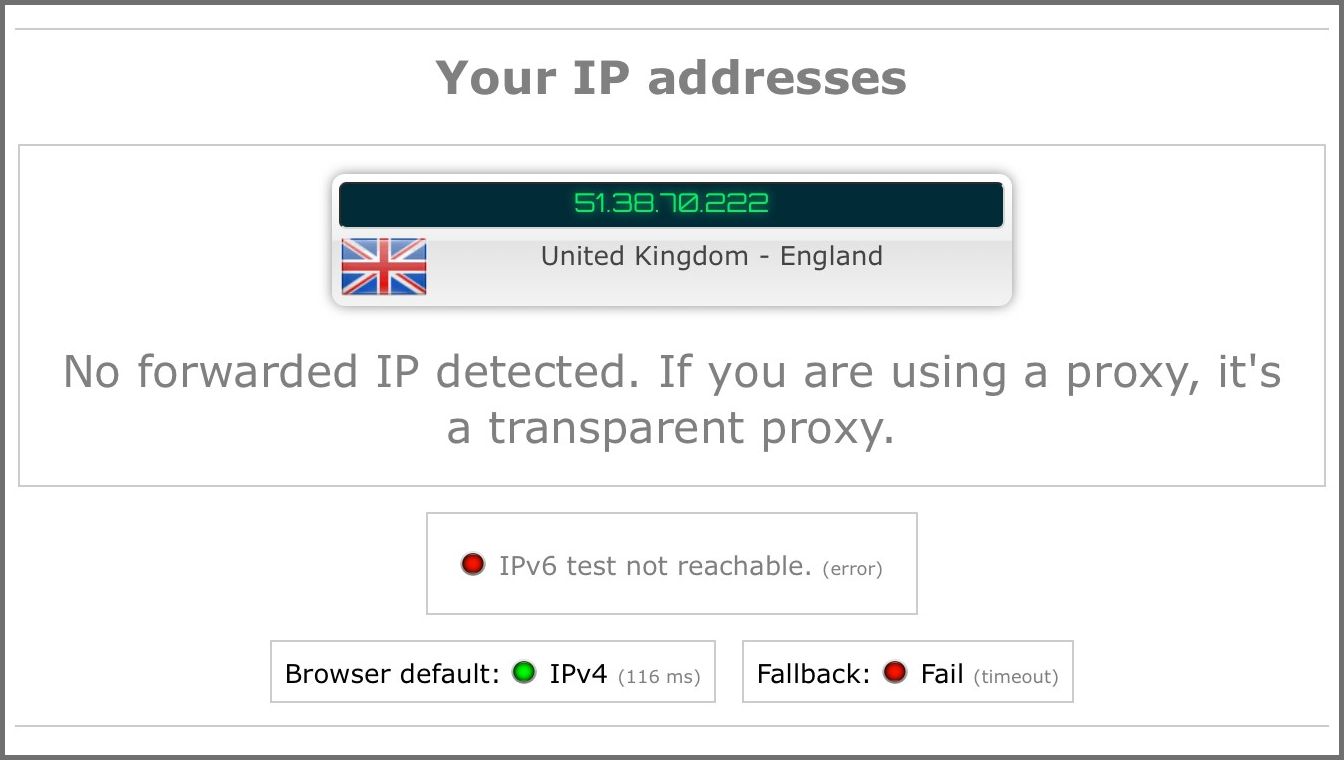 As you can see, the VPN successfully masked my real IP address and location in the UK.
Even without the advanced security features possible with a dedicated VPN app, My Secure VPN has the basics fully covered.
Does My Secure VPN Keep Logs?
The FAQs on the website claim that the company "does not keep any logs at all," and a look at the privacy policy more or less backs this up.
The company does store the name and email that you provide when you create an account, but no other information is collected.
The best VPNs for anonymity don't require personal information of any kind, but it's common for some to log your name and email for customer service purposes. The most important thing is that a VPN not log anything about you personally or your activity online.
My Secure VPN does not log any of this kind of information, which means that it passed the most important privacy test.
Does My Secure VPN Have an Ad Blocker?
No, My Secure VPN does not offer an ad blocker.
Does My Secure VPN Work in China?
My Secure VPN is not a great choice for use in China.
The VPN doesn't have any advanced obfuscation settings to disguise your VPN traffic, so it is easily caught by the Great Firewall of China.
China's VPN ban has gotten particularly good at detecting and blocking OpenVPN connections. So My Secure VPN's default use of OpenVPN is good for security, but not for escaping detection in China.
You could try an L2TP connection with My Secure VPN, which is slightly harder to detect as VPN traffic, but there's no guarantee.
Price and Value for Money
You can choose from 3 different-length subscriptions with My Secure VPN. The longest subscription period is 6 months. Longer subscriptions give you better value for money, but the savings are small.
While this is a well-performing VPN, the lack of a dedicated app is a downside that must be considered. It is more expensive than some other VPNs that do offer user-friendly dedicated apps and advanced features.
The cheapest option is a dynamic IP address subscription, but you can also get a dedicated IP address for a slightly higher price. If that's what you're looking for, you might find that My Secure VPN is worth the price.
Does My Secure VPN Have a Free Version?
There is no free version, but there is a 24-hour free trial period.
My Secure VPN's Refund Policy
If you decide My Secure VPN isn't right for you, you have 7 days to request a refund through the support ticket system on the website.
Is My Secure VPN Compatible with My Device?
My Secure VPN does not offer any dedicated VPN apps.
The manual installation files are compatible with Windows, Android, and iOS devices. There are step-by-step installation instructions and a link to open-source OpenVPN software for each.
You might be able to set up the VPN on other devices that support OpenVPN software, but you'd be on your own in terms of installation and setup.
My Secure VPN supports up to 5 simultaneous connections with each account.
Encryption
My Secure VPN uses robust encryption to protect your data, including AES-256-CBC encryption, which is the leading standard in the industry.
It uses UDP OpenVPN connections by default, which is considered the most secure.
If your device is older and doesn't support OpenVPN, you can use the configuration files provided by the VPN for the L2TP VPN protocol. While this slightly older protocol is less secure, it is also lighter and may provide better speeds.
My Secure VPN Customer Service
While customer service is an important part of any VPN, it's of special interest when a VPN only supports manual configuration.
In this regard, My Secure VPN does some things well. The resources on the website are thorough and easy to follow (despite many typos), including the FAQs and the installation walkthroughs.
But My Secure VPN is missing one very important thing, and that is a responsive customer support team.
The only way to contact customer service is to submit a support ticket on the website. I submitted a support ticket with a few very basic questions. Five days later, I still had not received any response.
Customer service that doesn't respond in a timely manner is like no customer service at all. It's disappointing to know that if I were to experience serious technical difficulties, I would have nowhere to turn for help.
User Experience
When I review a VPN's user experience, I usually focus on the app's design and performance. In this case, My Secure VPN does not have a dedicated VPN client.
Luckily, manual configuration isn't nearly as complicated as it sounds, although if you're used to having a dedicated VPN app for your device, the manual installation process does take slightly longer.
The VPN provides links to open-source OpenVPN software for various devices. The software for my device looked like this: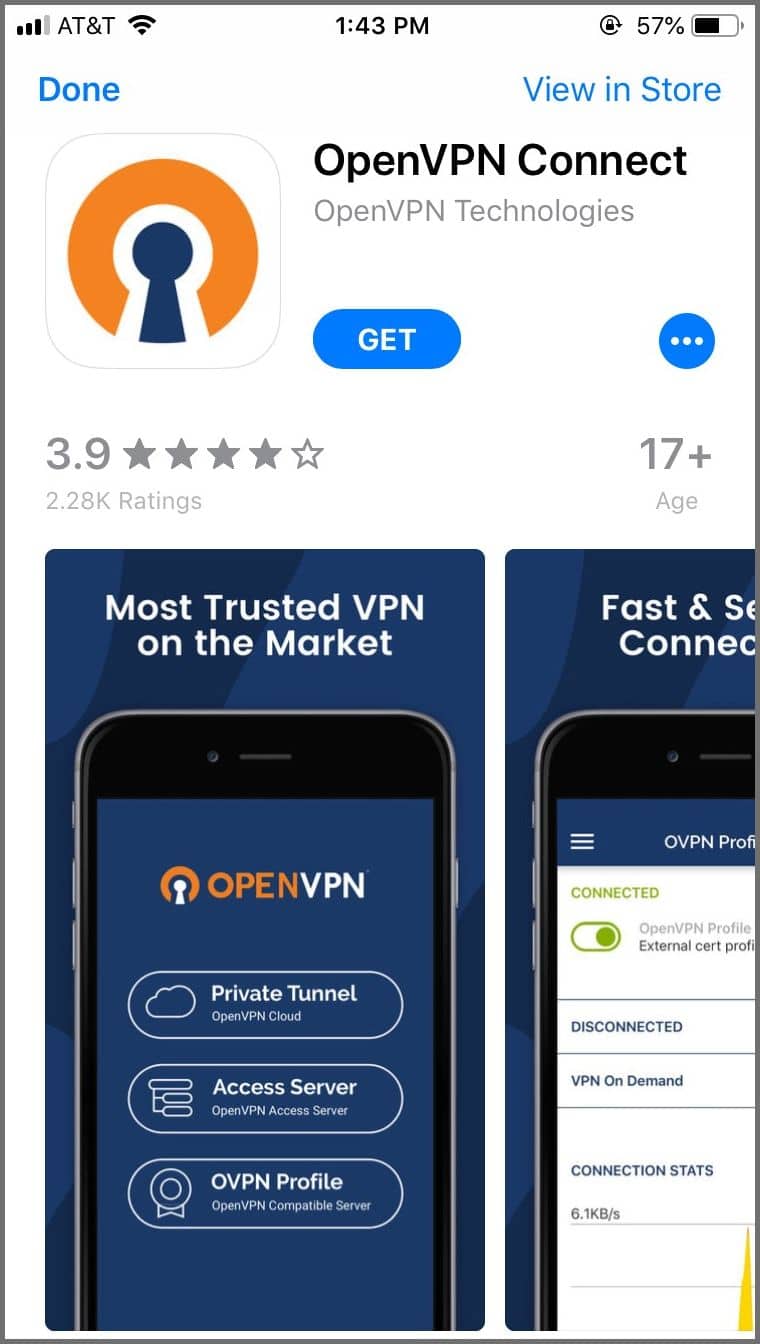 I ran into one user experience issue at the very beginning of the process.
Creating an account and paying for a subscription was fast and easy, but I struggled to figure out where to go next. The website directed me to my account page, but there were no clear directions on how to set up the VPN on my devices.
Finally, I checked my email to see if the provider had sent me any instructions.
Yes, I had received an email with installation instructions and links to open-source OpenVPN apps for Windows, Android, and iOS devices.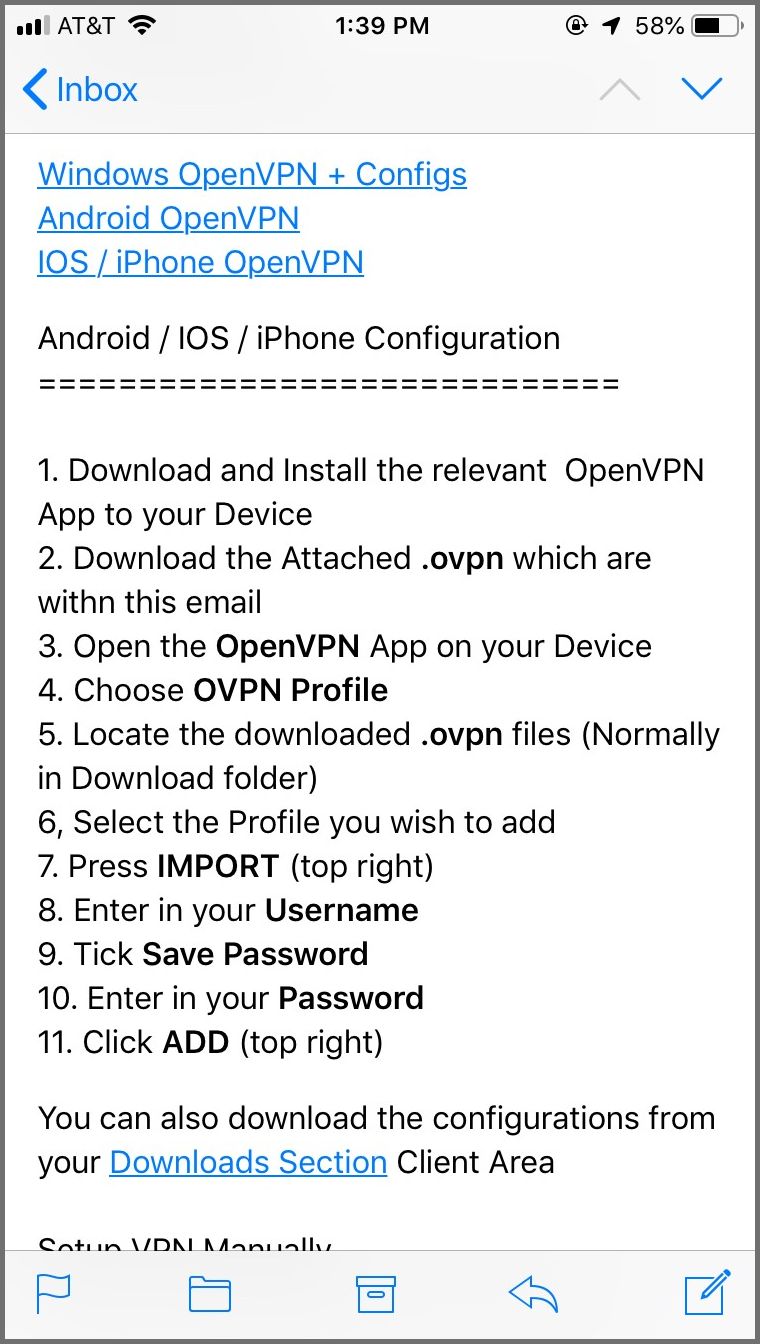 The rest of the installation process was straightforward, and the instructions in the email were easy to follow. A simple prompt telling me to check my email would have saved me time, however.
The next step, after you've installed an OpenVPN app, is importing the My Secure VPN configuration files. Some are provided in the email with more available on the website.
Each file corresponds to a different VPN server location. You'll need to install a new file for each server location that you want to access.
You can import the files directly through the OpenVPN app, but you still need to manually enter your My Secure VPN username and password for each file. Each one will be displayed as a profile within the OpenVPN app: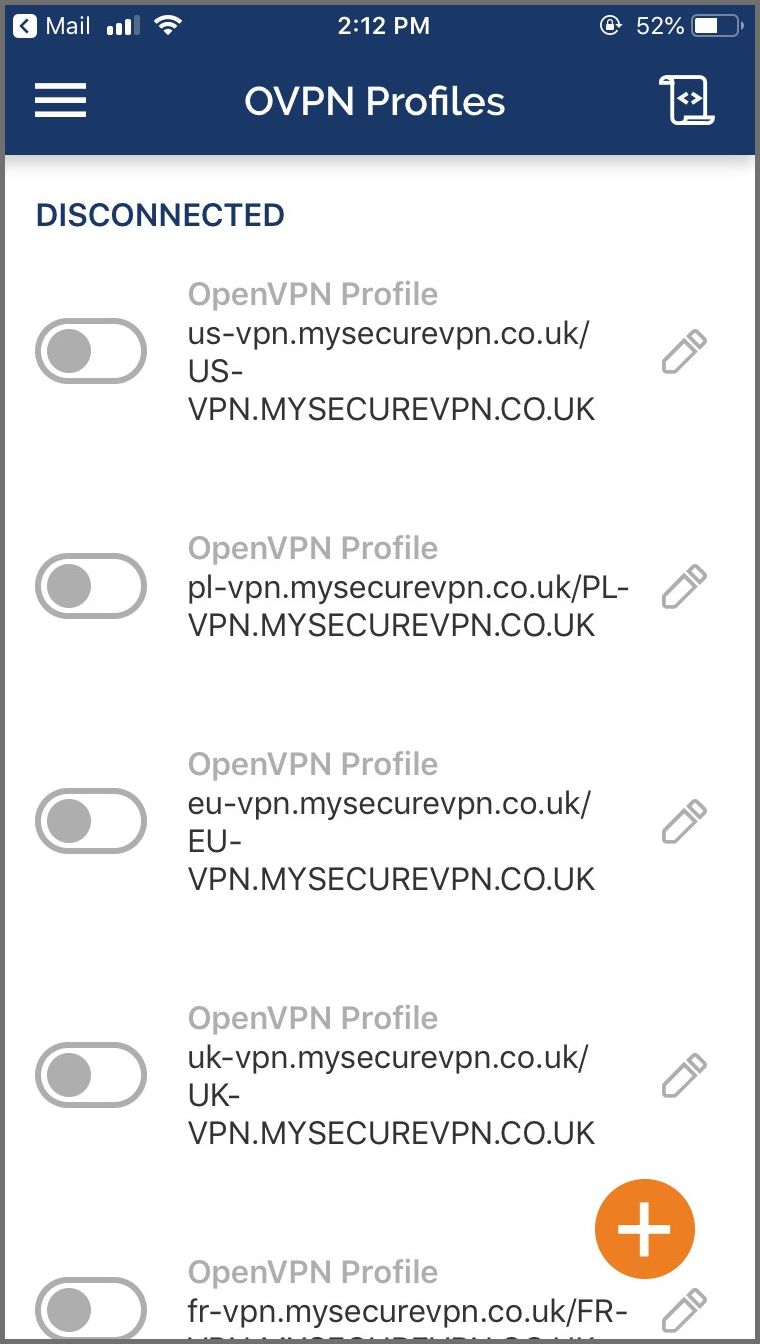 From there, you can connect to the location you want in a single click: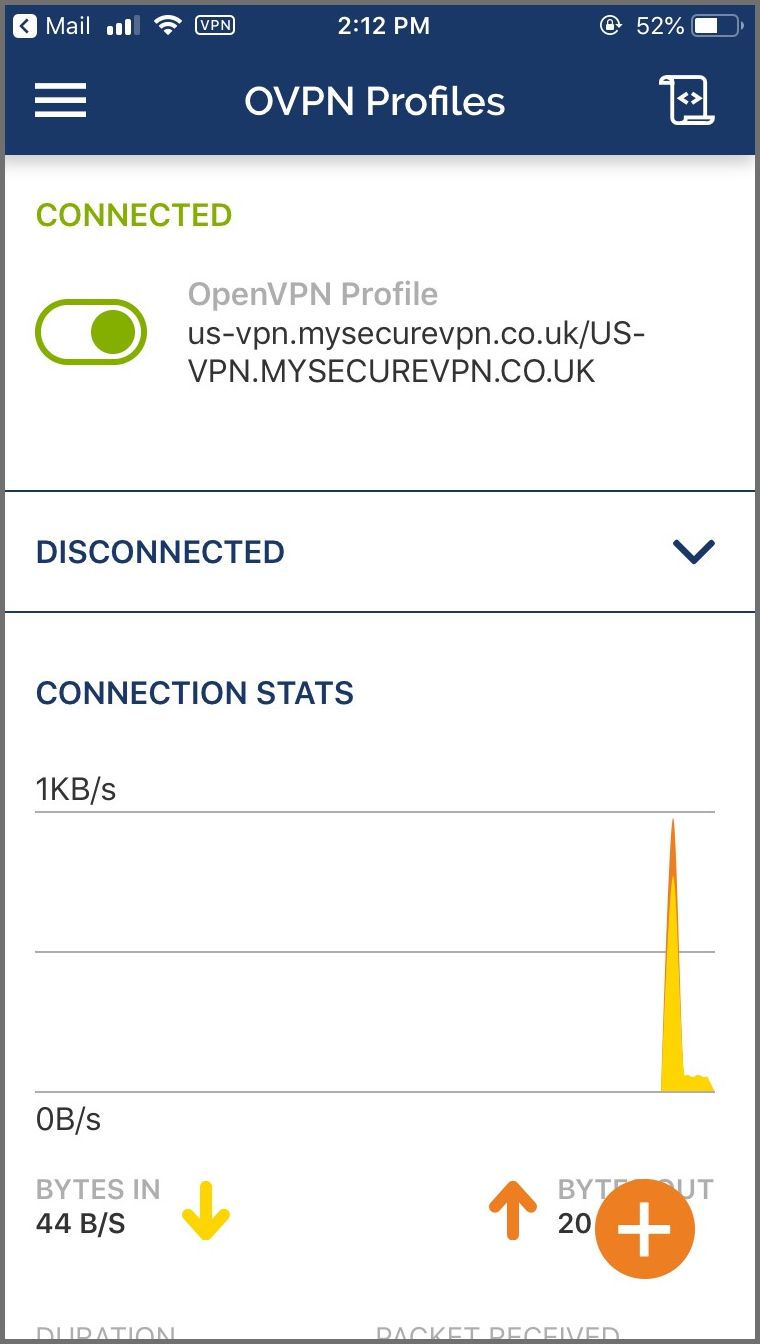 Conclusion
My Secure VPN has plenty to offer if you're looking for a simple service to protect your safety and privacy while you browse or torrent.
The VPN performed well in speed tests and kept my identity hidden from the websites I visited.
But the lack of VPN app means that the installation process takes longer than many competitors, and the price doesn't reflect this.
My Secure VPN is not a good choice for streaming, as it was unable to access US Netflix and many other major streaming sites. The customer support team also failed to respond to my support ticket, which is a big negative.
With a few improvements, My Secure VPN could be a great competitor. For now, check out our current list of the top VPNs on the market.
💸

Price
$9.84/month

📆

Money Back Guarantee
3

📝

Does VPN keep logs?
No

🖥

Number of servers
150

💻

Number of devices per license
5

🛡

Kill switch
Yes

📥

Supports torrenting
No