Pangeo is a business VPN with tools you can use to see how your site and ads look in other countries.
But are these tools reliable? And is it secure enough to trust with your private business information?
I used its ad toolkit, apps, and proxies for a week to find out if it's worth signing your employees up. I also tested its security features and looked for flaws that could threaten your company.
Short on Time? Here's a 1-Min Summary of My Results
See how your ads look in every browser, across multiple devices. I used Pangeo's emulator tool to see how my page displayed across dozens of devices. I tested it on Chrome.
Slow international connections. My local server was fast, but I lost over 90% of my speed on international servers. Take a look at my speed test results.
Streaming — Pangeo Works With Most Ad-Supported Services (But Not Netflix or iPlayer)
Pangeo is a business VPN designed to help you test ads and monitor your global content — it isn't suitable for streaming, torrenting, or other regular consumer-VPN services.
It can't unblock Netflix or any other popular streaming platforms. But, it unblocks most US and UK-based, ad-supported streaming services (like Tubi and CWTV) so you can use it to see how your ads are playing overseas.
Ad-supported streaming platforms are free-to-use sites that (unlike Netflix) make money by showing ads.
But, be careful: streaming one 3-minute ad in high definition uses around 150MB of data. Pangeo VPN only allows 200MB per month on its lowest plan and 1GB on its highest. It's easy to use all your allowance if you're testing more than one ad.
Usings one of its US servers, I first attempted to unblock and watch a show from CWTV. I was surprised that it loaded a full episode of Supernatural. All of the midroll ads loaded quickly, too — you can see your ad in high definition.
I had the same result with Tubi: I was able to watch the first few minutes of Home Sweet Home and the ads that came before it without interruption.
Speed — Quick Local Servers, but Slow International Connections
Pangeo VPN was fast enough for me — but I suspect that's because I had a quick connection to start. If your internet is normally slow (below 10 Mbps) you might be in trouble.
My starting connection ran at 92.19 Mbps, about 44% faster than average.
When I connected to its Australian server, my speed dropped by 35% to 59.20 Mbps. This is still fast — but the purpose of Pangeo VPN is to provide you with quick international connections so you can monitor your global content. There's very little need for a local server since you can see your local content without connecting to Pangeo. So, international speeds are crucial.
I tried one of its US servers next — and this is where things started to fall apart. My speed dropped by 65% to 32.42 Mbps. This is still fast enough for watching HD videos and browsing without lag, but the average international speed loss is around 50% — which is a lot.
My connection slowed even more when I logged onto the UK server. It dropped by 93% to just 6.53 Mbps. That's a big jump.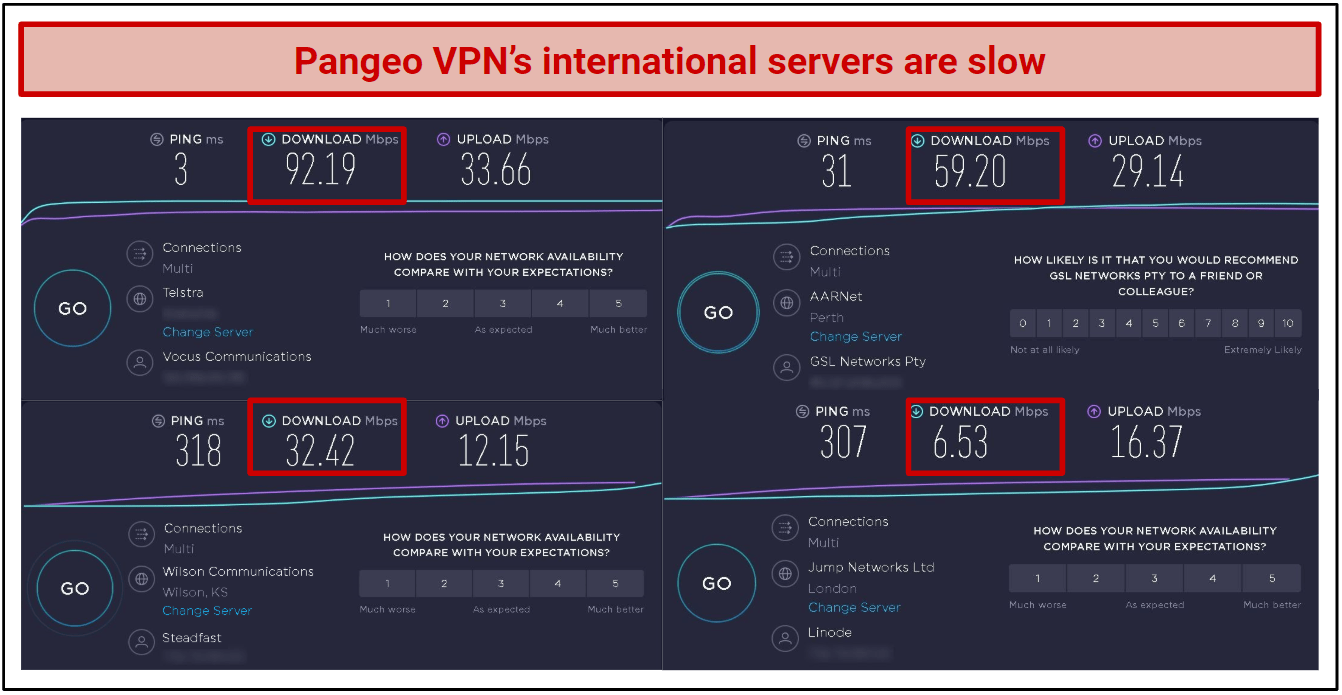 My connection was fast enough for most activities (even at 6.53 Mbps). But, this is because it was really fast to begin with.
If your connection speed is closer to the average 63.85 Mbps, you have a lot to lose. A 65% reduction will have you running at 41.5 Mbps — but a 93% loss like I had on the UK server will cut you down to just 4.47 Mbps. That isn't even fast enough for streaming.
Pangeo isn't fast enough for checking your ads, games and apps on international servers.
Torrenting — Not Enough Data for P2P
Pangeo VPN doesn't give you enough data to download and seed torrents.
I tested it by downloading a 4-minute video from a friend. The file was 240MB — and Pangeo's basic account only allows 200MB per month. I didn't have enough data to download the video.
I was able to share some smaller PDFs and images but found it more efficient to send these as email attachments.
Gaming — Not Powerful Enough to Test Your Games
Pangeo VPN isn't powerful enough to test your gaming apps or check your in-game ads. Its biggest downfall is data; the standard 200MB isn't enough for meaningful gameplay, and its international connections aren't fast enough to load HD graphics.
I'm fascinated by the advertising opportunities Second Life presents, so I used it to test Pangeo's gaming abilities.
I ran into an error right away when I tried to log in using the US VPN server. My connection wasn't stable enough to load the game. I switched back to a local Pangeo VPN server instead.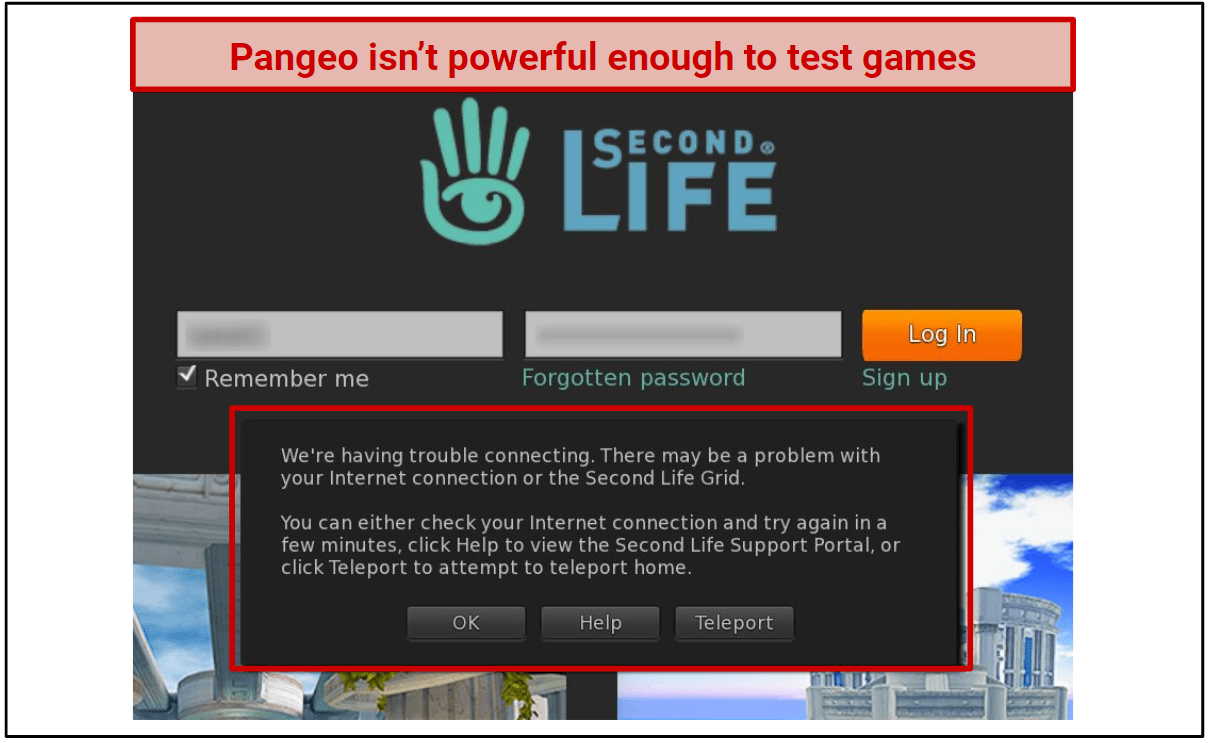 I couldn't log into Second Life using Pangeo's US server
Second Life ran smoothly when I was connected to the Australian VPN server — but it lagged as soon as I switched back to the US server. It became difficult to control where I was going and worsened when I tried to increase the graphics quality.
Server Network — Chinese Servers for Testing Your Apps Against The Great Firewall
Pangeo's modest server network spans 130 locations. The basic plan gives you access to only 20 of these. It operates across North America, Latin America, Asia, Europe, Africa, and the Middle East.
I'm really excited about Pangeo's Chinese server. Most of the premium VPNs I've tested don't operate in China, so I've never been able to test the Great Firewall personally. Pangeo's Chinese server makes it possible to see how your apps and site come up against China's censorship. I spent some time testing to see which sites I could access and seeing what the internet looks like from one of the most restrictive countries.
Unfortunately, Google is blocked, so I had to use Bing — but that was the only downside.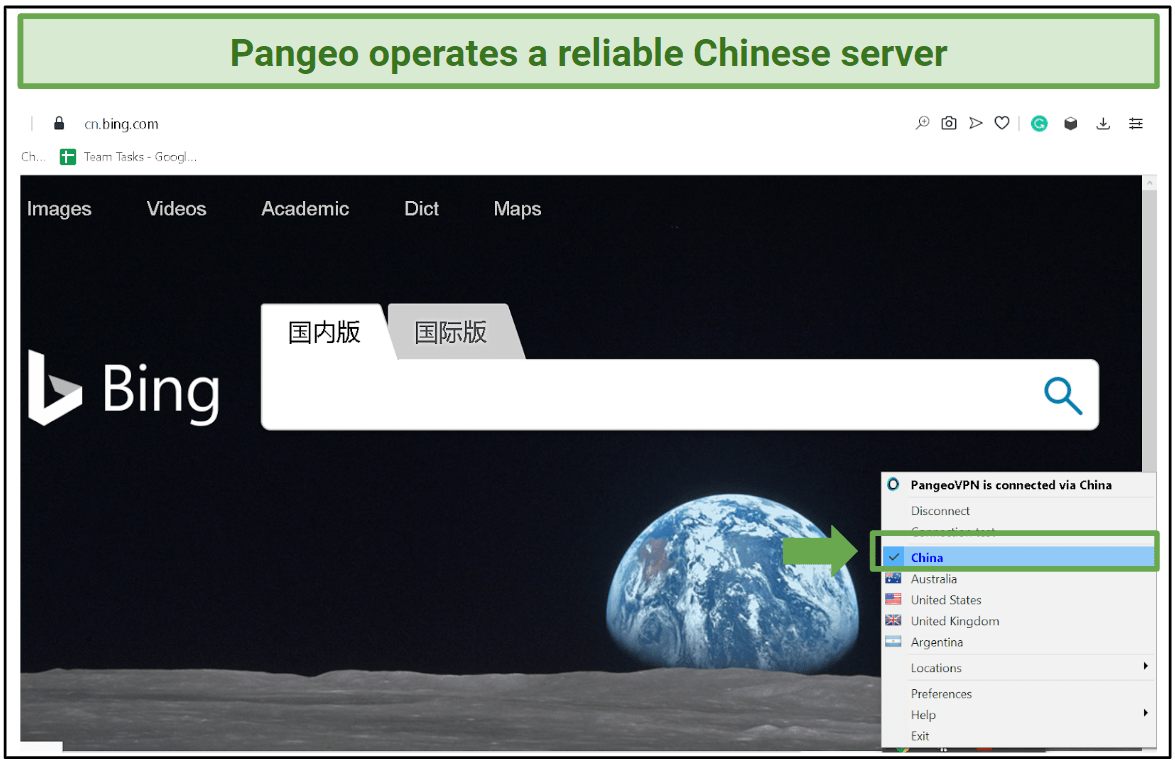 Pangeo's Chinese server lets you test your apps against the Great Firewall
Security & Privacy — IPSec, a Kill Switch, No Logs, and No Leaks
Pangeo is a secure VPN, but its browser extensions and Android app aren't encrypted.
The macOS and Windows apps use the same encryption protocol as OpenVPN (IPSec).
It offers a kill switch, but I wasn't able to configure it on the app. I was disappointed because most VPNs let you turn the kill switch on and off to suit your needs.
Pangeo doesn't log any of your activity and is 100% GDPR compliant. It's owned by Five Media Marketing Limited and it's based in Cyprus— outside of the 14 Eyes Alliance.
I ran several tests to check for IP and DNS leaks. Pangeo VPN shielded my IP and DNS requests and it blocked IPv6 requests. This is important because IPv6 requests can bypass your VPN and reveal your activity to your ISP.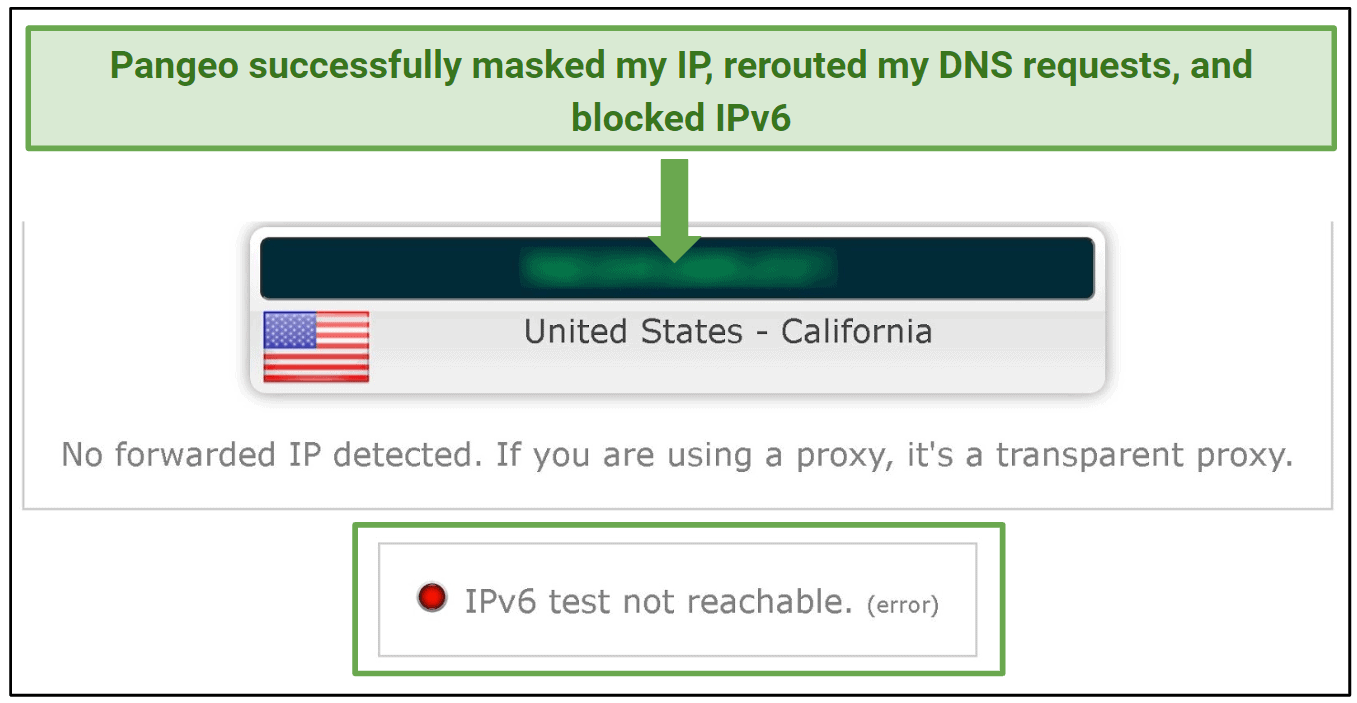 Pangeo masked my IP and DNS requests
Simultaneous Device Connections — Connect Up to 100 Employees
Pangeo VPN offers up to 100 simultaneous connections per account.
You pay per user, so you can't share your connection with a new colleague during a meeting. If someone new needs access you have to sign them up separately and pay for an additional user.
This gets expensive, with plans starting at $66/month per user, per month.
Most consumer VPNs offer multiple simultaneous connections for free, so I wonder why Pangeo doesn't offer better value for money in this area.
Device Compatibility — Pangeo VPN Covers the Basics
Pangeo VPN has apps for Windows, macOS, and iOS. Its proxy is available for Android, Firefox, and Chrome.
There are two versions of its VPN for Windows; the basic VPN and SelectVPN. SelectVPN lets you choose which apps use the VPN — just like split tunneling.
I tested Pangeo VPN on my Windows 10 laptop and my Android phone. The apps are really basic. They are easy to use, but glitched a lot during my tests.
I had to reinstall the Windows app twice before I could connect to a server. I contacted support. They replied the next day to tell me that the issue was caused by my trial expiring. But, while waiting for a reply, I created a new account to test and encountered the same problem.
I tested it 24 hours later and the glitches had resolved.
The Chrome and Firefox addons contain the most useful testing features — like Pangeo's emulator and ad tools. The emulator worked well for me but I couldn't change my location using the browser extension. I connected successfully to several proxy servers but I couldn't get any pages to load.
Business Tools — Built-in Emulator and Fiddler Add-on
Pangeo packages some unique testing tools with its VPN.
Its business toolkit lets you monitor your ads and content across several regions. You can even see how your content displays on devices from Xbox One all the way back to Blackberry Z10 with its emulator.
You don't need to pay extra for these tools; they come bundled with your VPN service.
Device Emulator
Pangeo's device emulator shows you what your content looks like on different devices and browsers. You are supposed to be able to use it in conjunction with the proxy service but I couldn't get that to work. It's not included in the desktop or mobile app; you need to download the Chrome extension to use it.
I tested the emulator with the proxy turned on — it was a disaster. I couldn't access the internet with the proxy switched on.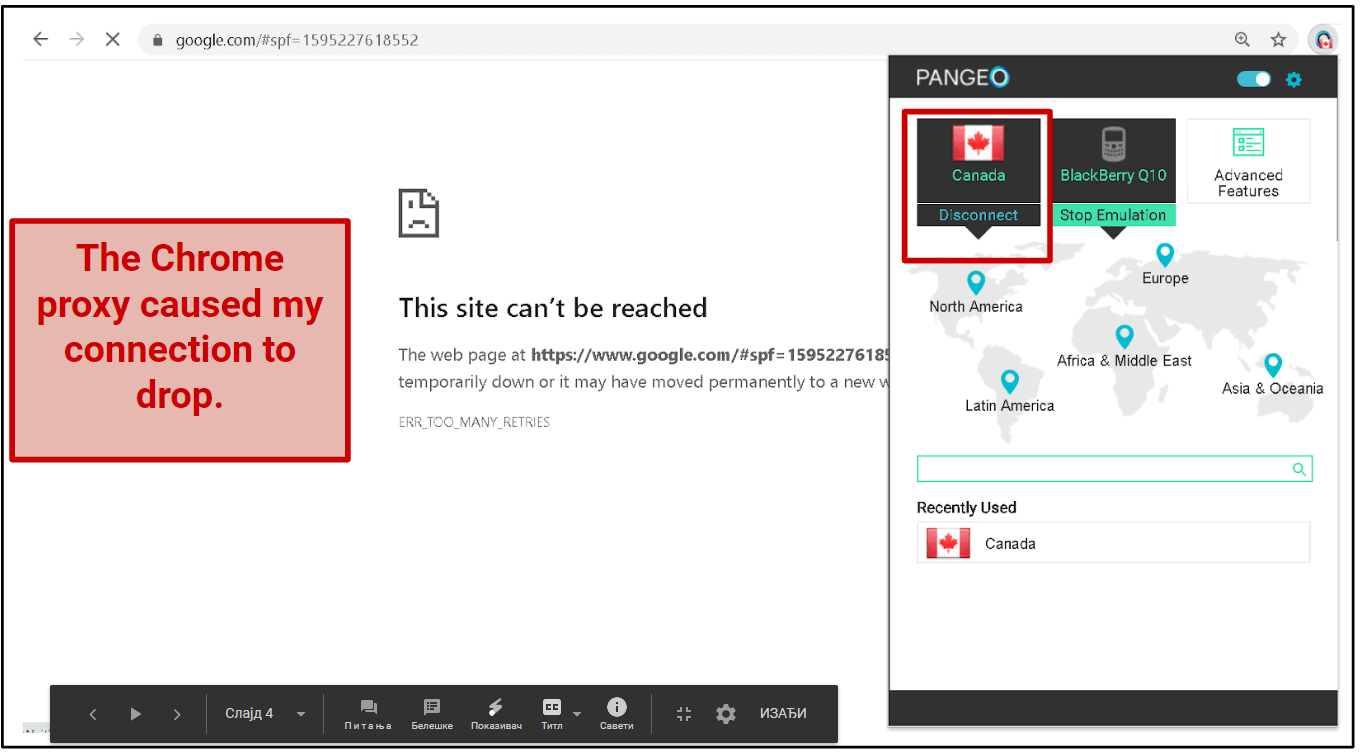 Pangeo's Chrome extension caused my connection to drop
The emulator worked fine once I turned the proxy off. It's useful if you just need to see how your content looks in other browsers, but not in other countries.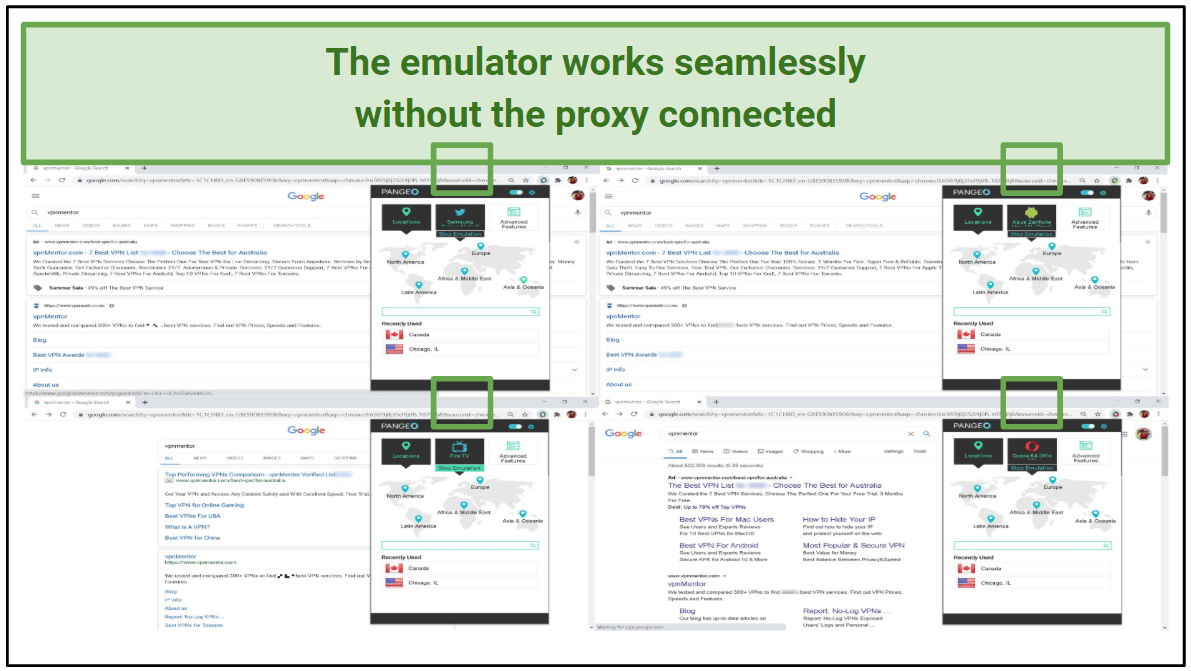 Check how your SERP or website looks on any device with Pangeo's emulator
Fiddler Add-On
You can use Pangeo's Telerik addon to access its entire proxy network from within Fiddler. This lets you monitor HTTPS traffic from anywhere, debug your geo-targeted content, test your site performance, and access your global metrics.
I found the Fiddler addon quick and easy to install. I just downloaded the extension from Pangeo's account area, hit install, and everything was ready to go in under a minute. Note that this is only available with Pangeo's most expensive Enterprise plan.
Pangeo Features — Updated in January 2022
5.5
💸

Price
$66/month

📆

Money Back Guarantee
30

📝

Does VPN keep logs?
No

🖥

Number of servers
500

💻

Number of devices per license
2

🛡

Kill switch
Yes

🗺

Based in country
Cyprus