PizzaVPN Reviews 2020 - Why 4.0 Stars?
PizzaVPN is a newcomer to the VPN market that stands out from the crowd with its quirky pizzeria style website and interface. Behind the scenes, this VPN offers some robust security features, the ability to stream geo-restricted content, and P2P support.
Below is an overview of PizzaVPN's key features:
Streaming - Does PizzaVPN Work with Netflix?
PizzaVPN has the ability to access geo-restricted content on dedicated streaming servers, including Netflix. Servers that are specially configured to bypass geo-blocks are labeled as "SmartVPN" within the app's server selection interface.
With 200+ servers in 39 countries, there are plenty of geo-spoofing options to choose from. Servers that are unable to access specific streaming content are labeled. For example, some of PizzaVPN's US servers display the label "Hulu is not supported" to indicate which server suits your needs..
PizzaVPN Speeds
We tested PizzaVPN's connection speeds on multiple servers. Before connecting to the VPN, we had a base speed of 70 Mbps.
The results of our speed tests showed a lot of variation in server speeds, even in the same area. We averaged around 20 Mbps with a nearby PizzaVPN New York server: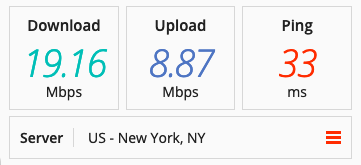 However, we got much better speeds of around 40 Mbps with the Washington, DC server: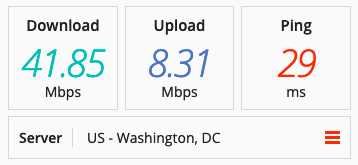 We found similar variations in speed when connecting to more remote servers. You may have to go through some trial and error before finding the server that works best for you.
One thing we did notice was consistently fast upload speeds across multiple servers.
Is PizzaVPN Good for Torrenting?
PizzaVPN is a torrent-friendly VPN. They support P2P activity on designated servers, which are labeled as "Torrent Network" within the server selection interface.
Security - Is PizzaVPN Safe?
PizzaVPN disguises your IP address and protects your security and privacy online. There are a range of advanced encryption protocols, including a choice of PPTP, L2TP, SSTP, IPSec, and OpenVPN.
There is a simple drop-down menu in the settings that allows you to choose your preferred protocol within the app.
This VPN does not include an adblocker in its service. Although the VPN does offer a kill switch, it is turned off by default and must be turned on in the settings. Additionally, we encountered some issues connecting to the VPN after engaging the kill switch in the MacOS app.
Does PizzaVPN Keep Logs?
PizzaVPN is based in the UK, within the jurisdiction of the 5/9/14-Eyes Alliance. The provider states clearly in their privacy policy that they do not collect any of the following information:
Browsing history
Traffic destination
Data content
IP addresses
DNS queries
According to the provider, the only logs that they collect are user emails, payment information, and user session length data, which is used for troubleshooting purposes and deleted after one day.
One of the measures that PizzaVPN takes to increase user anonymity is to assign randomly generated usernames and passwords to each VPN subscription.
Price and Value for Money
PizzaVPN offers a range of different-length subscription plans to choose from, each with the same features included. There is no free trial, but PizzaVPN offers a 7-day subscription for users who only need VPN coverage for a short period of time. This option is also useful for those who want to try out the service before committing to a longer plan.
Additionally, there is a 14-day money-back guarantee on all subscriptions.
The provider accepts multiple payment methods, including:
Bitcoin
Major credit cards
PayPal
Amazon Pay
Is PizzaVPN Compatible with my Device?
PizzaVPN has dedicated apps for Windows, MacOS, Android, and iOS devices. Features and interface are very similar across platforms.
There is no official limit to how many devices can be connected with a single PizzaVPN subscription. However, they do have a fair use policy in place, stating that they reserve the right to cancel an account that simultaneously connects a large number of devices to different servers at once.
PizzaVPN Customer Service
If you need to reach out to customer support with a question or concern, they can be reached via phone or email. There is also a support ticket system on the website, which PizzaVPN encourages users to use.
We reached out with an email to PizzaVPN's customer service team. Although we did not receive a response immediately, the team got back to us within a few hours. We found the team to be friendly, helpful, and professional.
The PizzaVPN website also features a help section with various FAQs and troubleshooting guides that can help resolve many common issues and questions.
User Experience
The PizzaVPN app has a simple design that is easy to navigate. Below the PizzaVPN logo are two tabs, one for settings and one displaying your connection status and server options.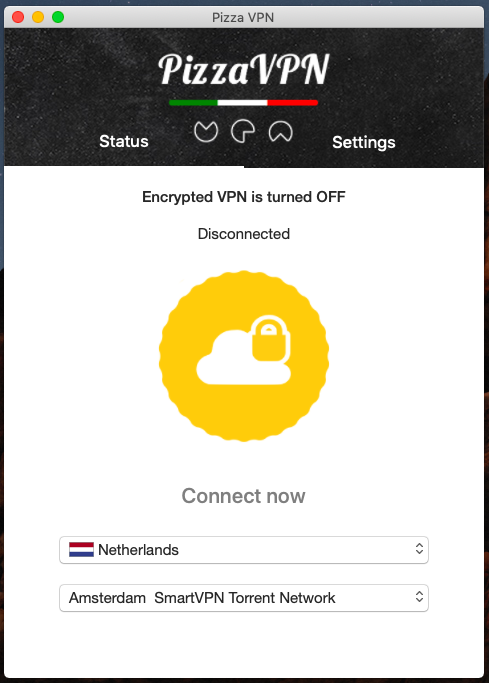 There are two steps to selecting a server. You first select the server location you want from a drop-down list. Then, within each location, you can also select your specific server out of the available options.
Many of the individual servers are configured for specific activities or labeled with information about their abilities and limitations.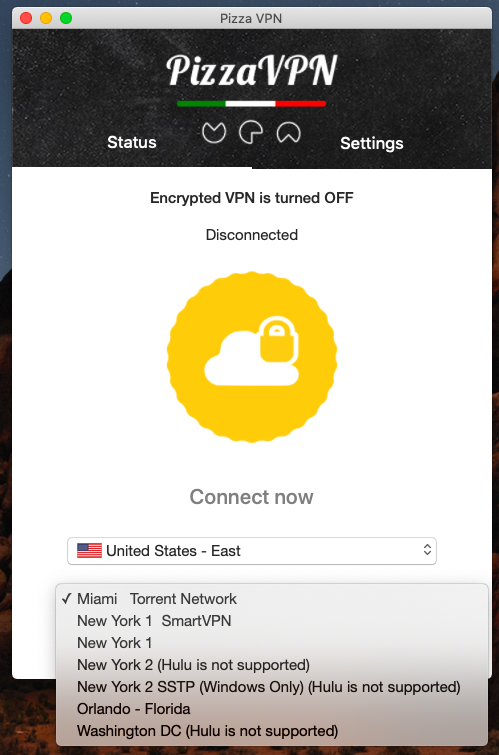 Within the settings of the MacOS app, you have the option to select your preferred secure protocol and turn on several advanced features, including a kill switch, although we had trouble getting the kill switch to function correctly during our tests.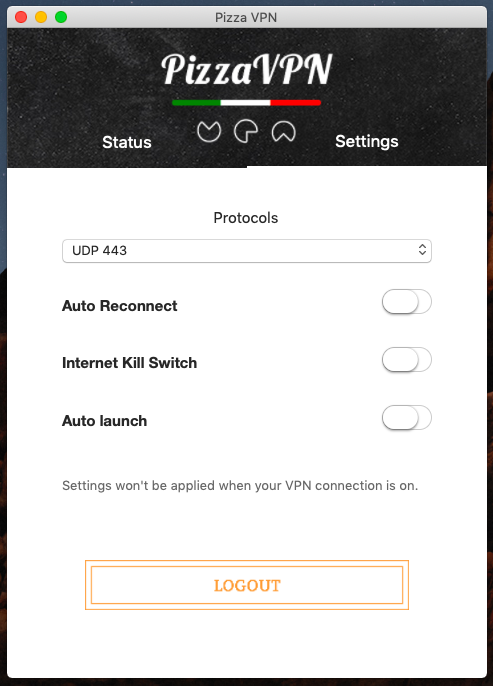 Conclusion
For a new provider, PizzaVPN surprised us with many of its positive features. We liked how the user-friendly interface included the ability to easily to configure your preferred protocol. Other positives are PizzaVPN's P2P support and ability to bypass geo-restrictions on many popular streaming sites.
However, PizzaVPN still has plenty of room for improvement. We experienced a few drops in connection during our tests and also encountered problems getting the kill switch to function correctly. Our wishlist for this VPN includes more stable connection speeds, 24/7 live chat support, and better reliability overall.
| Features | Details |
| --- | --- |
| Number of countries with servers | 39 |
| Number of servers | 200 |
| Number of IP addresses | 200 |
| Does VPN keep logs? | Yes |
| Does VPN include a kill switch? | Yes |
| Number of devices per license | 1 |
True to its name, PizzaVPN's website could easily be confused with a gourmet pizzeria. Browsing the VPN's features, which are displayed like a menu, is a fun experience.
The VPN is easy to set up for iOS and Android devices. However, even after purchasing a plan, it took some searching to figure out how to download and install the desktop versions of the VPN software. We finally located download links in the support section of the website and, from there the process was straightforward.
The native MacOS has an attractive and user-friendly interface. There is an automatic kill switch, although it's turned off by default. It's also easy to choose and connect to any server location in the network. But, the lack of a quick connect feature means it may take some trial and error to find the fastest server.
PizzaVPN offers a range of different-length subscription plans to choose from. Each plan has the same features included. Although there is no free trial, PizzaVPN does offer a relatively inexpensive week-long subscription that you can use to try the service, as well as a 14-day money-back guarantee.
They accept multiple payment methods, including:
Bitcoin
Major credit cards
PayPal
Amazon Pay
Reliability & Support
3.9 / 5.0
PizzaVPN's support team can be reached via phone, email, or by submitting a support ticket on their website. When we emailed the team with some questions, we received a response within a few hours. We found PizzaVPN's support team to be friendly and professional.
There are also a number of in-depth setup and troubleshooting guides available on the website.
Unique VPN service that is full of quirky personality, but still has room for improvement
PizzaVPN offers strong encryption with plenty of secure protocols to choose from, and a very user-friendly interface. There is also an automatic kill switch and support for torrenting on designated servers. However, there was a lot of variation in server speed and we encountered a few issues with the kill switch feature.
Money Back Guarantee (Days) :
14
Mobile app :
Number of devices per license :
1