PrivateVPN Review (2020) - Surprisingly Better than Others
PrivateVPN is a growing provider that claims to be a great VPN for security and privacy, as the name implies.
Instead of offering a long list of unique features, this VPN sells itself as a simple but high-performing service.
We put PrivateVPN through a series of tests to find out how it performs in each category and whether it will truly keep you safe and private.
PrivateVPN's strengths include a no-logs policy, torrenting support, robust security, and reliable connections. The Stealth VPN mode is great for bypassing censorship.
It's a strong choice for streaming Netflix, with reliable speeds and designated servers for Netflix. Is Netflix high on your priority list? Check out our review of the top five vendors for streaming anywhere in the world.
Designated servers are also able to access Hulu, Amazon Video, and ABC, although not BBC iPlayer.
The PrivateVPN apps are also very user-friendly and give you a lot of freedom to customize your settings without overwhelming you with options.
Downsides include a small server network, a kill switch only available on Windows, and a lack of 24/7 live customer support.
Streaming - Does PrivateVPN Work with Netflix?
Many VPN providers promise to be able to unblock geo-restricted streaming content like Netflix, Hulu, and BBC iPlayer but fail to deliver on their promise.
In other cases, providers can unblock content on designated servers but fail to make it clear which servers are best for streaming within the app interface.
PrivateVPN tries to be as user-friendly for streaming as possible by labeling servers that are able to access specific streaming sites.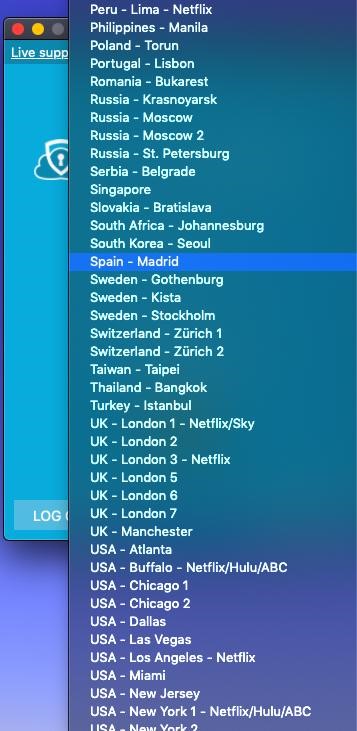 We found the labels to be accurate. Although many servers were unable to bypass Netflix's VPN block, all of PrivateVPN's designated Netflix servers were able to successfully access Netflix without a problem.
PrivateVPN has designated Netflix streaming servers in the following countries: US, UK, Canada, Germany, Italy, and Peru.
The same proved to be true of other streaming labels. We were able to access Hulu, ABC, BBCiPlayer, and Amazon Video with PrivateVPN's US servers.
If you're looking to stream geoblocked content securely and with lightning-fast speeds, why not check out our review of the best VPNs for streaming movies anywhere?
Server Network and Speeds
One of our complaints in the past has been about PrivateVPN's small server network. However, PrivateVPN now offers 150+ servers in 60 different countries, as well as multiple server locations within many countries.
Although the total number of servers is still fairly small, it's clear that PrivateVPN is constantly expanding their network and will hopefully continue to grow in the future.
PrivateVPN is also able to maintain good speeds and reliable connections that are comparable to some competitors with thousands of servers, so the network size isn't necessarily an issue.
Crowded VPN server networks can sometimes slow your connection speed significantly. We tested our speeds before and after connecting to PrivateVPN to find out whether the VPN would slow us down.
Our base download speed before connecting to PrivateVPN was around 65 Mbps.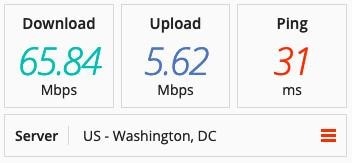 PrivateVPN doesn't indicate in any way which server will give you the fastest speeds. The first server we connected to in the US slowed us down to 22 Mbps.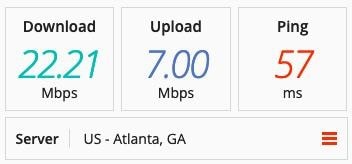 The next server that we tested in the US gave us an excellent connection speed of 61 Mbps.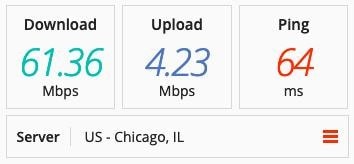 We were equally impressed with our speeds with the UK server we tested, which gave us a download speed of 59 Mbps.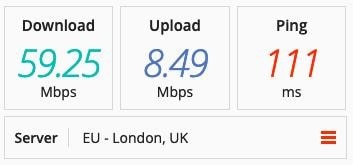 We got decent—but not great—speeds when connecting to other servers in Europe. For example, here were our speeds while connected to a server in Germany: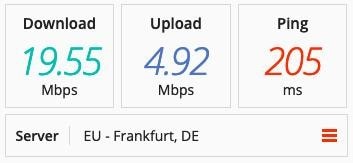 Connecting to a server in Australia, across the world from our physical location, our speeds took a major hit.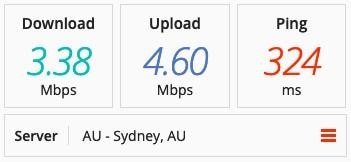 It's common for your connection speed to suffer when you connect to servers farther away from your physical location, but some top providers are able to keep speeds relatively high despite the distance. Unfortunately, PrivateVPN isn't one of them.
PrivateVPN isn't the fastest VPN we've tested, but the speeds are still very good, especially considering the small server network.
Through trial and error, we were able to find multiple servers that gave us excellent speeds, so you should have no trouble streaming, downloading files, or online gaming with PrivateVPN.
Although speeds varied across different servers, we found that each server's speed stayed consistent over time. This is a big plus for PrivateVPN's reliability.
Is PrivateVPN Good for Torrenting?
PrivateVPN is a torrent-friendly VPN that supports unlimited P2P file sharing. Port forwarding is also available on specific servers.
True to its name, PrivateVPN has a privacy-friendly no-logs policy. When you torrent, PrivateVPN's strong security will keep your activity private and anonymous.
The VPN also allows unrestricted bandwidth, so you don't have to worry about drops in speed with large downloads.
Security - Is PrivateVPN Safe?
PrivateVPN has a lot to offer when it comes to safety and security. When the VPN is enabled, it masks your IP address and protects your data with strong encryption.
This will keep you safe even if you are connected to an unsecured wi-fi network.
PrivateVPN also protects your connection with IPv6 leak protection, DNS leak protection, and an automatic kill switch.
That means that even if your VPN connection drops unexpectedly, your data will remain totally secure.
The downside is that the kill switch is only available on the Windows app.
One of the best parts of PrivateVPN's service is that you don't have to adjust any of the security settings before connecting to stay safe. Although you have the option to change your security settings, the default settings offer excellent protection.
We did not experience any IP or DNS leaks while connecting to PrivateVPN.
We tested this on several websites. Here is our result from the dnsleak website while connected to one of PrivateVPN's servers in Germany: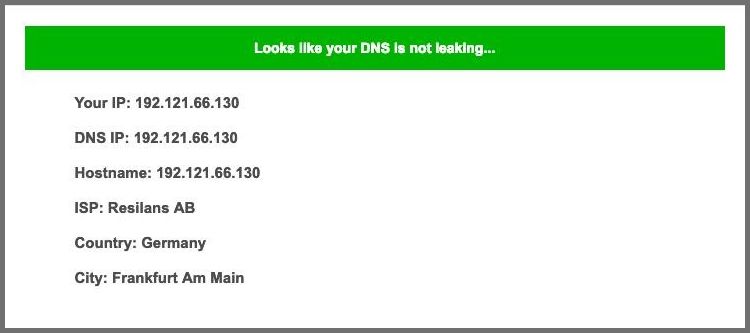 As you can see, our true location in the US was undetectable.
Encryption
PrivateVPN gives you the freedom to choose from several encryption algorithms. The most secure option is AES 256-bit encryption, which is the same level of encryption used by many military and government agencies.
The VPN also supports a variety of secure protocols, including OpenVPN with UDP/TCP, L2TP, IPsec, PPTP, and IKEv2.
The default protocol is an OpenVPN connection with UDP. You can also change your protocol within the app's settings or follow one of PrivateVPN's installation guides.
Does PrivateVPN Keep Logs?
PrivateVPN is based in Sweden, which falls under 14-Eyes Alliance jurisdiction.
However, the provider is strongly committed to protecting your privacy and anonymity. The privacy policy states that they do not collect or log any traffic or usage data of any kind.
When you sign up for the service, you are required to provide an email address and password to create an account. This is the only information stored by PrivateVPN.
Privacy-lovers should be pleased with PrivateVPN's strict no-logs policy.
Does PrivateVPN Have an Adblocker?
PrivateVPN does not offer an adblocker as part of its VPN service.
Does PrivateVPN Work in China?
PrivateVPN is a great choice for use in China because of its Stealth VPN mode.
The provider avoids explaining exactly how this mode works because that information could be used to reduce its effectiveness.
Regardless of the details, what we do know is that it works. The Stealth VPN mode hides the fact that you're using a VPN, allowing you to fly under the radar even when dealing with China's tough blocks.
On the FAQ page, PrivateVPN also explains that some users in China have better luck with the L2TP protocol. OpenVPN connections are often caught by the Great Firewall of China.
It's easy to change your protocol to L2TP within the settings menu of the app if you choose to do so.
Price and Value for Money
PrivateVPN's pricing plans are very reasonable. There are also great discounts offered on longer plans, which makes this VPN even more affordable.
PrivateVPN keeps its prices down by offering a simple but high performing service rather than trying to expand into every specialty.
All of PrivateVPN's subscription plans include the same premium features and differ only in subscription length.
If you want to try out the service before making a commitment, PrivateVPN offers a 30-day money-back guarantee on all subscription plans.
There is also a 7-day free trial, although it takes some digging to find information about it. To access the free trial, you just need to send a message to customer support requesting one. You'll then receive a gift code that will activate your trial.
Is PrivateVPN Compatible with my Device?
PrivateVPN offers dedicated apps for Windows, Mac, Android, and iOS devices. Manual installation guides are also available for Linux, compatible routers, and Kodi.
The PrivateVPN app is similar across platforms, with the main difference being that PrivateVPN only offers an automatic kill switch in the Windows app. Other platforms don't have a kill switch at all, which is a pretty big downside.
You can also connect up to six simultaneous devices with a single subscription, which is great for families or households with multiple devices.
PrivateVPN Customer Service
Although we were pleased overall with PrivateVPN's customer service, we wish that they'd be more clear about their live chat support.
PrivateVPN offers an excellent live chat service, but unlike many of its competitors, this service is not available 24/7. There is no information on PrivateVPN's website about when you can expect the live chat feature to be available.
The first few times we tried to use the live chat service, we were redirected to a blank page with the following image, which linked us to the website's email contact form:

When we tried the next morning, the chat feature was available. This time, we were able to speak with a support agent within minutes of reaching out. We found the live chat support team to be responsive, friendly, and helpful.
Our guess is that the live chat is only available during business hours in Sweden, which is fine. We just would have liked to see this information stated on the website rather than leaving us guessing.
During times when the live chat support is offline, you can still contact support through email or by filling out a contact form on the website.
PrivateVPN's website also has helpful resources like detailed installation guides and an FAQ page.
Even though the installation process is easy, PrivateVPN offers a unique remote help service through TeamViewer.
This feature allows you to give remote control of your device to a PrivateVPN technical support representative, who will install the VPN on your device without any effort on your part. The TeamViewer service can also help you with troubleshooting.
User Experience
One of the best parts of PrivateVPN's service is the app's user-friendly interface.
The app has a unique design. It allows you to choose between a simple mode and an advanced mode with the click of a button.
The simple mode is perfect for VPN beginners or people who like to be able to turn on their VPN without the hassle of advanced configurations.
It displays your connection status, server list, and the option to turn on Stealth VPN mode.
Connecting is as simple as choosing your server and clicking connect.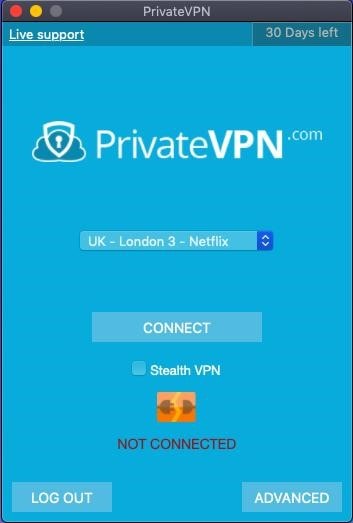 On the other hand, the advanced mode is great for experienced users who like to have the freedom to fine-tune their settings.
Here, you can view all of the adjustable settings and easily select your preferred encryption algorithm and protocol.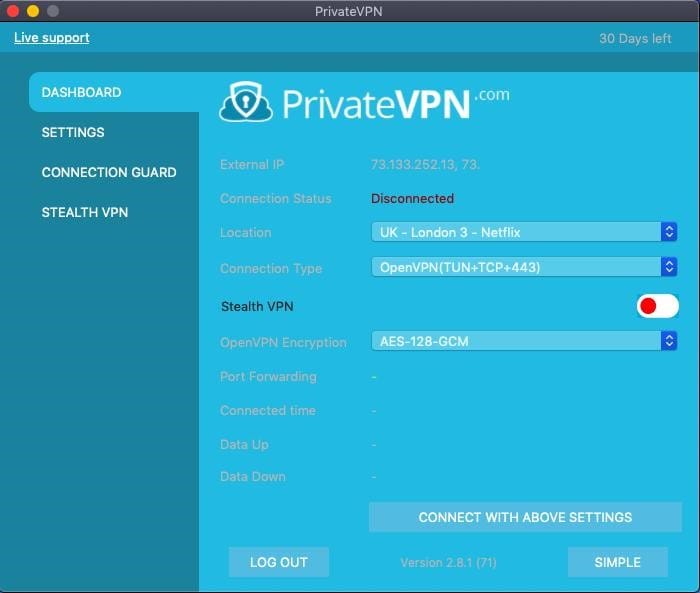 When you're happy with the settings, you can click "Connect With Above Settings" to connect to the server.
While connected, the app displays your current server location, any relevant streaming labels, and your external IP address.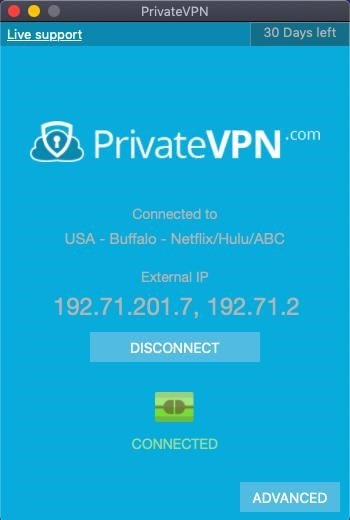 We found the PrivateVPN app to be very intuitive to use and navigate. Like the rest of PrivateVPN's service, it strikes the right balance between simplicity and functionality.
Conclusion
With affordable prices, great security, the ability to access Netflix, and a very user-friendly interface, it's no wonder that PrivateVPN is a popular service. This VPN is also privacy-friendly with a no-logs policy.
See which other vendors are high on our list for streaming Netflix in our detailed review.
The small server network is a concern, and some servers did suffer from below-average speeds.
However, there were still plenty of servers with fast connection speeds, and connections are very reliable, which is good news for streaming and torrenting.
Although we would like to see a larger server network, a kill switch on all devices, and some improvements to customer support, PrivateVPN is still a great provider with a lot to offer.
| Features | Details |
| --- | --- |
| Number of countries with servers | 56 |
| Number of servers | 100 |
| Number of IP addresses | 4000 |
| Does VPN keep logs? | No |
| Does VPN include a kill switch? | Yes |
| Number of devices per license | 6 |
Setting up PrivateVPN is fast and easy. The website allows you to choose a subscription, enter payment information, and create an account all on the same page. You will then be directed to a step-by-step installation guide for your device.
The installation guides are easy to follow and help make the process painless. From start to finish, the process only takes several minutes to complete.
The app's main interface is extremely user-friendly. You can switch between two display modes: simple and advanced.
PrivateVPN's simple mode is uncluttered, straightforward, and perfect for getting started in a hurry. The advanced mode gives you many additional customization options and is great for experienced VPN users.
PrivateVPN offers a choice of three different-length subscription plans, each with the same features. The prices are reasonable, with discounts offered on longer plans.
Various payment methods are accepted, including major credit cards, PayPal, and Bitcoin, which is the best option for total anonymity.
PrivateVPN offers a 7-day free trial, but the only way to access it is to send a message to customer support requesting a trial. The team will email you a gift code. All subscriptions also come with a 30-day money-back guarantee.
Reliability & Support
4.9 / 5.0
There are several ways to get in touch with the PrivateVPN customer support team if you have a question or encounter a technical problem.
The fastest way to get a response is through PrivateVPN's live chat support, although this feature is not offered 24/7.
When the live chat option was available, we received friendly and helpful support within minutes of reaching out with a question. You can also email PrivateVPN's support team or fill out a contact form on the website.
PrivateVPN's website is also home to some helpful resources, including step-by-step installation guides and an FAQ page.
Simple but reliable service with many strengths
PrivateVPN is a great multi-purpose VPN with many strengths, including competitive pricing plans, robust encryption for ultimate privacy and security, torrenting support, and a strict no-logs policy.
The VPN is able to unblock Netflix and bypass censorship in China, and the user-friendly app interface is a pleasure to use.
While there are some areas where this VPN still has room to improve, it doesn't suffer from any major weaknesses.
Easy desktop and mobile installation
No logs
Robust encryption: 2048-bit encryption with AES-256
Works with US Netflix and BBC Live
Imressive speeds and unlimited bandwidth
30-day money-back guarantee
6 simultaneous connections
Virtual remote help
Money Back Guarantee (Days) :
30
Mobile app :
Number of devices per license :
6
Watch the short video review and tutorial below of PrivateVPN
Per Norling
One of the best services available!
Extremely fast (low overhead) and stable service! After +200 days without any interruption I had to disconnect just to verify that the connection wasn't stuck in a zombie state...but it wasn't...it is just that stable and reliable!
---
See Plans
Reply to this review
Did you know? We approve all user reviews. Companies can't pay to include or exclude any.
Steven Martinez
Jan 25, 2020
Finally working. Whom ever tried to help me before couldn't quite get it going. I bought this in December and it worked fine on my phone but I couldn't stream. Richard on the other hand figured out something that worked and I'm very grateful. Give that man a raise!
---
See Plans
Reply to this review
Demi
Jan 24, 2020
Biplab Das was extremely helpful!! I had a really difficult time setting up on my old Mac. He spend almost an hour of his time helping me. He was available when I needed him and got back to me quickly.
---
See Plans
Reply to this review
Nic Bourne
Jan 22, 2020
Going the extra mile to assist me
It appears to be a constant battle for PrivateVPN to counter attempts by all UK TV stations to protect their channels from viewers outside the country. I do not underestimate the scale of this stand-off. The technical team helping me over the last few months to modify connection settings and data encryption have been outstanding. I have been really impressed by speed of response and follow up. Thanks very much! Nic
---
See Plans
Reply to this review
Compare PrivateVPN with the top alternative VPNs