SaferVPN Review & Test (2020) -Surprisingly Better than Others
If you want to be safe from hackers and snoopers, SaferVPN is a good option. It is great for streaming videos using services like Netflix. With its instant connection, unlimited content, and fast streaming, it's a great choice for people who want to watch streaming videos online. However, it's not so good for P2P.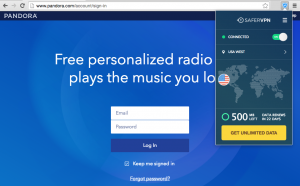 SaferVPN offers several protocols such as IKEv, PPTP, L2TP, and OpenVPN. While PPTP is great for streaming videos, OpenVPN is good if you need the best security. The prices of SaferVPN are on the cheap side. A two-year package is super cheap, and they also run discounts from time to time.
There are special Business and Enterprise packages for business purposes. Enterprise users get special custom-made packages and cloud-based access.
There are apps for all major platforms including a Chrome extension. This is especially good for novice users who don't know how to use a VPN. SaferVPN also sells routers pre-configured with the VPN settings.
The speeds are high, and uploading and downloading files is easy.
SaferVPN helps you stay protected from hackers who set up Wi-Fi hotspots near cafes and airports. With over 700 servers in 34 countries, they have a pretty large network and are growing.
They have 24/7 customer support via LiveChat. They also have a ticketing system and are available on social media as well. They reply instantly on chat and within a few minutes on Facebook messaging.
SaferVPN has a no-logging policy. Their policy states, "When you use SaferVPN service the only data we collect from you ("VPN Data") which is as follows:
1. A time stamp of the time you connect and disconnect to our VPN service.
2. The amount of data transmitted (upload and download) during your session.
We DO NOT store details of, or monitor, the websites you connect to or any of the data sent over our network when using our VPN service."
While they do not keep zero logs, this does look like a reasonable policy. This information cannot help the federal agencies identify you. There have been no incidents of logging of usage by SaferVPN either.
There is a kill switch in the app that shuts down the internet connection if the VPN drops. This protects your identity and avoids any IP leaks.
While we did not experience any connection drops when we tried it, it's always a good idea to have a kill switch.
With unlimited bandwidth and content, it is a great option for gaming and streaming. If you want to unblock and play games from a restricted connection (such a school or office), SaferVPN can help you out.
If you want to keep your credit card details hidden, you can pay them through Bitcoin. Since Bitcoin is a cryptocurrency, the VPN provider will not get to know about any of your details. Bitcoin is getting popular as a payment method among security-conscious people.
SaferVPN will not be the right choice if you want to circumvent the great firewall of China.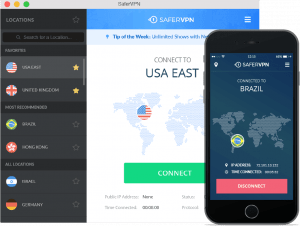 You can connect up to 5 devices with a single account. Or if you purchase their pre-configured routers, you can connect unlimited devices to the router.
With a 24-hour free trial and a 30-day money back guarantee, SaferVPN has a lot of potential.
If you're looking for a P2P-friendly VPN that can also unblock Netflix, we recommend NordVPN. It operates 5,200+ servers across the globe, including streaming and P2P-optimized servers.
| Features | Details |
| --- | --- |
| Number of countries with servers | 35 |
| Number of servers | 700 |
| Does VPN keep logs? | No |
| Does VPN include a kill switch? | Yes |
| Number of devices per license | 5 |
Installation is easy and is available for most devices, including a Chrome extension. You can use the Home plan to connect up to 5 devices simultaneously. The Premium account supports 7 devices at the same time, and the Small Business account supports 10 simultaneous connections.
The installation process is simple but if you still need any assistance, the customer care live chat is always available.
Using the app is super easy. Just select a location from the list and click on Connect. You can also mark your favorite locations to connect to them quickly. The app lets you select the right VPN protocol and comes with a kill switch that will disconnect you from the Internet any time the VPN connection drops.
SaferVPN can be installed on routers a well. And if you want to make things really hassle-free, you can order one of their VPN routers. They have three models and they all have VPNs configured on them.
Pricing is different for home and business users. For home users, there are three plans – monthly, yearly, and two-yearly. Choosing a two-year subscription will be your cheapest option. Though SaferVPN offers a monthly payment plan, this is significantly pricier than choosing a longer-term plan.
There is a 24-hour free trial and a 30-day money back guarantee.
Business pricing is different. You need to pay $10 per member per month for a business account. SaferVPN offers an Enterprise plan for high-end organizations that provides a secure package with cloud-based access. The business accounts also come with a 30-day money back guarantee. There are several payment options including credit cards, PayPal, Bitcoin, and others.
Since SaferVPN offers seasonal and other discounts, so make sure you visit their website to check the current deals. There are also some coupons that can help you save even more. Check out our current coupons page to see the latest SaferVPN coupons.
Reliability & Support
4.5 / 5.0
SaferVPN proves time and time again that they value customer service. They have a Live Chat service that responds within minutes, and email system that can take a few hours to a few days to respond.
You can also contact them via Facebook messenger, which was instant, and they have a contact form.
At one point SaferVPN's website was down, but it was back up and running within the day.
Before running the VPN, I received a warning message from my OS. I contacted SaferVPN via the Live Chat, who was very friendly and told me that my query was passed onto the technical team.
Within a few hours, the technical team contacted me to inform me that the senior support staff was working on it. They got back to me within a couple of days that my warning was due to an anti-DNS Leak component, and that a fix would be included in the next updated version. Although it did take some time, I was very happy to see that they took my question seriously and found a solution.
Potential to be one of the top players in the industry
It offers high connection speeds, strong encryption, and excellent customer service. With servers in almost 35 countries, SaferVPN has a large network and works on all devices. With a free trial, money-back guarantee, and access to Netflix and Hulu, there is practically no reason to turn it down.
SaferVPN connections are very quick, and prices are very affordable, especially on the two-yearly plan. With the cost coming to about $2 per month, it's among the cheapest VPNs in the market. For that price, it offers good quality.
However, if you do need torrenting and P2P, there are better VPN choices available.
User-friendly platform and interface
Unlimited bandwidth and server switching
700+ servers in 34 countries
Range of connection protocols
No logs of any user activity
30-day money-back guarantee
Kill-switch feature
Money Back Guarantee (Days) :
30
Mobile app :
Number of devices per license :
5
Watch the short video review and tutorial below of SaferVPN
AK
I tried it for 25 days and bought it for 3 years. In these 25 days I also tried expressVPN. Safervpn was much much better. I guess it depends on which country or what you are after. I use it for Asia and India. Works the best especially for India. Now lets see how it goes the next 3 years I paid for lol, I cant cancel it BUT I feel they are good.
---
See Plans
Reply to this review
Did you know? We approve all user reviews. Companies can't pay to include or exclude any.
Cami0829
Didn't work at all. Tech tried several times with new IP addresses. Worse yet, my wife forgot to cancel within the 30 day period. We bought a 12 month package. On day 40, even though they could see no use, would not refund us our money. Save yourself some time and use Express VPN.
---
See Plans
Reply to this review
Fred Brown

Dear customer, My name is Fred Brown and I am a senior support engineer at SaferVPN. Your feedback has come to my attention I would like to apologize for any inconvenience caused to you. Please contact me at support@safervpn.com (ask directly for Fred) with all the details and the email address you are registered with and I will make sure to investigate the matter. Thank you, Fred @ SaferVPN

---

See Plans

Reply to this review
Joe
I tried the free one day trial & SaferVPN failed.
In trying the free one day trial the app would continually shut down. The 24/7 chat service failed to connect. My netflix was NOT accessible. I wanted SaferVPN to work but it failed. Kudos for the free trial! I wish them success.
---
See Plans
Reply to this review
Compare SaferVPN with the top alternative VPNs