SIAVPN has a user-friendly interface and low prices, but it needs to make some major improvements before it can compete with our top VPNs. The website contains conflicting information, and its no-logs policy doesn't up the trust factor.
SIAVPN is compatible with iOS, macOS, Windows, and Android. Using the VPN for Windows requires an Android emulator. There is no option for Linux or Chromebook. Needing to use an emulator to set up the VPN on Windows, means anyone new to VPN's may have trouble setting SIAVPN up on the operating system.
Security features include OpenVPN, 256-bit AES encryption, and no-logs. After reading the Privacy Policy/Terms of Service, it's clear the no-logs policy is just the opposite. There's an entire list of things SIAVPN can discontinue your service for doing. It further goes on to say it may collect and store user IP addresses, ISP, OS version, email, connection logs, server use, data use, time zone, and more.
Due to the large amount of data SIAVPN collects, I can't recommend using this VPN for torrenting/P2P. Despite the fact that the upload and download speeds are pretty fast.
Not only that, much of the app, website, and customer support information is conflicting. Our research shows SIAVPN covers 154 countries and 1,000 servers. On the other hand, the Help page of its website shows 300+ servers in 20 countries, and its homepage offers a total of 160+ countries and 3,000+ server nodes. After speaking with support our numbers are the correct ones, but it shouldn't take that much digging to find out.
SIAVPN's Help page also has an About Us article saying the service offers over 100,000 simultaneous connections. That's not exactly true, multi-login isn't allowed on mobile and simultaneous connections are limited to 5 per country.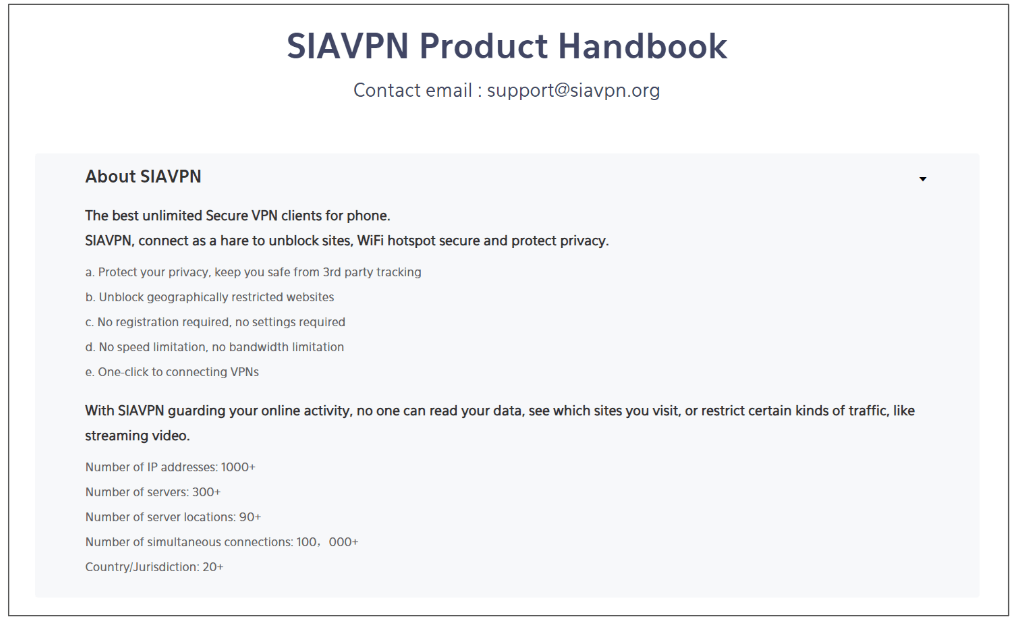 The first server I connected to using the SIAVPN proxy app failed a DNS leak test. The SIAVPN server was in England but the test showed my true IP address in the US.
To be fair, it's not all bad. SIAVPN offers unlimited speed, data, and bandwidth for all its paid plans. It even offers a 3-hour free trial to ensure your device is compatible with the VPN software. SIAVPN also offers a free version, but be prepared for a massive amount of ads.
I was able to connect to Netflix momentarily but the connection to the US server kept dropping. If you're a streaming fan, check out these VPNs that are built for streaming.
💸

Price
$1.99/month

📆

Money Back Guarantee
3

📝

Does VPN keep logs?
No

🖥

Number of servers
1000

💻

Number of devices per license
5

🛡

Kill switch
No