TikVPN offers a free VPN  as well as a premium paid option that features a kill switch and streaming and gaming optimized servers. Plans are extremely affordable but you may pay with your data.
It has over 595+ servers in 40 countries, including specialized streaming and gaming servers. Only eight locations are accessible on the free plan: Singapore, Japan, Chicago, Toronto, Frankfurt, Paris, London, and the Netherlands. Specially optimized streaming and gaming servers are only available with a paid plan.
I tested TikVPN thoroughly to see where it succeeds and fails as an online security option.
In A Hurry? Here Are My Key Findings:
Unblocks Netflix US and Canada
Lightning-fast speeds
Basic VPN security features
Streaming and gaming optimized servers available
Does it Unblock Netflix? Only Select Libraries
I was able to unblock Netflix libraries in Canada, after having an associate of mine in Australia check I can confirm that it unblocks Netflix US, Hulu, and Disney+ US as well. Still, I was unable to unblock Netflix libraries in France, Germany, or UK, and Disney+ France.
Netflix and Disney+ have some pretty strong anti-VPN technology, so I wasn't surprised that I couldn't access many libraries. It isn't surprising that accessing global libraries is hit and miss, TikVPN does offer optimized streaming servers for Hulu, Netflix, and Disney+ on its paid plans but they are all in the US.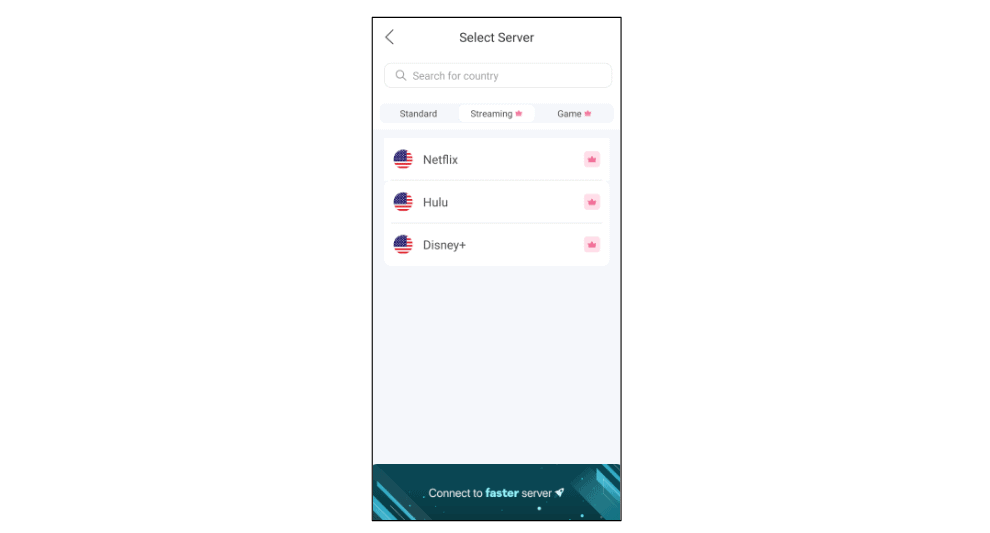 Streaming optimized servers.
Still, Netflix US does have one of Netflix's largest libraries, so you'll have plenty to watch. If you want access to more streaming services or Netflix libraries, check out our best VPNs for streaming movies.
Security – Basic VPN Features
TikVPN is available on Windows, macOS, Android, and iOS. It offers 256-bit encryption, no-logs, a kill switch (for premium plans only), and it uses Private DNS for all of its servers. Private DNS servers encrypt all of your DNS queries, but that doesn't mean the VPN can't leak DNS requests; more on that later.
When I checked the no-logs policy to see if it was truly no-logs, I discovered TikVPN keeps a lot of access data as well as user device data. It's extremely honest about what it collects though, so you won't have to wonder what data is being used.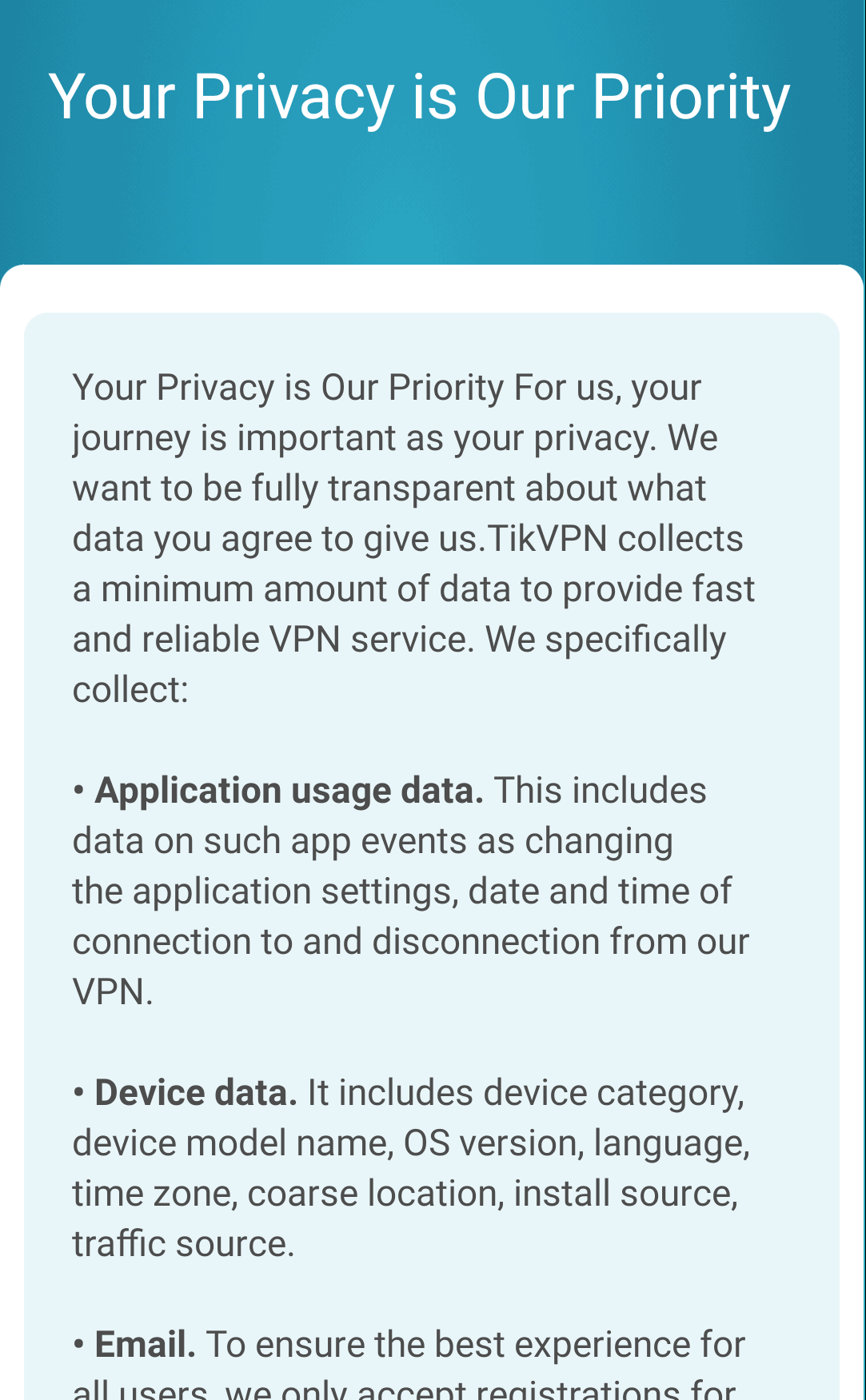 Partial privacy policy for TikVPN
Speed – Barely Noticeable Drop
During speed tests on TikVPN, I hardly noticed a drop in speed at all, even though I picked areas well outside the US where I am located. My base speeds were incredibly fast to begin with, download speeds were 121.79Mbps and uploads were close to 96Mbps.

Speed test results before connecting to TikVPN
The first server I connected to was in London where download speeds were roughly 99Mbps, a drop of around  18 percent. Upload speeds also dropped minimally at 77Mbps, around a 19 percent decrease. Still plenty fast if you want to stream movies buffer-free or get in a little game time without worrying about lag.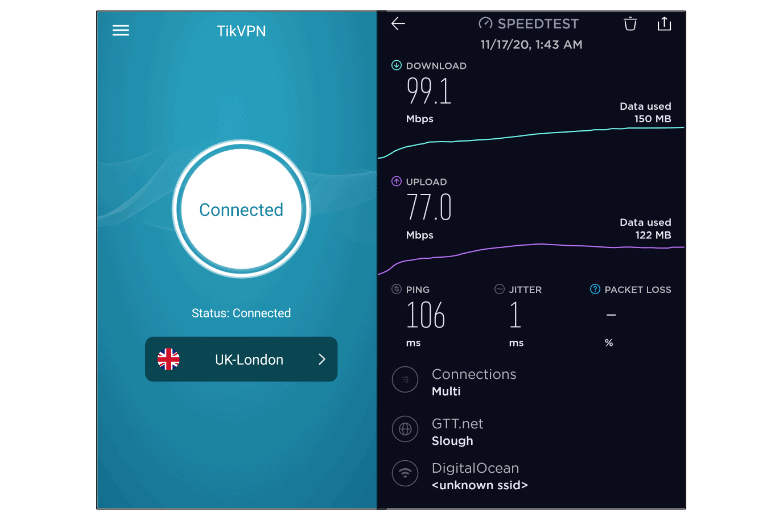 Speed test on a TikVPN server in the UK.
The other server I tested was in Germany, farther away yet. I was expecting a significant drop in speeds but was pleasantly surprised. My download speeds actually increased to 108Mbps, with uploads also increasing by around 10Mbps over the London server.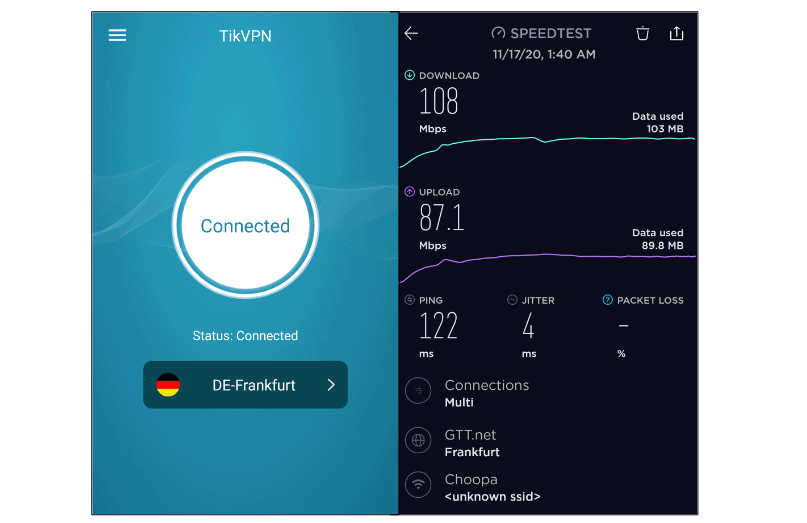 Speed test on a TikVPN server in Germany.
Gaming – Limited Optimized Servers
The speeds are definitely fast enough to game with minimal lag, though you may have some issues accessing gaming from certain areas. TikVPN offers gaming optimized servers for PUBG in Asia, North America, and Russia, as well as LOL optimized servers in South East Asia and Japan.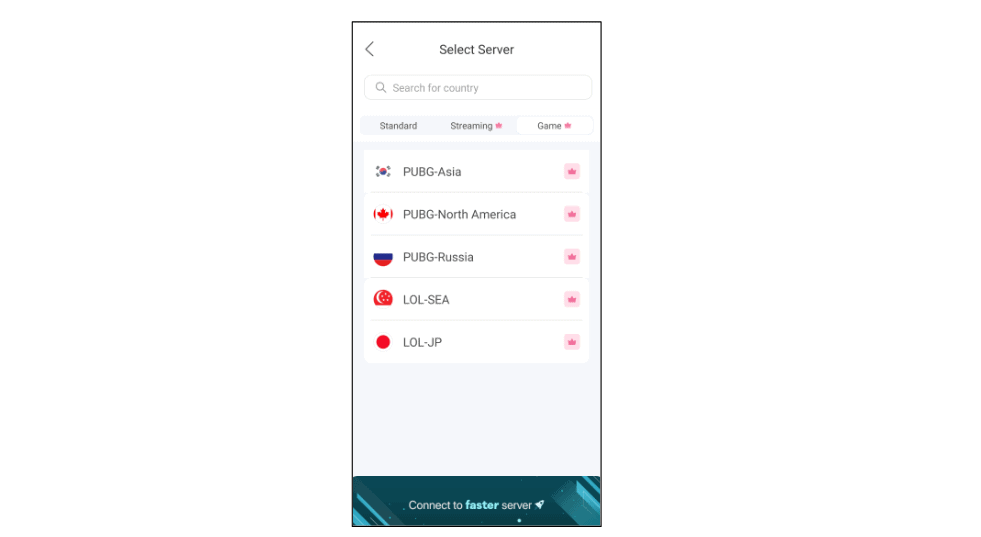 Gaming optimized servers.
I logged into League of Legends using the SEA optimized server and was happy to see my speeds were fast enough to game without any freezing or disconnects. Download speeds for the LOL SEA server were 80Mbps, and uploads were 64.7Mbps. While that's around 33 percent slower than my base download speed, it's still fast enough to prevent any major lag.
Torrenting – Not Recommended
P2P activities are allowed with TikVPN but due to the DNS  leak I experienced during testing, I wouldn't feel comfortable recommending torrenting with this service.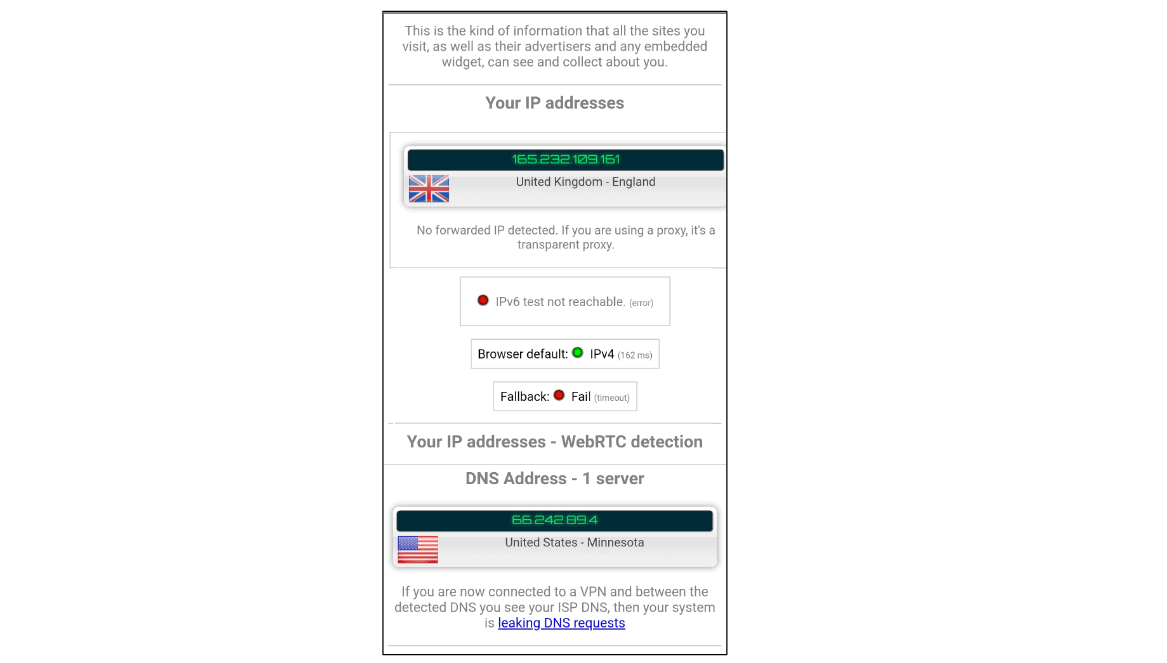 DNS/IP leak test results.
💸

Price
$1.25/month

📆

Money Back Guarantee
30

📝

Does VPN keep logs?
No

🖥

Number of servers
2500

💻

Number of devices per license
5

🛡

Kill switch
Yes

🗺

Based in country
Hong Kong

📥

Supports torrenting
No