TrunkSpace Hosting is a growing company that offers multiple services, including website hosting, virtual private server (VPS) hosting, voice services, and a VPN service.
TrunkSpace technically calls its VPN app PrivateVPN by TrunkSpace, but the website and advertising materials also refer to the service as TrunkSpace Hosting VPN.
TrunkSpace is not affiliated with the popular Sweden-based VPN provider PrivateVPN. To avoid confusion, I'm going to refer to the service as TrunkSpace Hosting VPN in this review.
TrunkSpace has a small network of 100+ VPN servers with 500+ IP addresses.
The servers are spread across 49 countries around the world, which is impressive for a relatively small provider like TrunkSpace.
The website promises that TrunkSpace Hosting VPN is fast, easy to use, customizable, and will protect your privacy online.
I tried the service to find out if it works as well as the vendor claims. I am going to review how TrunkSpace Hosting VPN performs in multiple categories.
In general, some of the VPN's biggest strengths are its customizable advanced features, strong security, and its ability to bypass tough censorship.
On the flip side, TrunkSpace didn't ace most streaming tests and there were some big differences in connection speeds across servers.
Streaming – Does TrunkSpace Work with Netflix?
TrunkSpace Hosting VPN wasn't able to access the Netflix US catalog on any of the five US servers that I tested.
The VPN has a dedicated streaming server in the US, but even this server was caught by Netflix's VPN bans.
The Canadian Netflix catalog was blocked as well. I also had no luck using TrunkSpace to watch Hulu, Amazon Prime Video, or BBC iPlayer.
On the bright side, the VPN was able to access Netflix in the UK and Germany on multiple servers. This is a good sign for TrunkSpace.
If the VPN continues to grow, hopefully the provider will be able to improve its streaming access too.
TrunkSpace Hosting VPN Speeds
Fast connection speeds are one of the most important features for a VPN to have.
VPNs route your online traffic through a VPN server before connecting you to the website or online service you are trying to access.
This can slow you down, especially if you are connecting to a VPN server that is far away from your physical location.
The best VPNs optimize their servers for speed and find a good balance between tough layers of security and fast connections so you won't have to deal with buffering and long loading delays.
I tested TrunkSpace Hosting VPN's speeds from a location in the eastern US. Before connecting to the VPN, my download speed was 60.63 Mbps.

By comparing my starting speed to my speed when connected to the VPN, I can find out whether TrunkSpace Hosting VPN is slowing me down.
I started by connecting to one of several servers labeled as United States East. Servers close to your physical location tend to give you the best connection speeds.
After connecting to TrunkSpace Hosting VPN, my download speed was 42.63 Mbps.

There was a drop in speed, but not enough for it to have much of an effect on my browsing experience.
When I tested another nearby server in the eastern US, my download speed dropped all the way to 4.47 Mbps.

That is a dramatic drop in speed. There was a noticeable increase in loading times on the websites I visited.
Things improved when I connected to a UK server that gave me a download speed of 18.13 Mbps.

When connected to one of TrunkSpace Hosting VPN's servers in Germany, my download speed was 13.43 Mbps.

Finally, a distant Hong Kong server dropped my download speed to 6.13 Mbps and my upload speed all the way to 0.56 Mbps.

Overall, TrunkSpace Hosting VPN has a decent number of servers that offer good connection speeds.
However, there was a lot of variability in my connection speeds on different TrunkSpace servers even in the same location.
Since the VPN app doesn't show any information about server speeds, it gets frustrating to have to keep switching servers to find the fastest one.
Is TrunkSpace Good for Torrenting?
You won't find much information about torrenting on the TrunkSpace website, but the provider does allow P2P file sharing activity on its servers.
The VPN will mask your IP address and encrypt your traffic while you torrent, which hides your P2P activity from your ISP and other spying eyes.
It may take some trial and error to find a server with the best download and upload speed for torrenting.
Still, TrunkSpace Hosting VPN should be able to offer you decent speeds for sharing and downloading large files.
Security – Is TrunkSpace Safe?
TrunkSpace Hosting VPN doesn't come with all of the bells and whistles like some of the top providers on the market, but it is a safe VPN that covers all of the basics when it comes to security.
I detected no IP or DNS leaks during my tests of the VPN app. My DNS and IPv4 address were successfully masked, and I did not experience any IPv6 leaks.
Here is what the websites I visited could see when I was connected to a TrunkSpace VPN server in the UK:

As you can see, my real IP address in the US was hidden, and the VPN blocked all IPv6 traffic so that my real location wasn't leaked.
The VPN secures your device with strong encryption, IP leak protection, and an automatic kill switch.
The automatic kill switch is disabled by default, but you can turn it on in the settings by clicking the check box where it says "Disable internet on disconnect".
There is also a Stealth VPN setting, which uses obfuscation to hide your VPN traffic from spying eyes.
This setting is ideal for safely bypassing tough government censorship.
Does TrunkSpace Hosting VPN Keep Logs?
TrunkSpace is based in Canada, which is a member of the 5/9/14-Eyes Alliance.
Canada is not the most privacy-friendly location for VPN headquarters, but the company's strict no-logging policy should make up for this.
The company does not keep any logs of user activity or connection history, which is great for protecting your privacy online.
On the other hand, TrunkSpace requires you to provide some identifying information when you create an account. This includes your name, email, phone number, and your home address.
It's unclear why the VPN would need so much information, especially your phone number and home address.
This information can be used to identify you even if you pay using anonymous cryptocurrency like Bitcoin.
The VPN does a good job protecting your privacy online and does not keep any logs of your online activity, but if you're looking for total anonymity this may not be the best VPN for you.
Does TrunkSpace Have an Ad Blocker?
No, TrunkSpace Hosting VPN does not have an ad blocker.
Does TrunkSpace Work in China?
TrunkSpace is able to sneak past the Great Firewall of China thanks to its Stealth VPN mode. This is the in-app description of Stealth VPN:
"Stealth servers are slower (May not contain all locations) - however they will work in all regions including China and behind restrictive firewalls by ambiguously changing the tunnel content."
It has gotten tougher and tougher for VPNs to bypass China's tough censorship in recent years, so TrunkSpace's ability to work in China is a big positive feature.
Price and Value for Money
TrunkSpace Hosting VPN comes at three different price points based on the length of your subscription, but you don't get very big savings by going with a longer plan.
The best deal is the annual subscription.
However, if you're looking for a long-term VPN, keep in mind that TrunkSpace is more expensive annually than some of our top-rated VPNs.
On the other hand, a monthly TrunkSpace Hosting VPN subscription is fairly budget-friendly compared to many other providers.
TrunkSpace offers good value for the cost, especially with a monthly subscription, but there are cheaper options out there that have more to offer for long-term plans.
Does TrunkSpace Have a Free Version?
No, TrunkSpace Hosting VPN does not have a free version.
TrunkSpace's Refund Policy
TrunkSpace offers a relatively short 7-day money-back guarantee, but it truly is risk free.
The company promises "100% money back during your first 7 days of signing up if you are not completely satisfied".
Is TrunkSpace Compatible with My Device?
TrunkSpace offers dedicated apps for Windows, macOS, and Linux (64-bit).
It isn't very common to find a VPN with a dedicated Linux app, so that is a great bonus for Linux users.
There are no mobile apps available for this VPN, but the provider makes manual installation easy.
TrunkSpace provides OpenVPN configuration files that allow you to easily connect to the VPN through a third party OpenVPN client on your iOS or Android device.
You can connect up to five simultaneous devices with TrunkSpace.
Encryption
TrunkSpace gives you the option to choose between three different encryption ciphers to find the right balance between speed and security for your needs.
The default is AES 128-bit encryption, but for even more secure protection you can switch to an AES 256-bit encryption cipher.
The VPN app uses OpenVPN as its VPN protocol. Most TrunkSpace VPN servers use UDP OpenVPN connections, but many use TCP instead.
Servers with TCP OpenVPN connections are labeled within the VPN client.
In general, UDP connections are slightly faster, but you may find TCP connections to be more reliable.
TrunkSpace Customer Service
TrunkSpace does not offer live chat support, but I was pleased with the company's support ticket system.
The customer service team is available 24/7 to help with any of your needs. You should hear back from a representative within a few hours of reaching out.
Support tickets can be submitted through the TrunkSpace website or conveniently within the VPN app.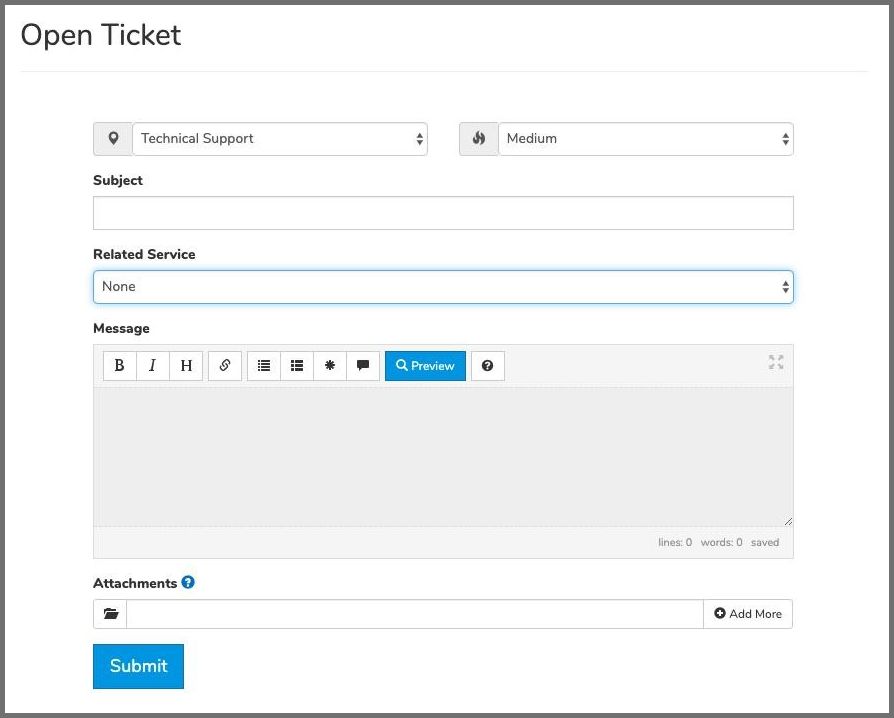 The support ticket form doesn't take long to fill out, and you can choose whether your query is low, medium, or high priority to get a faster response.
User Experience
The TrunkSpace Hosting VPN app is quick to set up and easy to navigate.
However, I did run into some confusion that caused a delay when I first opened the app.
The client asked for my login credentials, so I provided the username and password I had used to create an account. That didn't work.
After several attempts and a few minutes of searching, I realized that I needed to enter a different username and password that were created by TrunkSpace.
These new login credentials can be found in the account settings on the website.
It would be nice if TrunkSpace were to inform users more clearly to use the new username and password to avoid this confusion.
After you have successfully logged in, the TrunkSpace Hosting VPN app opens to a list of servers.
At the top of the screen, the app displays whether or not you are currently connected to the VPN.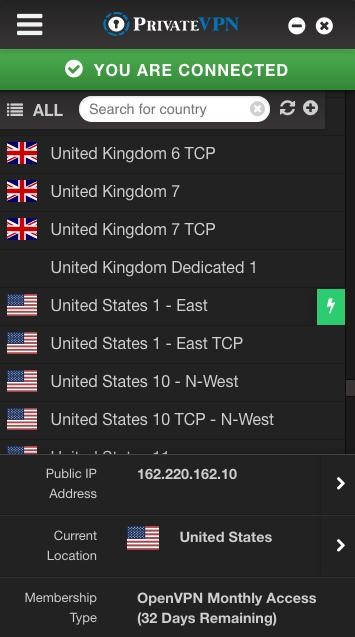 There are pros and cons to TrunkSpace's server list.
I liked that TrunkSpace allows you to choose between individual servers rather than limiting you to just choosing your country location.
What I didn't like was that the servers were not labeled with more specific information about their location.
For example, it would be great to know what city each server is located in to make it easier to choose the closest server to my location.
This is important, because the closest server to your physical location tends to give you the fastest connection speeds.
Another usability feature that could be improved is the process of switching servers.
Switching servers takes three clicks: one to disconnect, one to confirm your disconnection, and one to connect to the new server.
This is a minor detail, and the VPN is still very well designed and easy to use.
However, small details like single-click server switching can make a difference in the long run for the user experience.
A big positive for TrunkSpace is the well-organized settings menu, which can be accessed by clicking on the three horizontal lines in the upper left corner of the app.
Inside the settings menu, all of the options are clearly labeled and easy to understand.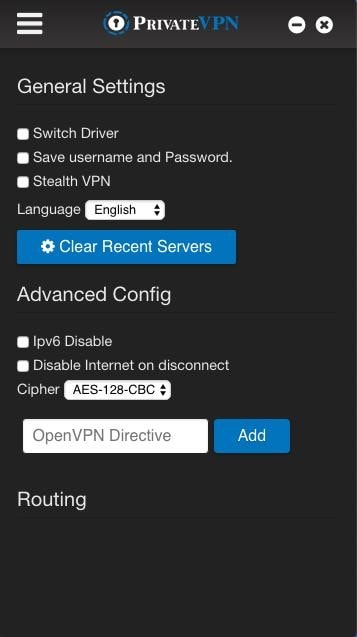 The "Switch Driver" option that you can see in the picture above is a special option available on the macOS client. Turning on the setting helps improve compatibility with older Macs.
If you click on "Routing" you will find an option to only route certain domains through the VPN.
This is a useful setting if you want to geo-spoof your location for certain websites to bypass censorship while still being able to easily access local websites through a normal connection.
Conclusion
TrunkSpace Hosting VPN offers a solid service that will protect your safety and privacy online.
This VPN is a good choice for bypassing tough censorship thanks to its Stealth VPN setting that works even in China.
The VPN also has some nice advanced features to allow you to customize your connection based on your specific needs.
However, the small server network means that speeds can be inconsistent, and the VPN wasn't able to access most popular streaming platforms.
There also is no clear reason why a VPN would need to collect so much information about its users just to create an account and purchase a subscription.
Even though TrunkSpace Hosting VPN isn't quite ready to compete with the top VPNs on the market, the VPN is off to a strong start with this service.
TrunkSpace Hosting VPN Features — Updated in January 2022
5.5
💸

Price
$4.16/month

📆

Money Back Guarantee
7

📝

Does VPN keep logs?
No

🖥

Number of servers
70

💻

Number of devices per license
5

🛡

Kill switch
Yes

🗺

Based in country
Canada