ZenVPN claims to be a fast and affordable VPN service that will protect your privacy and security online. While it does uphold that promise, it's not reliable for streaming. We weren't able to access Netflix on any server, so if you're looking for a VPN that can, check out one of these top five vendors.
We put it to the test across multiple categories to find out how it really performs.
The provider doesn't disclose the number of servers in the network, but multiple servers are available in 30+ countries around the world.
The biggest highlights of ZenVPN's service include strong encryption, user-friendly location selection, and a helpful customer support team.
Downsides of this VPN include slow speeds, inability to access popular streaming content, and a misleading logging policy. If you're looking to get past geo-restrictions and unlock content to stream hassle-free, wherever you are, check out ExpressVPN instead.
Streaming – Does ZenVPN Work with Netflix?
The ZenVPN website boldly claims that the VPN can be used to access geo-restricted streaming content around the world, including Netflix and Hulu.
Unfortunately, that claim wasn't supported by our tests. ZenVPN was caught by the Netflix VPN ban on every server that we tested.
We also had trouble streaming content on Hulu, Amazon Prime Video, and BBC iPlayer.
It's disappointing, but Netflix and BBC iPlayer in particular impose some of the toughest geoblocks around, which smaller providers like ZenVPN just can't compete with.
However, you can easily bypass these geo-restrictions with global vendor ExpressVPN. It offers super-fast speeds and dedicated streaming profiles, too.
Server Network and Speeds
Network speeds are an important part of any VPN service—the best ones don't noticeably affect your browsing speed. A VPN that slows you down will get frustrating quickly, no matter what you're doing.
Before connecting to ZenVPN's server network, we started out with a download speed of 66 Mbps.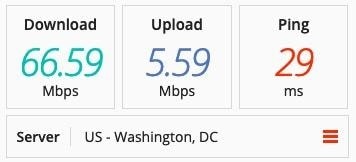 We then selected ZenVPN's US virtual location. This server slowed us down very significantly to a download speed of only 4 Mbps.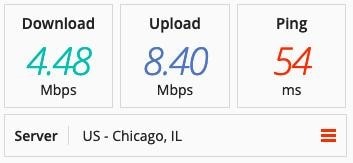 The UK server gave us an even worse download speed of less than 3 Mbps.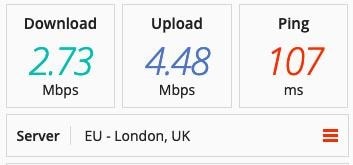 Other servers gave us similarly slow results. These speeds are not really functional for any kind of online activity. Our connection was noticeably slow while browsing, and much too slow for streaming and torrenting.
Is ZenVPN Good for Torrenting?
We would not recommend ZenVPN for torrenting.
Even though the VPN does a good job protecting your privacy with strong encryption, it does not have an automatic kill switch. This means that if your VPN connection were to suddenly drop, your torrenting activity could be exposed to your ISP.
ZenVPN's upload speeds are functional for file sharing, but the network's download speeds are very slow, which isn't ideal for torrenting.
Security – Is ZenVPN Safe?
Our tests of ZenVPN's security came back with mixed results. Below is the result from our leak test with dnsleak.com while connected to the UK servers:
Our IP address was shown as a UK address, as expected. But the VPN was leaking a different DNS IP address located in Belgium. Luckily, our real location and IP address weren't leaked, so the VPN was effectively hiding our identity and protecting our privacy.
A VPN with good DNS leak protection, however, should not leak any DNS information whatsoever. ZenVPN has a tendency to leak multiple DNS addresses, which is a giveaway that you're using a VPN.
It also does not include some of the advanced security features that we like to see in a premium VPN, such as an automatic kill switch.
Encryption
ZenVPN protects your connection with secure AES 256-bit encryption. It supports OpenVPN, L2TP/IPsec, and PPTP protocols.
We recommend sticking with OpenVPN if possible, since these connections are the most secure.
Does ZenVPN Keep Logs?
The good news is that ZenVPN is based in Cyprus, outside of the 5/9/14-Eyes Alliance.
But in reality, this VPN collects and retains way too much data about your VPN use and account to be able to guarantee your privacy and anonymity.
It claims to keep no logs, but the privacy policy tells a different story. ZenVPN collects and retains the following information about you:
Your real IP address (linked to your account)
Your email address (linked to your account)
Your device's unique identifier (stored anonymously and not linked to your account)
Your daily bandwidth usage (linked to your account)
Date and time of each of your connections to the VPN (linked to your account)
Duration of your connection (linked to your account)
Payment information (linked to your account and third-party provider)
The privacy policy also states that ZenVPN performs "algorithmic rule-based traffic management" of your VPN usage to improve quality of service and prevent network abuse, claiming that no records are kept of this information.
Connection data is stored for 6 months, payment information is stored indefinitely, and all other information is deleted when you terminate your ZenVPN account.
Overall, it's usually a bad sign to see that a VPN collects your real IP address, and we don't like the sound of ZenVPN's "algorithmic rule-based traffic management" practices.
Does ZenVPN Have an Ad Blocker?
ZenVPN does not include an ad blocker in its VPN service.
Price and Value for Money
ZenVPN's two types of paid subscription plans come with the same features and differ only in their data transfer limit.
The standard plans limit you to 5GB of traffic per day. Unlimited plans, on the other hand, are truly unlimited when it comes to bandwidth.
Both come with yearly, monthly, and weekly subscription periods. You can take advantage of a 7-day free trial to test out the premium service, and a 30-day, money-back guarantee on all subscriptions.
ZenVPN is quite pricey for what it has to offer. Both the standard and the unlimited plans are more expensive than many other VPNs on the market that offer more advanced features and performance.
Does ZenVPN Have a Free Version?
Yes, ZenVPN offers a free version, which includes the same features as the paid plans.
The downside is that the free version has a pretty restrictive data cap of 500 MB per month, and 250 MB per day.
Is ZenVPN Compatible with My Device?
ZenVPN is compatible with Windows, macOS, Android, iOS, and Linux devices.
To install it, you will also need to install third-party OpenVPN software compatible with your device. ZenVPN provides OpenVPN configuration files, as well as manual configurations for L2TP/IPsec and PPTP connections.
One nice feature is that ZenVPN allows 6 simultaneous device connections with a single subscription, although the data limits still apply.
ZenVPN Customer Service
ZenVPN's customer service team can only be reached via an email ticket request system.
When we ran into some installation issues and reached out, we received a response within 24 hours. The response was polite, helpful, and very thorough.
We were able to resolve our issue by following the steps provided by the support team. Overall, ZenVPN's customer service is a positive feature of the service.
In the future, we would like to see 24/7 live chat support, as well as the addition of some troubleshooting resources on the website.
User Experience
ZenVPN has no native client, which isn't uncommon for smaller vendors that are just starting out. That might sound intimidating if you've only ever used VPNs with dedicated apps, but it's much less complicated than it sounds.
For a VPN with no native app, ZenVPN is surprisingly user-friendly. The provider makes it easy to get started without a hassle. You can download a free third-party OpenVPN bundled with the VPN configuration file straight from the ZenVPN website.
Connecting to it using Tunnelblick software (as we did) only requires a single click, and we received a notification when our connection was complete.
The interactive server map on the ZenVPN website is a great feature. Your account page has a Virtual Location tab, where you'll find a list of server locations with your current location labeled.
Clicking on a country selects it as your new virtual location. If you already have the VPN enabled, you have to disconnect and reconnect before your location will change.
Underneath the list of countries is a world map that displays all ZenVPN server locations, including your current one. Hovering over a location displays an Activate button for selecting the country as your new virtual location.
The main downside of ZenVPN's user experience is its lack of advanced settings. Unlike many of its competitors, this VPN doesn't have any options to change your connection or interface settings.
You might not find this to be an issue if you're looking for a no-hassle experience, but more advanced users may wish they had more freedom to customize.
Conclusion
Although ZenVPN has some positive features, it fell short in multiple areas. This service needs some work before it can compete with any of the top VPNs on the market.
Its inability to unblock streaming sites, including Netflix and BBC iPlayer, is one huge disadvantage. If you're looking for a vendor that can give you access to Netflix, and deliver fast, high-quality streaming, check out our top picks.
ZenVPN's subscription plans are a bit too expensive for what they offer. The lack of native app, slow speeds, inability to access streaming content, and data collection practices are big downsides, especially for the price point.
For better value for money, you could opt for a premium provider like ExpressVPN. It's our #1 recommendation thanks to it's super-fast speeds, impressive unblocking capabilities, and top-level security.
ZenVPN Features — Updated in January 2022
8.3
💸

Price
$4.16/month

📆

Money Back Guarantee
30

📝

Does VPN keep logs?
No

🖥

Number of servers
30

💻

Number of devices per license
6

🛡

Kill switch
No

🗺

Based in country
Cyprus