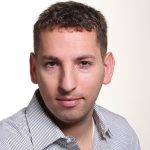 Ariel Hochstadt
Ex-Google, International tech speaker
What's the difference between ExpressVPN and NordVPN? There are a couple of important things to know before you find out which VPN is best for you.
We tested ExpressVPN and NordVPN in a head-to-head matchup and compared them for speed, security, performance, and features. They both get top scores for torrenting, unblocking geo-restricted Netflix, and bypassing government firewalls — both provide military-grade encryption, kill switches, and no-logs policies, and offer a no-risk 30-day money-back guarantee.
It was close, but after hours of testing, here's what we found:
ExpressVPN offers better functionality.
NordVPN offers better value.
We ultimately chose ExpressVPN as the winner, but if you want a low-cost premium VPN which is fast, safe, and full-featured, NordVPN is an excellent choice. ExpressVPN and NordVPN are two of the best VPNs out there. Both of them will give you great speeds, unlimited access to restricted content, and the strongest levels of protection available.