10 Best Torrent Websites of 2017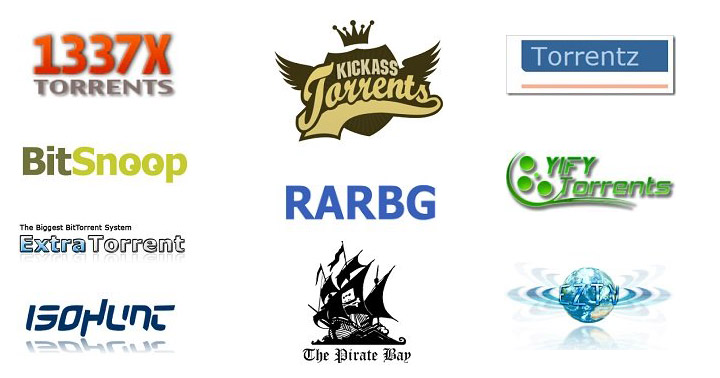 2016 was not a "good" year for torrent websites because of the take downs, domain name seizures, copyright issues and IP blocking. But despite all these issues, BitTorrent sites showed positive numbers when it came to downloads. Most of the attempts failed to hamper their business and users still prefers torrent website to download different type of content from the web. There are no surprises when it comes to the top 3 but get ready to see some new names in the lower half of the list.
1. The Pirate Bay
Topping the list is The Pirate Bay, the best Torrent website out there. It has maintained its standing at the top for a decade since its launch. Despite legal copyright issues and domain and ISP blockages, Pirate Bay is still going strong. With more than billion page views per month, it has left the competition in the dust. If The Pirate Bay can somehow take care of copyright issues, it is a force to be reckoned with in torrent website domain.
2. Kickass Torrents
Like The Pirate Bay, Kickass torrents have their fair share to domain name problems. That is why they migrated from .ph to .to. Furthermore, it also has been removed from Google search results and is still blocked in different countries throughout the year. In face of this entire problem, it stood its ground and surged to popularity in mid 2013 and continued through 2015.
3. Torrentz
Torrenz follows a different model as compared to other torrent websites. It acts as a search engine, which combines search results from different torrents websites and presents into one interface. It does not host files on its own. Users can access it from different domain names.
4.  Extra Torrent
A few years ago, Extra Torrent was not even in the top 10, but today, it is one of the top five torrent websites in the world. It was restricted to .com instead of .cc domain after facing suspension from the domain register. It is one of the top 5 visited torrent website and has one of the biggest BitTorrent system in the world.
5. Yify Torrents
Yify Torrents is a heaven for movie lovers and it has become one of the biggest movie piracy entities on the internet. This popularity has also led to their downfall, as they face ISP blockage in the UK. If you look at their popularity graph though, it has been going up since its inception.
6. EZTV
EZTV is a torrent website dedicated to only television shows. So, if you are interested in downloading your favorite television shows, then EZTV is for you. It has seen some fluctuations in its performance and the site is still not accessible in different countries.
7. 1337X
What differentiates 1337X from other torrent websites is its focus on community. It has empowered people to share content with other users. The biggest issue 1337X faces is blockages from major internet service providers in different countries such as UK. The site has seen many fluctuations in popularity since 2013.
8. IsoHunt.to
IsoHunt was a popular torrent website, which shut down in October 2013. IsoHunt.to began operations soon after and shot to popularity instantly, even though it has no connection with the original. But when it comes to visuals and the database of files, the website looks quite similar to the original IsoHunt. Whether you like it or not, it can threaten many torrent websites at the top of this list in the future.
9. Bit Snoop
Boasting a huge index of more than 200 million files and still growing, Bit Snoop is the largest BitTorrent index of torrent files online. As their index grows, they are also receiving more notices from legal authorities. This is not only causing problems for them, but has also dented their popularity and performance.
10. RARBG
Not as popular as other websites on this list, but this has become a blessing in disguise for RARBG. This is because the lack of popularity has protected this website from the prying eyes of authorities, which has taken down many other websites on this list. It started as a small Bulgarian tracker service, but now has expanded to become one of biggest torrent sites in Europe.
Whether you are in favor of or against torrent websites, you have to admit that they have a very loyal (and huge) fan base that keeps them in the game even after all the take downs, ISP blockages and domain name problems.