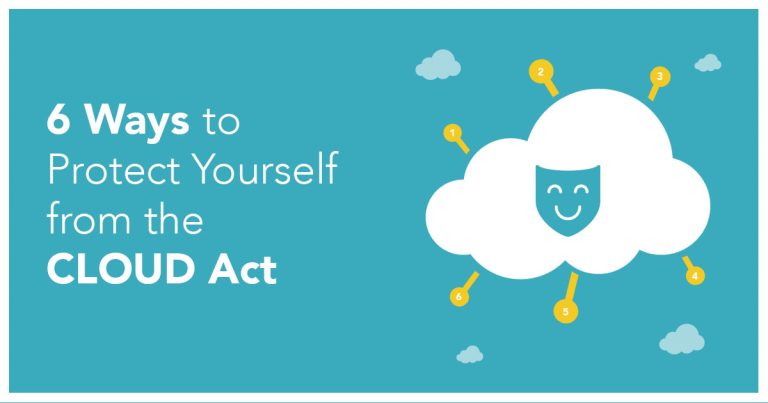 6 Ways to Protect Yourself from the CLOUD Act
Online privacy was dealt a major blow at the end of March 2018 when the Clarifying Lawful Overseas Use of Data (CLOUD) Act was added in the near the end of a 2,232 page budget bill.
The CLOUD Act was never voted on by the US Congress or even reviewed. Instead it was slipped into page 2,201 of a $1.3 trillion spending bill, which was voted on as a single entity.
However, the repercussions of the CLOUD Act changes the way that government officials can obtain your data. It gives the US and foreign governments the opportunity to request data without a warrant.
Fear not, all hope is not lost, at vpnMentor we have come up with a list of things you can do to help maintain your privacy and remain anonymous online.
What is the CLOUD Act?
So what exactly is this privacy harming legislation that Congress felt the need to slip into an unrelated bill in order to get it passed?
It all started several years ago, with a lawsuit involving a criminal investigation into an Irish citizen. The US government had a warrant and subpoenaed Microsoft for data that was stored on their Irish servers. Microsoft refused to hand over the information, claiming the servers weren't based in the United States and therefore they were under no obligation to respect the warrant. The case has been dragging on for four years.
Fast forward to present day, under the new CLOUD Act, the US government no longer needs a warrant and Microsoft must comply with the request and hand over the data. Microsoft is already on record saying that there is no need to continue fighting in this case, and they will hand over the data to the authorities.
There are two main provisions in the bill:
Permission is granted to any law enforcement, from local police to federal agencies, to access "the contents of a wire or electronic communication and any record or other information" regardless of where the data is stored. Provided the company is US based, they will be compelled to hand over the data, even if the server is in a foreign country.
The President of the United States will be able to enter into "executive agreements" with other countries, allowing them access to data stored outside of the US, without due process. That data can then be used to implicate US citizens, even though it was collected without a warrant.
This law is scary for citizens since it violates your privacy.
Imagine a foreign government investigates one of their citizens and requests access to their data on a social network such as Facebook. Facebook will be obligated to hand over all the information, and this could include information on US citizens.
Those foreign government will then be able to just hand over all the data to their US counterparts, without any warrant needed.
You can read the entire CLOUD Act here - just scroll down to page 2,201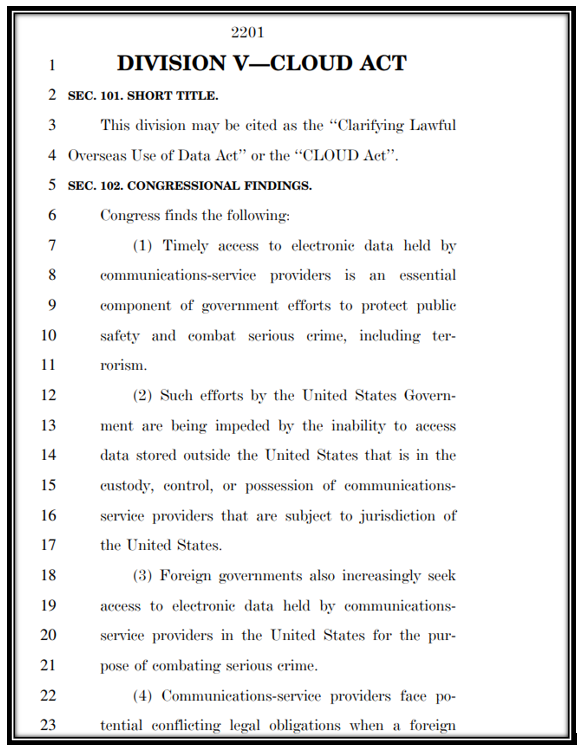 What Can You Do?
We aren't ready to give up on our right to privacy, and we hope you aren't either. We gathered a list of tips that can help protect your data from different governments. This list includes alternatives to popular sites and services that we recommend you start using to help keep your activity anonymous.
Protecting Privacy is Hard, But Possible
It's becoming harder and harder to remain anonymous online, but with legislation such as the CLOUD Act, it becomes even more imperative to cover your tracks.
We aren't suggesting that you go off the grid completely and wear the proverbial aluminum foil cap. Just be cautious and take the necessary precautions. The first step is to get a VPN that will protect your anonymity and allow you the freedom to stay online without fear of being snooped on. Read the reviews and find the best VPN to protect your privacy.
Privacy Alert!
Your data is exposed to the websites you visit!
The information above can be used to track you, target you for ads, and monitor what you do online.
VPNs can help you hide this information from websites so that you are protected at all times. We recommend ExpressVPN — the #1 VPN out of over 350 providers we've tested. It has military-grade encryption and privacy features that will ensure your digital security, plus — it's currently offering 49% off.