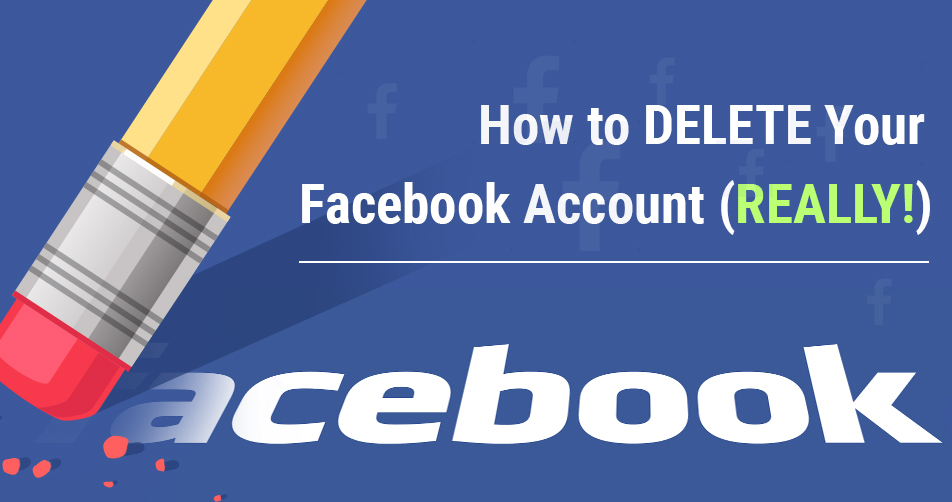 How to Permanently DELETE Your Facebook Account – 2023 Update
Deleting your Facebook account used to be a long and tedious process, but not anymore. We'll show you how to easily deactivate your account, or delete it forever if you're done with social media – yes, there's a big difference between the two. To find out more about that, as well as learn how to remove specific content from your Facebook profile, check out our in-depth guide below.
Let's face it: using Facebook really doesn't do any favors for your privacy online. You'll probably remind yourself of all the big scandals that have happened recently.
The Cambridge Analytica fiasco, where millions of Facebook users had their data harvested, is still fresh in our minds – and even if Zuckerberg and company distanced themselves by calling it a "breach of trust", the social media giant has had its own share of questionable moves.
Examples range from giving dozens of firms "special access" to sensitive user info, to asking U.S. banks for their customers' financial data. As it turns out, it's not super difficult to catch Facebook acting shady – because it often does.
The latest piece of bad news for Facebook users is a massive security breach, where 50 million people had their security tokens compromised. If that's the final straw for you and you're ready to move on from the social media platform, you've come to the right place.
It's time to restore your digital privacy. Let's get started!
BE AWARE:
Every click, every share, and every download can be and is tracked, stored, and sold by app creators, internet service providers, and telecom companies.
Only a VPN like ExpressVPN can protect you
 and prevent these third parties from collecting and selling your sensitive data.
Deactivating vs Deleting Facebook – What You Need to Know
Before we get to the step-by-step walk through, it's important to understand the two options Facebook gives you when you decide to close your account.
You can choose to either deactivate your profile, or fully remove it from existence. As you can probably guess, the former option keeps your data on the platform, while the latter erases it completely.
If you deactivate your Facebook account:
No one besides you will be able to see your profile.
Specific information, such as sent messages, will remain visible.
Your name will show up on friend lists, but only for your friends.
Your name, posts, and comments will be visible to the admins of groups you're joined.
You will be able to keep using Messenger.
You can deactivate your account for as long as you'd like, but logging back in or using the account to log into a connected app/service will prompt the reactivation process.
If you choose to permanently delete your Facebook account:
You won't be able to reactivate your account.
All the content you've added/uploaded on Facebook will be gone forever, without the possibility of retrieving it (unless you've downloaded an archive of your data beforehand).
Apps that use your Facebook account won't be accessible via Facebook Login anymore.
Specific information, such as messages you've sent to friends, won't be fully deleted and will remain visible to them.
You won't be able to use Messenger.
Facebook gives you 30 days to think about your decision and cancel the deletion process if you change your mind. After that period expires, your account and all related data to it will disappear forever. Keep in mind that it may take up to 90 days for all your information to be permanently deleted – during that period, Facebook users won't have access to it.
How to Delete your Facebook Account Forever
NOTE: It might be a good idea to download a copy of your information before you completely delete your Facebook profile. For more info on how to do that, take a look at the next section.
If you've given it some thought and you're ready to move on from Facebook forever, here's what you need to do in order to permanently delete your account:
1. Go to your settings page. Alternatively, you can click the arrow in the top-right corner and access your settings from there: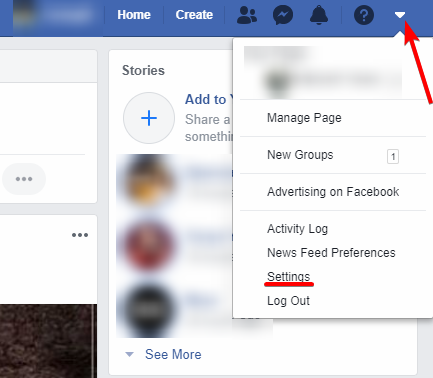 2. On the left, you'll have a list of settings available. Click on Your Facebook Information > Delete Your Account and Information: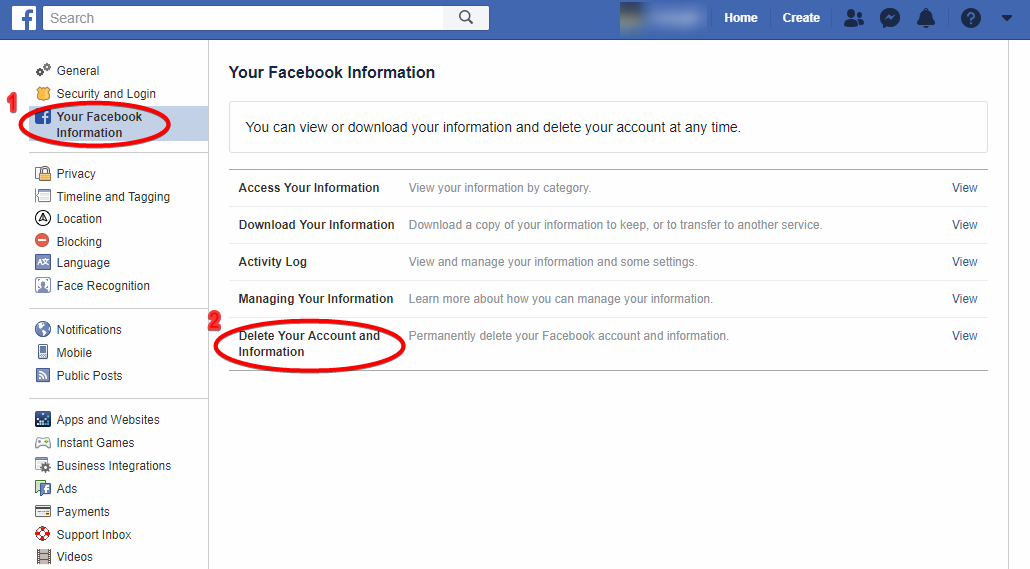 3. A page will appear with suggestions for deactivating your account or downloading your information. If you aren't interested in either of these options, click on Delete Account: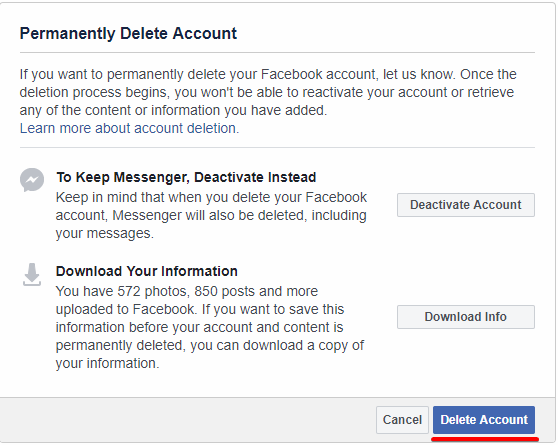 4. You'll be prompted to enter your password. Do it, then click on Continue: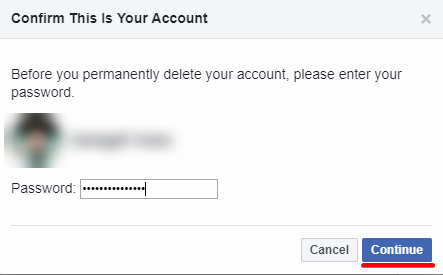 5. And that's it! If you wish to cancel the deletion, you have 30 days to log into your account and click on Cancel Deletion. Otherwise, you just need to be patient for a month, before your Facebook account is permanently erased.
If you've tried deleting a Facebook account before, you probably remember it as a needlessly confusing process, involving a lot of back-and-forth between the help center and well-hidden settings. That's no longer the case, as Facebook has made it much easier to close your account in just a few simple steps.
What's more, you don't have to worry about accidental logins automatically canceling the deletion process. You have to confirm that yourself now (check step 5 above).
How to Download an Archive of your Facebook Info
Not a fan of Facebook, but you'd like to keep the content you've posted on your profile? You can do that with ease – just follow these steps:
1. In your settings page, click on Your Facebook Information > Download Your Information: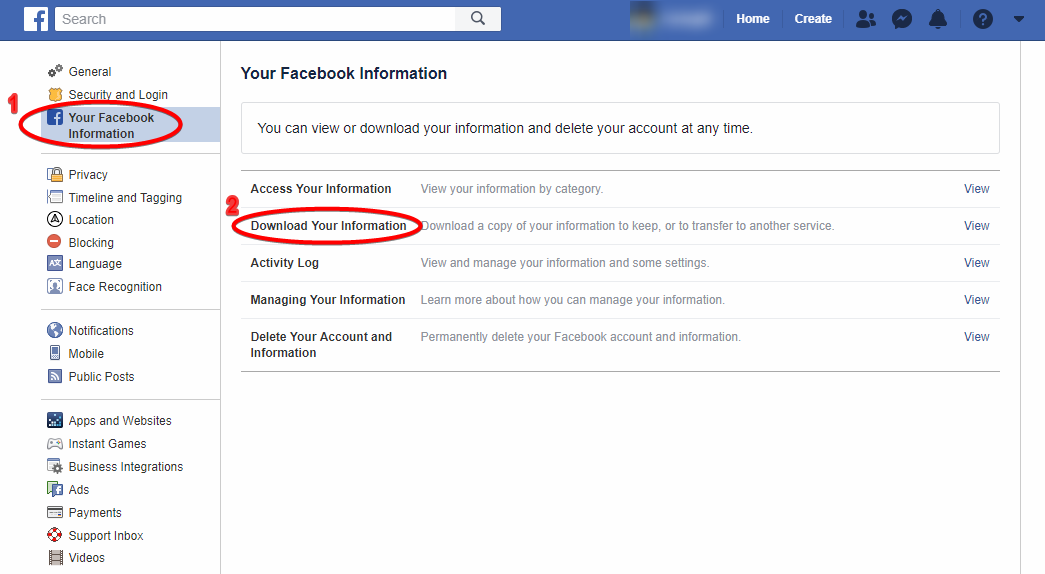 2. You'll be taken to the information archive page. Here, you can choose exactly what you want to download, as well as set the date range, archive format, and media quality: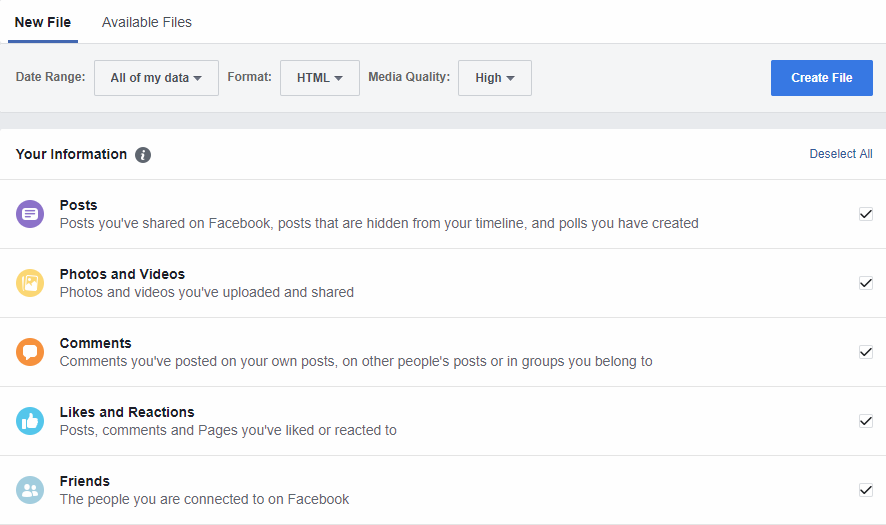 3. Your own information shows up first, but scrolling down will allow you to pick and choose information about you as well: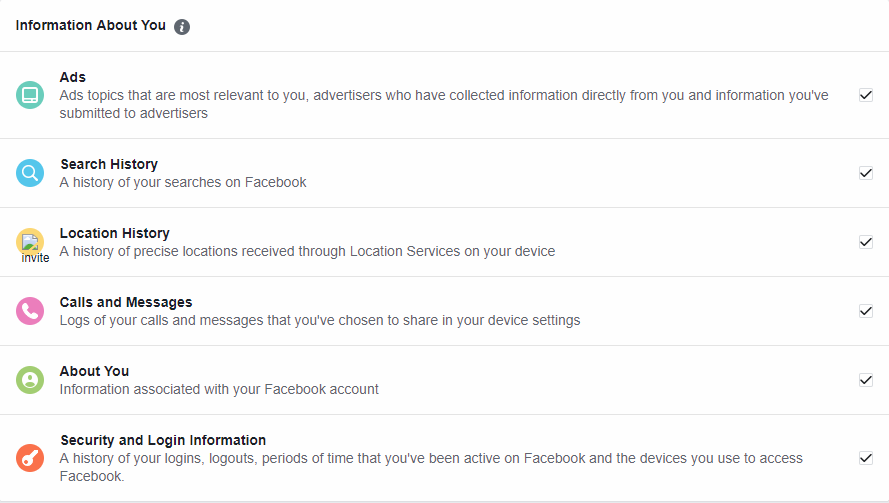 4. Once you're done with selecting your information, click on the blue button called Create File. The archiving process is now underway.
5. You can check on progress in the Available Files tab. If your file is still being worked on, you'll see the archive as "Pending" until it's ready for downloading:

As mentioned, the Facebook archive feature is highly customizable. You can either download a single type of content, like your photos, or opt for a full backup – the choice is yours.
How to Deactivate Your Facebook Account
If you'd like to take a break for Facebook, but aren't quite ready to say a final farewell just yet (or you still want access to Messenger), deactivating your account is a decent alternative to permanent deletion.
Keep in mind that with this option, all your information will remain available to Facebook, and you may end up as the unknowing victim of data harvesting or a security breach.
To temporarily deactivate your Facebook account, you need to do the following:
1. Complete steps 1 and 2 from the Permanent Deletion guide (Settings > Your Facebook Information > Delete Your Account and Information).
2. Click on Deactivate Account: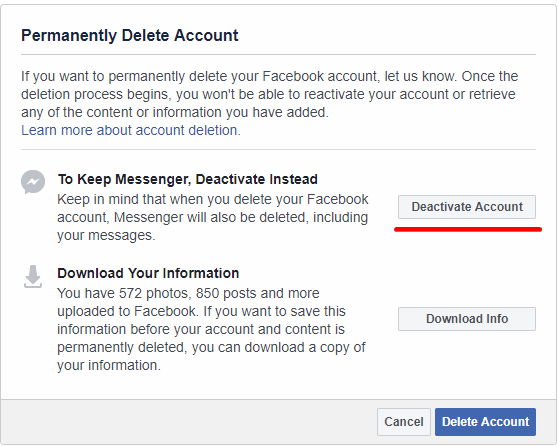 3. Alternatively, you can go to Settings > General > Deactivate your account.
4. Enter your password when prompted, and click on Continue: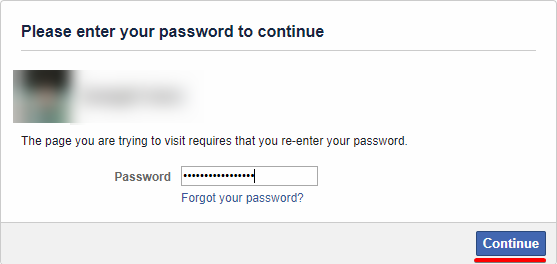 5. You're all set! To reactivate your account, simply log into Facebook (or an app/service that uses your Facebook account). You'll be required to type in your password – after that, your profile will be fully operational once again.
How to Delete Your Facebook Information by Yourself
Alright, so you really want to delete any trace of your Facebook activity. If you've chosen to permanently delete your account, Facebook will do that for you – you don't need to involve yourself in the process.
However, if you feel like contributing, you can help make things faster by deleting specific parts of your Facebook content manually. This may reduce the 90-day deletion process by quite a bit. It can also help you tidy up your search history and connected apps, even if you aren't planning on writing off Facebook anytime soon.
Have you ever erased the history on your internet browser? It's pretty much the same process with Facebook – only it's much slower and more time-consuming.
Fortunately, the social media giant has improved in that aspect as well. Nowadays, it's much easier to view, manage, and delete your information.
It all starts with the activity log. There are two ways to access it:
1. In your settings page, click on Your Facebook Information > Activity Log: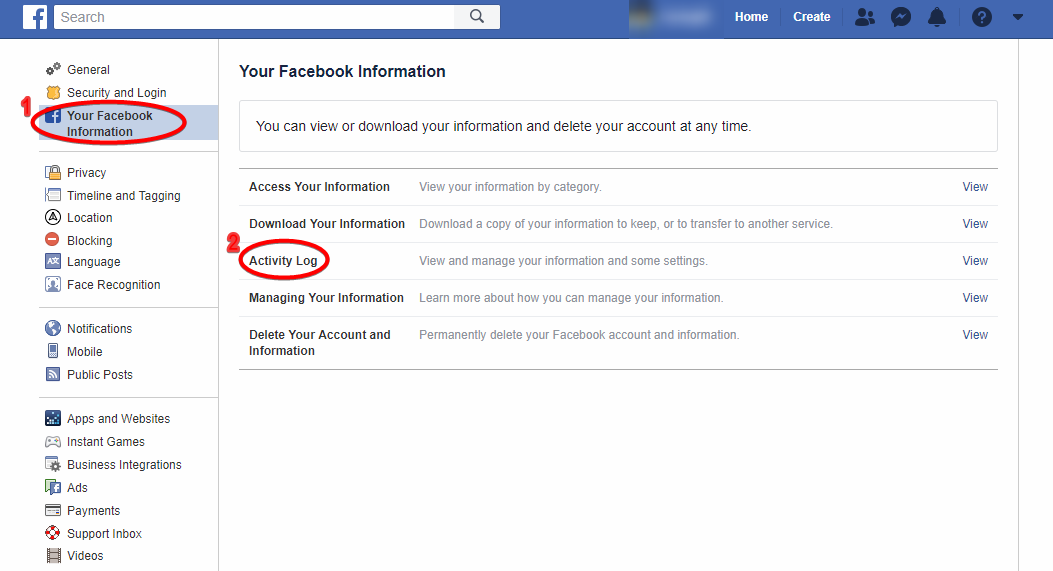 2. Alternatively, you can click on the "Activity Log" button in your Facebook profile (bottom-right corner of your cover photo, next to "Update Info").
Your activity log is part of the "Filters" panel that lets you view and delete posts and comments, remove likes (by unliking), and erase search history. There's a lot more you can do, from deleting group posts to managing content that connected apps have posted on your behalf: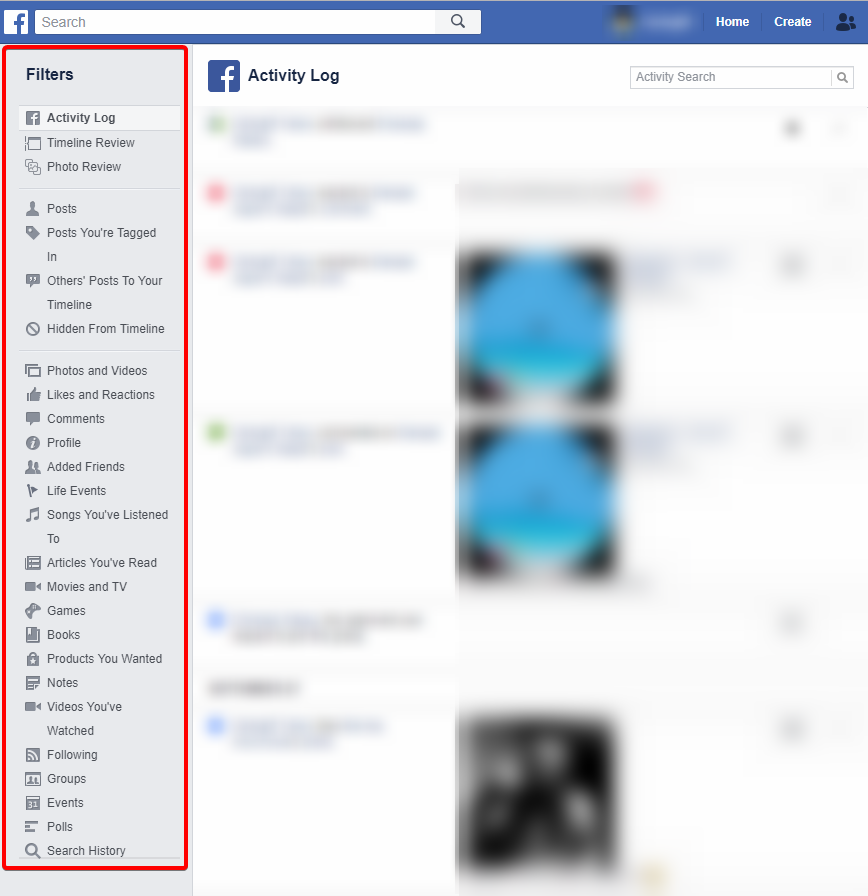 TIP: Some options in the "Filters" panel are hidden. To see them, click on "MORE" under the respective category.
Going through all your Facebook activity and content can be lengthy, tiresome work. To help you out, we've prepared a few quick guides for the most popular types of content users often delete on Facebook. Check them out below!
How to Delete Connected Apps on Facebook
Removing the apps you've used your Facebook account to log into is a good idea if you're on your way towards permanently deleting it. Here's what you need to do:
1. In your Settings page, click on Apps and Websites.
2. You'll be presented with lists of active, expired and removed apps. To delete an active app, tick the box next to it and click on Remove: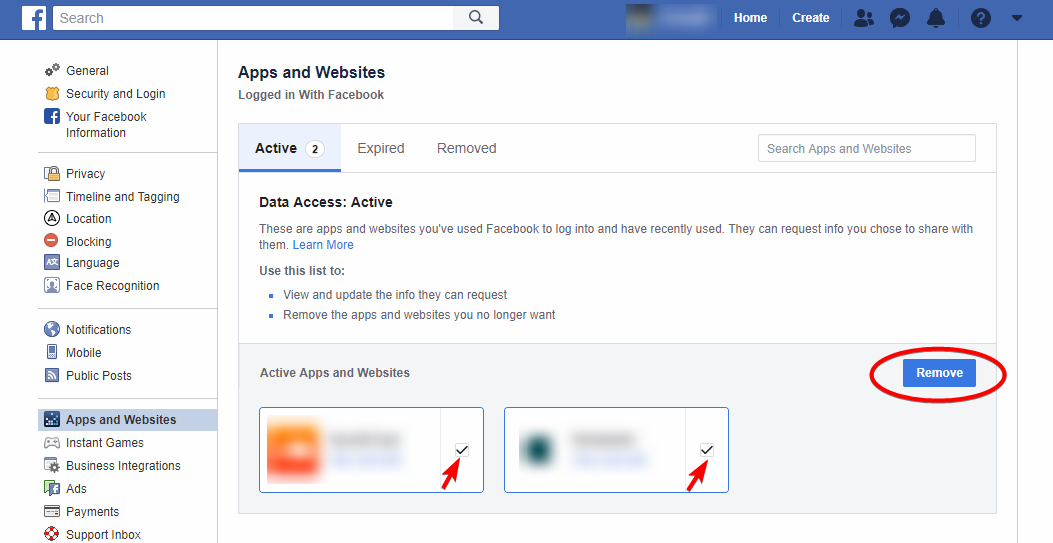 3. Expired apps no longer request your private information, but you can still log into them with your account. You can edit the info they request, or you can remove them altogether.
TIP: Removing your connected apps isn't a requirement if you want to delete your Facebook account permanently. However, accessing a connected app with your Facebook account may require you to cancel the deletion process if you've started it already.
How to Delete Your Search History on Facebook
To permanently erase part or all of your search history, follow these steps:
1. Click on the search bar and then on the "EDIT" button next to the "recent searches ribbon":

Another way is to simply access your activity log and navigate to the bottom of the filter list, where you'll find the "Search History" button.
2. You can now clear searches, one at a time, by clicking on Edit > Delete: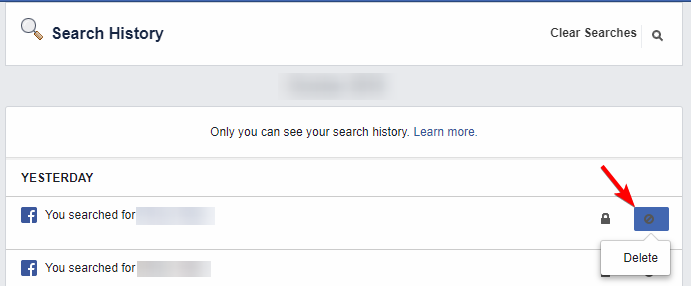 3. To erase all your searches in bulk, click on Clear Searches in the top-right corner.
The process is generally the same for mobile users. Simply navigate to your search history (Settings & Privacy > Settings > Activity Log > Category: Search History). Again, you can choose to delete individual searches or the whole list.
How to Delete Photos, Videos, and Albums on Facebook
You can easily review and remove the photos, videos, and albums you've uploaded on Facebook via the Filters panel. Here's how:
1. Access your Activity Log.
2. Navigate to Photos and Videos, right in the middle of the list.
3. A list of your uploaded media will appear in chronological order. To delete an item, click on the pencil-shaped icon on the right side: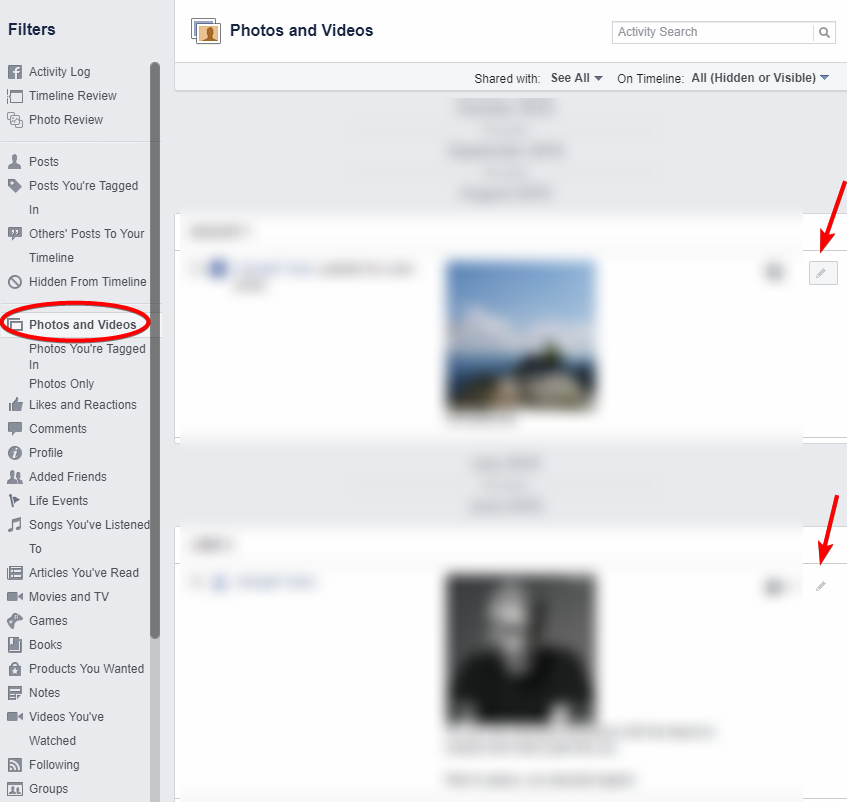 TIP: Your profile, cover, and featured photos can't be deleted. You can only choose whether they are shown or hidden on your timeline.
If you'd rather delete entire albums, navigate to the Photos > Albums tab in your profile. There, you can view and quickly remove your collections.
How to Delete Facebook Comments and Posts
If you want to remove your comments and replies on Facebook without having to wait for up to 90 days, you need to do the following:
1. Access your Activity Log.
2. Go to Comments, right under Photos and Videos.
3. Follow the same procedure: click on the pencil-shaped icon on the right, then Delete:

You can do the same for your Facebook posts. The only difference – you'll need to click on Posts instead of Comments in the list. You can find the Posts button at the beginning of the list, under the Activity Log option.
Making the Most out of Facebook's Privacy Settings
Perhaps you aren't ready to deactivate/delete your Facebook account just yet, but you're still interested in keeping things as private as possible.
The quick guides above are a good first step for modifying/removing your Facebook content. But there's more you can do.
In the Settings page, you'll notice the Privacy tab. This is essentially a hub for your general privacy settings on Facebook.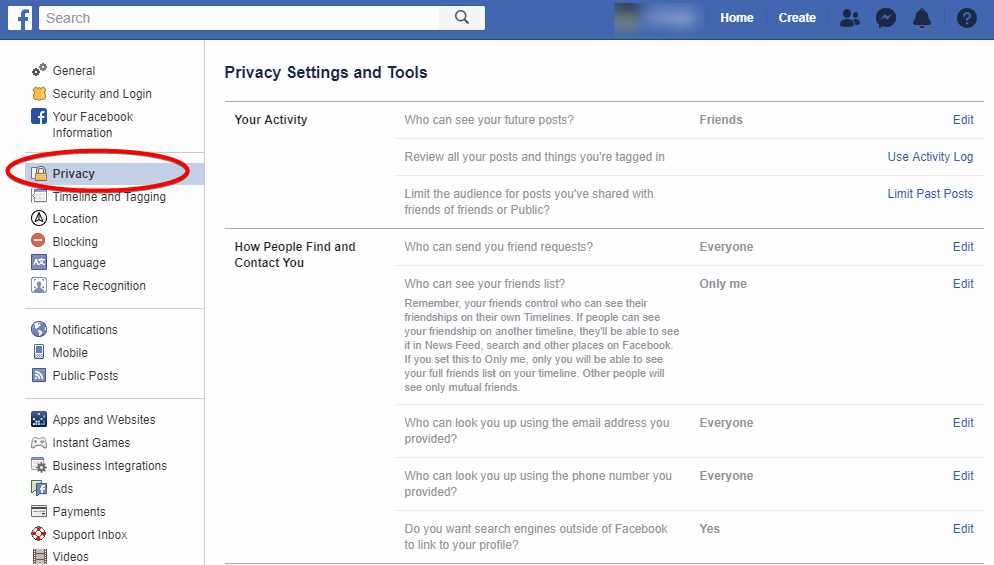 Here's what you can change here:
Visibility of future posts. You can set all your future posts to be visible to the public, just yourself, or your Facebook friends, with options to include or prevent specific people. Custom settings are also available:
Review of posts you've made or are tagged in. This is done via the Activity Log, so if you've followed one of our guide above, you're already familiar with the process.
Visibility of past posts. You can also change the privacy settings on previous posts you've made (but not the ones you're tagged in – those are in control of whoever made the post). Fair warning: this can take a lot of time, as you need to review each post separately.
How you can be found and contacted on Facebook. The second half of the privacy settings allows you to choose who can send you friend requests, see your friends list, or find your profile via your email/phone number. Most importantly, you can decide whether external search engines will link to your Facebook profile or not.
By using the Privacy tab, you can limit future content you'll be posting to the audience you want to reach. That said, keep in mind that this list mainly covers general visibility settings – there's no workaround that lets you apply your new privacy settings to ALL your posts. If you want your old publications to follow the same settings, you'll need to spend an hour or two reviewing them.
TIP: Not interested in posts from a few years back and want to save some time? You can use the Activity log to delete old content in bulk. Then you can review the posts from the last year or two and change their privacy settings as you see fit.
Other Ways to Keep Your Online Data Private
Lately, saying goodbye to Facebook has become a much easier decision. Part of it is because users now have improved access to the tools and settings, but the biggest reason is the social media giant simply isn't a friend of your privacy.
With recent events staining its reputation even further, it's no surprise that more and more people are getting off the Facebook train and closing their accounts. But make no mistake – there are other serious digital threats out there. Take Google for example.
It may seem like a huge challenge to keep stay private online these days, but don't let this lead you to a state of apathy towards your own sensitive data. You can always check out several great alternatives to Google services that aren't interested in harvesting extreme amounts of information about you. For more useful tips on living the digital life in peace, we recommend taking a look at our in-depth guide to online privacy.
Did you find this article useful? If so, share it with others who may be interested in deleting their Facebook account. Even on Facebook. Oh, the irony.
Privacy Alert!
Your data is exposed to the websites you visit!
The information above can be used to track you, target you for ads, and monitor what you do online.
VPNs can help you hide this information from websites so that you are protected at all times. We recommend ExpressVPN — the #1 VPN out of over 350 providers we've tested. It has military-grade encryption and privacy features that will ensure your digital security, plus — it's currently offering 49% off.