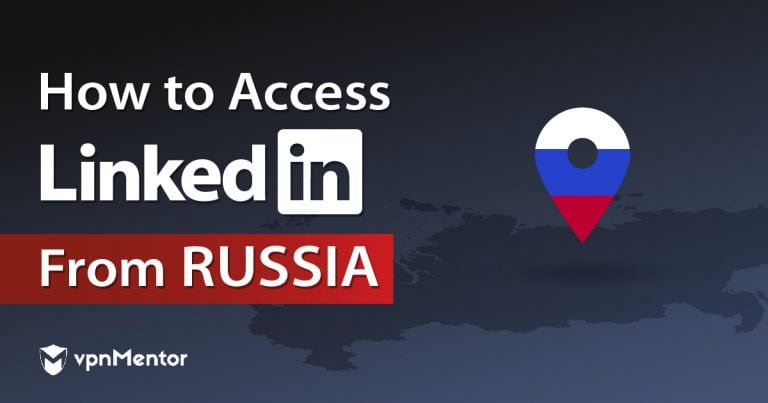 How to Unblock LinkedIn From Russia in 2022
Updated on 12th January 2022
Russia blocked LinkedIn in 2017 because it stores its users' information on international servers. If you are traveling in Russia, not being able to build your network on this social media platform can be detrimental to your career.
VPNs prove to be the easiest and most reliable way to do that for people who still want to access LinkedIn in Russia. By hiding your actual IP address, VPNs mask your online activity from the government. It'll look like you're accessing from a different country, so you can bypass Russia's firewall and the government won't be able to detect or block you.
But all VPNs don't work in Russia, since they proactively block any VPN that doesn't abide by their regulations. All the VPNs on this list have been tested and proven to be effective in unblocking LinkedIn in Russia. Each one has a money-back guarantee so you can try it out risk-free and see if it works for you.
Access LinkedIn in Russia Today
Quick Guide:
How to Unblock LinkedIn From Anywhere in 3 Easy Steps
Download a VPN. I recommend ExpressVPN for easy, safe access to LinkedIn.
Connect to a server in a country near Russia, such as Estonia or Ukraine. Any server in these countries will bypass Russian censorship and offer the best speeds with low latency.
Start using LinkedIn! All you have to do now is sign up for LinkedIn and watch your career skyrocket as you build your network!
Why You Need a VPN to Unblock LinkedIn in Russia
In 2015, Russia made it illegal for companies to store its citizens' personal information outside of Russia. LinkedIn refused to abide by these laws, so Russian authorities blocked it in November 2016.
A VPN offers everything that you need to bypass the block. A VPN anonymizes your online activity by encrypting your traffic. The government and your ISP won't be able to track what you're doing. A VPN will mask your online activity to make it seem like you're accessing LinkedIn from outside the Russian border, even if you are within it. Because this encryption makes it impossible to read your data, the government will not be able to detect and ban you.
Governments of countries with heavy censorship have started to ban VPN services detected by them. A VPN gets detected because the encrypted data of your activity looks different from regular data. A strong obfuscation feature enables you to get past firewalls by hiding the fact that you're using a VPN at all. This avoids detection by making your online traffic look like non-VPN traffic. All the VPNs listed here consistently avoid detection from Russian authorities.
Note: Russian authorities are not known to prosecute tourists for using VPNs, but they do routinely ban VPN services that don't follow government regulations.
Best VPNs to Unblock LinkedIn From Anywhere in 2022
Military-grade encryption
3,000+ servers in 90+ countries. More options for security and global connectivity
5 simultaneous device connections
30 money-back guarantee
Can unblock: LinkedIn, Twitter, Telegram, Internet Archive, Dailymotion, and more
Compatible with: Windows, Mac, iOS, Android, Linux, routers, Apple TV, and more
ExpressVPN is an excellent choice for unblocking LinkedIn because it can easily bypass Russia's firewall. Normally, this firewall blocks VPNs — but ExpressVPN's obfuscation feature hides that you're using a VPN, so the government can't track or block your activity. It does this by masking your encrypted data to look like regular online traffic, so the government or your ISP can't detect that you're using a VPN, nor can they see that you're using LinkedIn.
ExpressVPN offers state-of-the-art security. It uses AES 256-bit encryption to ensure your safety. Your data is near-impossible to breach even if ExpressVPN gets hacked. This level of security is needed when you're browsing LinkedIn to keep yourself safe from malicious hackers, especially if you use public WiFi hotspots. ExpressVPN couples this with a strict no-logs policy. A log is an account of specific events that occurred in your system. Without logs, the Russian government or your ISP will not be able to prove that you have ever accessed LinkedIn. ExpressVPN proved this when it had nothing to show the Turkish government in December of 2016.
You have 3,000 servers in 90 countries to choose from, guaranteeing you find an optimal server for yourself. You're going to need multiple servers from locations close to you in case of connection issues or if your preferred server is down for maintenance. All of this comes with remarkable, lightning-fast speeds (I faced a mere 10-25% drop in speed!). Quick speeds are required because obfuscation and encryption slow down your connection. ExpressVPN's speeds make this slowdown almost negligible. You'll be able to connect to LinkedIn from any one of the optimized servers.
ExpressVPN has one minor con that keeps me from calling it perfect — a relatively more expensive payment scheme. But, it frequently has coupons and discounts which you can use to get a great deal (you can get a plan starting at $6.67/month).
ExpressVPN has a risk-free 30-day money-back guarantee so you can test its features out. If you find it isn't the best VPN for you, you can claim a refund. A simple chat with its customer service will ensure you are given your refund with their "no questions asked" policy.
Unblock LinkedIn With ExpressVPN Now
AES 128-bit encryption
29,650+ servers in 70+ countries for international connectivity
Unlimited simultaneous device connections
30 money-back guarantee
Can unblock: LinkedIn, Twitter, Telegram, Internet Archive, Dailymotion, and more
Compatible with: Windows, Mac, iOS, Android, Linux, routers, Apple TV, and more
Private Internet Access is simple to set up for novices. The installation process guides you through each step with great detail once you select the device of your choice. Its default settings cover everything you need to worry about and are optimal for anyone looking to open a LinkedIn account in Russia.
Private Internet Access is equipped with Shadowsocks (SOCKS5) protocol for obfuscation so that your ISP can't detect you're using a VPN. Much like ExpressVPN, Private Internet Access's obfuscation hides the fact that you're using a VPN by masking your encrypted data to make it seem like non-encrypted data. You avoid getting detected by the Russian firewall. Private Internet Access's proprietary free private browser for Android and iOS, called InBrowser, deletes any trace of your online activity. You can safely access LinkedIn in Russia even when you're on the go.
Private Internet Access has 29,650+ servers in 70+ countries. You are guaranteed to find a server in a country close to Russia. Private Internet Access also has a no-logs policy. When asked to hand over logs to the Russian government, Private Internet Access had nothing to show. It went a step further to discontinue all of its servers in Russia in 2016, but recently it started a server in Tallinn, Estonia. You'll be able to access LinkedIn through any one of these servers.
A minor con with Private Internet Access is that the speeds can drop considerably when using long distance servers, such as when accessing US servers from within Russia. These speed drops can be between 30-40%, but the speeds are super fast when you connect to any nearby country. So accessing LinkedIn is best when using a server close to Russia.
A 30-day money-back guarantee means testing out these features can be done risk-free. If you want a refund, you can contact their 24/7 live chat and email support and resolve it in less than a week! I found their customer support very responsive, as they replied to my email in less than 12 hours.
Access LinkedIn With Private Internet Access
AES 256-bit encryption
200 servers in 60 countries
10 simultaneous device connections
30-day money-back guarantee
Can unblock: LinkedIn, Twitter, Telegram, Internet Archive, Dailymotion, and more
Compatible with Mac, Windows, Linux, Android, iOS, Roku, gaming consoles, and more
PrivateVPN uses its Stealth VPN Mode as an obfuscation feature. This reduces the government's chances of detecting your VPN and is perfect for countries under harsh censorship, such as Russia. It combines this with a strict no-logs policy. So even if Russia were to seize their servers, they would not find any traces of user activity, and hence you stay anonymous.
In terms of privacy, it does not store your IP address or browsing history. PrivateVPN has always vowed to prioritize customer anonymity and only stores the registered email for logins. It is capable of unblocking LinkedIn in Russia while maintaining your anonymity. It provides an added layer of privacy to prevent detection by the government when using any of its 200+ servers in 60+ countries.
PrivateVPN provides security for 10 devices simultaneously, so you can browse LinkedIn safely no matter where you are. The PrivateVPN app is intuitive to use as all of them share the same user interface. You will find it easy to navigate the app and unblock LinkedIn.
But PrivateVPN does have an issue – a relatively lower number of servers near Russia. While you will likely be able to find a suitable server to access LinkedIn, I noted that sometimes the servers are loaded with heavy traffic and I face lower speeds. But PrivateVPN makes up for it with their commitment to safeguarding user privacy, as you remain anonymous while using LinkedIn from Russia.
Compared to other VPN services, PrivateVPN has a 7-day free trial, along with a 30-day money-back guarantee, giving you more time to test out its features. Its 24-hour live chat service will guarantee you get your refund within a week.
Unblock LinkedIn With PrivateVPN
FAQs on Unblocking LinkedIn in Russia With a VPN
Why is LinkedIn Blocked in Russia?
The Federal Service for Supervision of Telecommunications of Russia (called the "Roskomnadzor") ordered to block LinkedIn in Russia in November 2016. In 2017, they decided to reinforce this block. LinkedIn violated Russian data retention laws, which prohibit the company from storing personal information about Russian citizens outside of Russia. You can still access LinkedIn from Russia while keeping yourself safe from hackers by using a secure VPN.
Are There Any LinkedIn Alternatives in Russia?
Yes, there are several LinkedIn alternatives in Russia, including Skillsnet.ru, Xing, Executive.ru, Professionali.ru, and Mycp.
However, they are still developing and most of them have only small communities. They aren't (yet) as good as LinkedIn. Luckily, you can still access LinkedIn from Russia by using a VPN. VPNs mask your activity from the government and your ISP, which allows you to bypass censorship and unblock LinkedIn safely.
Most VPNs don't work in Russia, but I found a select few that still work reliably.
How can I access LinkedIn Learning in Russia?
LinkedIn Learning is also accessible in Russia once you use a VPN to unblock the website. Simply head to their website and start browsing through their courses.
Is LinkedIn translated to Russian?
Yes, LinkedIn provides Russian to English translations and vice versa. Just change the language setting at the bottom to Russian, so you won't have any issues in using the platform.
Start Your Career with LinkedIn Now
Any of the VPNs I've listed will help you access LinkedIn not only from Russia, but anywhere in the world, and keep you safe and anonymous while doing so. In an era of ever-increasing cyberattacks, keeping yourself safe and anonymous has never been more critical. Using any VPN service mentioned above will guarantee your safety from prying eyes, hackers, and authorities alike.
To summarize, the best VPNs for unblocking LinkedIn are…
Privacy Alert!
Your data is exposed to the websites you visit!
The information above can be used to track you, target you for ads, and monitor what you do online.
VPNs can help you hide this information from websites so that you are protected at all times. We recommend ExpressVPN — the #1 VPN out of over 350 providers we've tested. It has military-grade encryption and privacy features that will ensure your digital security, plus — it's currently offering 49% off.