Avast VPN Not Working With Netflix? Here's What To Do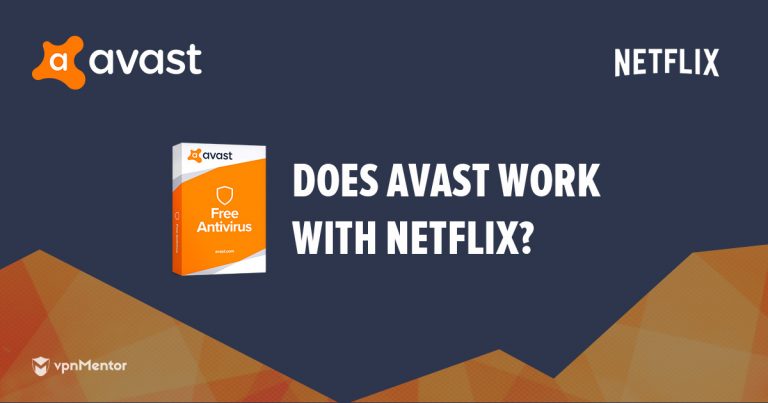 Avast has long been a well-respected name in data security for its free and easy-to-use antivirus software. So when the service announced its new SecureLine VPN, we were excited to see what it could do.
However, while SecureLine seems more than competent at providing its users with excellent privacy and security, it has been a bit of a letdown when it comes to getting around Netflix's geoblocking and anti-VPN technology.
According to our latest research, Avast currently does not work with Netflix. All of its relevant servers have been detected and blocked by Netflix's anti-VPN software.
Some of Avast's servers have been able to unblock Netflix in the past but, at the moment, there are other more reliable VPNs you can depend on.
Why Can't Avast Unblock Netflix?
While Avast might be hot on security, its VPN network is extremely limited. At the moment, the VPN only has 55 servers in total.
In order to give you access to Netflix in a different region, a VPN not only has to bypass Netflix's geo-restrictions, it also has to avoid detection.
Netflix's software automatically blacklists IP addresses associated with VPN servers. It can tell if traffic is coming from a VPN server IP address if it detects encryption. It also flags IP addresses that appear to be used by multiple users.
The biggest and most powerful VPNs have a huge network of thousands of servers that they constantly update and expand. When or if their servers get detected by Netflix, they have the option to switch users over to a server that hasn't been detected.
The issue with Avast having such a small network is that users will soon run out of working servers to switch to should their existing server get blocked.
Avast SecureLine VPN might be a fantastic option if you're concerned about your online privacy and want to protect your data. However, it simply doesn't have the infrastructure or resources for dependable streaming and cannot be relied on to access Netflix.
NordVPN Unblocks Netflix
That doesn't mean you have to miss out on your favorite movies while you travel, though! Or that you have to wait for the new season of that show to be available in your region.
It just means that you have to use a paid VPN service if you want to reliably, quickly, and easily unblock Netflix. We recommend NordVPN.
NordVPN is a powerful VPN service with a massive web of servers all around the world. NordVPN's servers currently stand at 5,200+ and that number grows constantly.
With so many servers at its disposal, NordVPN is more than capable of taking on Netflix's geoblocking and anti-VPN systems.
Servers based in 61 different countries mean you can access different versions of Netflix from wherever you are in the world. Each server is also automatically obfuscated, meaning it has extra protection against being detected by Netflix's VPN blockers.
If any of NordVPN's servers are detected, you can simply switch to another one that still works. The service actually has its own SmartPlay technology to do the job for you. SmartPlay is the default setting on all accounts and will automatically select the best server for streaming whatever you want to watch.
You don't have to worry about buffering either. NordVPN's extensive server network will give you some of the fastest connection speeds available and provide you with uninterrupted, smooth streaming.
Other Benefits of NordVPN
30-day money-back guarantee so you can try risk-free.
Obfuscated servers can improve connection speeds by guarding against throttling.
256-bit AES encryption and sophisticated CyberSec anti-malware and ad blocker.
Automatic kill switch and DNS leak protection to keep you shielded at all times.
Easy download and intuitive interfaces.
Service supports the majority of devices and operating systems.
Conclusion and Further Reading
Of course, that's not all NordVPN can do. As well as unblocking all the streaming content you want, NordVPN offers you a safe and secure way to browse the web without worrying about hacking or tracking. Check out what our reviews have to say about this fast, reliable, and capable VPN.
Looking for other VPNs to help you stream the latest shows? Here's a rundown of the best VPNs for Netflix.
Alternatively, find out which VPNs stand alongside NordVPN in our rundown of the best VPNs overall.