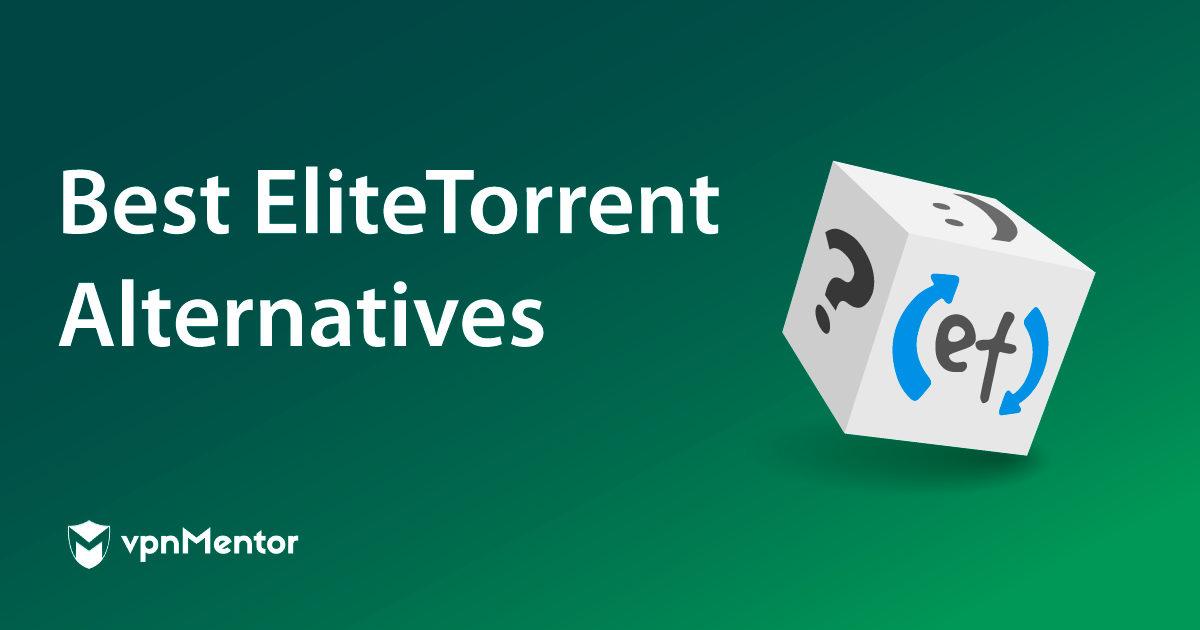 10 Best EliteTorrent Alternatives That Work & Are Safe in 2023
EliteTorrent was a great Spanish site for movie premieres, but it got shut down after pressure from the Spanish government in 2017. My team started seeing new EliteTorrent sites pop up — which is weird since the original site had closed — so I knew it was time to investigate.
I found out that none of the new torrent sites calling themselves "EliteTorrent" are affiliated with the original website. That means you don't actually know who's running them — so they can't be trusted to provide safe downloads.
I've shortlisted 10 alternatives to EliteTorrent that are safer than the other fake EliteTorrent sites out there. But you should be aware that when using such P2P-sharing sites, your personal data is always exposed and you put yourself at risk of malware or cyberattacks. To protect yourself from these dangers, you should use a VPN to encrypt your traffic so your data is protected (some even come with malware blockers too).
Best Alternatives to EliteTorrent in 2023
1. GNULA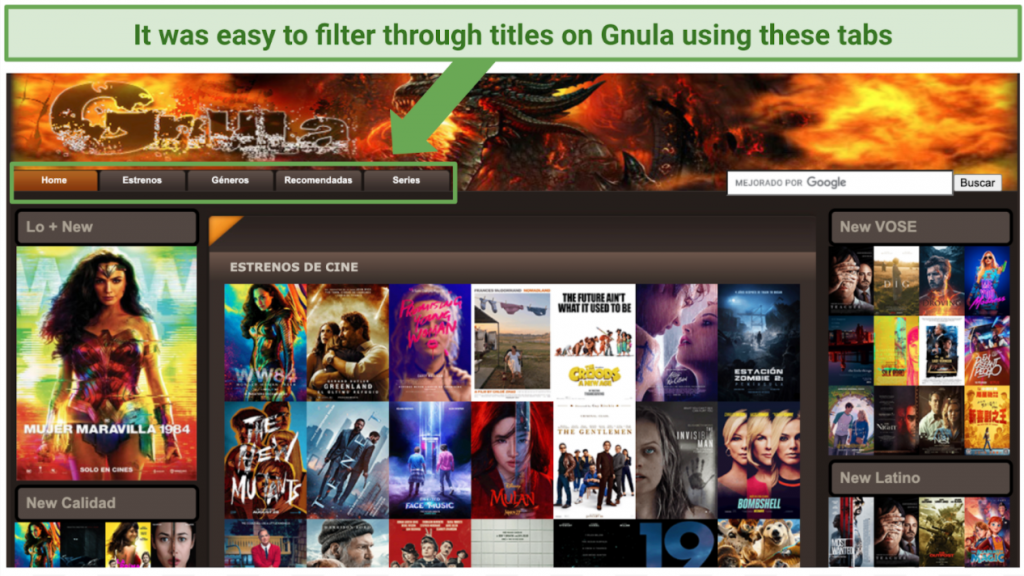 Gnula has over 40,000 titles to choose from and I was able to find everything from international releases, to classic films, to the most popular TV series. You can even find film titles that have yet to be released in your particular location.
The user interface here is decent — I've seen worse and I've also seen better. The collage of movie covers on the homepage was really messy and made it hard to find what I wanted. But I found it was easy to browse titles using the tabs at the top of the page. You can filter shows by latest releases (estrenos), genres (géneros), recommendations (recomendadas), and series. There's also a shortlist of the most popular shows by month, quarter, and year at the bottom of the page so you can jump straight to the most downloaded titles.
For each show, there's a brief synopsis that gives you all of the information you need about that particular movie/series. Not all sites have this and it can get confusing trying to find a show that has a similar title to other shows, so I found this to be quite useful.
One downside to this site is that you'll be faced with a lot of annoying ads, but you can easily solve this with an ad blocker (some VPNs also come with this feature for added protection).
URL: www.gnula.nu
2. 1337x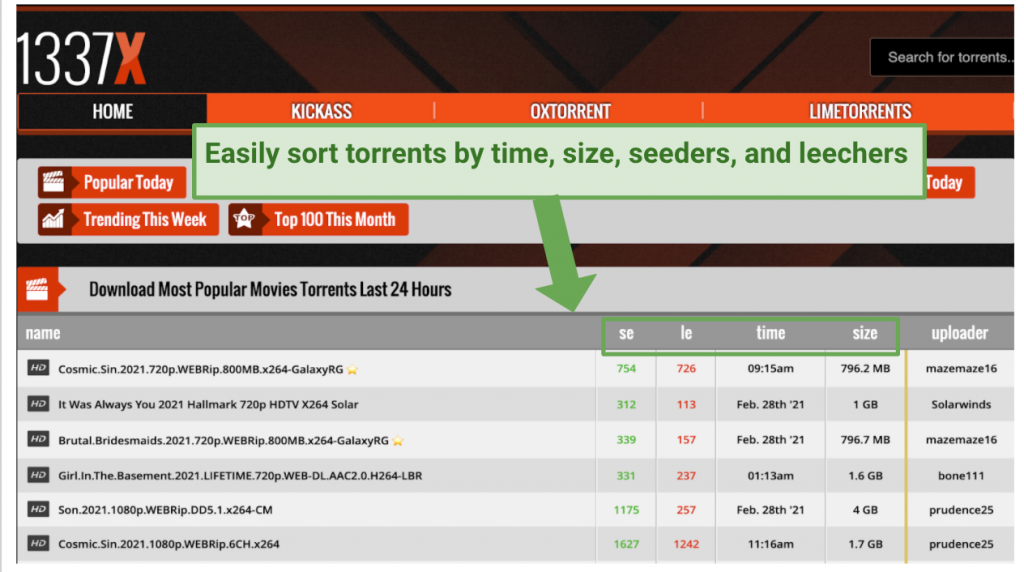 1337x has thousands of new movies, TV episodes, anime, games, music, applications, and documentaries to browse through. It has one of the best torrent search engines I tested. It lets you search for torrents by category and sort them by time, size, seeders, and leechers. I could quickly and easily find hundreds of torrent files for the most popular movies.
One of the first things I noticed coming onto this site was its clean and organized webpage. While most other torrent sites are cluttered with old designs that make it hard to find what you're looking for, 1337x is very user-friendly and super easy to navigate.
One thing to keep in mind is if you are having trouble accessing the site, 1337x mentions on its website to use the domain that ends in.gd if the.to domain does not work for you.
URL: www.1337x.to
3. RARBG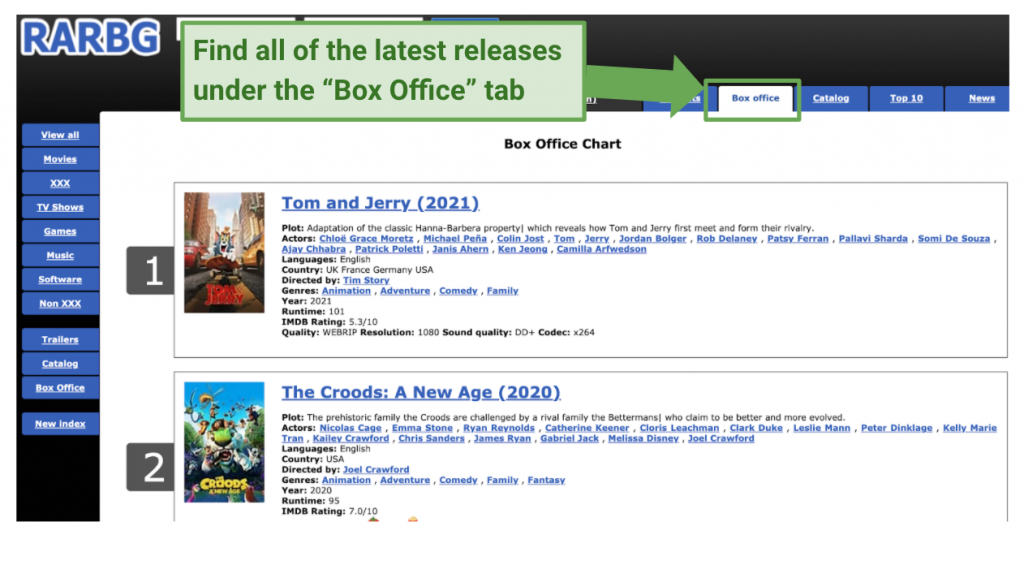 RARBG is known for its movie premieres — you can easily find all the latest releases under the "Box Office" tab. It does a good job organizing its content into different categories, including movies, XXX, TV shows, games, music, software, and non XXX.
I also like the "Top 10" tab, which shows you the top 10 most popular torrents in various categories. The side menu makes it simple to navigate between the different sections and each section has a search bar for convenience.
There is also a "Trailers" tab, so you can get a quick preview of the show or movie before making a decision. While this was a great idea, I found that it was a bit difficult to find the trailer I was looking for. You don't have the option to search for a specific title, so you have to scroll through a messy list of trailers until you find it, which can be pretty time-consuming.
Despite there being a "login" tab on the homepage, you don't need to register to RARBG to torrent on it.
URL: www.rarbg.to/index80.php
4. Popcorn Time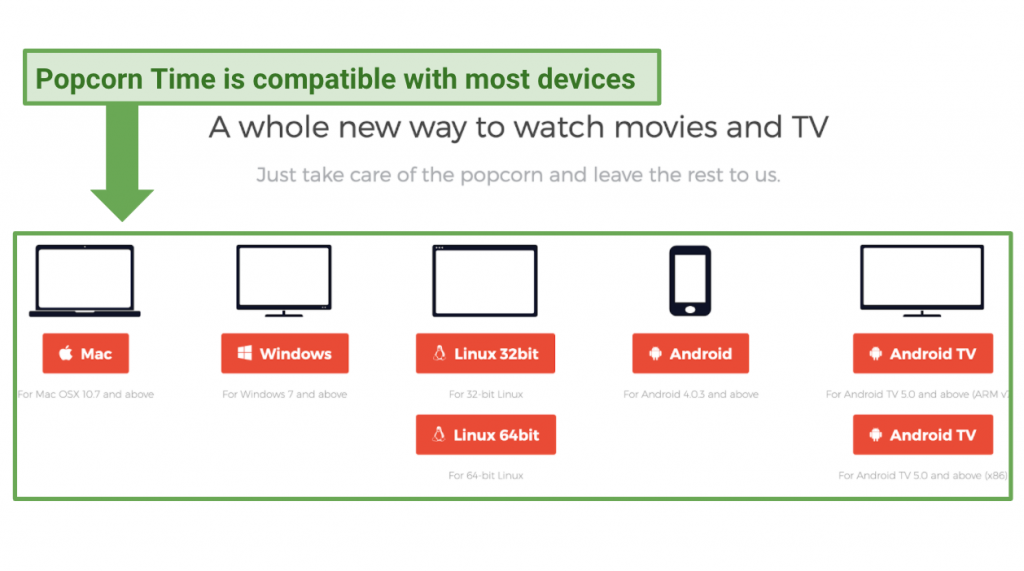 Popcorn Time offers thousands of TV shows and films, with everything organized into 3 categories: TV series, Movies, and Anime. Once you select a category, you can use a filter to narrow down your search. You can also organize titles by popularity, trending, rating, recently added, title, and year, which makes it easy to find what you are looking for.
I was able to find most of my favorite romantic comedy movies and TV shows in high-definition, which was a plus for me. The quality of the movies and shows offered on Popcorn Time is impressive, with nearly all of them being offered in HD. Most titles are available in English, but you can also choose dubbed films or add on subtitles. The app is compatible with Windows, MacOS, Linux, iPhone, and Android.
The only downside is that Popcorn Time is an application that you have to download onto your computer. This can be inconvenient if you don't want another app taking up space on your computer or you don't want to risk downloading malware. To play it safe, you should use a VPN before downloading the app.
URL: www.popcorntime.app
5. The Pirate Bay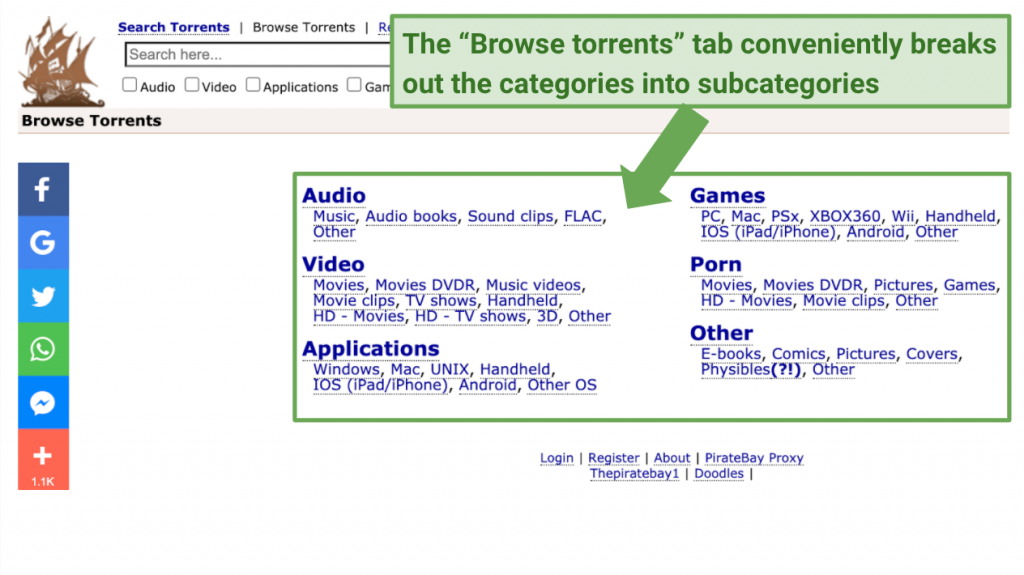 The Pirate Bay is known as the world's most-visited torrent site. With over 75,000 new torrent files uploaded to the site every month, this isn't surprising.
I found the user interface was pretty simple to figure out. The homepage is organized into the following categories: Browse torrents, recent torrents, TV shows, music, and top 100. Under the search bar, you can also filter if you are searching for audio, video, applications, games, or other. When you select "Browse torrents", each category is broken out even further into sub-categories to narrow down your search.
Although The Pirate Bay is not geared solely towards Spanish content like EliteTorrent, its enormous library gives you access to thousands of Spanish language or dubbed films, such as the movie premieres EliteTorrent was famous for.
Some countries restrict The Pirate Bay because it's so well known. If your ISP blocks The Pirate Bay, then you need to use a VPN to access it.
URL: www.pirateproxy-bay.com
6. Cuevana3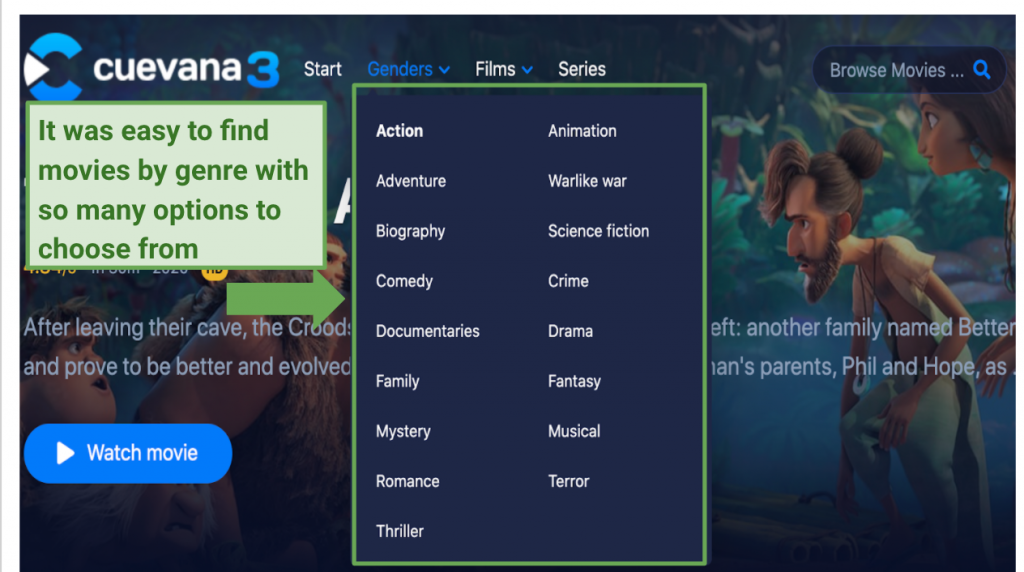 Cuevana3 has numerous categories (géneros) to choose from including action, adventure, biography, comedy, documentaries, family, mystery, romance, thriller, animation, warlike war, science fiction, crime, drama, fantasy, musical, and terror. Although it does a great job categorizing the content it has, its library is limited compared to other options.
I thought it was easy to navigate through the site by either selecting a specific genre or by filtering content by premieres, more views, or TV series. You can also browse movies based on how users have ranked them on the site using the "Ranking" tab.
It offers content in its original language, while also giving you the option to add on Spanish subtitles. You can also filter titles by language in English, Latin, or Spanish.
URL: www.cuevana3.io
7. Torrentz2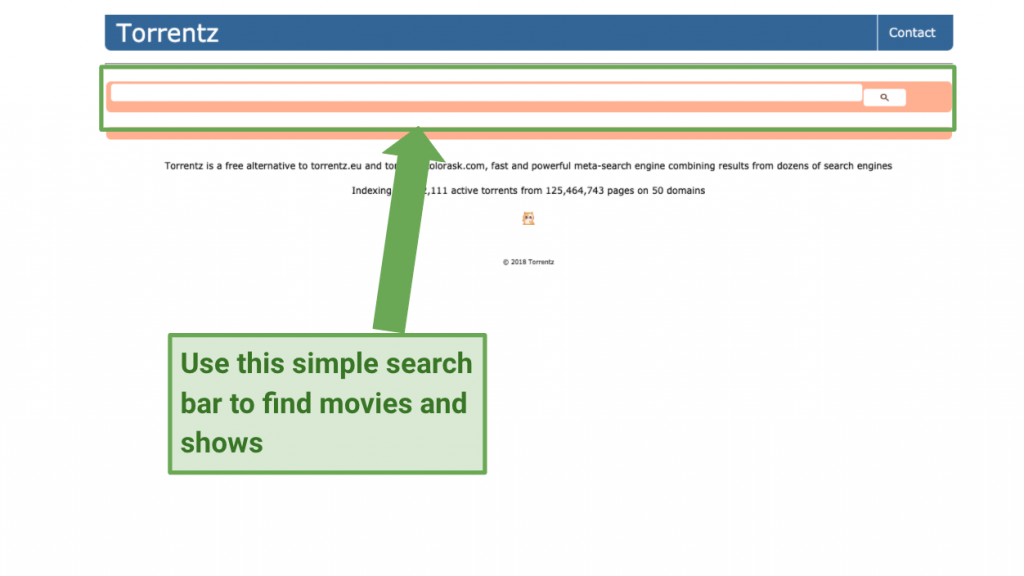 Torrentz2 has a large library of movies and games. While most of their content is in English, you can find many popular films in Spanish as well. You can also view content dubbed in Spanish, making this a solid alternative to EliteTorrent.
Its website has a simple, no frills layout, making it easy to search for your favorite films. All you have to do is use the search bar on the homepage and type in the name of the movie you want to find. The downside is that it doesn't break out its content into categories or genres, so if you are wanting to just browse through a list to find something, you are out of luck.
This torrent site is blocked in certain countries, so you will need a VPN to access Torrentz2 if this is the case for you.
URL: www.torrentz2eu.org
8. Kickass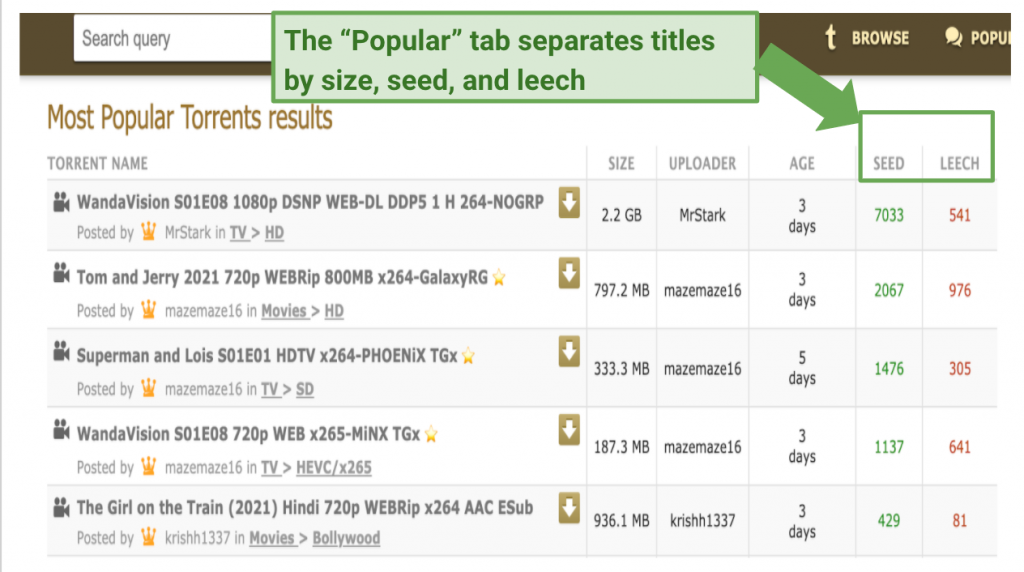 Kickass offers a variety of digital torrent downloads on its website. You can search for movies, TV shows, games, music, and more.
With a basic search engine, you can browse through its wide selection of content. I was able to search through hundreds of movies, TV shows, games, software programs, and music by using the simple search bar on the homepage. When you use the "Browse" tab, it separates its content into different categories. The "Popular" tab separates titles by popularity on the site, size, age, seed, and leech, while the "Top" tab highlights the top 100 in each category.
As listed on their website, Kickass is currently blocked in India, so it may be blocked in other countries as well. If this is the case, you will need a VPN to access this site.
URL: www.kickass.sx
9. Best Torrent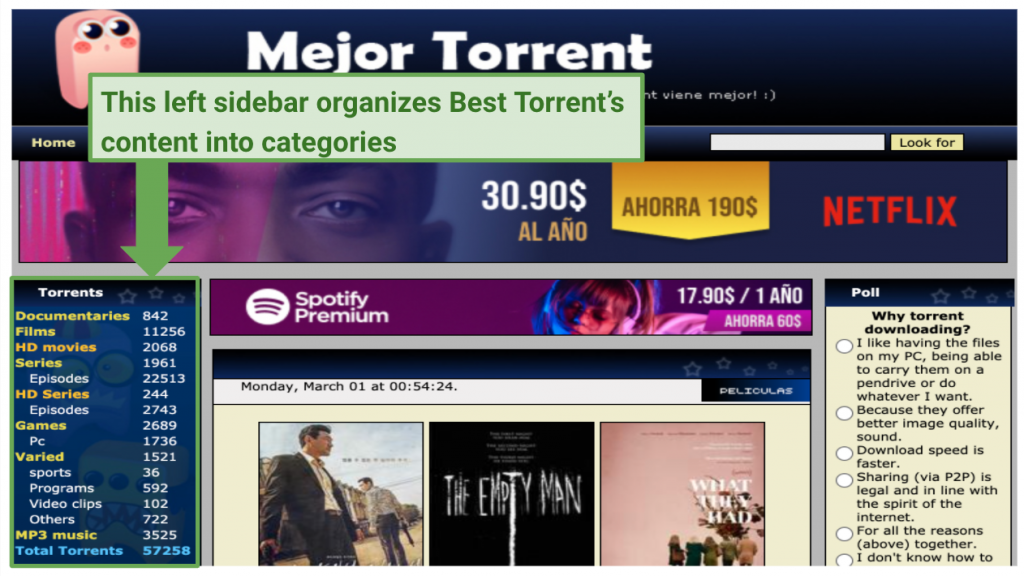 Best Torrent, also known as Mejor Torrent, has a whopping 57,000 torrents to choose from. This includes everything from TV series, documentaries, movies in HD, and music.
I found that Best Torrent isn't as user-friendly as some of the other sites. There was an ad pop-up every time I clicked on something, so it was a little annoying and made it difficult to navigate. It does break out its content into categories on the left sidebar, but when you click on them it organizes the titles by the day they were uploaded, which made for a confusing browsing experience.
It is known as the best torrent site in Spain, so everything on Best Torrent is in Spanish. If you are looking for content in English, you should choose one of the other options on this list.
URL: www.mejortorrents1.net
10. Yo Movies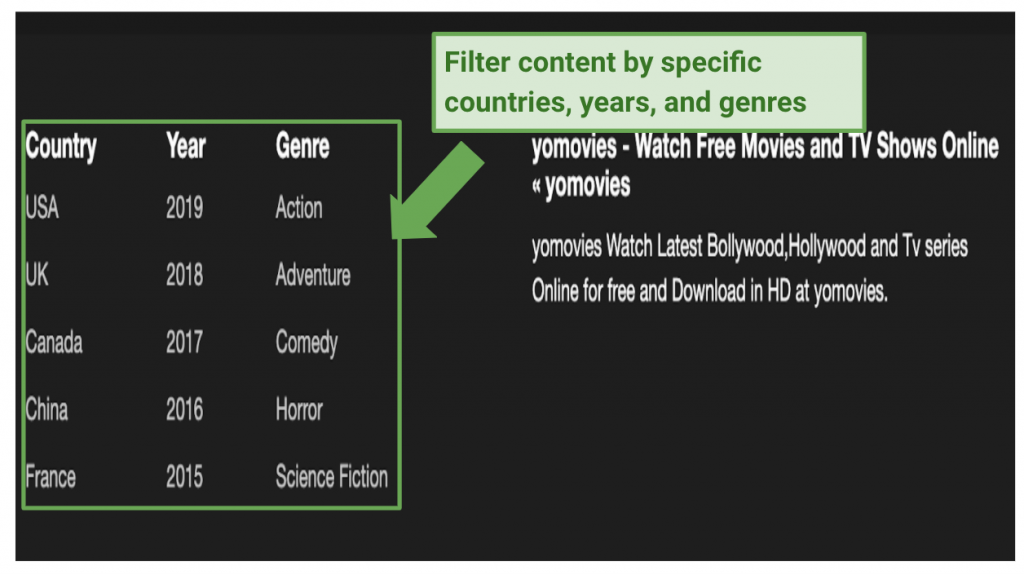 Yo Movies is a popular site with a large selection of content to choose from. They are sorted into categories including Bollywood, Hollywood, Dual Audio, English Series, Hindi Series, Genre, ExtraMovies, 18+, and Hot Series.
It also breaks out films in both the Bollywood and Hollywood categories based on the year. I was able to find a lot of my favorite movies, as well as several Indian web series. When you scroll down to the bottom of the homepage, you can filter content by country (USA, UK, Canada, China, and France). You can also choose to browse by year (2015-2019), and by genre (action, adventure, comedy, horror, and science fiction.
Compared to some of the other sites I've tested, I thought Yo Movies was a little glitchy when trying to search for particular titles and there were a lot of annoying pop-ups.
URL: www.yomovies.mx
Why You Need a VPN When Torrenting
There are several risks you face when accessing a torrenting site — including hackers and the legal repercussions of accidentally downloading copyrighted content. It's not always easy to tell what a torrent file contains, especially if you're new to torrenting.
You should always use a VPN to ensure you don't get in trouble if you accidentally download pirated material. A VPN works by hiding your real location and giving you a different IP address, so you can bypass geoblocks. For example, if you're connected to a VPN, it will prevent your ISP (or any government agency) from seeing that you're accessing torrenting sites if torrenting is banned in your country, keeping you safe and secure.
When you torrent, you expose your IP address to other users — leaving your device vulnerable to targeted cyber attacks. Use a VPN to mask your real IP address and safeguard your privacy and sensitive data.
Safety Tip:
Torrents are also notoriously risky because you don't always know who they come from or what they contain. There is a chance you could be unknowingly downloading a virus or malware. Lots of torrent sites feature annoying pop-up ads that can contain malware of their own. For this reason,
you can either use a VPN with a built-in ad/malware blocker.
Start Torrenting Safely Today!
The Best VPN to Stay Safe on Torrent Sites
A good VPN for torrenting needs to be P2P-friendly, fast, secure, and powerful enough to get around torrent bans. Here are the three best VPNs for torrenting I've tested: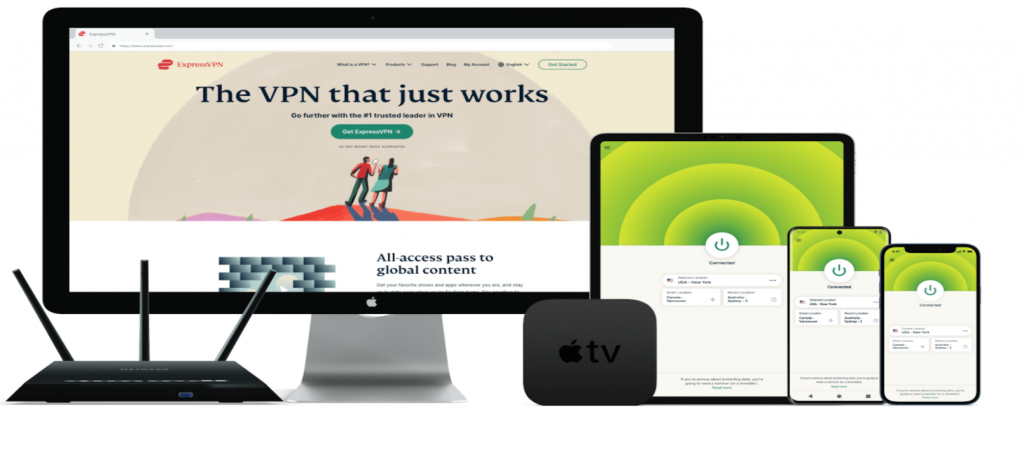 Superfast speeds make torrenting quick and easy
All 3,000 servers are P2P-friendly, giving you access to content in 94 countries
TrustedServer tech wipes all of your data, so nothing is logged or stored
5 simultaneous device connections
30-day money-back guarantee
Can also unblock: Netflix, Disney+, HBO Max, Hulu, BBC iPlayer, Vudu, and more
Compatible with: Windows, Mac, iOS, Android, Linux, routers, Apple TV, and more
ExpressVPN is one of the most secure VPNs I've tested. As well as using 256-bit AES encryption to safeguard your traffic against hacking, monitoring, and tracking, it backs up its strict zero-logs policy with its TrustedServer technology.
TrustedServer tech means that ExpressVPN's servers only store data in RAM instead of on their hard drive. The RAM is then regularly wiped when the server is restarted. That means ExpressVPN's servers physically can't store any of your data. Your identifying information, location, and what you do online are all completely private — which means that your torrenting activity can't be exposed even if there's a security breach.
ExpressVPN's 3,000 servers support P2P traffic, giving you access to torrent sites in 94 countries. So you can easily unblock and access torrent sites even if they're banned in your country.
I tested ExpressVPN servers in 4 locations, and all of them were super quick. Every server I tested gave me upload and download speeds that were fast enough for torrenting.
The only downside to ExpressVPN is that its subscriptions can be a little bit more expensive than other VPNs. However, I found a way around this; you can get ExpressVPN for just $6.67/month a month if you use its latest discount.
You can try out ExpressVPN risk-free. You have up to 30-days to ask for your money back if it's not for you. The refund process is quick and simple — the live chat representative I spoke to told me I'd get my money back in 5-7 business days, so I was surprised to get a full refund in just 3 days.
Start Torrenting Safely with ExpressVPN!
FAQs on Torrenting With a VPN
Is EliteTorrent still running?
No, EliteTorrent officially closed down in 2017. Lots of copycat sites have since popped up, but they can't be trusted because we don't know who's running them. But don't worry; there are plenty of other torrent sites that have Spanish films (I have ranked and reviewed the best ones on my list of EliteTorrent alternatives).
What are the best torrent sites for Spanish films?
I found three: Estrenos, CineCalidad, and Torrents de Peliculas. These torrent sites have heaps of Spanish films and TV shows. But, if there's something you're having a hard time tracking down on these, you will probably find it on one of the other torrent sites I recommend. Most of the sites on my list have Spanish language films, dubbed blockbusters, or Spanish subtitle files for popular movies.
Is torrenting legal? How can I torrent safely?
It depends on where you live. In most countries, torrenting is legal but sharing or downloading pirated content is illegal. You can check out our complete guide to international torrenting bans to see where your country stands.
This sounds scary, but it isn't. The safest way to torrent is to use a VPN. A VPN can protect you from hackers and stop you from getting in trouble for torrenting if it's banned in your country or you accidentally download copyrighted material.
Some VPNs even have blockers for ads and malicious sites that can help you avoid downloading malware onto your device when you torrent.
Can I use the Tor Browser to access blocked torrenting websites?
Yes, you can use the Tor Browser to access blocked torrenting sites but it isn't fully secure. Tor allows you to browse the dark web, which is a hidden part of the internet where you can find information while staying anonymous.
If you want to access these sites using the Tor Browser, the best way to stay as safe as possible while torrenting is to use the Tor Browser along with our top recommended VPN. While Tor does keep you anonymous, a VPN can better handle online threats.
The Bottom Line
EliteTorrent may have said "Adios," but that doesn't mean you can't get your fix of Spanish movies and blockbuster premieres. Just check out my list of EliteTorrent alternatives to find one that works for you.
Don't forget to log in to your VPN before you start browsing these torrent sites. I used ExpressVPN to stay safe while testing these sites because it's super-fast, torrent-friendly, and has built-in blockers for malicious sites and annoying pop-up ads. You can even try ExpressVPN before you commit. If it's not for you, you have up to 30-days to ask for a refund.
Best VPNs to Use for Safe Torrenting in 2023
Privacy Alert!
Your data is exposed to the websites you visit!
The information above can be used to track you, target you for ads, and monitor what you do online.
VPNs can help you hide this information from websites so that you are protected at all times. We recommend ExpressVPN — the #1 VPN out of over 350 providers we've tested. It has military-grade encryption and privacy features that will ensure your digital security, plus — it's currently offering 49% off.