18 Best Free and Public DNS Servers in 2023 — Safe and Fast
It's difficult to find a fast, safe, and reliable free DNS to use. Many of them are slower than your ISP, and some have major flaws like trackers and malware threats.
After several rounds of testing, I found 18 free DNS servers that provide reliable connections, extra security, customizable filters, and faster speeds — but not all of them are totally safe. They can still reveal your online activity to your ISP (and any other prying eyes) which puts your privacy and security at risk.
If you're looking for the functionality of a DNS server without the risks, I'd recommend using a VPN instead. Top VPN companies (like ExpressVPN) use their own DNS servers and invest in securing them with military-grade encryption so that your traffic is kept safe and private at all times. You get the convenience of changing your DNS address quickly plus enjoy extra security features that public DNS servers don't offer.
Try ExpressVPN Risk-Free Today!
Short on Time? Here Are the Best Public and Free DNS Server Addresses
The Best Free and Public DNS Servers
1. Cloudflare — Lightning Fast Speeds That Are Second to None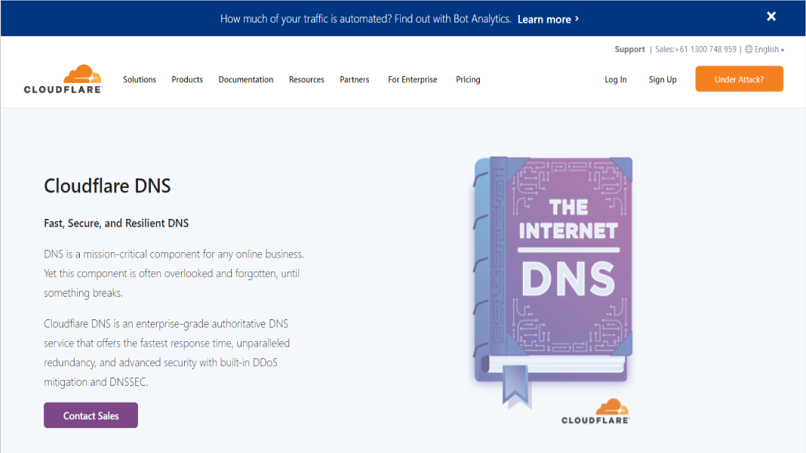 Primary DNS: 1.1.1.1
Secondary DNS: 1.0.0.1
Pros: Super fast speeds and deleted logs
Cons: No ad blocker
Cloudflare is very fast at resolving DNS queries. It has a query speed of 12.94 ms on DNSperf, which was the fastest out of any DNS server. When I used it at home, I noticed a significant difference when compared to the connection from my ISP.
With servers in over 200 locations, this shouldn't come as a surprise as there will be a server that's closest to your location. It also uses a distributed cache system to store DNS requests on more servers, which improves latency and speeds.
For security, Cloudflare uses the DNS over HTTPS and DNS over TLS protocols. These protocols prevent "man of the middle" attacks that involve a third party hijacking your DNS requests and data. Other notable features it has are global CDN, three-page rules, and unmetered mitigation of DDoS, which provide you with more stable, reliable, and safe connections.
This DNS server even claims to provide unlimited bandwidth. In reality, it means that Cloudflare's allowance of 90TB monthly usage is more than enough for regular users because unlimited bandwidth is an impossibility. The CEO, Matthew Prince, states that the expanse of Cloudflare users worldwide has convinced regional telecoms to partner with them to bring down their bandwidth unit costs in order to offer you a generous allowance.
It also supports IPv6 connections too, with the primary DNS being 2606:4700:4700::1111 and the secondary as 2606:4700:4700::1001.
Your privacy will also be well protected with Cloudflare, as it deletes all logs after 24 hours and never collects your IP address. The logs it keeps temporarily are used to improve performance and prevent any debugging issues. Its privacy policy states that it never uses your data for targeting ads, and they also undergo independent audits from KPMG to publicly back their privacy commitments.
What makes Cloudflare unique is that it has its own mobile product called 1.1.1.1 with Warp. It works as an app that's compatible with both Android and iOS and optimizes your mobile protocols to provide faster speeds and protect your phone's internet traffic.
Unfortunately, Cloudflare can't block ads and won't let you choose the sites you want to block. However, its 1.1.1.1 for families service provides protection against malware and adult sites. You can choose from two options: the one that only blocks malware and the one that blocks both.
The IPv4 addresses for the malware blocking service are 1.1.1.2 and 1.0.0.2,  while the malware and adult content service is 1.1.1.3 and 1.0.0.3. For IPv6, they are 2606:4700:4700::1112 and 2606:4700:4700::1002 and 2606:4700:4700::1113 and 2606:4700:4700::1003 respectively.
If you need help with configuring DNS servers, then you'll be pleased to know that Cloudflare has some helpful instructions and tutorials on its website for all major operating systems and routers. They also have a community forum that's always active should you need extra help troubleshooting.
2. Google Public DNS — Fast and Prevents DoS Attacks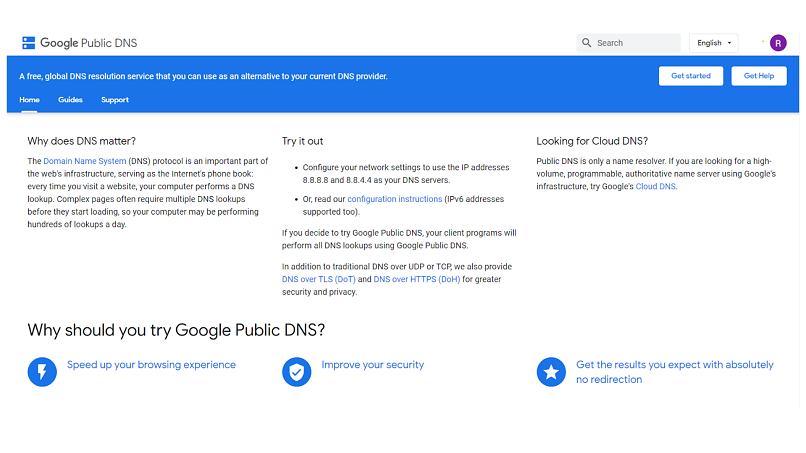 Primary DNS: 8.8.8.8
Secondary DNS: 8.8.4.4
Pros: Fast speeds and robust security
Cons: Privacy risk, not suitable for beginners
Google Public DNS uses its global network of data centers to improve your speeds. These data centers contain their public DNS servers that use anycast routing. Anycast routing is a traffic routing algorithm that increases your speeds by mapping a number of global servers together with one IP address. If you often get frustrated with slow speeds when gaming or surfing the net, then Google Public DNS will certainly speed things up.
Another aspect is that this DNS server also provides support for IPv6 connections. If you use an IPv6 connection, then you'll just need to use different DNS numbers. The primary DNS for IPv6 is 2001:4860:4860::8888 while the secondary is 2001:4860:4860::8844.
It checks all code returned from your DNS queries, which prevents Denial-of-Service (DoS) attacks. A DoS attack is when a cybercriminal overwhelms the server with traffic so it goes down and you can't use it anymore. By authenticating DNS data, there's no chance of your DNS requests being tampered with.
Google Public DNS also protects you from cache-poisoning attacks and phishing attacks. It does this by redirecting your searches from fraudulent websites. Even though it protects you from shady websites, it doesn't enable any site-blocking because it only offers caching and DNS resolution.
But unlike Cloudflare, I have some concerns about its data privacy. Since Google owns the servers, there's always the possibility of your data being recorded and tracked. While its privacy policy states that it only logs your IP address for security purposes (which it then deletes after 48 hours) and that it won't use your personal data to target you with ads — you can never be too sure. A safer alternative would be to use a VPN with a large network of global servers, secure encryption, and a strict no-logs policy.
Furthermore, its website only provides very basic support for its servers, so it isn't recommended for beginners. There's even a warning on their website which states that only proficient users should configure their DNS settings.
3. Quad9 — Stay Protected From Malicious Websites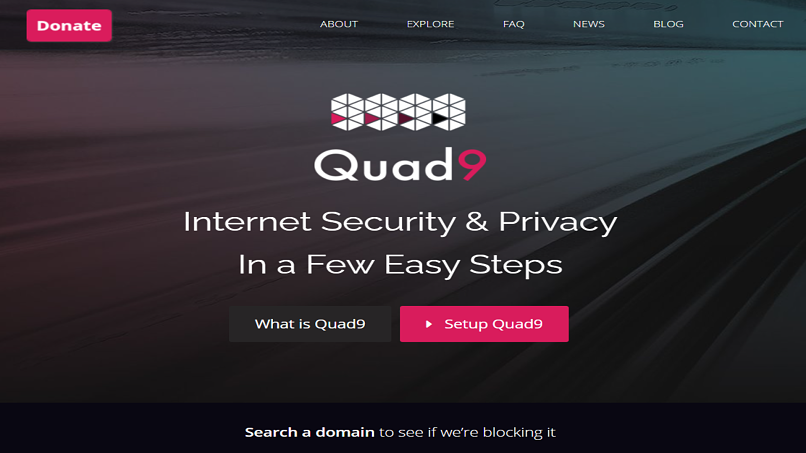 Primary DNS: 9.9.9.9
Secondary DNS: 149.112.112.112
Pros: Malware protection and large server network
Cons: Set up instructions aren't detailed
Quad9 provides robust security measures against malware and malicious websites. It has one of the largest records of malicious websites that it blocks for you. To ensure a high level of security, Quad9 is compliant with DNSSEC extensions that prevent domain spoofing and other cyberattacks. DNSSEC ensures that your DNS queries are matched correctly with the domain operator that you're using.
To detect infected or cloned websites that are threatening, Quad9 uses live threat intelligence from 13+ leading cybersecurity firms. This blocks your connection from phishing websites and malware domains, which aligns well with its mission of making the internet safe for everybody. However, it doesn't use a content filter so you can't choose to block any sites.
This is also another DNS that supports IPv6 connections, with its primary DNS as 2620:fe::fe and secondary DNS as 2620:fe::9. It even has an unsecured IPv4 public DNS at 9.9.9.10, which is 2620:fe::10 for IPv6. The unsecured connection increases speed at the expense of security.
Another benefit of Quad9 is that it has an extensive server network, which encompasses 88 countries and 145 locations. Unlike a lot of other public DNS servers, its server locations don't change as much, meaning you can always get fast and reliable speeds from nearby servers. It's faster than Comodo Secure but not as fast as Cloudflare or OpenDNS.
Its privacy policy states that it doesn't collect or store any personal data of its users and that any data it collects is used to improve security. This includes the location of the system, such as the city, country, or state, which can't be used to identify individuals. Also, you don't need to sign up for an account to use it, which further protects your privacy.
Just be wary that the installation instructions on its website aren't the most comprehensive (with only basic instructions for Windows and Mac). However, this DNS server doesn't require any software installation and is very easy to set up, so it's actually suitable for beginners.
4. OpenDNS — Complete Control Over Filtered Content
Primary DNS: Home 208.67.222.222 | Family Shield 208.67.222.123
Secondary DNS: Home 208.67.220.220 | Family Shield 208.67.220.12
Pros: Filter content and delete DNS records
Cons: Collects logs, difficult to use and requires account set up
OpenDNS is provided by Cisco and has two options: FamilyShield and Home. FamilyShield allows you to block adult content for kids and businesses, while home is concerned with performance and security. When I went to its dashboard on FamilyShield, I could easily customize my filters and block the websites I wanted, or impose a blanket ban on all adult websites.
Another benefit is that it gives you the option to delete your DNS data. Deleting DNS data is very handy if you change DNS servers because each DNS server uses a different cache system to store DNS requests. Changing a DNS server will mean that your DNS requests will be pulled from the old cache, not the new one, which can result in a bad configuration. Basically, deleting DNS data prevents any bad connections on your DNS server.
Like Google Public DNS, OpenDNS increases your DNS loading times through anycast routing, which connects you to the closest server to you. In fact, it has a 100% uptime. Its servers are spread across 3 continents and use self-healing technologies that make them resistant to large disruptions — without affecting users. Added to this is its ability to block malicious phishing sites and malware, which it does automatically.
Just be careful though as OpenDNS states that it collects non-identifiable information and engages with third parties to collect data on their behalf. Even though they claim that they do this to improve their services, the reasons for collecting your data are concerning. Also, you have to create an account and confirm it by email to use their service, which means you have to provide your details to them.
Setting up OpenDNS isn't easy, as it's geared towards more experienced internet users. But its website provides easy to follow setup instructions for all major operating systems and allows users to send them emails if they have any questions.
5. Comodo Secure — Easily Blocks Phishing Attempts and Harmful Websites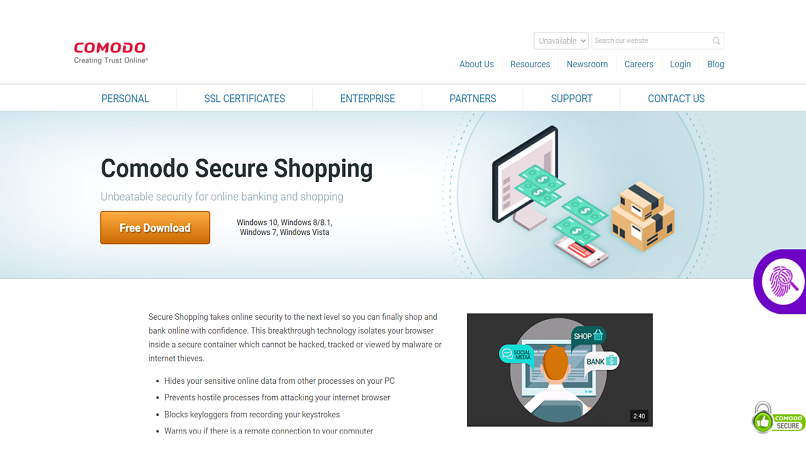 Primary DNS: 8.26.56.26
Secondary DNS: 8.20.247.20
Pros: Protects against malware and fast speeds
Cons: Records your data
Comodo Secure is a secure public DNS that provides excellent protection against ads, malware, spyware, and C&C callbacks. When I used Comodo Secure to surf the web, it instantly warned me when I tried to access a suspicious site that was full of pop-up ads. It even blocks phishing and malware sites too, which it does by using a real-time block list of 80+ categories that gets updated regularly.
Also, it can detect when you're trying to visit a parked domain that's not in use and will automatically forward you to the right one that's active. That means no more time is wasted going to websites that aren't operating. With Comodo Secure, you'll get up to 300,000 monthly DNS requests and real-time visibility for all connected devices.
It also provides fast speeds, which makes it great for gaming and streaming. The fast speeds are made possible due to its large and extensive server network worldwide, which spans 5 continents. While I sometimes experience lag when gaming on my ISP's server, I didn't experience any lag when using Comodo Secure.
Some other features that make Comodo Secure unique are its on and off network protection and real-time reporting. The on and off-network protection protects your website traffic when connected from any location, while real-time reporting gives you live and up-to-date visibility for your connection so you're more aware of threats. You can choose to have these reports sent by email.
The only concern is that it records your data for marketing purposes, most notably your IP address. If third parties like advertisers or hackers get hold of your IP address, then they could target you with either ads or cyberattacks. However, providing your name is optional, as no registration is required, so it can't pair your IP address with any other contact information.
If you need help with configuration, then its website has instructions for Windows, Mac, Chromebook, and routers. It's also very easy to set up, as you just need to input the DNS addresses and nothing else.
6. Neustar UltraDNS— Highly Customizable DNS for Families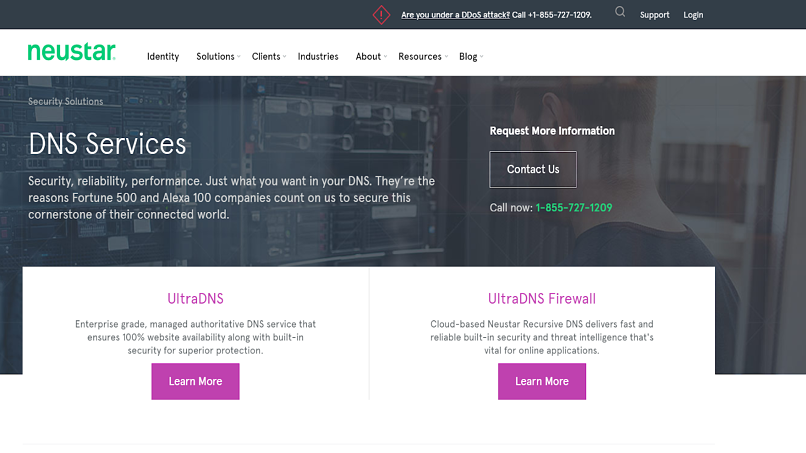 Primary DNS: Unfiltered 64.6.64.6 | Threat 156.154.70.2 | Family 156.154.70.3
Secondary DNS: Unfiltered 64.6.64.6 | Threat 156.154.70.2 | Family 156.154.70.3
Pros: Highly customizable filters, fast speeds, and malware protection
Cons: Collects plenty of data
Neustar UltraDNS is another family-oriented DNS that has many customization options. It has three versions which are unfiltered, threat, and family. Unfiltered is focused on fast and reliable DNS query solving (without censorship), while the threat protection blocks malware, spyware, phishing sites, and ransomware. Family provides the same protection as threat and blocks adult and gambling sites too. You can also choose to block the sites you want with family, making it highly customizable.
In December 2020 Neustar acquired Verisign DNS, which no longer exists as an independent entity. The old DNS addresses for Verisign DNS, 64.6.64.6 and 64.6.65.6, are now used as Neustar's unfiltered version. Even though the unfiltered version is fast, be careful because it doesn't protect against cyberthreats like the threat and family versions.
With that being said, I experienced fast speeds on its server network (across all 3 services), which consists of over 30 DNS nodes worldwide and handles over 9 trillion DNS queries per day. These DNS nodes help reduce latency and DNS query times as they're located within Neustar's top-level DNS servers.
If you're concerned about privacy, then be wary that Neustar UltraDNS collects identifiable parts of your data, such as your IP address, time and date stamps, DNS queries, and other technical information. However, its transparency and choice policy lets you opt out from having most of your data collected or used.
7. Yandex.DNS — Smooth Operations Without Any Downtime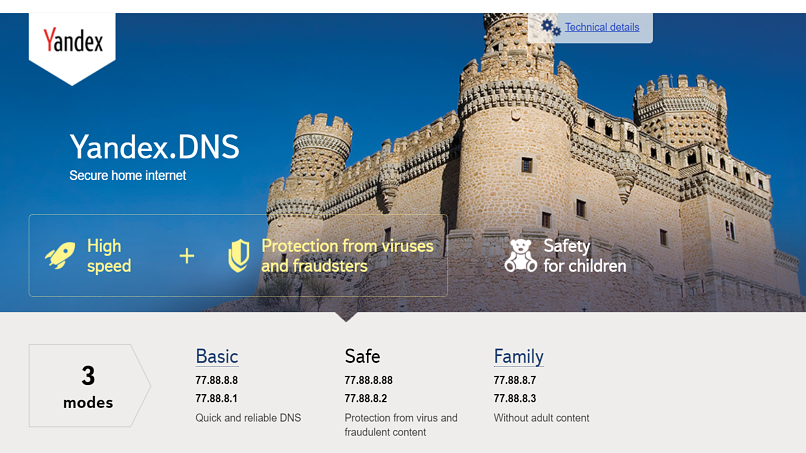 Primary DNS: 77.88.8.8
Secondary DNS: 77.88.8.1
Pros: Smooth web browsing and adequate security measures
Cons: Privacy risk and location
Yandex.DNS is based in Russia and provides a smooth and reliable internet experience. It comes in with an uptime of 99.95% on DNSperf, which means that this DNS server has no service failures 99.95% of the time. An uptime this high shows that it doesn't experience any real downtime across its servers, which allows you to browse the web without any disruptions.
You can also choose between 3 different services (basic, safe, and family) to implement censorship and security measures. The basic service provides fast speeds, while the safe service provides protection against viruses and DoS attacks in addition to the speed. The family service is suited for those that wish to implement content filters.
All 3 of these services ensure robust security by blocking malware, malicious sites, and ads, as well. With so many customization features, you can set up Yandex and use the best service to best suit your workflow.
Like a lot of free DNS servers, Yandex.DNS shares some of your data to third parties, meaning it isn't very private. This includes sharing data with its parent company, and since it's based in Russia I'd be concerned because the country has questionable practices around internet privacy and freedoms.
8. OpenNic DNS — Use the Internet Without Restrictions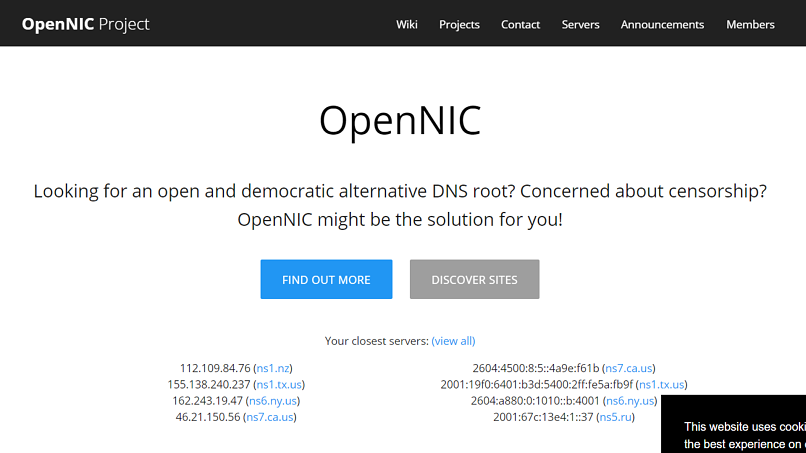 Primary DNS: 198.206.14.241
Secondary DNS: 172.98.193.42
Pros: No censorship and easy to set up
Cons: Collects a fair bit of data
OpenNic DNS is a volunteer project that focuses on DNS neutrality. This means it doesn't implement any internet censorship, giving you free rein online. I thoroughly searched its settings and couldn't find a way to censor sites, so it can't be used as a content filtering system.
Also, it's easy to set up and provides fast speeds, thanks to its global servers. It took me between 2-3 minutes to set up on my laptop, and I noticed a significant increase in the time it took to load pages. However, there were a couple of instances where my DNS requests timed out, which prevented me from accessing those sites.
A security benefit of OpenNic DNS is that it prevents DNS hijacking, which are basically "man in the middle" attacks. DNS hijacking incorrectly resolves your DNS queries, which sends them to malicious websites. You can also go to their website to look at the different DNS servers and choose the one you see fit. The website reveals the closest server to your location and can connect you to it, saving you time and trouble.
One thing to be careful of is that it collects some of your data for analytical purposes, such as your IP address. By collecting your IP address, they can then provide it to third parties like advertisers who can target you with ads.
9. Alternate DNS — Blocks Ad Serving Domains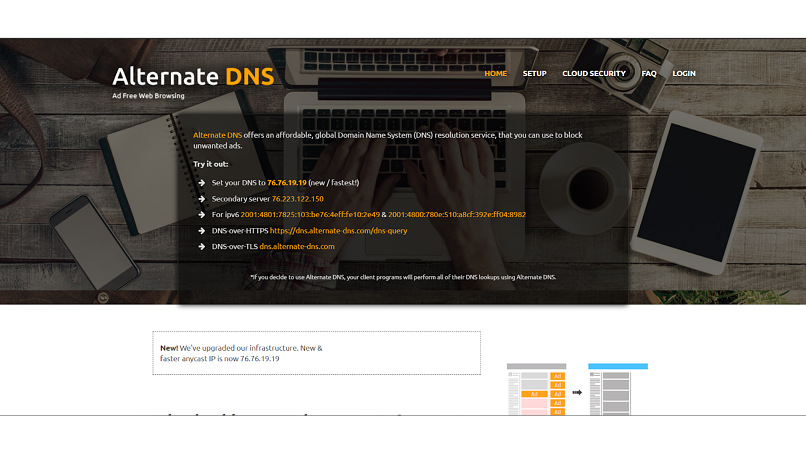 Primary DNS: 76.76.19.19
Secondary DNS: 76.223.122.150
Pros: Blocks ads and has fast speeds
Cons: Questionable privacy policy
Alternate DNS is a new DNS server that is an excellent solution for blocking ads. What makes it so efficient with ad blocking is that it utilizes an active database of ad serving domains, which blocks ads before they reach your network. This means you won't even see a blocked version of the ad on the website you're on. In addition to ads, it can block malicious websites, trackers, and adult websites.
It's also a good choice for speed and reliability too, as I noticed that it works particularly well as a secondary DNS resolver. What you do is combine its secondary DNS with the primary DNS of another server, which effectively makes it your back up. As a secondary resolver, my DNS query was noticeably faster than the primary.
Also, this DNS server supports both IPv4 and IPv6 connections. The primary IPv6 resolver is 2001:4801:7825:103:be76:4eff:fe10:2e49 and the secondary is 2001:4800:780e:510:a8cf:392e:ff04:8982.
The only concern is that its privacy policy is questionable, which states that it collects personal information that includes but isn't limited to your name and email.
10. CleanBrowsing — Family-Focused DNS That Blocks Adult Sites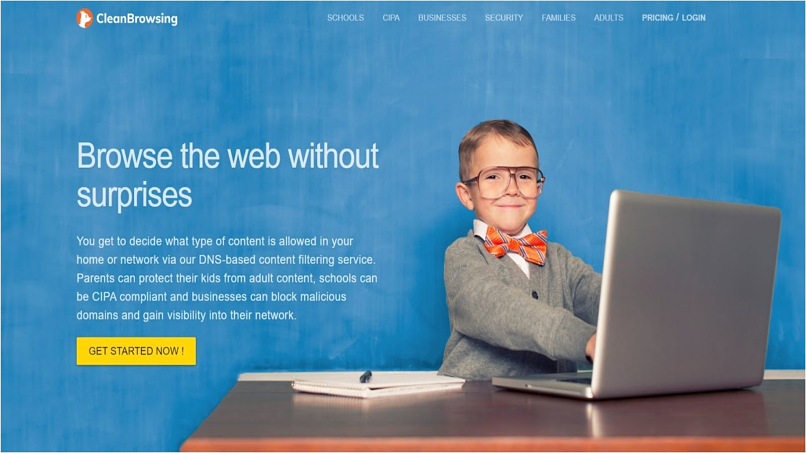 Primary DNS: 185.228.168.9
Secondary DNS: 185.228.169.9
Pros: A large number of content filter options and no logs recorded
Cons: Not ideal for internet freedom
CleanBrowsing is a family-oriented DNS that's designed to block content for your children. When I tested it out, I could choose from 3 services: Security (for blocking malware), Adult (for blocking malware and adult sites), and Family (which blocks adult sites and applies safe search filters to sites like Google and YouTube). Its servers are based in the US and Europe.
It never records or shares your data with third parties. According to their privacy policy, they'll never share your DNS requests, IP addresses, or browsing history, and even when you go to a blocked page it'll never be redirected to a tracking one. In short, their promise is strong filters, fast DNS, and privacy first.
Also, this DNS server uses DNSCrypt and DNSoverHTTPS, which are two of the most secure protocols that strongly encrypt connections and protect privacy. It's even compatible with IPv6 too, with the DNS' 2a0d:2a00:1::1 and 2a0d:2a00:2::1.
But if you're after unrestricted internet, then CleanBrowsing isn't for you because its main focus is on blocking adult sites and implementing content filters. For this reason, it's highly utilized by schools and workplaces.
11. UncensoredDNS — No Privacy Logs Recorded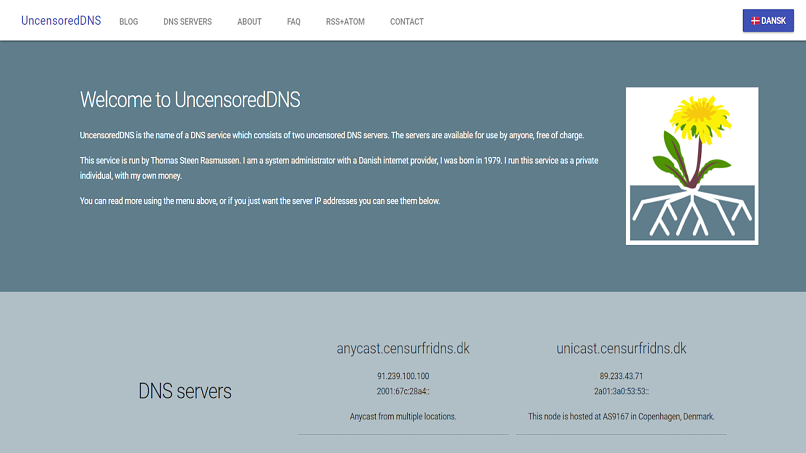 Primary DNS: 91.239.100.100
Secondary DNS: 89.233.43.71
Pros: No data logs and censorship, privately owned and operated
Cons: Can't block ads and malicious sites
UncensoredDNS ensures that none of your data gets recorded, so I can feel safe knowing that my digital footprint will never be uncovered. Furthermore, it's run privately by a Danish person named Thomas Steen Rasmussen, who doesn't profit from it.
The only data that's collected is the number of DNS requests you send and graphs of your total queries, which don't include any of your personal details. This data is used for data capacity planning of its service, so I can trust Uncensored DNS with my private data.
Its servers are mainly located in Denmark, providing fast speeds for European users, and it never censors anything on the internet. It also supports IPv6 connections too, giving users a much wider range of IP addresses to choose from at faster speeds. The primary DNS for IPv6 is 2001:67c:28a4:: while the secondary is 2a01:3a0:53:53::.
Just note that UncensoredDNS doesn't have adequate security features, such as an ad blocker. It can't block malicious websites and ads either, so it's best to use it with a VPN if you're concerned about security and cyber attacks.
12. DNS.Watch — No Data Logs Whatsoever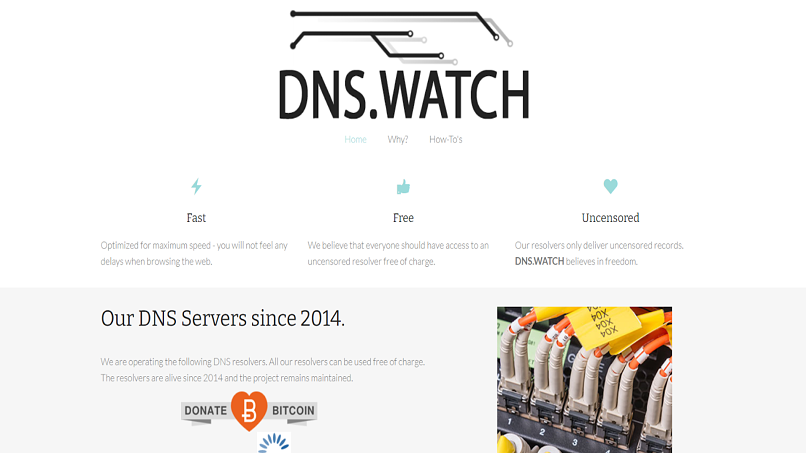 Primary DNS: 82.200.69.80
Secondary DNS: 84.200.70.40
Pros: No data collection and uncensored internet
Cons: Slow speeds for non-European users and no malware protection
DNS.watch doesn't record any of your data, even for analytical purposes. You don't need to provide any of your details, so there's no way for them to gather any identifiable information about you. It also runs on donations as well, so they have no need to collect any of your data. With this, I feel assured that my data won't be sold to third parties.
It even provides uncensored access to the internet as well because it firmly believes in online freedoms. By using DNS.watch, you'll never need to question your ISP or any of their motives for hijacking your DNS requests as it'll resolve any DNS query. Best of all, it can be used on all Mac, Windows, and Linux devices.
But since it only has servers in Germany, people outside of Europe probably won't experience fast speeds and uptimes. It also doesn't offer any malware or ad-blocking features either, making it less secure.
13. FreeDNS — Small and Reliable Network With Excellent Privacy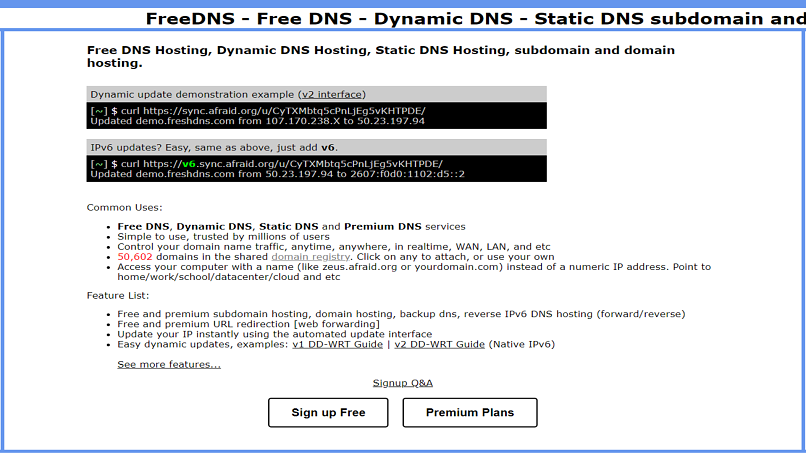 Primary DNS: 45.33.97.5
Secondary DNS: 37.235.1.177
Pros: Reliable connections and a no-logs policy
Cons: No protection against cyberattacks and malware
FreeDNS only operates in 4 countries (Germany, US, Austria, and Singapore), but its connections are reliable and fast. When I connected the one nearest me (Austria), it improved my upload times and resolved every DNS query. For the fastest speeds, it's best to choose the server that's closest to your country.
It also doesn't collect or record any logs, which is great for privacy. Their privacy policy states that your online browsing activity and search engine queries will remain private at all times and that none of your data will be provided to unauthorized third parties. Also, no account registration is required when you sign up, giving you more anonymity.
Just be wary that FreeDNS doesn't provide any security measures so you won't be protected against cyberattacks, phishing attempts, or malware. For this, it's best to use a VPN.
14. SafeServe — Quick and Easy to Set Up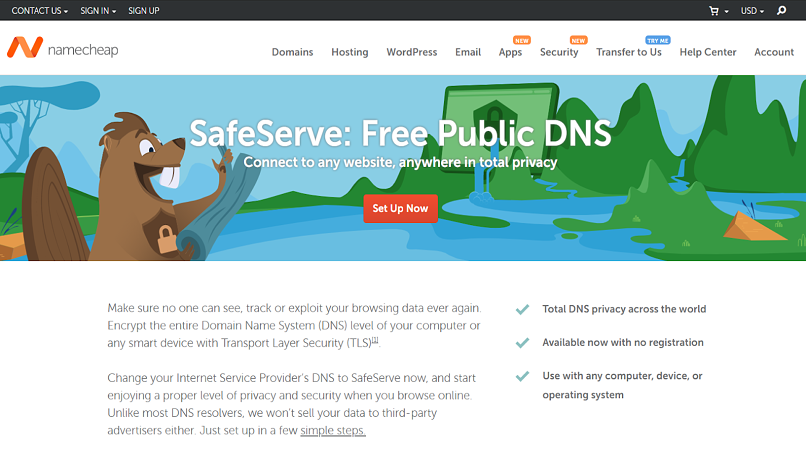 Primary DNS: 198.54.117.10
Secondary DNS: 198.54.117.11
Pros: Easy setup and privacy protection
Cons: Lacks security measures
SafeServe is one of the easiest public DNS servers to install and set up. After following the instructions on its website, I installed it on my computer in under 2 minutes — without any registration. The website has specific instructions for each operating system too, making it more useful.
It also upholds its privacy guarantees using DNS over TLS, meaning third parties can't see your DNS requests. They are unable to see your DNS requests because they are covered by Transport Layer Security, which is a cryptographic protocol that protects online communications. With this level of security in place, I feel very safe using SafeServe.
However, SafeServe does collect your logs and shares them with its parent company called Namecheap, so I'd be careful about that. Namecheap can provide your data to third parties who can then target you with ads and cyberattacks.
15. AdGuard — Block Ads With Ease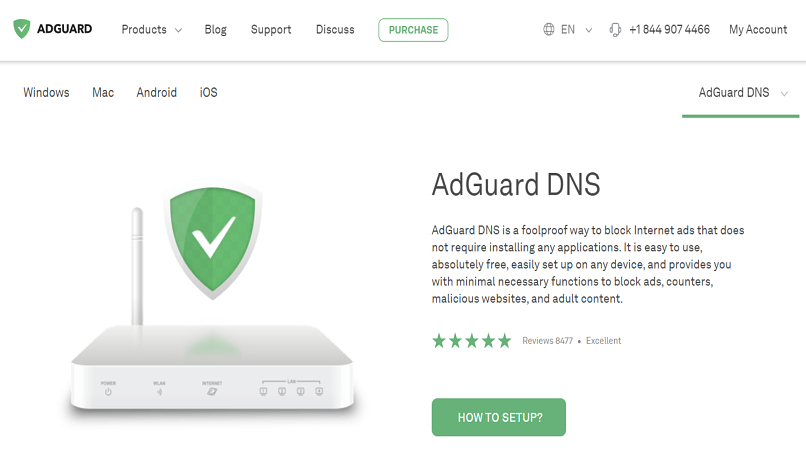 Primary DNS: 176.103.130.130
Secondary DNS: 176.103.130.131
Pros: Blocks ads and redirects from shady websites
Cons: Gathers data
If ads really annoy you, then AdGuard will come in handy. It has two services: default and family. Default blocks ads and malware, while family blocks ads, malware, and adult sites. Not only does it block ads and malware, but it can block trackers and analytic tools on the web that try to understand your browsing habits.
Its family protection mode will redirect you from suspicious websites and use safe search filters in search engines like Google. What this means is that it'll block any Google searches that are deemed unsafe or inappropriate.
Even though it's great for blocking ads, AdGuard gathers your data and can track you. However, it isn't shared with third parties, which shouldn't raise any concerns.
What's also beneficial is that it's easy to set up and isn't overly technical, so you can use it on all major operating systems without any installation. No app installations are required.
16. Level3 — Reliable Connections From a Renowned Network Provider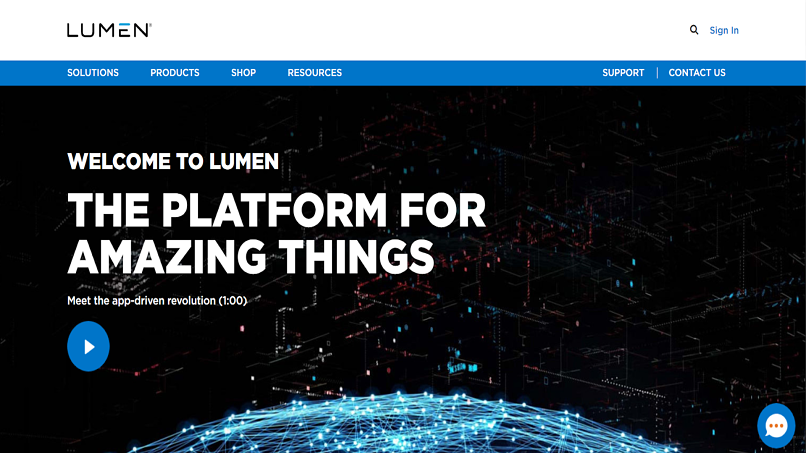 Primary DNS: 209.244.0.3
Secondary DNS: 209.244.0.4
Pros: Large network provider and easy to use
Cons: Slow speeds at times
Level3 is backed by a large network provider named Lumen, which gives it reliable connections. When I used Level3, it resolved all of my DNS queries by 38% and I didn't experience a single connection drop. Everything ran smoothly and I noticed a difference in speeds when using the internet.
It also provides a good user experience and works with all routers, making it versatile and easy to use. When I set it up, it took me just under two minutes and all I had to do was follow instructions on its website.
Where it falls short is that it can sometimes have slow speeds. This is when its premium hardware gets maintenance. Luckily, this doesn't happen often.
17. GreenTeam DNS — Security Is the Number One Focus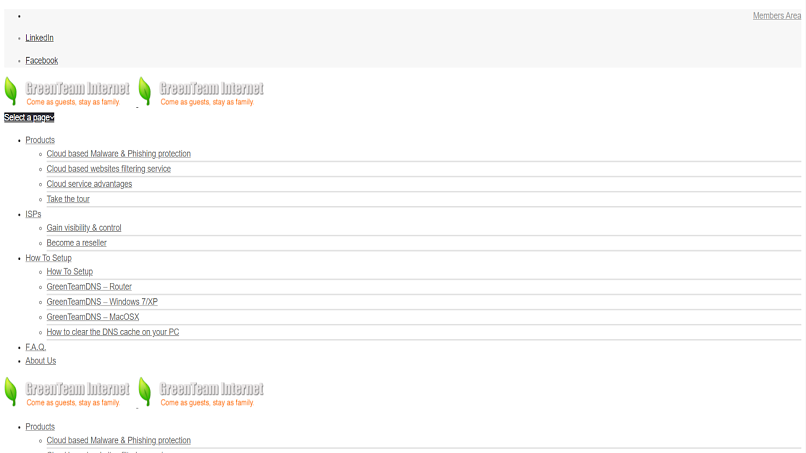 Primary DNS: 81.218.119.11
Secondary DNS: 209.88.198.133
Pros: Fast speeds and robust security
Cons: Privacy risk
GreenTeam DNS prioritizes security above all else. It has a database that contains thousands of dangerous websites that it blocks. These sites range from basic malware sites to adult content and even DoS attacks, which can impact you financially. Having these safety measures against these online threats is really beneficial when dealing with sensitive data.
Its servers all have different features available, and users can easily customize and control the sites they visit. This is really good for those that want complete internet freedom and those who want to place filters and restrictions on the web.
However, to make the most use of its customization abilities, you'll need to upgrade to a paid plan because the free plan is relatively limited.
18. Fourth Estate DNS — Zero-Knowledge DNS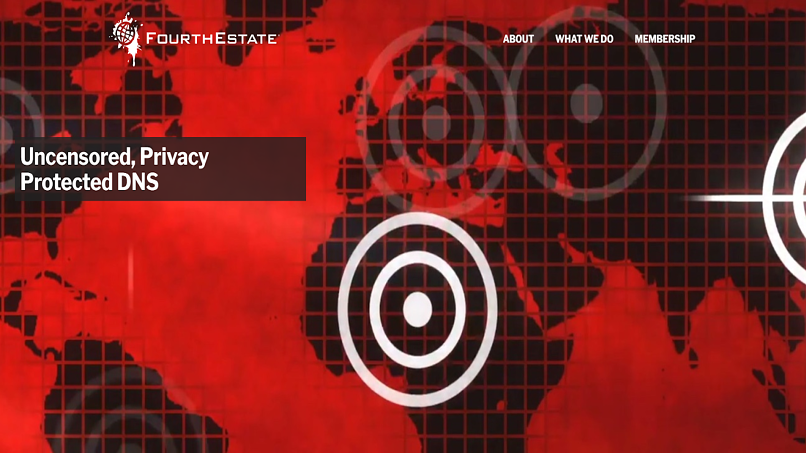 Primary DNS: 44.77.165.194
Secondary DNS: 45.32.36.36
Pros: Highly private and secure and no censorship
Cons: Lacks customization features
Fourth Estate DNS is a Zero-Knowledge DNS, which means it provides secure and encrypted connections. By using it, your DNS records will never be hijacked or redirected, and your online activity will never be tracked or recorded. In other words, it'll be impossible for governments, corporations, and ISPs to view your online activity when using Fourth Estate DNS.
Added to this is that it doesn't censor any DNS requests. This is especially handy if you're using the internet in a country with high levels of censorship, like China and Russia, as you'll be able to access censored sites. Therefore, Fourth Estate DNS is a highly secure DNS that's explicitly designed for journalists and news organizations.
Since it only has servers in the US and Japan, its speeds can be prolonged for users elsewhere. Also, it lacks significantly in terms of customization options.
Change DNS servers safely with ExpressVPN!
Warning! The Risks of Using Free and Public DNS Servers
Many free and public DNS servers pose some security and privacy risks — especially if you're dealing with sensitive information. Even though the ones in this article are safe, there's always some risk of your data being collected by third parties. For example, your ISP can still see your browsing activity when using a free DNS server, who can then provide it to advertisers that target you with ads.
Another risk is that free and public DNS servers won't protect your internet connection with military-grade encryption. While a lot of the DNS servers mentioned have basic security measures, your data can still be easily intercepted and read by hackers on public WiFi networks, who can then gather sensitive information like your passwords and credit card numbers.
Due to these risks, I'd prefer to use a top-tier VPN with private DNS servers instead of a free and public DNS server. A VPN will redirect your DNS queries through their private DNS servers instead of your system while protecting you against the privacy and security risks mentioned above.
Even though VPN providers are third parties, they adhere to strict no-logs policies and use proprietary technology that wipes all server data, which prevents information from getting stored.
VPNs also use either AES-128 or AES-256 bit encryption, which are two of the strongest encryption levels. These encryption levels are used by the world's leading security agencies to protect highly sensitive information, so you know your data will be in safe hands.
If you're interested in using an all-rounded VPN that's reasonably priced, then consider ExpressVPN. It offers private DNS servers, a strong no-logs policy and military-grade encryption. Besides, you can test it out risk-free before commiting. If you're not pleased with it, you can ask for a full refund within 30 days.
Try ExpressVPN risk-free today!
Best VPN Alternatives to Change Your DNS Server Easily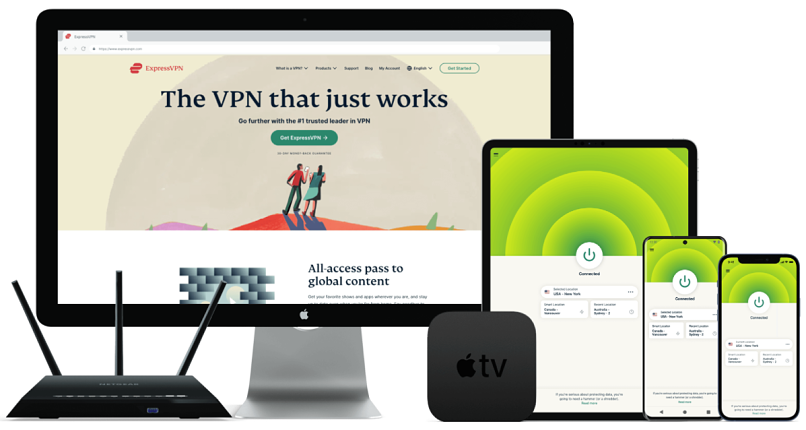 Editor's Choice
Editor's Choice

Tested January 2023
Try Risk-Free for 30 Days
Available on:
Chrome
Router
Smart TV
More
www.ExpressVPN.com
Superfast speeds that make internet use efficient
Hides your IP address and never records any logs
Excellent security features including AES-256 bit encryption and a kill switch
5 simultaneous device connections
30-day money-back guarantee
Works with: Netflix, Disney+, HBO Max, Hulu, BBC iPlayer, Vudu, and more
Compatible with: Windows, Mac, iOS, Android, Linux, routers, Apple TV, and more
ExpressVPN's lightning-fast speeds ensure a smooth internet experience. When I tested 4 of its US servers, my download speeds averaged 46.7 Mbps, which let me stream my favorite shows without lag. Using a public DNS will often increase your speeds because of the lack of encryption, however, the speeds are often unreliable. But even with encryption, ExpressVPN's speeds are still fast and reliable enough for streaming and gaming, which I experienced.
Protecting your privacy on public DNS servers is easy with ExpressVPN. Along with its strict no-logs policy, ExpressVPN hides your IP address from third parties. The no-logs policy ensures that your digital footprint won't be left anywhere online, so no one can trace your online activity. Also, there's no way for anyone to know your identity or location if your IP address is hidden.
Its high level security features include a private and encrypted DNS on every server and a kill switch. The private and encrypted DNS servers use military-grade encryption and TrustedServer technology, which deletes all your data on its servers. Its kill switch is called "network lock" and cuts you off from the internet when your VPN stops working, so your data is never exposed.
The main downside of ExpressVPN is that it's pretty expensive. But you can save a lot of money when you take advantage of its 49% discount.
ExpressVPN also has a 30-day money-back guarantee, so you can try it risk-free and get a full refund if you're not satisfied. I tried canceling my policy on day 27 to see if it actually works. After ExpressVPN asked me a couple of questions, they proceeded with my request, and my money was refunded in 4 business days.
Try ExpressVPN Risk-Free Today!
Lightning-fast speeds that provide fast DNS requests
No-logs policy and DNS leak protection ensures anonymity on DNS servers
AES-256 bit encryption and kill switch protect you from online threats
Unlimited simultaneous device connections
30-day money-back guarantee
Works with: Netflix, Disney+, HBO Max, Hulu, BBC iPlayer, Vudu, and more
Compatible with: Windows, Mac, iOS, Android, Linux, routers, Apple TV, and more
IPVanish's strict no-logs policy and DNS leak protection protect your privacy on public DNS servers. These features ensure that none of your data is recorded or shared with third parties, and your online activity is never visible to outsiders. I tested IPVanish's US and UK servers for any DNS leaks on ipleaks.net, and none were detected.
Its AES-256 bit encryption and kill switch provide top-level security. AES-256 bit encryption is the strongest globally and is used by the NSA to protect sensitive information, while a kill switch cuts off your internet connection when your VPN connection suddenly drops. These features make me feel safe and protected when using IPVanish.
You also get fast speeds too. From testing 5 different US servers, my download speeds got up to 48.4 Mbps, which let me do my usual online activities without any interruptions. Most VPNs are known for decreasing speeds drastically because they make your data travel a further distance, but not IPVanish.
What slightly inconvenienced me was that IPVanish doesn't accept cryptocurrency payments. However, I was rather pleased that it widely accepted other payment methods like credit cards, gift cards, and PayPal. Right now, it's possible to get 66% off your total subscription.
You can also test it risk-free with its 30-day money-back guarantee. I decided to see if this policy was legit, so I reached out to cancel my guarantee on day 24. The live chat representative asked me a couple of questions and then issued my refund. I got my money back in 3 days.
Easily connect to the fastest server with its Best Location feature
DNS leak protection and a no-logs policy keeps you private
Robust security features, such as military-grade encryption and a kill switch
7 simultaneous device connections
45-day money-back guarantee
Works with: Netflix, BBC iPlayer, Hulu, HBO Go, Showtime, and more
Compatible with Mac, Windows, Linux, Android, iOS, Roku, and more
CyberGhost can instantly connect you to the fast server available in one click, thanks to its Best location feature. All I had to do was click the connect button since the best server feature was set by default. It connected me to a local server in my country, which proved to be faster and more reliable than a public DNS server.
For privacy, it has private DNS leak protection and a strict no-logs policy. Your online activity won't ever be tracked and recorded on public DNS servers, and there's no chance of your DNS requests getting accidentally leaked. I tested CyberGhost's US and UK servers for any IP leaks, and every server connection was always secure.
It also uses military-grade AES 256-bit encryption and an automatic kill-switch to provide extra security. Military-grade encryption means hackers or supercomputers can't uncover your DNS requests, meaning your data is always safe from online threats. A kill switch acts as your last line of defense when your VPN connection is suddenly terminated.
Where CyberGhost falls short is that its desktop interface can sometimes be slow and clunky. However, you can easily fix this problem by simply reinstalling the app on your device, which only took me a couple of minutes.
You can also take it for a test run with its 45-day money-back guarantee before committing to a paid plan. I tried canceling my subscription after 23 days by contacting customer support. The representative asked me one question, and I got my money back in 6 days.
Try CyberGhost risk-free today!
How to Change Your DNS Server Easily on Different Devices
Each operating system has its own set of instructions to change DNS servers. I've tested them all and found the quickest steps to get a new IP address on the most popular devices/operating systems.
With a VPN
Download a VPN. I recommend ExpressVPN because of its military-grade encryption and huge server network.
Connect to a server. Choose from any of the countries listed or select a specific server you're after.
Start browsing with your new IP address! VPN servers resolve DNS requests like a DNS server, so you're all set.
Windows
Open control panel. Go to Network and Sharing Center and click Change Adapter Settings.
Select your connection (such as your WiFi network). Then click properties and select either Internet Protocol Version 4 (TCP/IPv4) or Internet Protocol Version 6 (TCP/IPv6) under the "This connection uses the following items" section (all under the networking tab). Click on properties once you have selected either protocol.
Open DNS settings. Select the DNS tab and make a note of any IP addresses listed before removing them. Click "OK."
Enter IP addresses. Replace those IP addresses with the IP addresses of the public DNS server you want to use. For example, input 8.8.8.8 and 8.8.4.4 for Google Public DNS.
Test your settings. Make sure it all works fine and enjoy!
macOS
Open network settings. This is found under the system preferences.
Select your connection. For WiFi, select WiFi and then click "advanced." For ethernet, select "Built-in Ethernet" and then "advanced". If you encounter the lock symbol, then enter your password to authenticate.
Select the DNS tab. Click the "+" button and enter the IP addresses of your public DNS server. Then click "OK" and apply.
Test your settings. Make sure you can connect properly and enjoy!
iOS
Open settings. Select WiFi, tap the ⓘ icon (next to your WiFi network), scroll down to find the DNS section, and tap "configure DNS."
Enter your IP address. Tap "manual" and add the IP addresses of the DNS server you want. To revert back to your original DNS, select "automatic."
Test it out. Ensure it works correctly and enjoy!
Change DNS Servers Quickly With ExpressVPN!
Android (9 and above only)
Please note that you can't change DNS servers on older Android systems.
Go to settings. Open "network settings," then click "advanced" and then "private DNS."
Enter DNS hostname. Select "private DNS hostname" and enter the hostname of your DNS, such as dns.google
Test your connection. Click "save" and then see if your connection works.
PlayStation
Go to settings. Select "Network" and then "Configure internet connection." Next, choose between WiFi and cable (ethernet).
Prepare your DNS. Select the "custom" option. Keep your IP address option as "automatic," and choose "do not specify" in DHCP. Then, select "Manual mode" under "DNS settings."
Customize your DNS. Enter your primary and secondary DNS addresses where you need to. Then, leave MTU as "automatic" and proxy server to "not use."
Test your connection. Restart your PlayStation to implement settings. Enjoy!
Xbox
Open settings. Select "all settings," go to "network," and click "network configuration." Then, click "advanced settings," "DNS settings," and then "manual mode."
Enter DNS addresses. Input your primary and secondary DNS addresses where required.
Test it. Access "detailed network statistic" to see if your connection is up and running. Restart your Xbox to implement settings.
Nintendo Switch
Open settings. Click on the nut symbol, select "internet," and then "internet settings." Choose between WiFi or cable.
Enter DNS addresses. Go to "modify settings," select "DNS configuration," and then select "manual mode." Enter both your primary and secondary IP addresses.
Test it out. Click save and restart your console.
Try ExpressVPN Risk-Free Today!
FAQs on Public DNS Servers and VPNs
What is a DNS Server?
A DNS server is like a phone book that lets you find websites by typing in their domain name instead of a long string of numbers. Computers communicate with numbers, so the web address you type in has to be translated into an IP address before your computer can find it.
Since the DNS server stores a huge number of IP addresses, it translates the domain name into an IP address in a matter of milliseconds. The benefit is that it lets you use the internet without remembering a random string of numbers.
Just note that DNS servers aren't perfect and that quite a few of them come with privacy and security risks.
Can public DNS servers track you?
Yes, most public DNS servers can track you. While some don't record your logs, your online activity is still visible to them and your ISP. Your ISP can then sell your logs and browsing history to unauthorized third parties like advertisers, governments, and corporations, who can then target you with ads or conduct surveillance. While public DNS servers have other benefits and protective measures, this is not one of them.
How can I find the DNS server I'm using?
You can find the DNS server you're using by going to your device settings. Generally speaking, every device will have a section on DNS settings under its network settings. From there, you can find the DNS addresses and names of the DNS server you're using. Another method is to go to a site that tests IP leaks such as ipleaks.net, as the test will reveal everything about your DNS server.
How do I change DNS servers?
You'll need to go to your device setting to change DNS servers. Each device is different, but you can generally change DNS servers under network settings. From there, you'll need to manually configure your DNS addresses by inputting the primary and secondary addresses of the DNS. Then, it's best to restart your device and test your connection to see if it works.
Which public DNS servers are best for gaming?
The best public DNS servers for gaming are Cloudflare, Comodo Secure, Google Public DNS, and Quad9. When looking for a public DNS server that's good for gaming, select one capable of providing fast speeds. A fast DNS server will have server locations that are spread worldwide, so you can connect to a nearby server to improve your gaming experience. Also, its security features will protect you from online threats while gaming.
What's the fastest public DNS server?
While there isn't a public DNS server that's faster than the rest, there are a few that have been proven to have fast speeds. They include Google Public DNS, Cloudflare, Quad9, and Neustar. Since these DNS servers have a widespread global server network, they'll connect you to a DNS server close to you, which increases speeds. Your speeds are increased because your DNS queries don't have to travel as far.
The main benefit of a fast DNS server is that your DNS requests are resolved quicker, which uploads websites faster. You can test the speeds of DNS servers by using DNS jumper, which is a free tool that tests the performance of many DNS servers at once.
Where are DNS servers located?
Where your DNS server is located depends on the DNS server you're using. The DNS servers on my list are located worldwide, which tends to improve connection speeds and reliability. A worldwide server network improves speeds because it'll connect you to a server that's close to you, so your data travels less. DNS servers tend to have servers in a large number of countries, not just their origin.
How can I test a DNS service?
You can test a DNS service by using the nslookup command line. On Windows, you can do this by opening the Windows Command Prompt and typing NSLOOKUP. From there, you'll need to enter your DNS record type and the domain name. If you're a Mac user, you can do this by opening the Terminal app, which is under applications. Once Terminal is opened, you just type nslookup and the domain name to test.
If you want to see if your connection works, then try restarting your device after you've entered the DNS addresses.
Find the Right DNS Server Now!
A public DNS server offers many benefits, such as faster speeds, better security, content filters, and bypassing censorship and geoblocks. They are all different in their strengths and weaknesses, so it's best to look at them closely and select the right one for your needs. However, they don't provide protection against DNS leaks and don't use military-grade encryption.
The way to reduce this risk is to combine your public DNS with a VPN. A VPN masks your IP address and never records any logs, meaning your ISP can never see what you're doing online. The VPN I'd recommend is ExpressVPN because its privacy and security features are outstanding. You can even test it out risk-free and buy with confidence. If you're not happy with it, you have 30 days to request a full refund.
To summarize, the best VPNs changing your DNS are…
Privacy Alert!
Your data is exposed to the websites you visit!
The information above can be used to track you, target you for ads, and monitor what you do online.
VPNs can help you hide this information from websites so that you are protected at all times. We recommend ExpressVPN — the #1 VPN out of over 350 providers we've tested. It has military-grade encryption and privacy features that will ensure your digital security, plus — it's currently offering 49% off.