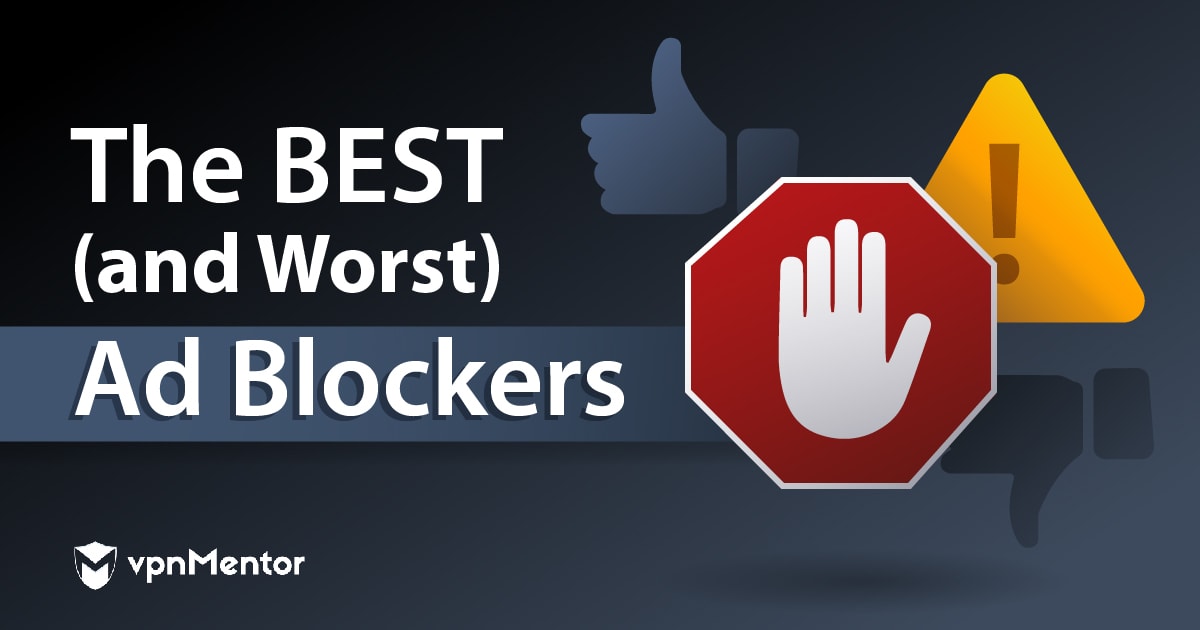 10 Best Ad Blockers in 2023 – Apps and Browser Extensions
Many ad blockers are ineffective — some can even be dangerous. They often fail to block popups, banners, and YouTube video ads that can waste your time and bandwidth. Even worse, some are known to track user data, sell it to third parties, and even infect users with malware.
It's not always easy to find which adblock tools are the real deal. So, I tested 30+ ad blockers and found a few reliable options. My list includes the best free ad blockers as well as other safe and effective ad blocking tools, so you can get rid of annoying ads and protect your online privacy while you're at it.
ExpressVPN's ad blocker is the best ad-blocking solution. It's more robust than a regular ad blocker since it also encrypts your data and hides your IP address to keep your data and identity private. You can test ExpressVPN risk-free thanks to its 30-day money-back guarantee.
Short on Time? Here Are the Best Ad Blockers in 2023
Best Ad Blockers — Full Analysis (Updated 2023)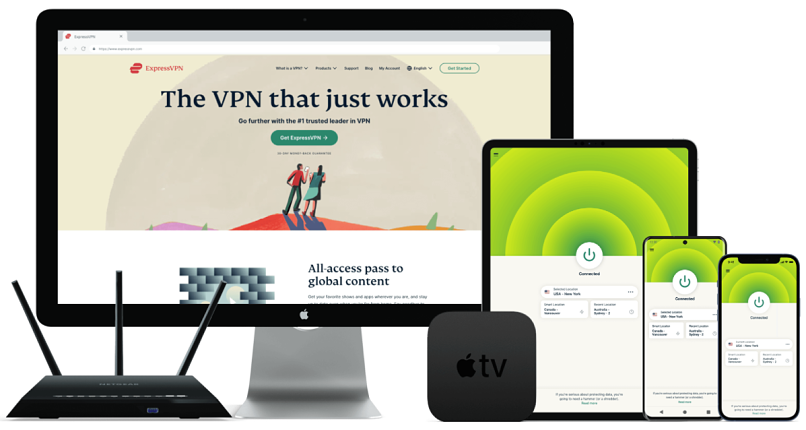 Editor's Choice
Editor's Choice

Tested December 2023
Try Risk-Free for 30 Days
Available on:
Chrome
Router
Smart TV
More
www.ExpressVPN.com
| | |
| --- | --- |
| Best Feature | Advanced and dedicated blocker removes all ads and trackers |
| Security | Military-grade encryption, Threat Manager, and parental controls |
| No-logs Policy | Yes, verified and audited by KPMG and PwC |
| Pricing | Starts at $6.67/month, with a 30-day money-back guarantee. |
ExpressVPN offers a dedicated ad-blocking feature that removes all unwanted ads and trackers. This protects your web browsing activity and keeps your information from being tracked online. During my tests, I connected to a server in my country, and I didn't see any banner or on-page ads while browsing online. Plus, thanks to the military-grade encryption provided by the VPN, I didn't have to worry about snoopers intercepting my connection either.
You can even customize ExpressVPN to block adult sites with the Parental control settings. Just jump into the Settings window and head on to the Advanced Protection tab to configure what you want to block — trackers, malicious sites, ads, or adult sites. I could tailor my web experience exactly how I wanted it.
The additional Threat Manager malware and tracker blocker also helps identify and block known malicious links and trackers. This is important, especially seeing that malware, spyware, and ransomware are commonly delivered via innocuous links online. I always felt my security and privacy was in safe hands with ExpressVPN.
One downside is that the plans are pricey, especially if you opt for the short-term option. However, ExpressVPN frequently offers discounts to make it more affordable. I subscribed for the 12-month plan and got 49% off — a final price of only $6.67/month. You can try ExpressVPN risk-free as it comes with a trustworthy 30-day money-back guarantee.
Useful Features
Impressively fast speeds. Most VPN services slow you down significantly — not ExpressVPN. It secured my connection with encryption and hid my real IP address while only dropping my overall internet speed by a mere 3%. Plus, seeing as I didn't have to load ads anymore, my overall browsing experience felt even faster than usual.
Shortcuts. You can add the apps and websites you generally use to ExpressVPN's shortcuts list, allowing you to access them ad-free straight from the app — saving you some time.
Easy-to-use apps. ExpressVPN is straightforward to install and use on all its supported operating systems. You can also use the VPN on up to 8 devices simultaneously and protect them all from unwanted ads and trackers.
Strict no-logs policy. The service adheres to a strict no-logs policy, meaning that none of your online web activity or personal information is stored by ExpressVPN. This policy has been independently audited by well-known firms such KPMG and PwC, who verified it was watertight and in effect.
| | |
| --- | --- |
| Best Feature | Combines a VPN ad blocker with a Private Browser |
| Security | Military-grade encryption, in-built leak protection and kill switch |
| No-logs Policy | Yes, verified |
| Pricing | Starts at $2.03/month with a 45-day money-back guarantee |
CyberGhost's Block Content feature improves your browsing experience by blocking ads, malware, and trackers at the DNS level. That protects your browsing sessions, device, and privacy simultaneously. Unlike other ad block extensions, it prevents ads on every app — not just within your browser.
You can block even more ads and improve your privacy with CyberGhost's Private Browser, which clears all of your data when you quit the application. During my tests, Private Browser and Block Content prevented 91% of ads and trackers from loading into my browser.
Even if some tracking cookies make their way through these two features, you're protected. Since CyberGhost hides your IP address and data, advertisers won't be able to latch trackers onto you. That means you can browse free from annoying "personalized" ads. So, while I saw a few ads on occasion, none were related to my browsing history.
Using its money-back guarantee, you can try CyberGhost out risk-free. If you're not completely satisfied, you can easily claim a refund within 45 days. I put this policy to the test and requested a refund via 24/7 live chat. After a couple of messages, the agent agreed, and my money was back in my account 4 days later.
Useful Features
Easy to use. The private browser will be familiar if you use Chrome because it looks and works almost identically. You can set up the VPN app with a few clicks, and activate Block Content with just one. So, it's easy to set up even if you've never used a VPN before.
Access global content. With servers in 100 countries, you can change locations to visit websites that might not be available in your region. You won't see any ads on those sites, either.
Streaming-optimized servers. CyberGhost has optimized servers for tons of popular streaming platforms, and it even blocked in-video ads on YouTube and Twitch during my tests.
Fast speeds. By blocking ads and malicious content at the DNS level, it's never loaded into your browser, which helps to speed up your connection. This helped to mitigate the speed drop I get from most VPNs, so I only lost 4% of my base speed on local CyberGhost servers.
| | |
| --- | --- |
| Best Feature | PIA MACE, a powerful one-click ad and content blocker |
| Security | Bank-level encryption, Multi-Hop obfuscation, adjustable kill switch |
| No-logs Policy | Yes, verified |
| Pricing | Starts at $2.03/month with a 30-day money-back guarantee |
Private Internet Access (PIA)'s ad, malware, and tracker blocker (MACE) cleaned up ads on every device I tried it on. I tested MACE across several ad-heavy sites, and it blocked 87% of ads and trackers. It even blocked ads on my torrenting client, which I found particularly impressive.
Unlike most browser-only ad blockers, it removes content at the DNS level, protecting all your devices from drive-by downloads and so-called "malvertising". It doesn't even whitelist self-promotional or affiliate ads, which is something I came across with various free ad blockers. Its blocklist is updated monthly and is viewable on the PIA website.
Like CyberGhost, PIA gives you all the security benefits of a VPN, like encryption and leak protection. It also adheres to a strict no-logs policy, which has been independently audited and proved in court on multiple occasions. So, you can rest assured PIA will never track or sell your data.
You can try out PIA MACE risk-free with its 30-day money-back guarantee. I tested this myself using PIA's 24/7 live support, and getting my money back was straightforward.
Useful Features
Extensions for all major browsers. PIA offers extensions for Chrome, Firefox, and the privacy-friendly Opera browser. Plus, it's one of the few VPNs with a Linux app, which is a great way to enhance this OS's built-in privacy features further.
Split Tunnel. You can set certain apps and sites to bypass the VPN. I found that useful because it meant I could stay safe on suspiciously ad-heavy torrent sites while using my regular connection for services like online banking.
Tons of adjustable settings. Customize your connections for streaming, gaming, and torrenting with various levels of OpenVPN encryption to optimize for privacy or speed. If you're new to VPNs, you may find its plethora of settings overwhelming. But you'll take to it gleefully if you're a techie like me!
| | |
| --- | --- |
| Best Feature | Lets you choose exactly what content you want to block |
| Security | Double VPN servers route your data through 2 separate servers |
| No-logs Policy | Yes, audited |
| Pricing | Starts at $2.99/month with a 30-day money-back guarantee |
NordVPN's Threat Protection is the most customizable VPN ad blocker on my list. It allows you to fine-tune your blocking preferences, offering control over what you block. Plus, it doesn't just cover ads, trackers, and malicious sites, but malware and corrupt files too. I particularly liked that I could see a list of everything that NordVPN blocked.
I was particularly impressed that Threat Protection scanned every file I downloaded and quarantined anything suspicious. It can even scan your hard drive for anything dangerous you may already have downloaded. I'm pretty security-conscious, but it found 5 dangerous files on my system that my regular antivirus had missed.
The Lite version for mobile devices offers all the same protection, so you can stay safe while you're at work or traveling. When I tested it on a public WiFi network at my local café, it blocked the vast majority of ads delivered by the network.
NordVPN also provides a 30-day money-back guarantee, allowing you to try out Threat Protection and other features risk-free.
Useful Features
Works when you're not connected. Unlike other VPN ad blockers, Threat Protection works even if you're not connected to the VPN server. You need to be connected for the Lite version to work, though.
Proprietary NordLynx protocol. WireGuard is the industry-standard protocol for speed, but it's not the most robust. NordVPN has given it a security boost to give you a browsing experience that's ad-free, fast, and private.
Onion Over VPN servers. There are no ads on the dark web. But there are other dangers, and NordVPN's Onion servers are safer than Tor. They also let you browse the dark web on a regular browser (I couldn't get it working on macOS, though).
5. AdGuard AdBlocker — A Highly Effective Ad Blocker That Even Works With Safari
| | |
| --- | --- |
| Best Feature | The best standalone ad blocker with a browser extension for Safari |
| Security | Ad blocker only |
| No-logs Policy | No |
| Pricing | Starting at $2.49/month with a 60-day money-back guarantee |
AdGuard blocked 90% of ads in my tests, which I found impressive for a browser-based ad blocker. It fared slightly less well with trackers and doesn't offer the protection of a VPN, but it still considerably improved my browsing experience.
I downloaded the app to Chrome, went to Extensions, and enabled it with one click. I visited Forbes.com, and it blocked the loading screen pop-up and banner ads throughout. I was also impressed that it blocks all YouTube video ads.
AdGuard has a surprising amount of adjustable settings for a browser extension. You can set third-party cookies to self-destruct after a chosen period, and the security filters are easy to toggle in Options. You can also block ads, phishing/malware, trackers, and social widgets.
I initially had concerns that AdGuard was founded in Moscow, since Russia is known to have intrusive data monitoring laws. However, it has now relocated to Cyprus. Plus, the software is open-source and only collects anonymized performance-related data.
Useful Features
Works with Safari. Apple's macOS and iOS have strict security controls, so many third-party apps no longer work with Safari. AdGuard developed Safari ad blockers for iPhone, iPad, and Mac. They're not as effective as the Windows/Android versions, though — they only blocked around 63% of ads.
Block search results ads and website self-promotion. It even blocks sponsored links on Google searches. You can easily switch it off if you want to check for promotions and offers.
Parental control. The Windows app has a parental control setting that allows you to add inappropriate content (including websites and search results) to a blocklist. This helps to keep your kids safe online.
6. Brave Browser — Private Browser With Built-In Ad Blocking
| | |
| --- | --- |
| Best Feature | Uses the privacy-friendly DuckDuckGo as the default search engine |
| Security | Built-in (but expensive) VPN |
| No-logs Policy | No |
| Pricing | Free forever |
Brave browser has built-in ad and tracker blocking and does a great job removing ads. In my tests, it blocked 88% of ads and trackers. It also prevented all video ads on YouTube — although it let a pop-up for premium YouTube slip through. I also like how new windows show how many ads/trackers it's blocked and how much bandwidth and time it's saved.
Like CyberGhost's Private Browser, Brave is based on Chromium and uses DuckDuckGo as its default search engine. This search engine is great for privacy; you won't see any ads or sponsored links. Unlike Google (and Chrome), Brave and DuckDuckGo don't track your browsing — so you know your data won't be sold or used for targeted ads.
There is controversy surrounding Brave's ad program that it uses to make a profit; you can choose to receive certain Brave ads in exchange for cryptocurrency. The ad program is opt-in rather than opt-out though; if you don't want to use it, you don't have to.
Useful Features
Brave News. Create a customized news feed to get the latest stories from your favorite sources whenever you open a new window. This lets you see the headlines you care about without being served dozens of ads on that source's website.
Private Window with Tor. You can browse Onion sites with a private Tor window. I find Brave's layout much more user-friendly than Tor, plus it's a little faster.
7. uBlock Origin — Blocks YouTube Video Ads to Save Time and Bandwidth
| | |
| --- | --- |
| Best Feature | Filtering rules to optimize loading speeds and protect your device |
| Security | Browser ad blocker only |
| No-logs Policy | No |
| Pricing | Free forever |
uBlock Origin blocks 100% of YouTube video ads, which isn't something I see often with free ad block extensions. During my tests, it also stopped 73% of ads and trackers on other websites. On IMDB.com, it removed all masthead and sidebar ads, making for a cleaner and faster browsing experience.
These faster speeds were, in part, down to its filtering rules. This feature let me define how my browser handled host and third-party content (such as large media), and it's a great tool to prevent drive-by malware downloads.
I was annoyed that it blocked some non-ad content, though. For example, on NewYorkTimes.com, various images were whited out. Unlike the VPNs on my list, uBlock Origin doesn't have a support center, so I couldn't find a permanent fix for this issue.
Useful Features
Block pop-ups. If you're anything like me, you're probably sick of chat widgets, mailing list pop-ups, and other website marketing elements. Thankfully, I was able to block them using uBlock.
Hide placeholders. Some extensions block ads but leave blank placeholders, which distorts page layouts. uBlock Origin can eliminate that, giving you cleaner page layouts.
8. Opera Browser — Prevents Trackers and Ads With Integrated Privacy Features
| | |
| --- | --- |
| Best Feature | A standalone browser with integrated ad and tracker blocking |
| Security | Free (but limited) built-in VPN |
| No-logs Policy | No |
| Pricing | Free forever |
Opera is a smooth and user-friendly browser with a built-in ad blocker. During my tests, it blocked 64% of ads and trackers. Opera stopped banner, sidebar, and video ads on Fandom.com, and it even blocked ads on Twitch and YouTube.
You can import your history, bookmarks, and cookies from any major browser in 2 clicks. In addition, adjusting your settings is pretty straightforward. All I had to do was click the blue shield icon in the search bar to open the Privacy Protection dropdown.
It also offers a free VPN, but it's much slower than CyberGhost and cut my speeds by 91%. I also didn't like that the default search engine is Google, which allows sponsored links. Google collects a lot of data via ads and trackers, so it's not great for privacy.
Useful Features
Integrated messages. Chat with friends on any major messenger from within a browser window. I could use Discord without dealing with its built-in ads.
Interact with ChatGPT and ChatSonic. You can chat with AI in Opera's sidebar panel. It can often answer questions more quickly than a Google search, and you won't have to scroll through sponsored results to find the information you need.
9. Pi-hole — Linux-Based DNS Blocker To Prevent Ads on Your Entire Network
| | |
| --- | --- |
| Best Feature | Covers every ad-capable device on your network |
| Security | Can block ads on smart TVs, game consoles, and mobiles |
| No-logs Policy | No |
| Pricing | Free forever |
Pi-hole provides network-wide blocking to protect all your devices. It routes your traffic through DNS servers to remove ads and trackers, which means it can also work on smart TVs and game consoles.
You can prevent ads on mobile devices if you set up Pi-hole with a VPN. You need a VPN with custom DNS settings (like Private Internet Access), which allows you to access Pi-hole's servers remotely.
Pi-hole is open source and free to use, but it was built specifically for Linux. You'll also have to reconfigure your router to point it to your computer's DNS settings. So, I'd only recommend it if you're experienced with networking.
Useful Features
More efficient devices. With Pi-hole, your devices run more efficiently because the blocking is done on a separate machine. It simply routes the ad-free content to your devices.
One device setup. You only need to set up Pi-hole on one device, and it protects your entire network.
10. Adblock Plus — An Open-Source Blocker You Can Trust
| | |
| --- | --- |
| Best Feature | A simple, effective ad blocker with basic settings |
| Security | Browser ad blocker only |
| No-logs Policy | No |
| Pricing | Free forever |
Adblock Plus is free and open-source, meaning anyone can view its code and suggest improvements. It blocked 69% of ads and trackers in my tests, which I found impressive for a free tool. It removed most YouTube video ads, and on RollingStone.com, it removed a floating loading page popup and self-promotional sidebar ads.
Adblock Plus has some simple but effective customizable settings which I could toggle with one click. I could block additional tracking, push notifications, and social media trackers. That's useful considering how much of your data these sites collect and sell to third parties.
Useful Features
Email support. Adblock Plus offers customer support via email. Any kind of responsive support is unusual for a free ad blocker.
Language filter lists. Add or remove the languages of ads you want Adblocker Plus to filter from a dropdown menu.
Quick Comparison Table: Best Ad Blocker Features
The most effective solution to content blocking is a service with good ad, tracker, and malware protection that ideally also hides your IP address and encrypts your data. If you've got all that in place, you won't see many ads, plus advertisers won't be able to track you to target you with "personalized" ones.
Use the table below to get an overview of my top ad blockers at a glance.
In order to assess how well each ad blocker performed, I utilized a web-based tool that measured the proportion of ads and trackers that were blocked. Based on these figures, I gave each ad blocker a score from 1 to 10 to show its efficiency, with 10 being the top mark. This method provided a transparent depiction of the effectiveness of each ad blocker.
*Opera's VPN Pro has a no-logs policy, but the browser itself collects usage statistics and behavioral data
Tips on Choosing the Best Ad Blocker
Aside from ad blocking, additional factors can help determine which ad blocker is best for you and if it's safe. Here are the criteria I considered while testing each ad blocker — feel free to use this as a checklist to help you choose the best ad blocking solution:
Regular updates. Advertising tactics change constantly, so you should choose an ad blocker with software updates at least once a year. I made sure the blockers on my list get regular updates.
Ad blocking effectiveness. There are many types of ads online (mastheads, banners, popups, widgets, streaming videos, GIFs, etc.), and many ad blockers fail to stop them all. I've prioritized ad blockers that work with a wide variety of ad formats.
Device compatibility. Many ad blockers are limited as to which browsers and OSs they work with. My recommended ad blockers all offer a good level of compatibility, and those that work with more devices rank higher on my list.
Customizable settings. I've only included ad blockers that let you customize allowlists and other security features. Each one also comes pre-configured for ease of use.
Transparency. I've prioritized ad blockers with strict no-logs policies, and none of the tools on my list record or sell your data. but many ad blockers have been known to record your data.
Ad Blockers to Avoid
While some ad blockers may appear reliable, they might still be monitoring your data. There have been instances where blockers were found to plant malware on user devices. Due to these concerns and others, I recommend avoiding the subsequent blockers:
uBlock. Don't get confused with uBlock Origin, which is on my list of recommended blockers. uBlock has been known to modify cookies so it can track its users. It has been removed from the Chrome Extensions store.
Ghostery. Not a very effective blocker and has profited from selling user data. Its website is down at the time of writing, so I couldn't check its privacy policy.
Privacy Badger. Like Ghostery, Privacy Badger isn't really an ad blocker because it only blocks trackers. Its own privacy policy states, "Where possible, we take steps to limit the ability of third parties to retain data about our users", which doesn't fill me with confidence.
Why You Need an Ad Blocker, and Risks You Might Not Know
Ad blockers offer plenty of benefits and can protect your online privacy. Without an ad blocker, you're vulnerable to browser fingerprinting, which gathers identifying data like your location, OS, browser, extensions, and more. This identifies you as a unique digital persona so you can be tracked and targeted with ads, hence the name fingerprinting.
The best ad blockers also save you battery, bandwidth, and bother. Ads clutter web pages, often extending page loading times and draining your battery. Some ads can even track your browsing data — even if you don't click on them.
You're also at risk of encountering advertisements laden with malware (known as malvertising) that can compromise your device. These can infect your system without requiring any clicks from you, known as drive-by attacks, and even trustworthy websites can be a source of risk.
That said, using an ad blocker alone isn't always effective. Most ad blockers are browser extensions that are vulnerable to fingerprinting. But using a VPN with a built-in ad blocker doesn't update or affect your browser helps to prevent this. VPNs also disguise that you're using an ad blocker, so websites are less likely to block you for using one.
I also like the extra layer of privacy a VPN gives you — it stops tracking by advertisers and other third parties, like hackers or your ISP. That's why I personally prefer using a VPN with a built-in ad blocker.
FAQs on the Best Ad Blockers
Is Adblock safe?
Yes, Adblock is one of the safest ad blockers I tested. It's been around since 2009 and has a trustworthy reputation. Its site clearly states that Adblock will never record your browsing history or sell your data to third parties. It also has a clean history of never exposing users to malware.
Although it has limitations (it doesn't block many ads), at least you know it won't compromise your security or privacy.
Does Adblock work on YouTube?
Yes, Adblock works on YouTube – but it's not consistent. It would remove every ad on some videos, while I'd have to sit through pre-video ads on others. Plus, unlike other ad blockers that stop YouTube ads, it doesn't work consistently with other ads and trackers.
Why can't I find an ad blocker for Safari?
Due to Apple's security controls for macOS and iOS, many extensions now no longer work with Safari. However, I've found several iPhone, iPad, and Mac ad blockers that still work with Safari.
Unfortunately, most Safari ad blockers are poor in comparison to versions for other browsers. From a privacy and security perspective, I recommend using Brave or Opera, as they block ads and trackers. Plus, these browsers support most ad blocker extensions.
Do ad blockers work?
Yes, but there are a lot of fake and ineffective ad blockers. I've only recommended safe and secure ad blockers that won't compromise your privacy.
There are dangerous ad blockers out there that can compromise your security, sell your data, and even infect your device with malware. Others simply don't work. It's important to read privacy policies to avoid putting your device or personal data at risk, which I did for every blocker on my list.
That being said, there are a few ads you can't block at all. That includes sponsored Tweets, and Facebook, Instagram, and Spotify ads. If you expect any blocker to remove these ads, you'll be disappointed.
Are ad blockers safe?
No, not all ad blockers are safe. To enhance your online safety, I recommend using a reputable VPN with built-in ad blocking. These hide your IP and encrypt your data so trackers can't snoop on your browsing and target you with ads.
Sadly, there are many ad blockers you just can't trust — some even track your data or infect users with malware. However, I've tested each ad blocker on my list to ensure they don't present these risks.
How do ad blockers work?
These tools use a filtering system to stop ads, but the best ad blockers stop harmful content at the DNS level so it never loads onto your device. Plus, because your device doesn't have to download as much content, it usually means pages load faster.
Other ad blockers work on the application level, which means they modify your browser. Websites can usually detect these, and many now stop you from entering a website unless you allow them to display ads (or pay a monthly subscription).
Can ad blockers see my sensitive data?
Yes. When you download an extension, you permit it to alter how your browser works. The ad blockers on my list are safe, but VPNs are safer still. They will encrypt your data and hide your IP address to keep your browsing private.
If you use the wrong ad blocker, it may be able to monitor your data and sell it to third parties (and will usually admit to doing so in its privacy policy). Make sure you download ad blockers from a reputable source and check what permissions it requires before you install them.
What is the best free ad blocker for Chrome, Safari, Edge, and Firefox?
There are several solid options for 100% free ad blockers. Some even block YouTube and Twitch video ads, along with most annoying popup and banner ads. Ad blocking software for Safari is limited, but AdGuard Adblocker is a good choice. It just works more effectively on other browsers.
Get the Best Ad Blocker Today
A decent ad blocker is an effective way to improve your browsing experience. It's easier to find the info you want when content isn't broken up by countless ads.
However, even the best ad blockers have limitations. They won't hide your IP, so websites can identify you and your location. They won't encrypt your data, so advertisers and other prying eyes will see your browsing. To avoid all that, you need a VPN.
After conducting extensive tests, my team and I can reveal that the best ad blocker is from ExpressVPN. In combination with its Threat Manager feature, its blocker is highly effective at stopping ads, trackers, and malicious links, while bank-level encryption keeps your data hidden. You can even try ExpressVPN risk-free with a 30-day money-back guarantee.
To summarize, the best VPNs with ad blockers are…
Privacy Alert!
Your data is exposed to the websites you visit!
The information above can be used to track you, target you for ads, and monitor what you do online.
VPNs can help you hide this information from websites so that you are protected at all times. We recommend ExpressVPN — the #1 VPN out of over 350 providers we've tested. It has military-grade encryption and privacy features that will ensure your digital security, plus — it's currently offering 49% off.
We rank vendors based on rigorous testing and research, but also take into account your feedback and our commercial agreements with providers. This page contains affiliate links.