The Best (and Worst) Ad Blockers UPDATED for 2020
Updated on 25th April 2020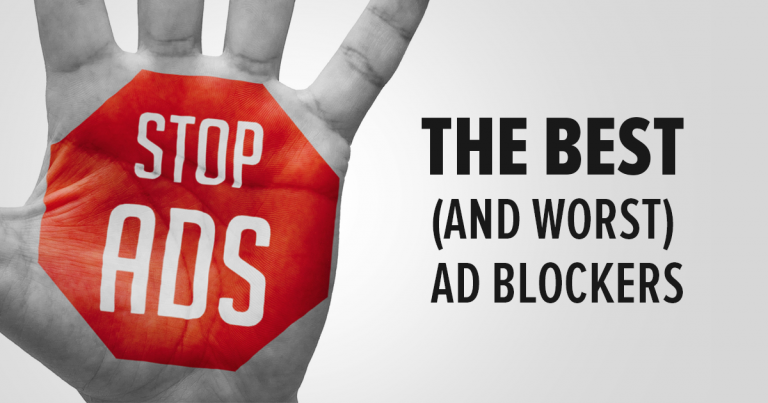 There are few things more frustrating than clicking on a YouTube video and then being forced to sit through an ad that's even longer than the video you're trying to watch. Enough is enough.
But wasting your time is only one of many negative things that adware can do to your browsing experience.
The Best Adblockers
The Worst Ad Blockers
What is Adware?
Adware is any software that is designed to display advertisements. The point of adware is to generate revenue for its developer. You are experiencing adware anytime you visit a website with an ad banner or are forced to watch a video to use a free phone app.
All those annoying ads you had to sit through to get to the next level of Candy Crush? You have adware to thank for that.
Advertisers want to make as much money as possible, and gathering data about you helps them do that. They have a big incentive to invade your privacy as much as possible so that they can target you with specific ads.
Adware doesn't always stay where it's supposed to. It can track you from website to website, gathering data about your browsing habits, interests, and location.
It can also be used to spread malware. Malicious adware can infect your browser or device when you click on an ad, but the scariest part is that some kinds of adware can infect you even without a click.
Ad Blockers Overview
Ad blockers can protect your privacy and prevent your browser or device from getting infected with malware. You also might experience faster loading times, better battery life, and a smoother browsing experience after installing an ad blocker.
Since there are so many kinds of advanced adware out there, it's important to choose an ad blocker that will fully protect you. There are a number of different types of ad blockers. Here are some of your choices:
VPNs with dedicated ad blockers: Some VPN services come with built-in apps that protect you from adware. Since VPNs can protect you from multiple kinds of tracking, adware will have a really hard time collecting data about you. Another benefit of going with a VPN is that many services make it easy to protect multiple devices with a single subscription.
Browsers: Many web browsers come with built-in ad blocking software, so you can avoid adware without any effort. Some are pretty effective, but their features are usually limited compared with a third-party blocker.
Extensions: You can protect your browser from adware by choosing one of many third-party browser extensions. There are both free and paid applications out there that work with most web browsers. They usually let you customize your experience more than built-in browser ad blockers.
Device or Router: A dedicated ad blocking router or a virtual router can be set up with a DNS filter that will automatically block requests from servers that are known to provide adware or tracking services.
You can always combine multiple types of ad blockers to get the best possible protection.
The Best Ad Blockers:
Adblock is one of the most popular browser extensions out there for blocking ads, and it's not hard to see why. True to its name, AdBlock not only stops those annoying pop-up ads, but it also blocks other ads you'll find on websites.
AdBlock is also able to get rid of ads on YouTube and many streaming services, which is something that many ad blockers have trouble with.
What we really love about AdBlock is how you can customize it. The options include preset filters, blocking individual ads, allowing other ads to show, and whitelisting. By default, Adblock comes with an optional "Acceptable Ads" feature that allows certain safe and non-intrusive ads. This can be turned off in the settings if you want to block all ads.
It's available as an extension on most browsers and is easy to install. The wide number of features in this free application puts it at the top of the list.
Note: AdBlock is a different service from AdBlock Plus, which is farther down on our list.
Recommended? Yes
2. CyberSec by NordVPN
One of the many reasons that we recommend NordVPN because of the security suite CyberSec.
This optional NordVPN feature stops adware and protects you by blocking DNS requests from a large list of servers that are involved with malware, spyware, adware, and tracking. This means that you can't interact with a dangerous website unless you manually change your settings to give it access.
One of the things that makes this feature special is that it can protect you even if you are already infected by malware. NordVPN blocks communications from dangerous servers, which stops malware from following through with dangerous activities.
NordVPN isn't free, but it offers some of the best protection on the market at a great price.
Recommended? Yes
The VPN Surfshark comes with a great feature called CleanWeb. The CleanWeb feature has to be manually turned on in the Surfshark settings, but once it's on it offers you some strong protection against ads, malware, and trackers.
It stops unwanted communication from websites by blocking DNS requests from dangerous servers.
Surfshark isn't a free service, but it is very cheap for the quality of ad blocking that it offers.
Recommended? Yes
Windscribe's VPN service includes a great feature called R.O.B.E.R.T. that protects your devices from ads, malware, phishing attempts, and trackers. It blocks all DNS requests from a list of known domains.
The feature comes with four different configurations that offer different levels of protection. Windscribe offers full R.O.B.E.R.T. protection on multiple simultaneous devices with both its free and paid plans. For a free service, Windscribe offers really great protection.
The downside is that the free version only gives you 10 GB of data every month, which is easy to go over if you do a lot of streaming or torrenting.
Recommended? Yes
CyberGhost is a great VPN service that comes set up with an ad blocking feature. Rather than blocking all DNS requests from specific websites, this ad blocker works by removing part of the code from the server request that tries to pull ads.
CyberGhost's ad blocker won't stop all ads from displaying, but it is very effective at blocking malicious adware and protecting you from tracking. It is also able to protect you without slowing down your browsing speed, which is a big plus.
This is another option that isn't free but has an affordable price that is worth it for the quality you get.
Recommended? Yes
AdLock is an ad blocking software for your device rather than a browser extension.
The great thing about AdLock compared to many other services is that instead of just blocking ads on your web browser, it also blocks ads on any app that connects to the internet. This means that you're still covered by AdLock's protection when you're using BitTorrent or Skype.
AdLock is not free, and you do have to pay for each device you want covered. It's also only currently available for Windows and Android. If you're interested, you can try a 14-day free trial.
Recommended? Yes
The Worst Ad Blockers – Who to Avoid
Not to be confused with AdBlock, Adblock Plus is one of the oldest ad blockers out there. Both Adblock and Adblock Plus block ads in a similar way, but Adblock's filtering system and customization options are more advanced overall.
With Adblock Plus, you can choose to enable certain pop-ups for specific websites, build a whitelist, and create your own filter.
However, Adblock Plus has received criticism for receiving money from online publishers to whitelist specific ads. This does seem to be a conflict of interest that you might want to avoid in an ad blocker.
Recommended? Not really. There are better options out there.
8. Smart Popup Blocker
We weren't impressed with the performance of this ad blocker. Not only did it allow through many non-intrusive ads that it was supposed to be blocking, but we also experienced several pop-up ads in our test.
While it does offer some useful features like a whitelist and cookie management to delete unwanted cookies, it also focuses on some features that you probably will never need, like a pop-up block for Windows Messenger.
With its dated features and incompetent blocking, we cannot recommend this blocker.
Recommended? No
Ad Blocker Scams – Who to Avoid
Be careful to avoid ad blocker scams when you are ready to download. These fake ad blockers will secretly collect data about your browsing habits and can even change your browser's behavior.
Sometimes they will try to trick you by using a name that is the same or similar to a real, trustworthy ad blocker. You should check that you have the right copy before you download.
Here are a few names that fake extensions have used in the past:
Adblock Plus
Adblock Pro
HD for YouTube
uBlock Plus
AdRemover for Google Chrome
Suberblock Adblocker
Webutation
HD for YouTube
Summary
Ad blockers can do a lot to improve your browsing experience, but more importantly, they can also protect you from tracking and malicious adware.
There are many ad blockers to choose from out there, and they all offer different levels of protection. We recommend that you combine different ad blockers on this list to get the best adware and privacy protection possible across all your devices, such as combining a browser-based ad blocker with a VPN ad blocker.
You might also like: