The Best (and Worst) Ad Blockers UPDATED: Nov 2017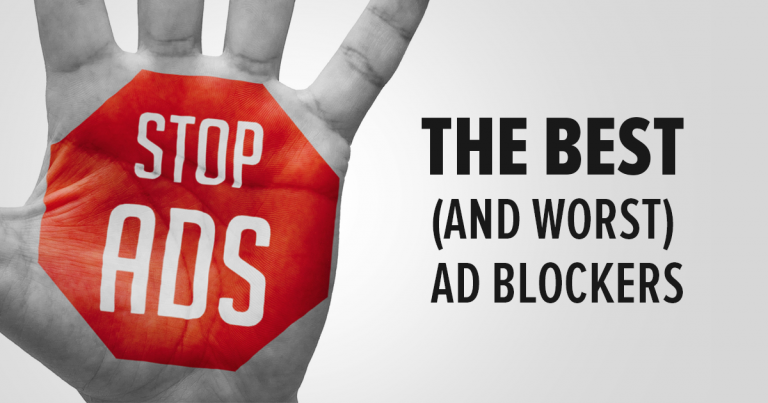 Pop up advertisements are some of the most annoying things you'll find on the Internet, especially when they appear suddenly after you click on a website or an advertising banner.
However, not all pop-ups are irritating advertisements; some play a crucial role for the websites that use them.
For example, in secure payment areas or catalogs, a pop-up ensures you stay on the page and still complete a task.
Unfortunately, other ads can be malicious and might be encrypted with malware.
If they appear for no apparent reason, they could be some type of malware, which can not only infect your browser with more ads, it can also infect your whole device!
Since you most likely don't want inappropriate ads all over your desktop screen, it's best to be careful where you click.
Luckily, there's a way to prevent these malicious pop-ups from the start, and that's with an ad-blocker. Not all ad-blockers are the same, though, and some protect more than others.
Below, we give you the rundown of some of the best (and not so best) free ad blockers for online browsers.
These are the best and worst ad blockers:
AdBlock

AdBlock performed with impressive results. Not only did the necessary pop-ups show like they should, but other ads – including those annoying YouTube ads – were blocked.

What we really love about AdBlock is its customization options. These include custom and preset filters, individualized blocking or allowing of ads by right-clicking, and an available whitelist.

It's available as an extension on most web-browsers (including Safari) and is easy to install. The plethora of features packed into this free application makes it our top ad-blocker on this list.
Recommended? Absolutely!
Opera

While it's not the most-used web-browser, Opera offers some privacy features well beyond generic pop-up blocking.

It is designed to block on-page ads and includes a built-in VPN and a cookie blocker, so you know they're security orientated.

Opera lets you manage which pop-ups are blocked and which are allowed using the IP filtering feature. Because it includes other levels of cybersecurity (like being able to use another IP and browse the web anonymously) it's made it to our list.
Recommended? Yes. Especially if you want a VPN, too.
Firefox

If you use Firefox as your online browser, you're in luck. Firefox's ad-blocker has some of the best in-browser ad-block software available.

While the features are limited compared to third-party software, it's pretty secure for being built into the browser.

Firefox can block pop-ups as well as tracker cookies and it includes a whitelist to allow exceptions. When we tested it, Firefox passed on all fronts; allowing the good pop-ups through and blocking the bad ones.

If you're not going to install a third-party blocker, we suggest you start browsing the web with Firefox. (And you can increase your security with these 20 add-on recommendations.)
Recommended? Yes.
Google Chrome

Coming in fourth place is Chrome. The beloved, easy-to-use Google browser performs similarly to Firefox.

It blocks the bad ads and allows the secure pop-ups to appear. It also has some flexibility; it includes a tracking cookie blocker, and you can add trusted sites that allow pop-ups where they're needed.

But, because Google is known to track your activity for advertisements, we can't trust it to always block out unwanted ads.
Recommended? Yes, but try to add an ad blocker extension, too.
AdFender

AdFender has a large number of options. The trial version advertises itself as being able to block everything from pop-ups to cookies and ads on YouTube.

Like we hoped, it blocked all bad pop-ups but allowed the good pop-up samples to load.

AdFender is one of the most customizable apps on the list. You can adjust the listening port, apply proxy settings as well as set HTTPS filtering options. It blocks cookies and ads on different applications beyond web browsers and allows you to view your browsing statistics. It also allows you to browse anonymously with TOR.

However, only advanced pop-up blocking is available in the paid version which is a yearly subscription license. That and the fact that AdFender is only available for Windows brings it down on our list.
Recommended? Yes, if you're willing to pay. Otherwise, you can find a similar free ad blocker.
Microsoft Edge

Even though it's one of the lesser popular web browsers, we were impressed with Microsoft Edge's ad-blocker.

As the spiritual successor to Internet Explorer, Edge blocked all every malicious ad and successfully allowed all of the good pop-ups.

However, unlike Firefox's built-in software, the settings cannot be changed, so whitelisting is not available. Reviewers also mentioned that Edge tends to block some pop-ups required by sites to work.
Recommended? Only if you're a big fan of Internet Explorer, otherwise, we suggest you look into other browsers.
Adblock Plus

Not to be confused with AdBlock, Adblock Plus is a simple application with a few additional options.

You can create filter lists which enable and disable pop-ups from certain websites. It can allow for non-intrusive ads and create a filter using syntax lists as well as a general whitelist feature.

We weren't that impressed with its filtering system, since it failed to block some of the obtrusive ads, but it's still a decent free ad-blocker. If you just want to get started with minimal blocks, Adblock Plus is a great option.
Recommended? Not quite. There are better ad blockers out there.
uBlock

While we can say that uBlock is effective at blocking ads, the biggest drawback of this extension is its lack of customization.

Although uBlock can hide placeholders, has a personal and third-party filtering and has a whitelist function, the strength of its filter cannot be adjusted. We're also curious about the limited amount of log data that uBlock shows.

However, because it uses little memory and is free, we still think it's a decent ad blocker.
Recommended? Not really, but it does the job.
Smart Popup Blocker

This is not a good blocker and you'll want to avoid it.

Not only did it fail to block sample tests but it also failed to block native on-page ads.

While the features it lists are useful, like a whitelisting feature and cookie management to delete unwanted cookies, it is not an easy-to-install extension for your browser. It also has a pop-up block for Windows Messenger – which is no longer necessary.

With its dated features and incompetent blocking, we cannot recommend this blocker.
Recommended? No.
There are many ad blockers to choose from out there on the Internet, but knowing which ones do the job well will give you a better experience. We hope that this list helps you in your search for an ad-free browsing experience.