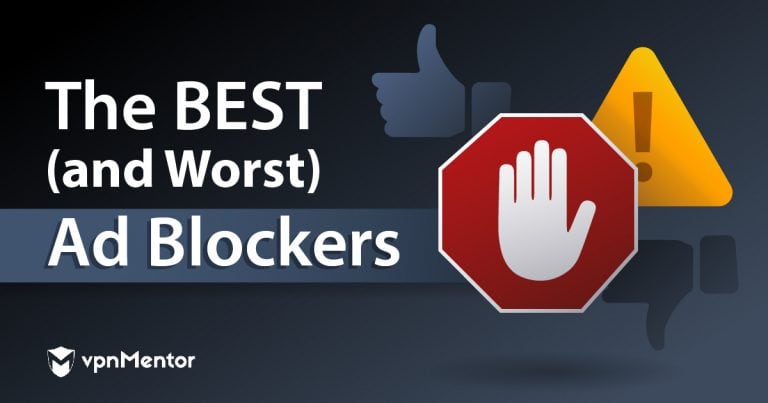 6 Best (and 2 Worst) Ad Blockers for Any Browser in 2021
Updated on 24th February 2021
It's frustrating to have video ads, pop-ups, and banners clog up your screen when you're trying to watch YouTube, torrent some files, or even read the news. These interruptions are annoying, but they can also compromise your privacy and security.
That's because these intrusions can contain adware, malware, and trackers. Many can deliver their malicious payload even if you don't click anything. Plus, adware doesn't always stay where it's supposed to. It can follow you from website to website, gathering data about your browsing habits, interests, and location.
There are a huge number of ad blockers that promise to prevent interruptions and protect you from the dangers of malware. I've tested and evaluated over a dozen ad blockers, and I found only a few I'm willing to recommend (and a couple you should definitely stay away from). The ad blocker that worked best for me was CyberSec by NordVPN because it came built-in with the app and it blocked ads and malware with ease. Plus, you can try it for free for 30 days with its money-back guarantee.
Best Ad Blockers – Full Analysis (Updated March 2021)
Comes free with a NordVPN subscription
Blocks annoying ads from interrupting your online activities
Access to a vast database of blacklists
Protects against botnet control for even safer browsing
Easy to download and activate
Supported platforms: Windows, Android, iOS, macOS, Chrome, Firefox, and Linux
I've tested NordVPN in multiple areas, and it often comes out on top. So it's no surprise that when it comes to ad blockers, its built-in CyberSec suite was the best.
The advanced technology of CyberSec blocks websites known to host phishing or malware scams and takes care of irritating ads that can slow down your browsing, streaming, and torrenting.
CyberSec scans every website you visit, comparing it to an extensive list of addresses known for malicious activity. If a match is found, NordVPN blocks your access to the website before you make the connection. This prevents you from opening websites that are known to host infected files, adware, and other malware.
The security suite also protects your device from participating in DDoS attacks, even if it's already infected by malware. If you're the unwilling participant in a botnet, CyberSec will cut communication between your device and the malicious owner.
But wait, there's more: CyberSec's built-in ad blocker hides unwanted pop-up ads, auto-play video ads, and other advertising material as soon as you connect to a website. During my tests, I was delighted by CyberSec's ability to eliminate those awful mid-roll ads on YouTube that start in the middle of a video, as well as popups on an ad-heavy torrent site.
Blocking ads prevents your exposure to sketchy adware, but it also improves loading times and saves data, which is great if you don't have a huge amount of mobile data to begin with.
Enable CyberSec in just a few clicks within the NordVPN app, and use it on your Windows, macOS, iOS, and Linux devices.

Due to Google's policies, CyberSec can't block ads in the Android app from the Google Play store, but it does protect you from accessing malicious sites. Android users can get the full benefits of CyberSec by downloading the VPN app directly from the NordVPN website instead. You do need a NordVPN subscription to use CyberSec, and the ad blocker is included at no additional cost. When you purchase a subscription, you can utilize the CyberSec suite and all of NordVPN's great features on up to 6 devices at once.
If you want to save up on your subscription, you can take advantage of NordVPN's 68% discount and make the plan more budget-friendly.
Plus, you can also try out NordVPN and its ad-blocking capabilities risk-free with its 30-day money-back guarantee. I wanted to test this feature to make sure you can get your money back so I contacted the live chat support team and asked for a refund. They were quick and friendly – it only took me a few minutes to answer a few questions and get my cancellation processed. My money arrived five days later.
Easy-to-use browser extension
Prevents tracking from advertisers
Blocks pop-up ads
Improves browser speed by stopping interruptions
Acceptable Ads feature for more control
Supported platforms: Android, iOS, Chrome, Firefox, Edge
AdBlock has been around for over a decade and remains one of the best ad blockers. The browser extension has great compatibility, the ability to block ads throughout the web, and customizable features for ultimate control.
This app doesn't just block popup ads—it also stops banner ads, video ads, and more. I tested it while browsing Facebook and checking out my favorite news site, and there were no annoying ads of any kind.
AdBlock participates in the Acceptable Ads program, which means that non-obtrusive ads are not blocked by default. But it's easy to opt out in AdBlock's settings if you want to block all ads completely. Further customization options include filters for individual ads, whitelisting, and colorful themes. You can even replace some ads with pictures of dogs, cats, and landscapes.
By blocking malicious ads, phishing scams, cryptocurrency miners, and third-party trackers, AdBlock ensures you can browse safely while protecting your privacy.
The app is free to use and is compatible with all the major browsers. During my tests, I found it easy to download and install on all browsers, and it was easy to get to grips with the customization. Plus, you can back up and sync your customization rules across browsers.
When installing in on my Chromebook, I experienced a decrease in load times from the lack of ads and improved battery life. This is really useful if you use your devices a lot on the move.
The ad blocker works automatically after installation, but if you do have any questions, fast and friendly support is available from the AdBlock team. Plus, there's an extensive help center on the AdBlock website for independent troubleshooting.
Comes free with a SurfShark subscription
Blocks ads, malware, and phishing
Blocks access to suspicious websites
Saves mobile data by reducing unnecessary downloads
Use on unlimited simultaneous devices
Supported platforms: Windows, Android, iOS, macOS
Built-in to Surfshark's VPN app is the ad blocker CleanWeb, which blocks ads and provides robust protection against malware, trackers, and phishing attempts.
I put CleanWeb to the test with websites that I know to be full of ads, like the Daily Mail, and it worked beautifully, blocking banner ads, sidebar ads, and autoplay video ads that clog up the site's webpages. I even noticed the pages loading faster when ads weren't using up my bandwidth.
CleanWeb also protects you from connecting to malware-infected websites by comparing URLs against a database of over 1 million dangerous websites. Further, CleanWeb blocks phishing links to prevent you from falling victim to scammers trying to get their hands on your private information.
You need a Surfshark subscription to benefit from CleanWeb—it's included at no additional cost. If you want to save up, you can get Surfshark at 81% off. There's also a way you can try it out before making a full commitment with SurfShark's 30-day money-back guarantee. If you don't love the ad blocker, just request a refund.
You can protect all of your gadgets against adware at once with SurfShark's unlimited simultaneous device connections. CleanWeb is easy to activate within the VPN's apps, but if you do have any issues, I've found the 24/7 live chat support to be responsive and helpful.
Available for free with Winscribe's paid and free plans
Block ads, trackers, and malware
Customizable to meet your needs
Tools for controlling your household's browsing habits
Speeds up webpage load times
Supported platforms: Windows, Android, macOS, iOS, and Linux
R.O.B.E.R.T. is Windscribe VPN's cybersecurity feature that protects your devices from ads, malware, phishing attempts, and trackers. It blocks all DNS requests from a list of known domains.
The ad blocker worked great in eliminating all types of ads on the webpages I visited. Without ads and trackers causing congestion, I noticed that my loading speeds were much faster. Plus, when I tried connecting to websites that I knew to be dangerous, R.O.B.E.R.T. prevented my access to keep my computer safe.
R.O.B.E.R.T. offers some useful customizations. For example, you can create custom blocklists of domains or IP addresses that you never want to access. You can also whitelist those sites that you don't want R.O.B.E.R.T. to interfere with.
Furthermore, you can create household block lists to control browsing habits—toggle access to social media sites, gambling sites, porn sites, fake news, and more.
Subscribers of Windscribe Pro get full access to all of R.O.B.E.R.T.'s blocking powers on unlimited devices, whereas users of the free version get malware and ad blocking on just three devices.
With the paid plan, you can take advantage of a 30-day money-back guarantee to test the service risk-free.
I found that customer service could be improved: When you use the live chat, you have to talk to chatbot Garry first. It's not always useful, but if it can't answer a query about R.O.B.E.R.T., it will pass you over to the live chat team for more help.
Use for free with a CyberGhost subscription
Blocks ads, trackers, and malware
Promotes faster website loading times
45-day money-back guarantee
Use on up to 7 simultaneous devices
Supported platforms: Windows, Android, iOS, macOS, Chrome, Firefox, and Linux
CyberGhost offers protection against ads, tracking, and malware within the VPN's apps. You need to manually activate each of these forms of protection, and I recommend turning on all three for maximum security against popups and dangerous websites.
Rather than blocking all DNS requests from specific websites, CyberGhost's ad blocker works by removing part of the code from the server request that tries to pull ads.
I tested the ad and malware protection, and it functioned great. It blocked ads on Facebook, BuzzFeed, and more. These blockers made my browsing experience much smoother as there was no waiting for ads to load.
Arguably, it would be better if the blockers were activated by default, but as CyberGhost's apps are extremely easy to use, a few clicks are all it takes to enable adware protection.
Device compatibility is excellent, with the ad-blocking features included with all of CyberGhost's apps. If you have any issues activating the blockers, friendly and supportive live chat support agents are available day or night to help.
You need a CyberGhost subscription to use its ad blocker, but you can try it and the VPN on up to 7 simultaneous devices when you take advantage of its 45-day money-back guarantee. I tested this out and it was surprisingly easy – all I had to do was answer a few questions and the live chat rep processed my refund. I got my money back a week later. You can also save up on CyberGhost if you take advantage of its 83% off discount.
Standalone ad blocker
Blocks ads on websites and mobile apps
30-day money-back guarantee
Supported platforms: Windows, Android, Chrome, Safari
AdLock is a standalone ad blocker available as a download for various devices and as a browser extension for Chrome and Safari. It blocks all types of ads, malware, and connections to malicious websites. It also stops trackers to protect your privacy.
When I tested AdLock on my Chromebook, I saw no ads when visiting torrenting sites, scrolling through Facebook, and streaming on YouTube.
Next, I installed the app on my Android phone—I was up and running within minutes. There were no interruptions from autoplay video ads when I played Scrabble GO or Candy Crush Saga through the apps.
This meant that the gaming apps ran much smoother and didn't use up nearly as much data, which was extremely useful when there wasn't WiFi on a recent bus trip.
On Android and Windows devices, AdLock blocks ads on your web browser, as well as any app that connects to the internet. Plus, AdLock can skip past ad-blocker detection, something website owners use to prevent commercial content from being removed.
The AdLock browser extension is free, but for Android and Windows devices, it's a paid subscription. With a plan, you can protect up to 5 devices at the same time. Not sure if it's worth the cost? Test it out risk-free with a 30-day money-back guarantee.
Ad Blockers to Avoid
Adblock Plus
Not to be confused with AdBlock, Adblock Plus is a browser extension that allows you to enable certain pop-ups for specific websites, build a whitelist, and create your own filter. However, Adblock Plus has received criticism for receiving money from online publishers to whitelist their ads. This seems to be a conflict of interest that you might want to avoid in an ad blocker.
Smart Popup Blocker
During the testing process, Smart Popup Blocker failed to block a number of non-intrusive ads and popups. While it does offer some useful features, such as a whitelist and cookie management, its inability to reliably block ads—and therefore potentially dangerous adware—means Smart Popup Blocker is best avoided.
FAQs
😀 What's adware, and why is it dangerous?
Adware is software that's designed to display advertisements and generate revenue for its developer. You experience adware anytime you visit a website with banner ads, popups, or videos.
While ads are annoying, they're also sometimes dangerous because they may gather data about you. They invade your privacy to learn as much as possible about you, with some even tracking you as you move from website to website.
Worse, some ads are used to spread malware. Malicious adware can infect your browser or device when you click on an ad, but some kinds of adware can infect you even if you never click anything.

😄 What kinds of ad blockers are there?
The most common kinds of ad blockers you'll see include standalone services, browser extensions, and VPNs with dedicated security suites. Each of these services will differ in the amount of protection they afford.
For example, some standalone ad blockers only combat ads; they may not guard against malware or protect you from suspicious websites. Most VPNs with dedicated security suites, on the other hand, protect against nearly all online threats, including hackers and even government surveillance.
🙂 How safe are ad blockers?
Legitimate apps and services are extremely safe. However, there are a number of scam services that operate using similar names to legitimate apps. These fake ad blockers collect data about your browsing habits, and they may even change your browser's behavior. Examples of fake ad blockers include:
Adblock Plus
Adblock Pro
HD for YouTube
uBlock Plus
AdRemover for Google Chrome
Superblock Adblocker
Webutation
Avoid falling victim to an ad blocker scam by sticking with one of the ad blockers I've recommended. They're all 100% safe to use and utilize advanced software to protect your devices from being compromised by adware, malware, and other malicious content.
Each of my recommendations was subject to rigorous testing to ensure they could match up to their claims and reliably block ads.
😊 Are ad blockers easy to use?
Don't worry if you're not tech-savvy: All the ad blockers on this list are simple to install and set up—I tested them myself. They come with customizable features that you can activate or deactivate with a single click.
🙃 What should I look for in an ad blocker?
My research methodology focused on three main areas to ensure you get the protection you need when you need it.
Efficiency in Blocking Ads
I tested each of the blockers on this list to ensure they lived up to their claims. Using each one, I visited numerous ad-heavy sites, like Facebook and YouTube, to ensure that all ads were blocked, therefore eliminating the dangers of adware.
Ease of Use
Because I tested all these ad blockers for myself, I can confirm that each one is easy to use, even for those who are new to this kind of software. I looked for user-friendly features and simple customization so every user gets the ad-blocking and malware protection they need.
Compatibility
It was important that the ad blockers were compatible with a wide range of devices and browsers for all-around protection against adware, malware, and malicious websites. Plus, I felt it was important that these ad blockers offer support for protecting numerous gadgets at once.
The Bottom Line
Ad blockers can do a lot to improve your browsing experience, but more importantly, they can also protect you from trackers, malicious adware, and dangerous websites.
There are many ad blockers from which to choose, all offering different levels of protection. If you want complete protection from adware, hackers, and other cyberthreats, I recommend choosing a VPN that has built-in ad-blocking software, like NordVPN.
VPNs combine ad blocking, military-grade encryption, and a ton of extra features to guarantee your privacy, safeguard your sensitive data, and protect your devices every time you go online.
To summarize, here are the best VPNs with ad blockers in 2021…
Privacy Alert!
Your data is exposed to the websites you visit!
The information above can be used to track you, target you for ads, and monitor what you do online.
VPNs can help you hide this information from websites so that you are protected at all times. We recommend NordVPN — the #1 VPN out of over 350 providers we've tested. It has military-grade encryption and privacy features that will ensure your digital security, plus — it's currently offering 68% off.
Privacy Alert box - content - Popular posts