5 Best Ad Blockers for Twitch — Tested & Still Working in 2023
Published on 10th December 2022
Static, pre-roll, mid-roll, and post-roll ads can make watching Twitch feel like one long commercial break. Luckily, there are plenty of ad blockers available for the platform. But finding the right Twitch ad blocker can be tricky — some aren't reliable and others are dangerous to use.
Twitch also has advanced blocker prevention features that can make it challenging to find a solution that works. So, my team and I tested 40+ ad blockers to find the best one for Twitch. Of all the methods I tested, a VPN service gave me the best combination of ad-blocking and online security — so you can watch Twitch privately without missing a second of your favorite stream.
My top pick is ExpressVPN. It has fast speeds for 4K viewing and plenty of servers in countries that let you access all your favorite Twitch content ad-free. Your connection is also secured with military-grade encryption and a no-logs policy. You can try ExpressVPN risk-free as it comes with a 30-day money-back guarantee. It's easy to get a refund if you're not happy.
Get the Best Ad Blocker for Twitch Now
Important: Some ad blockers can go against Twitch's guidelines, so always check before using one. Not all ad blockers are safe to use either; for example, some can harvest your data. Always stick with tried-and-tested providers.
Short on Time? Here Are the Best Ad Blockers for Twitch in February 2023
ExpressVPN — Overall best for blocking ads on Twitch, with robust security to protect your online activity. It also offers fast speeds to play live streams and videos in 4K without interruptions. You can try it with confidence; it's backed by a trustworthy money-back guarantee.
AdBlock — Helps you block all banner, video, and pop-up ads on Twitch and other websites, but doesn't have any additional security features.
Purple Ads Blocker — Blocks Twitch ads using a proxy server that's ad-free, but doesn't work with other platforms.
uBlock Origin — Ad blocker extension that allows you to set custom whitelists and blocklists for ads, but only works in-browser.
TwitchIs — Beginner-friendly platform that hosts Twitch videos and live streams without any ads, but can affect streaming speeds.
Why You Need a VPN to Block Ads on Twitch
Some Twitch ad blockers work by banning all ad elements, but this can backfire by triggering the platform's ad blocking error. A VPN is the easiest way to get rid of Twitch ads. Instead of trying to block ad elements, a VPN gives you an IP address in a country where Twitch ads aren't shown at all.
In fact, using a VPN to prevent ads on Twitch is so effective that popular streamer HasanAbi was told off by the platform for letting fans in on the secret. When explaining how his viewers could avoid ads on Twitch, Hasan said they could either subscribe or "do some other stuff that I can't say anymore."
When you connect to a VPN location, the service reroutes your traffic through a server in your chosen country. This masks your actual location with an IP address from that country. Then, all you have to do is choose a server in a location where ads aren't shown on Twitch.
For example, connecting to a server in one of the following countries helps you get rid of Twitch ads:
Belarus
Colombia
Costa Rica
Czechia
Georgia
Guatemala
Lithuania
Mexico
Panama
Poland
Russia
Serbia
Slovakia
Ukraine
Out of all the listed locations, Poland is the best. It doesn't have any ads on Twitch and so you can connect to it and start watching without interruptions. The USA, UK, Germany, and Sweden are all locations to avoid — these are some of the worst offenders when it comes to serving multiple, repetitive ads.
When you switch locations, you might notice that your recommendations change as Twitch thinks you're in a different country. Don't worry though, you can still find and watch all of your favorite streamers using the search.
As a bonus, VPNs can also keep you safe online and help you access geo-restricted content. If you want to watch a video that's not available in your country, simply connect to a VPN server in a location where those geoblocks don't apply. When your traffic is rerouted through the VPN server, it's encrypted too — giving you enhanced online privacy and data security.
Get the Best Ad Blocker for Twitch Now
Best Ad Blockers for Twitch — Full Analysis (Updated in 2023)
All my shortlisted ad blockers reliably remove Twitch ads. Plus, they have fast speeds to watch your favorite streamers without interruptions. These ad blockers work on multiple devices simultaneously and offer easy-to-use secure apps for added security.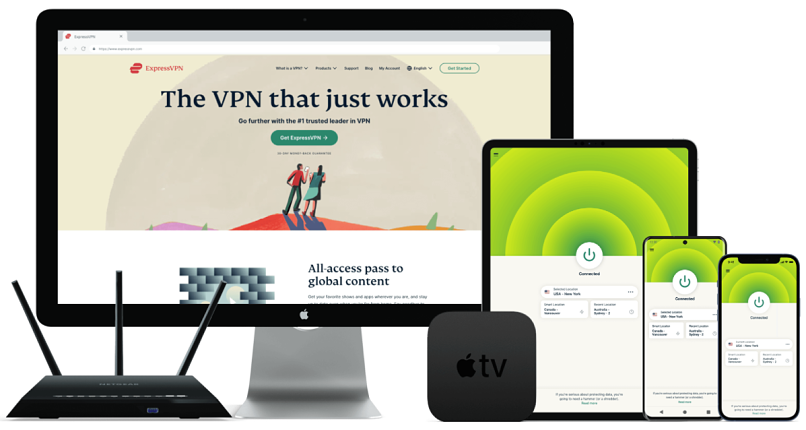 Editor's Choice
Editor's Choice

Tested February 2023
Try Risk-Free for 30 Days
Available on:
Chrome
Router
Smart TV
More
www.ExpressVPN.com
Servers in countries where Twitch ads aren't shown, including Poland and Serbia
Top security measures like DNS/IP leak protection to keep your real IP hidden
Excellent speeds for interruption-free viewing from anywhere in the world
5 simultaneous device connections to watch Twitch on all your devices
Works with: Twitch, YouTube, Netflix, BBC iPlayer, Crunchyroll, HBO Max, and more
ExpressVPN offers 3,000 servers in 94 countries, helping you reliably block ads on your Twitch account. Using the Poland server, I blocked all ads while watching Lirik on Twitch. The servers even helped me unblock my other streaming accounts on platforms like Netflix and Crunchyroll.
During my ExpressVPN tests, I recorded excellent speeds for streaming videos on Twitch in 4K. I recorded an average download speed of 83.9 Mbps — just a 6% drop from my base connection. Twitch pages loaded fast and let me participate in the chat without any delays.
The Network Lock (kill switch) automatically disconnects you from the internet if the VPN tunnel drops — though that didn't happen for me. This ensures Twitch doesn't see your real IP address and start showing you ads. As a bonus, military-grade encryption safeguards you online, even on public WiFi networks. So, you can travel and catch up with Twitch channels without worrying about cyber threats.
Thanks to ExpressVPN's strict no-logs policy, your Twitch information is kept private. This means the app doesn't log anything you watch or do online. The service is headquartered in the British Virgin Islands, outside the 5/9/14 Eyes Alliances — countries known for strict data retention laws and swapping citizens' info. Your personal info can't be shared with any third party.
You get 5 simultaneous connections to watch live streams ad-free on all of your devices. The VPN supports all major operating systems and the apps are user-friendly. There's also 24/7 live chat support to help you if you have queries at any time.
One slight drawback is the price tag, with plans starting at $6.67/month. However, ExpressVPN runs generous discounts that save you money. The VPN offered me 49% off when I subscribed to a long-term plan. I got the 12-month plan with an added bonus of 3 months of free service.
A trustworthy 30-day money-back guarantee backs up ExpressVPN. The refund process is straightforward, and you get your money back quickly. I canceled my subscription using the 24/7 live chat tool and just answered a few questions about my experience with the app. After around 5 minutes, the refund was approved and the money was transferred back to my bank account within 2 days.
2. AdBlock — Blocks Ads on Twitch and Several Other Platforms for Interruption-Free Viewing
Prevents ads on Twitch and other platforms to save your time while watching streams
Offers secure open-source ad-blocking apps for most operating systems
Lets you stream Twitch content in UHD without any delays
Works with: Twitch, YouTube, Netflix, BBC iPlayer, Crunchyroll, HBO Max, and more
Compatible with: Android, iOS, Chrome, Firefox, Microsoft Edge, and Safari
AdBlock's free extensions and apps prevent pop-up and video ads on Twitch to save you time while streaming your favorite Twitch creators. The ad blocker is also open-source, so it's easy to verify that it's safe to download.
You get fast internet speeds with improved page load times. I put this to the test by watching a 4K live stream on Twitch; AdBlock removed all ads without slowing me down. You can use the app to remove ads on other platforms like YouTube and Crunchyroll too.
It's easy to customize the settings with required ad-blocking filters, "allowlists", dark mode, and other custom themes. The app also allows you to back up and sync all your settings for use on other devices. So, you can instantly block ads on Twitch and other platforms without spending much time on configuration.
The interface is user-friendly and you can request assistance from the "Help Center'' if you face any problems. Downloading the software is easy from the official website and apps are available to use on all major platforms including Windows and macOS. The standard apps and extensions don't come with any additional security features like encryption or a kill switch.
Adblock does offer premium versions with extras like enhanced pop-up blocking, customization, and a no-logs policy, but this is no match for a top-end VPN like ExpressVPN.
3. Purple Ads Blocker — Proxy Connection to Block All Ads on Twitch Without Affecting Your Speeds
Offers automatic proxies that block all video ads on Twitch live streams and channels
Improves page load times by blocking all data-consuming ads and popups
The extension is open source which is great for added security
Works with: Twitch
Compatible with: Chrome and Firefox
Purple Ads Blocker is a free browser extension that can be used for blocking Twitch ads without triggering the purple screen error. This ad blocker uses an external proxy, which video requests are sent through. All of Twitch's playlist files are transferred via an intermediary server in a country with no Twitch ads to get an ad-free good quality stream.
The app also offers improved page load-up times and helped me access live streaming channels faster. I tested Purple Ads Blocker on Twitch and didn't find any loss in performance or video quality.
Another advantage is that the ad blocker is open source and does not collect or store any of your data. This is great as it allows anyone to check the source code for viruses, malware, or malicious code. So, your Twitch login info and search data are protected from cyber threats.
The extension is available for browsers such as Chrome and Firefox. You can also download the code from GitHub by visiting its website. However, you can't use the ad blocker on any other platforms. Plus, as a proxy, the ad blocker doesn't encrypt your traffic.
4. uBlock Origin — Custom Blocklists to Whitelist Twitch Channels and Support Your Favorite Streamers
Lets you add custom blocklists to remove ads on Twitch and other platforms
Stops all forms of Twitch banners and video ads for an interruption-free experience
Speeds up loading on Twitch channels by removing unnecessary ads
Works with: Twitch, YouTube, Netflix, BBC iPlayer, Crunchyroll, HBO Max, and more
Compatible with: Chrome, Firefox, Microsoft Edge, and Opera
uBlock Origin (UBO) lets you make a custom blocklist to support your favorite Twitch creators. By whitelisting their streams, you can choose to allow advertisements. The free extension also has impressive features for tracker and ad blocking when watching Twitch in-browser. It blocked all pre-roll and mid-roll video ads when I streamed Pokimane.
The element zapper and dynamic filtering allow you to target and remove specific ad elements on Twitch's page. This gives you the option to choose which kinds of ads you want to get rid of. For example, I chose to remove on-page ads, but watch mid-rolls to support xQc.
The open-source extension is lightweight and has a small memory footprint — great for watching Twitch on laptops or Chromebooks as it doesn't take up much space. Unfortunately, the app only works on browsers though. That means these features are only available on Chrome, Firefox, Microsoft Edge, and Opera. UBO also couldn't unblock ads on other platforms like YouTube and doesn't offer any official support.
Watch Twitch With uBlock Origin
5. TwitchIs — User-Friendly Website for Instant and Easy Twitch Ad-Blocking
An embedded video platform that lets you watch Twitch streams without ads
The service is open-source for added security while logging in with your Twitch info
User-friendly interface that lets you catch up with Twitch creators on most devices
Works with: Twitch
Compatible with: Android, Windows, iOS, Mac, Linux, Chrome, Firefox, consoles, and more
Unlike the other apps on my list, TwitchIs is a free third-party platform that embeds Twitch streams minus the ads. I watched live streams and didn't see any drop in resolution or slowdowns. You can view channels without logging in or use TwitchIs with your Twitch account. I logged in so I could access all my favorite creators on Twitch and interact in the chat as normal.
This open-source platform is great for privacy; TwitchIs hasn't suffered any known data breaches. Plus, you can access the site on any browser or device and it's easy to use.
The only downside is that TwitchIs can affect your streaming speeds. Unlike with ExpressVPN, I experienced some buffering while watching Shroud. The site also blocks interaction-based rewards like Channel Points and Twitch Drops.
Quick Comparison Table: Twitch Ad Blocker Features
Quick Guide:
How to Block Twitch Ads With a VPN in 3 Easy Steps
Download a VPN. I recommend ExpressVPN as it helps block ads on Twitch using an ad-free server location. The app also offers great security features to keep you safe online. You can try ExpressVPN risk-free as it's backed by a reliable 30-day money-back guarantee.
Connect to a server. Choose a server in a country that doesn't show Twitch ads. For example, Twitch in Poland doesn't have any adverts. Try to pick a location that's as close to you as possible, as this gives you the best speeds.
Start watching. Now you can watch all your favorite streams without missing any of the action.
Tips on Choosing the Best Ad Blocker for Twitch
All of my recommended services offer you great features to block ads on Twitch. However, if you want to run your own tests, here are the things to look out for:
Blocks all video ads. You need to use an ad blocker that can remove all video ads such as pre-rolls, mid-rolls, and post-rolls. These are the most common ads on Twitch and are shown when you play any video.
Lag-free streams. 4K streaming requires at least 25Mbps, so go for a service that doesn't take up many system resources or slow your speeds down.
Open source and strong security measures. A VPN offers extra measures like 256-bit encryption, and a kill switch. Open-source services ensure your online identity remains private. Your ad blocker should also never log your online activity.
Device compatibility. Your chosen service should be compatible with the device you use to stream Twitch. Support for multiple connections also allows you to use the service on many devices at once.
Money-back policy or free. It's best to choose a service that will give you an easy refund if you change your mind, or lets you use it for free.
Get the Best Ad Blocker for Twitch Today
FAQs on Using Ad Blockers for Twitch
Is it legal to use an ad blocker for Twitch?
Yes, using an ad blocker for Twitch is legal. In fact, it's recommended to use ad blockers to stay safe from malicious ads and freely access your favorite platforms, streamers, and channels. Just use a blocker that works with all ads on Twitch and offers fast speeds.
Bear in mind that using some ad blockers can go against Twitch's guidelines though. It's recommended to stay up to date with the current Twitch rules and guidelines before downloading any third-party software. That said, there haven't been any known examples of users being banned from Twitch for using an ad blocker.
Do I need to uninstall my ad blocker to use Twitch?
No, using Twitch doesn't require uninstalling your ad blocker. However, if you're continuously seeing the Purple Screen Error (the dreaded purple screen of death) then try a VPN, which is a reliable solution for watching Twitch without any ads. Twitch constantly updates its scripts to thwart ad-blocking software (and third-party streaming sites), so a VPN is more dependable.
If you're using an in-browser ad blocker, then restarting your browser can solve any issues. You can also try adjusting your ad blocker settings to avoid triggering Twitch's anti-blocker software. Just follow these steps:
Go to your ad blocker's settings and look for a "Filters" tab. Most ad blockers allow you to add custom filters and will be using this to avoid detection from Twitch while blocking all video ads.
Enter new filters by typing in: twitch.tv##+js(twitch-videoad) and then apply the changes.
If your ad blocker allows you to customize the "userResourcesLocation," then change the text to: https://raw.githubusercontent.com/pixeltris/TwitchAdSolutions/master/vaft/vaft-ublock-origin.js
Apply the changes.
Are there any alternative ad blockers for Twitch?
Yes, AdLock and TTV LOL are some other popular alternatives. The below ad blockers get rid of most ads on Twitch, though weren't as effective during my tests. It's best to use a service that blocks all video ads to make sure you don't miss any of your favorite streams.
Here are the other options I tested:
Video Ad-Block For Twitch
TTV LOL
TTV AdEraser
Total Adblock
AdLock
AdGuard
Why should I use an ad blocker for Twitch?
So you can get rid of ads without having to subscribe to a channel. Some Twitch streams have ads enabled even if you're a paying subscriber or Twitch Prime user. Viewers can also sometimes be served up to 9 ads in a row. Using an ad blocker is the best way to avoid missing parts of your favorite streams without having to pay for a costly Twitch Turbo membership.
Ad blockers can also help you save data by blocking on-page and video ads from loading. This is great if you like to use the Twitch mobile app on the go, but don't want to eat into your data plan.
Can I use a free ad blocker for Twitch?
Yes you can, although it's not necessarily be the best option. Some can log or sell your data, or even include malware in their downloads. It's best to use a premium VPN with a money-back guarantee to block Twitch ads. That way, you get enhanced online privacy at the same time as ad-free Twitch content. Plus, VPNs offer multiple servers that allow you to unblock other geo-restricted content too.
Besides those mentioned, many unpaid services aren't powerful enough to bypass Twitch's detection. Others can't always get rid of all the ads on the platform. Free VPNs are particularly unreliable. They often deliberately restrict your speeds or bandwidth so you can't watch a whole stream — with or without ads.
Get the Best Twitch Ad Blocker Risk-Free
Get the Best Ad Blockers for Twitch Today
If you're an avid Twitch viewer, then an ad blocker helps you remove annoying ads that make you miss parts of your favorite streams. My recommended services also help you save data by preventing ads from loading.
My top recommendation for blocking ads on Twitch is ExpressVPN. It offers a vast server network that includes plenty of countries that don't show Twitch ads. Plus, the excellent speeds let you watch your favorite streamers without lag. You can try ExpressVPN without risk; it's backed by a reliable 30-day money-back guarantee. Getting a refund is simple if you're not 100% happy.
To summarize, the best ad-blocking VPN for Twitch is…
1
Privacy Alert!
Your data is exposed to the websites you visit!
The information above can be used to track you, target you for ads, and monitor what you do online.
VPNs can help you hide this information from websites so that you are protected at all times. We recommend ExpressVPN — the #1 VPN out of over 350 providers we've tested. It has military-grade encryption and privacy features that will ensure your digital security, plus — it's currently offering 49% off.