5 Best VPNs With Ad Blockers — Tested & Still Working in 2023
Finding a reliable ad blocker VPN that doesn't compromise your security is challenging. Many ad blockers (especially free ones) aren't updated to work with new types of ads. Worse yet, some free ad blockers have been caught selling private user data to the highest bidder.
My team and I tested 50+ VPNs and found the best ones that block a wide range of ads, trackers, and malware. They enhance your online privacy with top security measures and offer fast speeds for buffer-free streaming as well.
CyberGhost is my favorite ad blocker VPN. It successfully stops annoying ads on a variety of websites. Plus, it has a strict no-logs policy meaning your data can't be collected and sold to third parties. It also comes with a vast server network and super-fast speeds to access the content you need without interruptions. You can try CyberGhost's ad blocker for free as it's backed by a 45-day money-back guarantee.
Get the Best Ad Blocker VPN Now
Short on Time? Here Are the Best VPNs With Ad Blockers in February 2023
Try CyberGhost Risk-Free Today
The Best VPNs With Ad Blockers — Full Analysis (Updated in 2023)
All VPNs on my list are excellent at blocking annoying ads. Each one offers powerful security features that protect your browsing activity from hackers and snoops (like AES 256-bit encryption and a kill switch).
They also come with global server networks to bypass geoblocks and fast speeds for bufferless streaming. Plus, the VPNs provide multiple simultaneous connections and easy-to-install apps, so you can use them on your preferred devices.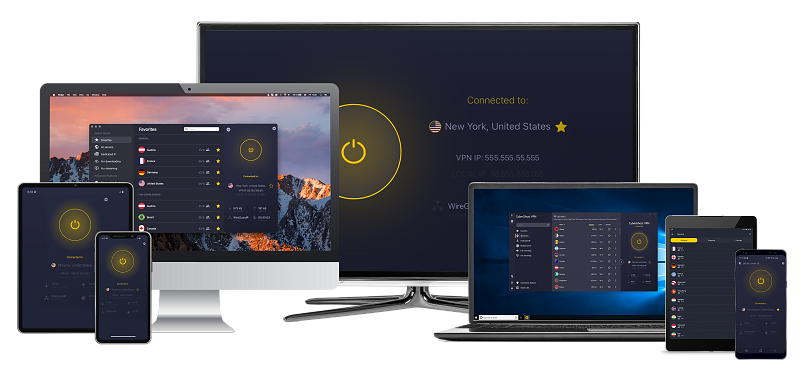 Editor's Choice
Editor's Choice

Tested February 2023
Try Risk-Free for 30 Days
Available on:
Chrome
Router
Smart TV
More
www.cyberghostvpn.com
Built-in ad blocker and AES 256-bit encryption to keep you safe online
Super-fast speeds to stream your favorite shows buffer-free
7 simultaneous connections to block ads on multiple devices
Can unblock: Netflix, Disney+, Amazon Prime Video, BBC iPlayer, Hulu, and more
Compatible with: Windows, Android, iOS, Mac, Linux, Chrome, Firefox, routers, and more
CyberGhost's built-in ad blocker reliably protects against dangerous ads and malware, so you can browse your favorite websites safely. Just make sure to switch on "Block content" in the privacy settings. I tested CyberGhost's ad blocker on the speedtest.net website — it stopped all the ads. This ad blocker VPN also fends off cyber threats (such as phishing links, spyware, and adware) that can expose your personal information.
The VPN protects your connection with robust security features. It comes with Perfect Forward Secrecy which changes your encryption key every 15 minutes, so no one can intercept your sensitive data. I also ran several leak tests on CyberGhost's US servers, and my actual location wasn't revealed. Thanks to a strict no-logs policy, your private information can't be stored or sold to any third party.
You can pick from multiple security protocols too. CyberGhost supports the super-fast (and secure) WireGuard and ultra-safe OpenVPN. There's a mobile-friendly IKEv2 as well. The VPN comes with RAM-based servers that wipe your data with every reboot, protecting you from snoops. Plus, the service is based in Romania, outside the 5/9/14 Eyes Alliances — an agreement between several countries to share intelligence on their citizens.
Unblocking content is easy, thanks to 9,753 servers in 91 countries. While connected to the US and UK servers, I accessed my BBC iPlayer, Disney+, and Netflix US accounts from abroad. I also watched What we do in the shadows on my Hulu account trouble-free.
Super-fast speeds let you stream content in 4K buffer free. I recorded an average download speed of 89 Mbps. It's over 3 times faster than the recommended 25 Mbps for UHD streaming and only 12% slower than my base speed.
The apps are user-friendly and compatible with a wide range of operating systems. You can use the VPN on your Android smartphone, iPhone, and Chromebook. It's easy to contact customer support via 24/7 live chat if you encounter any problems. I asked how to set up CyberGhost antivirus on my Windows PC (for an additional fee) and received a prompt and professional reply.
My only disappointment is the expensive monthly plans with short money-back guarantees (just 14 days). However, long-term subscriptions are much more affordable — you can get CyberGhost for as low as $2.19/month. They come with extended refund periods as well. I recommend the 3-year plan as it offers the best value for money.
Getting a refund is easy thanks to a 45-day money-back guarantee. All I had to do was contact support through a live chat and provide a reason for my cancellation. Just 2 days later, the money was credited back to my bank account.
Reliable ad blocker (MACE) and choice of security protocols to tailor your protection
29,650 servers in 84 countries to unblock global content
Connect 10 devices and browse without interruptions
Can unblock: Netflix, Disney+, Amazon Prime Video, BBC iPlayer, Hulu, and more
Compatible with: Windows, Android, iOS, Mac, Linux, Chrome, Firefox, routers, and more
PIA lets you customize its privacy settings to suit your needs. You can pick between super-secure AES 256-bit encryption and faster (but also secure) AES 128-bit. There's the option to choose WireGuard and OpenVPN protocols too. For the most enhanced security, I recommend OpenVPN and AES 256-bit encryption — I use them for online banking and shopping.
The MACE ad blocker helps you fend off annoying pop-ups (like Google ads). It also prevents your online activity from being tracked by advertisers — it blocks analytics and most social media trackers. While testing PIA's MACE, it successfully removed simple ads on several websites. Plus, PIA regularly updates a list of malicious domains, protecting you against malware and phishing scams.
Similar to CyberGhost, the VPN offers RAM-based servers to protect your online privacy. PIA has IP/DNS leak protection and comes with 2 kill switch options — a regular and an advanced one. Unlike the regular one, the advanced kill switch blocks all your internet traffic until the VPN is connected. I didn't detect any leaks during my tests either.
You can access your favorite content anywhere thanks to a large server network across 84 countries. I tested the UK, US, and Japan servers and had no issues accessing my Netflix and Disney+ accounts. I also watched the US Open on my ESPN+ subscription from abroad.
Speeds are excellent for UHD streaming, too. I watched The Control Room on my BBC iPlayer account without buffering as my speeds didn't drop below 71 Mbps on the UK servers. The connection remained interruption-free, even though I was torrenting in the background. MACE improves loading time and reduces data usage as well.
One downfall is that new VPN users might find PIA's apps quite complicated. However, all of them come pre-configured, so you can start using the VPN immediately without tweaking any settings yourself. Plus, PIA provides 24/7 live chat support if you need assistance. MACE VPN ad blocker is supported on Windows, macOS, and Linux apps. You can also get it on Android by downloading an APK file of the app directly from PIA (not from the Play Store).
Long-term PIA plans start at $2.19/month, which is very affordable. I find the 2-year subscription the best deal as it's more pocket-friendly in the long run and offers the same features as the monthly plans.
A 30-day money-back guarantee lets you try PIA for free. To test its legitimacy, I used the service for several weeks and asked for a refund by filling out a support ticket on PIA's website. My request was quickly approved, and my credit card was reimbursed after only 3 days.
High-speed connections to stream and browse without delays
NetShield ad blocker and a kill switch to keep your online activity private
10 simultaneous connections to cover all your devices
Can unblock: Netflix, Disney+, Amazon Prime Video, BBC iPlayer, Hulu, and more
Compatible with: Windows, Android, iOS, Mac, Linux, Chrome, Firefox, routers, and more
Proton VPN's fast speeds let you watch UHD content without interruptions. I recorded an average speed of 61 Mbps on its US, UK, and Australia servers (less than a 30% decrease from my base speed). There's also unlimited bandwidth, meaning you can stream and download as much as you want.
With 1,925 servers spanning 67 countries, bypassing geo-blocks is effortless. The VPN even has specially-optimized servers for a better streaming experience on some popular platforms. When testing Proton VPN, I accessed my Netflix US and Hulu subscriptions with ease. I had zero issues streaming the Premier League on my Sky Sports account while abroad as well.
An integrated NetShield ad blocker offers 2 levels of protection. The first mode focuses on malware using a crowdsourced database of malicious URLs. The second mode stops malware and ads, and is designed to block scripts and bots from tracking your online activities. I tested it with pop-ups and banners, and it blocked all of them.
The VPN also has a Secure Core server feature that adds an extra layer of privacy. These servers are fully owned and handled by Proton VPN, meaning no third party has access to them. Secure Core passes user traffic through multiple servers, reducing the risks of your data being intercepted and the traffic traced back to you. Your sensitive information is protected with AES 256-bit encryption and a no-logs policy too.
I had no issues installing Proton VPN apps. It took me only 5 minutes to set it up on my Windows 11 laptop and even less on my Android smartphone. The VPN works with the latest versions of popular internet browsers, like Firefox, Safari, and Brave. It's also compatible with Chrome OS.
It was disappointing to see that Proton VPN doesn't have live chat support. However, the Online Support Center covers most queries. There's also the option to fill out a support form and get a response, usually within 24 hours.
Long-term subscriptions are budget-friendly — you can get Proton VPN for just $4.99/month. Short-term plans don't offer additional benefits, so I suggest getting the 2-year plan and saving money.
There's also a 30-day money-back guarantee— it's easy to get back the value of unused time (prorated). I tested this policy by sending a support ticket. After providing feedback about the service, my refund was approved and transferred to my PayPal wallet 4 days later.
Unlimited connections to browse ad-free on all your devices
Fast speeds to stream in top quality
Browser extension to block ads and malware
Can unblock: Netflix, Disney+, Amazon Prime Video, BBC iPlayer, Hulu, and more
Compatible with: Windows, Android, iOS, Mac, Linux, Chrome, Firefox, routers, and more
ZenMate offers unlimited simultaneous device connections. To see how it performs under load, I connected 7 different devices at once (including my iPad, Chromebook, and several smartphones). During the ZenMate tests, all my connections remained stable. The VPN is also compatible with the Opera and Edge browsers.
Your personal data is protected with AES 256-bit encryption and a kill switch. This means malicious parties can't spy on your browsing activity. I tested the IP/DNS leak protection, and my actual location wasn't revealed.
There's also a browser extension that protects your privacy by blocking ads and malware at the source. It stops cookies from tracking your online activity, while the malware blocker helps prevent the installation of malicious software. After enabling it, I noticed fewer pop-ups on the visited websites (like USA Today).
The server network covers 81 countries. I accessed my Disney+ account on the first try using the US server. Likewise, I easily unblocked my BBC iPlayer, and ITV Hub accounts with its UK server.
When testing US, UK, and New Zealand servers, my speeds were fast — an average of 54.2 Mbps. The result isn't as fast as PIA, but it allowed me to download a 1 GB file in less than 3 minutes, which is still quite impressive. My connection remained stable, and I experienced no disconnects.
Just be aware that ZenMate is based in Germany, which is part of the 14 Eyes Alliance. However, the VPN follows a strict no-logs policy, meaning it doesn't collect and share your data with anyone.
I find subscriptions reasonably priced — the most affordable plan starts at only $1.99/month. A 3-year option is the most pocket-friendly; that's why I recommend subscribing to it.
A 30-day money-back guarantee lets you try ZenMate for free. I contacted support via its online form and asked for a refund. It was quickly approved, and the money returned to my bank account after 5 days.
Simple interface with interactive map that makes it ideal for beginners
TunnelBear Blocker extension to avoid pesky ads and malware
Unlimited simultaneous connections to stop ads on numerous devices
Can unblock: Netflix, Disney+, Amazon Prime Video, BBC iPlayer, Hulu, and more
Compatible with: Windows, Android, iOS, Mac, Linux, Chrome, Firefox, and more
TunnelBear apps are super easy to use. The entire user interface is presented with an interactive map. You can simply click on a country to connect to it. While testing TunnelBear, I installed the app on my Windows PC within seconds. Plus, all the notifications and installation prompts are written in bear puns, making it fun to use.
Like Proton VPN, you can install the TunnelBear Blocker extension for Chrome to stop ads. It effectively blocks ads on YouTube, Twitch, and other sites. The extension also prevents ultrasonic beacons from using your microphone to detect your browsing preferences. Besides, it has an email tracking protection that blocks the pixel trackers in your mail. And it works with Adobe Flash, which is ridden with security vulnerabilities.
Advanced security features prevent your data from being compromised. The VPN uses AES 256-bit encryption and an automatic kill switch to protect your traffic. Plus, all your online traffic is passed through the OpenVPN or IKEv2 security protocols.
Speeds are suitable for high-bandwidth activities. When testing TunnelBear's speeds, I measured 47.5 Mbps of the average download speed (on the US servers), which is enough for smooth online gaming and streaming.
The VPN's unblocking abilities are reliable too. I easily accessed my Netflix US, Hulu, and Disney+ accounts thanks to the servers located in 47 countries.
My only gripe is that TunnelBear doesn't offer a money-back guarantee. You can still test it using its free plan, but I recommend getting a paid subscription. Otherwise, you'd be limited to 500 MB, which gets used up quickly.
You can get TunnelBear for as low as $3.33/month. I chose the 3-year plan as the monthly subscriptions have no additional benefits and higher prices.
Quick Comparison Table: Ad Blocker VPN Features
Tips on How to Choose the Best VPNs With Ad Blockers
Besides the reliable ad blockers, all the VPNs I shortlisted have strong security and privacy features, fast speeds, and global server networks. However, if you want to run your own tests, feel free to use this checklist:
Strong security and privacy features — Having an ad blocker is obviously a must, but a secure VPN should also offer AES 256-bit encryption, a strict no-logs policy, and leak protection to safegyard your online activity.
Global server network — Look for a VPN with a worldwide server network to access the content you need (like your Netflix US, Hulu, and Disney+ subscriptions).
Fast speeds — Pick a VPN that maintains speeds of at least 25 Mbps for buffer-free UHD streaming, quick torrenting, and smooth gaming.
Easy-to-use apps — Your VPN should have apps that are easy to navigate, support various operating systems, and allow multiple simultaneous connections to block ads on all your devices.
Trustworthy money-back guarantee — Make sure you can get a full refund if the service isn't right for you.
Try CyberGhost Risk-Free Today
FAQs on Using VPNs With Ad Blockers
Do I need an ad blocker if I have a VPN?
Using a VPN and an ad blocker enhances your security and privacy online. A VPN encrypts your connections and masks your actual IP address, protecting you from prying eyes. Whereas an ad blocker removes pesky ads. That's why the best solution is to get a VPN with an ad blocker. It's one app that gives you both forms of online protection.
Why and how do ads track my online activity?
Adware software tracks your online activity to send you targeted ads. By scanning your browsing history and personal information, the software helps third parties create personalized adverts. To keep your online activities private, you need a reliable ad blocker VPN. Common methods to spy on you include:
Cookies — This is a small file with your data that a website puts on your computer for other websites to use and identify your preferences.
Fingerprinting — It's the websites' tracking technique to collect user information through scripts.
Web beacons — Used by web pages to quietly check whether a user has accessed some content or not.
Is it safe to use a VPN ad blocker?
Yes, using a VPN ad blocker is safe. In fact, without a VPN, your online privacy is vulnerable to various cyber threats, including malicious ads and trackers. Just download and launch a premium VPN that comes with a reliable ad blocker and security features to safely browse the web. Otherwise, your private information might get collected by adware and sold to the highest bidder.
Hackers and scammers often use harmless looking ads that expose you to cyber threats. Dangers hidden behind malicious ads include identity theft, stealing financial information, and infecting your device with malware. Bear in mind that VPN ad blockers alone can't prevent browser fingerprinting — however, they hide your actual IP address and DNS requests.
Which VPNs with ad blockers should I avoid?
It's better not to use free VPNs or paid ones lacking advanced security options and reliable servers. Tried-and-tested VPNs are a much safer option — check the best ad blocker VPNs for robust online protection. Here are a few examples of the ones to avoid:
Hola VPN — It's not even a real VPN, despite being advertised as such. It's a P2P network where users can share their IP addresses. This means it can get you involved in illegal activities.
Opera VPN — It has minimal security features compared to many other VPNs — for example, it lacks a kill switch. Plus, the browser collects user data, such as your IP address and DNS requests.
Does ExpressVPN have an ad blocker?
Unfortunately, ExpressVPN doesn't offer an ad blocker. However, it has a great Threat Manager feature to block trackers and malicious sites for the iOS, Mac, and Linux apps. The VPN also offers powerful security features that protect your data from cyber threats.
If you are looking for a VPN with built-in ad blocking functionality, you can try any VPN on this shortlist, as all of them offer a reliable ad blocker. They come with top-notch security and privacy features to protect your online activity too.
Can a VPN block ads on streaming platforms like YouTube?
Yes, but not every VPN can remove YouTube ads. A reliable YouTube ad blocker VPN helps you stop banner and video ads. That's why you need a tried-and-tested VPN with ad-blocking functionality. Most VPNs on this list can block ads on YouTube and other sites (like Hulu, Spotify, and Google).
What's the best VPN for blocking ads on Android?
Not every VPN with an ad blocker works on Android. CyberGhost successfully removes intrusive ads and pop-ups on many operating systems, so you can use CyberGhost ad blocker for your Android smartphone. Plus, the VPN comes with military-grade encryption and a strict no-logs policy to safeguard your personal data.
Can I use a free VPN ad blocker to remove ads?
Yes, but you'd be risking your online privacy. Most free VPN ad blockers offer low-quality security, making it easy for hackers to hijack your traffic and steal your information. It's safer to get a premium VPN with an ad blocker and money-back guarantee. After all, most free VPNs have throttled speeds, limited server networks, and unreliable privacy features.
Plus, many free services have been caught selling user data to third parties to make a profit. You should also avoid free ad blocker APKs for Android from unknown sources, as you could be installing malware on your device.
Start Using the Best VPNs With Ad Blockers Now
A reliable ad blocker VPN helps stop annoying ads, so you can browse the web free from interruptions. Plus, it provides robust security and privacy measures for safe online activity. Most premium VPNs also come with a vast server network to easily bypass geoblocks.
CyberGhost is my top VPN with an ad blocker. It successfully removes a wide range of ads and protects you from malware. Besides, it has robust security features to safeguard your private data and super-fast speeds for bufferless streaming. Best of all, you can test CyberGhost's ad blocker for free as the VPN is backed by a 45-day money-back guarantee. You can easily get a refund if you're not 100% happy with it.
To summarize, here are the best VPNs with ad blockers
Privacy Alert!
Your data is exposed to the websites you visit!
The information above can be used to track you, target you for ads, and monitor what you do online.
VPNs can help you hide this information from websites so that you are protected at all times. We recommend ExpressVPN — the #1 VPN out of over 350 providers we've tested. It has military-grade encryption and privacy features that will ensure your digital security, plus — it's currently offering 49% off.