Which Browser is the Most Secure? (UPDATED 2019)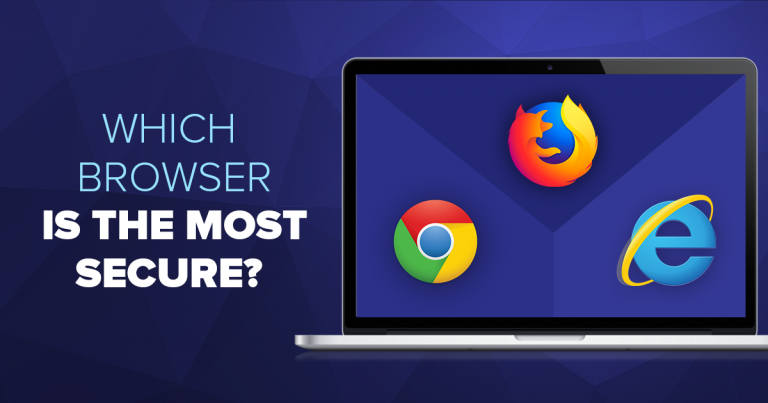 It's a fact that not all browsers are created equal, and determining which browser is the most secure is not as simple as you might think.
There are many aspects to consider: What is the operator's approach to privacy? What tracking technology do they use, and what do they do with the data they collect?
You also want to make sure your browser won't download viruses or malware and are also available on your Android or mobile phone.
So which browser is the most secure, and which one is right for you? We take you through the most popular browsers and why they aren't safe. We also include a list of other browsers that are better.
Here is the low-down on the most popular browsers used to surf the web: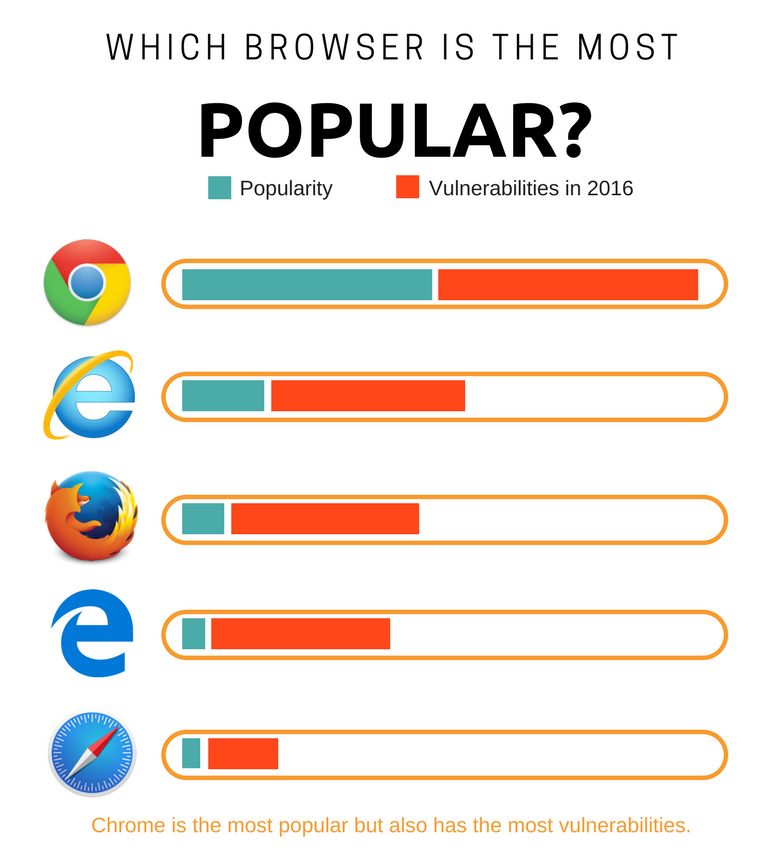 Google Chrome


Google Chrome is by far the most popular browser for both desktop and mobile users, with over half the global market share in both categories. However, it also holds the record for the most discovered vulnerabilities in 2016.

Did you know that Google owns five of the most common tracking tools, or that Google code is currently found on most of the most popular websites that users visit?

On the plus side, Chrome is the quickest browser to update its security, with only 15 days between each security update.

However,  most concerning aspect of Google Chrome is privacy.

The company is well known for collecting and storing every little bit of information it can about its users, primarily through its browser, and then using this information to create targeted advertising.

If you're hooked on using Chrome and don't want to switch browsers, a VPN can help protect you. 

Look here for the best VPNs for Chrome.

Microsoft Internet Explorer 

Microsoft IE rates second by global market share for desktop browsing but sits in fifth place for mobile use. Of the top five browsers, it had the second-fewest discovered vulnerabilities in 2016, and the numbers have dropped significantly from previous years.

However, it leaves 30 days between security updates – twice as long as Google Chrome, and older versions (before IE11) no longer receive security updates at all.

Mozilla Firefox


Mozilla Firefox, the third most popular desktop browser, sits just above Microsoft IE in terms of discovered vulnerabilities in 2016.However, it barely beats Internet Explorer on security updates, with 28 days between each update.

One of the biggest issues with Firefox is that it does not use sandbox technology, unlike other popular browsers.

This coupled with continual architecture problems, including with JavaScript plugins, means this once popular browser is soon likely to be relegated to the lower leagues.

If you're still set on using Firefox, then check out these 20 add-ons to enhance your security.

Other popular browsers


Microsoft Edge and Apple Safari hold fourth and fifth place respectively in terms of popularity and market share.These browsers hold less than 10% of the desktop market between them.

However, it should be noted that Apple Safari is the second most popular mobile browser, with just under 30% of the market share.

While not very popular, Apple Safari boasts the smallest number of discovered vulnerabilities in 2016.

However, it also leaves 54 days between security updates. According to Microsoft's own FAQ page, there is no fixed schedule for browser feature updates for Edge.
These browser alternatives are more secure (and don't cost anything):
If Google Chrome's lack of privacy concerns you, and you are none too pleased with the long gaps between security updates on the other browsers, then what can you do?
The answer is to ditch popularity in favor of security and privacy with one of these little-known but worthwhile competitors:
Tor

This browser is available for Windows, Mac, and Linux. Tor enables you to communicate anonymously and protects all your personal data, browser history, and location. You can read more about Tor here.
Comodo Dragon
This browser is also available on Windows, Mac, and Linux. It is capable of blocking web spies, cookies, and other forms of tracking. Comodo includes built-in domain validation.
This segregates strong and weak SSL certifications. Comodo also has its own antivirus package, so users are protected from malware, viruses, and other threats.
SRWare Iron
Unlike Tor and Comodo, SRWare Iron can also be used on Android.
It does not require a user ID whenever a browsing session is started, and it removes suggestions, alternate error pages, and error reporting. It also gets rid of RLZ-tracking, Google updater, and URL-tracking.
Epic Browser
This browser is specifically for MAC systems. It has no DNS prefetching and disallows third-party cookies.
Epic does not save your browser history and has no DNS or web caches or autofill feature. Additionally, it deletes cookies, preferences, and pepper data from Silverlight and Flash as soon as you close the browser.
Opera
Opera is a great browser that includes a built-in ad blocker and VPN. While you cannot torrent on it, you can remain anonymous. Opera also does not track your location or search history. It's only available for Windows and Android, but the Opera mini app works on iOS.
Each of the five less well-known browsers will greatly improve your online security and privacy. But if you must use one of the top popular web browsers, be sure to use a VPN for all of your internet activities to stop tracking, data collection, and other privacy-invoking activities.