10 Best Music Torrent Sites — Reliable Music Downloads (2023)
Finding reliable and secure torrent sites for music can be tricky. Many track your web data and contain malware. Poorly moderated music torrent sites also have slow speeds (due to a low number of seeders), numerous inactive torrents, and low-quality releases.
That's why my team and I tested over 40 music torrenting sites to find the best ones for downloading music albums, tracks, and software. However, some of these sites may be inaccessible due to ISP blocks. That's why I always recommend using a VPN to encrypt your connection — this allows you to unblock the music torrenting site of your choice, while also preventing your ISP and cybercriminals from monitoring your connection.
ExpressVPN is my favorite option for music torrenting. Its vast P2P-supported network and impressive speeds let you access the sites you need and download music without interruptions. Plus, military-grade encryption prevents snoops from reading your personal data while using torrent clients (like BitTorrent). You can test ExpressVPN without risk as it's backed by a 30-day money-back guarantee.
Access Music Torrent Sites with ExpressVPN
Warning: Downloading copyrighted music is illegal in most countries. We at vpnMentor don't condone illegal activities, so be sure to check your country's laws and regulations before downloading any music that might be protected under copyright.
Short on Time? Here Are the Best Music Torrenting Sites in 2023
Here's why you can trust vpnMentor
All our reviews are written by experts who test and compare dozens of VPNs on a weekly basis - and we're fully transparent with the results.
Find out more about how we test.
10 Best Torrent Sites for Music (Updated 2023)
1. The Pirate Bay — The Largest Site for Music and Audio Apps
The Pirate Bay is among the most popular torrent sites, known for its vast media collection that includes plenty of music. In addition to songs, albums, and discographies from across the world, The Pirate Bay also offers live concert videos and audio software. This site has a large user base with many seeders available for fast downloads. The average download speed for music files is 6Mbps.
Finding your desired content (including niche genres like gospel, classical, J-pop, or Hindi songs) is a breeze, thanks to its user-friendly interface and effective search engine. You can filter your search results by category, type, and file format. This tracker also features a top 100 list that showcases the most popular audio releases. Most of them are available in high-quality 320kbps MP3 or FLAC formats.
This is a public torrent tracker — no registration is required to access its content. There's no need to maintain a specific download-to-upload ratio to continue using the site, either. On the downside, the website may track your activity, so use a reliable VPN (like ExpressVPN) to ensure online privacy.
It's also worth noting that The Pirate Bay marks torrents uploaded by trusted users with a green skull, so you know they're high-quality and safe. You may also check the comments of any given torrent to ensure it offers the correct files and that there's no malware present.
2. RARBG — Easy-to-Use Public Tracker for Audio Content
RARBG is another well-known torrent website with a broad selection of copyright-free music and freeware software. The site offers torrents from a diverse range of music genres, with multiple formats and qualities (from FLAC to MP3). RARBG also has an intuitive and clean interface to easily search for music files.
Many torrents are active due to the site's significant user base — if you have any questions, you can always ask the community for help. Plus, it employs content moderation to prevent duplicates and malware-infected files. Notably, this tracker has been blocked more times than I can remember, so it's advised to use a VPN to reliably access it.
3. REDacted — Private Music Trackers for Audiophiles
REDacted is a private music torrent tracker with curated, high-quality music files. The site boasts an enormous collection of popular and rare titles — French, Reggae, Afrikaans music — you name it. If you want to get live videos of niche music bands, you can most likely get it here.
Accessing REDacted is another story — it's a private tracker that requires an invitation to join. Additionally, you must adhere to specific rules of conduct, such as maintaining a healthy download-upload ratio (seeding more than you leech). On the bright side, the site employs strict content moderation rules to prevent duplicates, malware-infected files, and copyright trolls.
4. AudioNews — Trusted Private Tracker for Music Software
AudioNews is another private torrent tracker specializing in audio production and editing software for all popular operating systems. The site offers a wide selection of free professional tools for musicians, producers, and sound engineers. However, newcomers can find a wealth of learning materials and samples.
The site opens registration for new users every first day of the month. You may be invited if you actively upload files for the first 30 days. If invited, you must maintain a seed-to-leech ratio of at least 0.8 to keep using the tracker. All of this is compensated with excellent moderation and extra-fast speeds.
The site opens registration for new users every first day of the month. You may be invited if you actively upload files for the first 30 days. If invited, you must maintain a seed-to-leech ratio of at least 0.8 to keep using the tracker. All of this is compensated with excellent moderation and extra-fast speeds.
5. Nyaa Torrents — Tracker for Japanese and Anime Music
Nyaa Torrents (also known as Nyaa.si) is a great place to find Japanese music and anime-related soundtracks. It has a dedicated community of enthusiasts who ensure the tracker only contains Japanese content. You can sort torrents by relevant tags or the number of seeders. The site contains magnet links for instant file downloads too.
The site is regularly monitored for malware, viruses, and fake torrents. Notably, many ISPs use DNS filtering to block access to Nyaa.si. However, ExpressVPN let me reliably access Nyaa in my tests, despite my ISP's attempts to block it.
6. 1337X — Popular Tracker With Plenty of Music-Related Content
1337X provides lots of non-copyrighted music in MP3 format for a variety of music genres, including pop, rock, hip-hop, and jazz. This site boasts a large user base and a healthy number of seeders and leechers. The tracker is public and doesn't require registration or a certain upload-to-download ratio, too. In addition, content moderators do their best to remove viruses and malware for safer torrenting.
Most of its content is only available in English, but you can find songs in other languages too. Just bear in mind that 1337X isn't available in some countries like Australia, Austria, Ireland, and the UK, so you might need a quality VPN to access it.
7. LimeTorrents — Lots of Music Torrents Free of Intrusive Ads
LimeTorrents is a publicly available tracker with a section dedicated to music. Given the substantial user base, popular music releases have many seeders. I was also able to find torrents for more niche genres, such as Hindi songs. I also liked that the clean interface provides basic info about each torrent, like its size, upload date, and the number of seeders and leechers (the torrent's health).
LimeTorrents also has many trusted uploaders — many music torrents are verified to be safe to download. Best of all, LimeTorrents doesn't have any annoying pop-up ads.
8. MixtapeTorrent — Best Torrent Website for Mixtapes
MixtapeTorrent focuses on mixtapes, hip-hop, and urban music, including underground DJ sets. There's an astounding amount of content for music enthusiasts and creators to get inspiration from. Every music torrent listing has a cover, a tracks list, and a comments section.
The website is open to anyone — you don't need to register. What's more, it's possible to stream remixes before downloading them.
9. Torrentz2 — Numerous Verified Torrents for Music
Torrentz2 features an extensive selection of freeware audio software and music. It has a separate music section that lists trending torrents (with their size and upload time). There's also a section for verified torrents only, so you don't have to worry about running into malware.
10. TorrentDownloads — Well-Organized Public Music Tracker
TorrentDownloads has tightly organized categories for music — you can quickly navigate sections ranging from Christian and folk music to EDM and rap. You can also easily look for Asian content like C-Pop, Japanese music, Bollywood songs, and Pinoy artists. The large community ensures fast speeds, and there is a decent effort to remove malicious or fake torrents.
Tips on Choosing the Best Music Torrent Sites
I spent days researching and testing music trackers to compile my list, so you can trust that the above are among your most reliable options for music torrents. However, if you'd like to do your own research, here's the criteria I used to determine the best sites:
Extensive music content. Prioritize sites with diverse and regularly updated music libraries that include both mainstream and niche genres. The best torrent sites also offer music documentaries, live concerts, and software.
High-quality releases. Sites should provide music in multiple high-quality formats, from lossless (FLAC) to mobile-friendly (MP3).
Active community. Many users and a high seeder-to-leecher ratio help ensure well-maintained torrents and great speeds for downloading.
Easy to get started with. Go for a site that allows you to start torrenting without going through a strict vetting process. Also, ensure the tracker enforces a reasonable download-to-upload ratio (if any at all).
User-friendly interface. The best music torrent sites are easy to navigate and allow you to filter your search by torrent size, number of seeders, music genre, file format, and more. It should never take long to find your desired torrent.
Content moderation. Good sites enforce naming conventions for easier searching and check uploaded torrents to prevent malware and duplicates. Some even clearly mark torrents from trusted uploaders.
Ad-free and secure. Opt for trustworthy music torrent sites without trackers, intrusive ads, and pop-ups.
Access Music Torrent Sites with ExpressVPN
Why You Need a VPN for Music Torrenting Sites
Without a VPN, you may be unable to access music torrent sites due to blocks. Countries like Portugal, Italy, Australia, China, and Russia are examples of countries particularly well-known for attempting to block torrent sites. These blocks are enforced by ISPs within the country, who use DNS filtering and other methods to monitor your connection and block access to music torrenting sites.
Even if you can access music torrent sites freely in your country, there are other issues to be aware of. Your ISP might intentionally slow your internet speed if it sees that you're torrenting (and therefore using a lot of bandwidth). Torrenting sites can also share your data with ad networks and other third parties. There's also just the general issue that your connection will be accessible and readable by any snoop or cybercriminal online.
However, a VPN encrypts your connection — making it undecipherable to your ISP and any other third party trying to monitor it. It also changes your IP address by routing your connection through a server in another country, making it look like you're connecting from there instead. This makes it incredibly difficult for anyone to trace your real location.
In summary, a VPN enables fast and secure music torrenting — without ISP blocks, hackers accessing your data, or speed throttling.
Try ExpressVPN to Torrent Music Securely
Best VPNs for Music Torrent Sites — Full Analysis (Updated in 2023)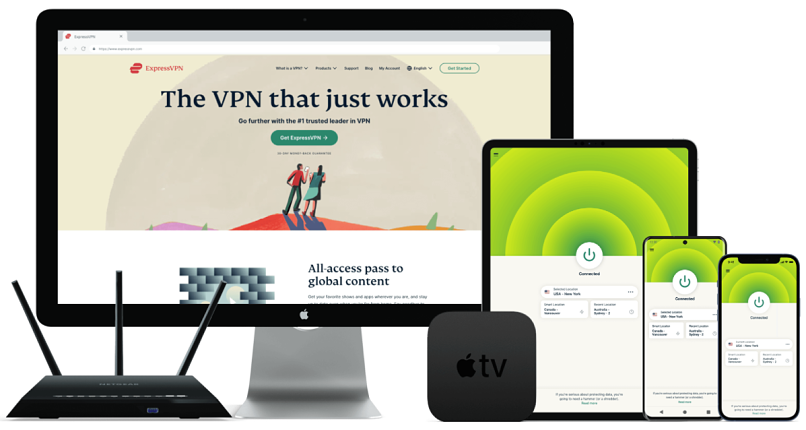 Editor's Choice
Editor's Choice

Tested May 2023
Try Risk-Free for 30 Days
Available on:
Chrome
Router
Smart TV
More
www.ExpressVPN.com
| | |
| --- | --- |
| Best Feature | The fastest VPN I tested with a P2P-optimized network for reliable torrenting |
| Speeds | 110Mbps (14% slower than my usual connection) |
| Server Network | A vast network of 3,000 servers across 94 countries to avoid overcrowding |
| Can Access | The Pirate Bay, REDacted, RARBG, LimeTorrents, Nyaa Torrents, 1337X, Netflix, Disney+, Amazon Prime Video, HBO Max, and more |
ExpressVPN is the fastest VPN for torrenting music I tested. Every VPN impacts your speed due to the encryption process — many slow your internet by over 50%. But with ExpressVPN, I only experienced a 14% slowdown compared to my base connection, for a fast 110Mbps. Nicely, ExpressVPN also has unlimited bandwidth, so I could torrent without limits.
Additionally, every server on ExpressVPN's extensive network supports P2P traffic. A lot of VPNs only allow you to torrent on a very limited selection of servers, which can quickly become overcrowded with users, leading to slow and unreliable connections. With ExpressVPN, you can connect to any server you like and download music fast and without interruption.
Military-grade encryption also keeps your connection secure and private. Your data is ciphered with the same standard used by the NSA, making your activities unreadable to prying eyes. ExpressVPN also never leaked my real IP address during my tests, meaning my actual location and identity were never at risk while torrenting music. Plus, Network Lock (a kill switch) prevents data exposure by terminating your internet connection if the VPN tunnel suddenly drops.
ExpressVPN keeps no record of your torrenting activity, thanks to a strict no-logs policy that's been verified by independent audits. This is further backed up by its TrustedServer tech (RAM-only servers) — this ensures all your data is inaccessible and regularly wiped with every server reboot.
On the downside, the monthly plans are quite expensive. That said, ExpressVPN frequently offers generous discounts with long-term plans. I opted for the 12-month subscription to get 49% off and get 3 extra months for free, for a final price of just $6.67/month. ExpressVPN is also backed by a 30-day money-back guarantee, so you can test it without risk.
Useful Features
Obfuscation tech. All ExpressVPN servers are automatically obfuscated, meaning your VPN traffic is disguised as regular internet activity. This bypasses VPN-blocking firewalls that may be put in place by workplaces, schools, and restrictive countries — allowing you to torrent music wherever you are.
User-friendly. ExpressVPN is simple to use even for VPN beginners. It works right out of the box, allowing you to torrent music without having to mess around in the settings. It even offers simple browser extensions for Google Chrome, Firefox, and Microsoft Edge for added convenience.
Based in a privacy-friendly country. ExpressVPN's HQ is within the British Virgin Islands, a country without privacy-violating data retention laws. It's also outside the jurisdiction of the 5/9/14 Eyes Alliances, an international government surveillance network.
Port forwarding. By setting up ExpressVPN on your router, you can set up port forwarding. This allows you to connect to more peers while using the VPN, allowing you to torrent music at faster speeds.
Access Music Torrent Sites with ExpressVPN
| | |
| --- | --- |
| Best Feature | P2P-friendly servers for seamless torrenting on music sites |
| Speeds | 99Mbps (23% slower than my usual connection) |
| Server Network | 9,388 servers in 91 countries for restriction-free torrenting |
| Can Access | The Pirate Bay, REDacted, RARBG, LimeTorrents, Nyaa Torrents, 1337X, Netflix, Disney+, Amazon Prime Video, HBO Max, and more |
Dedicated P2P servers make CyberGhost an excellent choice for fast and secure music torrenting. These specialized servers are optimized for delivering consistently fast speeds for torrenting in particular. To find the best server for torrenting for me, I just navigated to the For Torrenting tab in the app and selected the closest server (shorter distances equal better speeds). I downloaded a 1.43GB copyright-free album in just a few minutes.
CyberGhost secures your torrenting sessions with AES 256-bit encryption and a kill switch. It also offers an automatic WiFi protection feature — this automatically connects the VPN whenever you're on an untrusted WiFi network. This ensured I was always protected while torrenting music on public networks. To top things off, I detected no IP/DNS leaks on any of the servers I tested.
A strict zero-logs policy and RAM-only (diskless) servers let you torrent privately on music trackers. Being located in Romania, CyberGhost also isn't subject to invasive data retention laws or Eyes Alliances agreements. CyberGhost even publishes quarterly transparency reports, detailing all legal requests it receives for user data and its response. As it doesn't log user data, these requests always go unfulfilled.
CyberGhost's monthly plan is quite expensive, and only comes with a short 14-day money-back guarantee. However, its long-term subscriptions are more affordable, starting at $2.11/month, and come with an extended money-back guarantee, letting you try CyberGhost risk-free for 45-days.
Useful Features
Smart rules. CyberGhost lets you automate certain behaviors to save some time. For example, you can configure it to automatically open the torrent client of your choice as soon as a VPN connection is established.
NoSpy servers. For maximum privacy protection, CyberGhost also offers NoSpy servers, which are exclusively operated by CyberGhost staff. This virtually eliminates the risk of an unknown third party accessing the VPN server itself to spy on your music torrenting activity.
Content blocker. When enabled, this prevents most intrusive or malicious ads from appearing on music torrenting sites. It also prevents many trackers from working, so they can't keep tabs on your torrenting behavior.
Access Music Torrent Sites with CyberGhost
| | |
| --- | --- |
| Best Feature | Port forwarding and adjustable settings to speed up music downloads |
| Speeds | 82Mbps (36% slower than my usual connection) |
| Server Network | 29,650 servers in 84 countries to easily change your IP address |
| Can Access | The Pirate Bay, REDacted, RARBG, LimeTorrents, Nyaa Torrents, 1337X, Netflix, Disney+, Amazon Prime Video, HBO Max, and more |
PIA offers the ability to port forward,which increases your download speed on music torrents by letting you connect to more peers. This can easily be done straight from the VPN app by checking a box. Even without port forwarding, I got speeds of 82Mbps on the New York server, a drop of just 36%.
This VPN also lets you customize security settings for music torrenting to optimize speed or security. For example, it's possible to choose between the extra-secure AES 256-bit or the speed-focused AES 128-bit encryption protocols. This VPN also offers reliable IP/DNS leak protection (my real location was never exposed in my tests) and a kill switch to prevent accidental data exposure.
These multiple settings can be pretty intimidating to inexperienced users. But don't worry — PIA comes pre-configured for fast and secure music torrenting, so you can start downloading music right away without changing anything if you don't want to.
You can get PIA for as low as $2.03/month. I got a 2-year plan to save the most in the long run. All subscriptions also have a 30-day refund policy.
Useful Features
The MACE ad blocker. Pop-ups and trackers on music torrenting sites, like The Pirate Bay, can be easily avoided by enabling PIA's MACE blocker.
No-logs policy. PIA doesn't monitor, store, or share your web data with third parties, including your ISP. So no one can see what music files you download.
Split tunneling. You can set which apps use the VPN, and which ones don't. For example, I set uTorrent to always use the VPN, while my favorite game Apex Legends could stay on my normal low-latency connection (VPN connections typically increase ping).
Access Music Torrent Sites with PIA
Quick Comparison Table: Best VPNs for Accessing Music Torrent Sites Safely
I created this table to help you compare the most important torrenting features. I focused on P2P support, average speeds, and obfuscation, which is useful in evading restrictive VPN-blocking firewalls. They are the most essential features for safe, fast, and reliable torrenting.
Access Music Torrent Sites with ExpressVPN
Quick Guide:
How to Download Music on Torrenting Sites With a VPN in 3 Easy Steps
Get a reliable VPN. ExpressVPN's network-wide P2P support, impressive speeds, and robust security features let you reliably torrent music. You can try ExpressVPN without risk (it's backed by a 30-day refund policy).
Connect to a server. Choose a server. Servers closer to your real location offer better speeds.
Start torrenting. You're ready to securely download and share files on music torrent sites.
FAQs on the Best Music Torrenting Sites
Is torrenting music illegal?
Torrenting music can be illegal, depending on the content. Torrenting public domain (royalty-free) or Creative Commons licensed music is generally fine, whereas torrenting copyrighted music constitutes piracy. In many countries, like the UK, Germany, and France, downloading copyrighted content without permission can lead to legal consequences.
We at vpnMentor don't condone unlawful activities. It's illegal in most countries to torrent copyrighted music. Please inform yourself of your local laws and regulations so you don't accidentally break any rules.
Even if you're torrenting non-copyrighted music, it's advised to use VPNs with robust security features for safe torrenting. They keep your sensitive information hidden from snoops and hackers online.
How can I safely download music from torrenting websites?
Use a VPN to safely download music from public and private trackers. A VPN with AES 256-bit encryption and leak protection safeguards your data from hackers and snoops. You should also ensure you're downloading from a trustworthy site and double-check all downloaded files with an antivirus. Here's how to safely download from music torrent sites:
Download and install a trustworthy torrent client, like BitTorrent, uTorrent, or qBittorrent.
Connect to a reliable music tracker (while using a VPN) and search for your desired content.
Inspect each torrent before downloading. Ensure the torrent file has a healthy number of seeders and positive user feedback.
Download and open the.torrent file with your torrenting client.
Select a download folder on your device and wait for the download to complete.
Once complete, scan the downloaded files with your antivirus.
It's also advised to avoid imposter sites that sometimes can rank higher on Google. They will try to trick you into downloading malware. Always ensure you're downloading from an official domain of the music torrenting site.
Why are some music torrenting sites not working for me?
ISPs commonly use DNS filters and other detection methods to block access to music torrenting sites, often due to copyright concerns. Luckily, you can quickly circumvent such restrictions by connecting to a reliable VPN. Doing so encrypts your connection, so your ISP cannot read or block your connection from accessing music torrents.
Where to find copyright-free music?
Many reliable music torrenting sites offer extensive catalogs of copyright-free music. However, you may need a quality VPN to securely and reliably access them.
Alternatively, copyright-free music is available on websites like SoundCloud, Free Music Archive, Jamendo, Amazon Music, and Incompetech. If you want to access more albums, genres, and music videos — YouTube Music and Spotify Premium offer free trials. They also let you download music for offline use.
Just keep in mind that rare and more niche music may be unavailable on these platforms. Music torrent sites are your best bet in such situations.
Can I use a free VPN for music torrenting websites?
You can, but free VPNs aren't recommended for music torrenting sites. Many of them lack P2P support entirely, and those that do can put your privacy at risk as they often lack essential security tools. Many also offer disappointing speeds and highly-limiting data caps. Reliable VPNs with trustworthy money-back guarantees are better alternatives. Worse yet, some of them sell your data to ad networks and may contain malware.
Get the Best VPN for Music Torrenting Sites
A lot of music torrent sites aren't just an unresponsive mess of inactive or excruciatingly slow torrents. Bad music torrenting platforms can present a security risk due to poor moderation, leading to a high risk of malware. That's why I made a list of dependable music torrent sites with large libraries and engaged communities.
However, you're never truly safe from snoops while visiting torrent sites. So, it's crucial to get a reliable VPN to torrent music privately. In my opinion, ExpressVPN is the best choice for music torrenting, thanks to its impressively fast speeds for P2P activity combined with military-grade encryption, server obfuscation, and a strict no-logs policy. You can even try ExpressVPN risk-free (it's backed by a 30-day money-back guarantee).
To summarize, these are the best VPNs for music torrent sites…
Privacy Alert!
Your data is exposed to the websites you visit!
The information above can be used to track you, target you for ads, and monitor what you do online.
VPNs can help you hide this information from websites so that you are protected at all times. We recommend ExpressVPN — the #1 VPN out of over 350 providers we've tested. It has military-grade encryption and privacy features that will ensure your digital security, plus — it's currently offering 49% off.