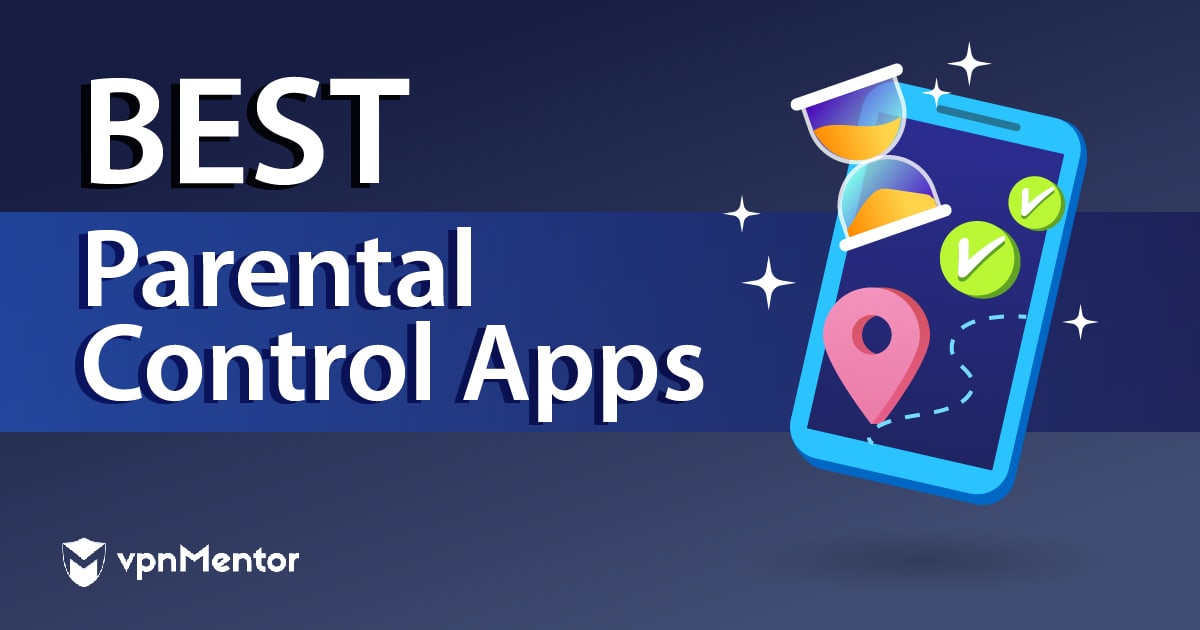 10 Best Parental Control Apps (Android & iPhone) of 2023
While dozens of apps promise to monitor and protect your kids, few will actually give you the peace of mind that your child is safe. Many apps require so many settings and hours of work from your side that you'll be full time working for your child's phone, or worse, they simply don't do the job.
I tested and evaluated 23 leading applications to find the best parental control apps and software to protect your kids. These apps have everything you need to keep your children safe on their devices — even when they're away from home.
These apps filter out harmful and inappropriate content across multiple websites and social networks. They also give you easy-to-use tools to monitor your child's activity, keep track of their location, and set healthy screen time limits. The best part? They're all quick to set up and easy to use.
Ready to protect your kids' while they're online? Let's dive in and learn about these apps' unique strengths and weaknesses.
Best Parental Control Apps - Full Analysis (Updated 2023)
You can trust these parental control apps to keep your kids 100% safe from cyber threats with powerful filtering technology, comprehensive activity and location monitoring, and much more.
Activity monitoring, including web and app activity, SMS, calls, gaming, location, Facebook, Twitter, Instagram, WhatsApp, YouTube, and other social media
Powerful content filtering
Set screen time schedules
SOS button (Android only)
Family locator
Supported platforms: Windows, macOS, Android, iOS, Kindle, Chromebook
This was my favorite of all the parental control apps I tested because it's an extremely flexible tool that helps you create healthy digital boundaries for your child in a variety of ways.
Qustodio's filtering technology is enabled automatically, so it protects your child from dangerous content right away. But you can also choose to block specific websites like gaming sites and social networks. Qustodio also helps you establish appropriate screen time limits with your child using set schedules or daily limits on internet time.
Its intuitive online dashboard makes it easy to monitor your children's activity and make sure they're using their devices appropriately. Qustodio is capable of tracking activity on more social media platforms (including YouTube) than most parental control apps, and it even works in incognito mode.
If you opt-in for extended reporting, Qustodio emails you convenient weekly or monthly reports that break down your child's activity for the past 30 days.
If your child is in trouble, the SOS panic button feature (Android only) lets them send you a location-based alert instantly with a single click. There's also a family locator (iOS & Android) that allows you to track your child's location in real-time on a GPS map.
Qustodio's smallest package covers 5 devices, but you can choose to cover up to 15 devices for a decent price — perfect for large families. You can try all of Qustodio's premium features free for 3 days and they also have a 30-day money-back guarantee — so you can try the app completely risk free.
Protect Your Kids With Qustodio!
Sensitive internet filter
Screen time manager
Customizable alerts and reporting
User-friendly family feed
Location tracking
Supported platforms: Windows, macOS, Android, iOS, Kindle Fire
Net Nanny is another top parental control app that packs some super powerful safety features into a really easy-to-use interface.
One of Net Nanny's best features is its user-friendly family feed, which makes it easy for you to monitor your whole family's online activity in one convenient place — perfect if you have a large family.
Not only does the family feed let you view your kids' app use and online searches, but it also gives you instant alerts when the app detects and blocks your child from viewing content related to pornography, drugs, weapons, suicide, and other mature content.
It also allows you to easily customize the websites, apps, and types of content you'd like to block your kids from accessing, which is great if you're concerned that specific apps or sites aren't blocked by default.
This parental control app comes with the ability to set internet use schedules for each of your children so you can help them establish healthy screen time limits.
It also includes a GPS tracking service that lets you instantly check all of your children's locations in real-time and see where they have been on the Family Overview Map.
Net Nanny is a good value for the money and you choose to cover up to 20 devices. It offers full refunds within 14 days of your purchase, which gives you enough time to decide if this parental control app is right for your family.
Protect Your Kids With NetNanny!
Text and social media monitoring on 24 platforms, including Instagram, Snapchat, YouTube, Facebook, Twitter, Pinterest, Kik, WhatsApp, and more
Harmful content email monitoring for Gmail, Outlook, Hotmail, Yahoo, Comcast, and AOL
Unlimited number of children
Supported platforms: Windows, macOS, Android, iOS, Amazon Fire Tablet, Chrome browser
Bark makes it easy to protect your kids from a wide range of online threats. This is a great app to consider if text, email, and social media monitoring are your top priorities, simply because of its ability to track such a large number of platforms — including Gmail, WhatsApp, & Facebook.
Unlike many parental control apps that only monitor app usage, Bark helps you keep track of the actual content of your kids' conversations on social media platforms. It does the same for your children's SMS and email conversations on all compatible devices, including any photos or videos they send or receive.
Using 24/7 detection, Bark sends you an automatic alert anytime the parental control app's algorithm identifies a potential risk, such as cyberbullying, online grooming, or signs of suicidal thoughts. For example, if your child begins searching online for content related to depression and suicide, Bark's algorithm notifies you immediately so you can address the concern.
Bark also provides easy-to-read activity reports in its intuitive dashboard, which is great when you're a busy parent looking for a convenient way to check that your child is staying safe online.
Bark offers a 7-day free trial and it's a great price if you opt for yearly protection. As you can connect an unlimited number of devices to your Bark account, it's a really great budget-friendly choice for large families.
Block harmful content
Manage screen time
View location and battery level
Monitor social media activity
Free and premium versions, with a 7-day free trial
Supported platforms: Windows, macOS, Android
Kaspersky Safe Kids has a wide range of free parental tools on its app. The free tools include online content filtering, app usage control, and screen time management — which you would have to pay for with most other apps.
This version does automatically block all harmful and inappropriate content, but to set specific schedules and time limits for your child's internet and app usage, you'll need to upgrade to the premium version.
However, the premium version also has advanced tools like a real-time GPS location tracking and geo-fencing, low device battery alerts, and social media monitoring. It also offers real-time alerts if your child attempts to access malicious content or websites.
I like how you can instantly take action if you receive malicious website access notifications, and I loved how easy it was to set up the geofencing — which allows you to select designated safe areas and receive alerts the moment your child leaves that location.
Kaspersky Safe Kids Premium covers one device, but you can purchase more licenses separately — which is more cost-effective for smaller families. There's also a 7-day free trial of the premium version and a 30-day money-back guarantee.
Protect Your Kids With Kaspersky!
Comprehensive reporting
Location tracker
Instant device lock
7-day free trial
Supported platforms: Windows, macOS, Android, iOS, Kindle, Chromebook
Need everyone's undivided attention? Mobicip enables you to lock all family devices instantly with the click of a button. You can also choose to block all video streaming apps and websites, which is great for limiting distractions during homework time.
I found the app's clean, modern design to be very easy to navigate — making it simple to customize your settings and monitor your children's activity in one central place. It's also easy to set daily and weekly screen time limits for each device.
Mobicip allows you to view up to 4 weeks of your child's browsing history from the dashboard. And with customizable content blocking, you can prevent your child from accessing any app or website that you have concerns about.
Another thing I liked about Mobicip was the vendor's transparency and commitment to data privacy. No one but you should ever be able to see your child's activity, and Mobicip takes this very seriously.
This parental control app is premium-only, but you can easily test it out with a 7-day free trial on all subscriptions.
Protect Your Kids With Mobicip!
Extensive content filtering options
Comprehensive logging
Set screen time schedules
Supported platforms: Windows, macOS
SentryPC offers some of the most comprehensive activity monitoring — specifically for PC or Mac — of any parental control software. It also offers extensive content filtering and allows you to set strict usage limits on each computer that your children have access to.
The user-friendly SentryPC account dashboard lets you view detailed logs of everything your child does on their computer — it even tracks keystrokes and takes full-size screenshots of your desktop at random intervals. There are easy-to-read graphs and other visuals to help you keep track of trends.
You get an alert right away if SentryPC detects any kind of concerning activity. If you see something you don't like, you can block it and apply the new filtering rule instantly.
The biggest downside is that the software doesn't offer any mobile support. However, you can still check your parent SentryPC dashboard using your phone or tablet browser.
There is no free trial, but you can check out the service using SentryPC's demo account, which lets you explore a sample of the desktop interface for as long as you'd like.
Protect Your Kids With SentryPC!
Password protected internet access
Easy to use
7-day free trial
Supported platforms: Windows
Surfblocker isn't higher on this list because it's only compatible with Windows. However, it still has a lot to offer with excellent content filtering and comprehensive monitoring tools.
The app isn't particularly attractive compared to some of Surfblocker's flashy competitors, but it's really lightweight, has a simple interface, and is extremely easy to set up and start using with your kids.
By default, Surfblocker will prevent your children from accessing harmful and inappropriate content. You also have the option to manually add or whitelist specific websites so you can tailor it to your child's needs. You can even password protect your child's internet access during certain times of the day — something I haven't seen from many other parental control apps.
This app is perfect for reducing distractions during homework time, since it lets you customize your child's internet schedule and set daily limits on screen time.
If you're interested in this service, you can take advantage of Surfblocker's 7-day free trial to test it out with your family.
Protect Your Kids With Surfblocker!
Get started in five minutes or less
Monitor text and social media conversations, including Instagram, Facebook Messenger, Tinder, WhatsApp, Kik, Viber, and more
GPS locator
Supported platforms: Windows, macOS, Android, iOS, Chrome
WebWatcher guarantees that you can install and start using it on any device in 5 minutes or less, which I found to be true during my tests. It's a good option if you are new to monitoring software and don't have a lot of time to set it up.
One great thing about this app is that it allows you to be as involved or as hands-off with your kids' online time as you'd like.
You can view in-depth recorded data of your child's daily activities, or you can simply trust WebWatcher's Alert Log to notify you of any risky behavior. This means you can really customize your WebWatcher experience to meet your family's specific needs.
You can even view things like deleted texts, screenshots, and call logs to protect your kids from potential predators.
WebWatcher also lets you check your child's real-time location with its GPS locator. The biggest downside is that it doesn't have a money-back guarantee, and it's very expensive compared to other apps that cover multiple devices for a cheaper price.
Protect Your Kids With WebWatcher!
Comprehensive text, call, and social media monitoring, including Facebook, Twitter, Telegram, Viper, Whatsapp, and more
Keystroke logging
Check on your kids through their webcam
Supported platforms: Windows, macOS
REFOG logs your child's keystrokes so you can review all messages and search terms on every app they use — perfect if your child tries to bypass the software by using an untraceable app.
Another unique feature is the ability to view your kids through a webcam. This is great for ensuring they're not getting distracted if they're supposed to be doing homework on their computer.
REFOG provides comprehensive activity reports that you can view through your online account. During my tests, I found these reports to be convenient and easy to read through even on a busy day.
One downside is REFOG's lack of mobile support, which limits your ability to monitor all of your child's activities if they use a tablet or cell phone.
You can find out if REFOG is right for your family with a 3-day free trial and a 7-day refund policy, which gives you enough time to test out the app on both school days and the weekend.
I've included Google Family Link here because Google is known everywhere and this app is free and famous. However, it's fame doesn't come from its name, but rather from the fact that it does a bad job. Kids can easily hack it to turn off parental controls and even remove the app itself. In this case, the saying "you get what you pay for" is accurate. Google Family Link is free, and its performance reflects that.
Protect Your Kids With Google Family Link!
FAQs
How safe are parental control apps?
Because many parental control apps monitor your child's location, it's crucial that this information remains secure so no one but you and your children has access. The apps on this list are 100% safe and utilize robust security to protect the privacy of you and your child.
As a parent, I know your child's safety is your top priority. That's why I put every one of these parental control apps through rigorous tests to make sure they're fully functional and, most importantly, completely safe for you and your kids.
Are parental control apps easy to set up?
Even the most advanced apps, like Qustodio and Net Nanny, are super easy to install, set up, and use — perfect for non-tech-savvy people.
I tested all of the parental control apps on this list to make sure they're quick to install and easy to start using. I also recommended parental control apps for iOS that you can install without jailbreaking your child's iPhone, which is a common issue due to Apple restrictions.
What should I look for in a parental control app?
My methodology focuses on three critical fields to make sure your parental control app works with you and doesn't cause more problems.
1. Safety and Transparency
Installing an unknown parental control app on your child's device can be dangerous. An app with weak security – or worse, malicious software – creates a huge vulnerability that online predators can take advantage of.
The parental control app you choose should protect your child's data with bank-grade encryption such as AES 256-bit encryption. Look for a vendor with a transparent in-depth privacy policy so you know what it's doing with your child's sensitive private data.
2. Ease of Use
You're a busy parent, and you don't want another chore to add to your long to-do list. Great parental control apps are designed to quickly and concisely communicate all the important information you need to know about your child's online safety.
The apps on this list are all packed with user-friendly features and offer automatic alerts so you can find out as soon as it identifies a risk.
3. Compatibility
Your parental control app needs to be compatible with the devices your children use regularly. You can find recommendations here for apps compatible with popular mobile and desktop platforms including:
Windows
macOS
Android
iOS
Amazon Kindle
Chrome OS
What else can I do to keep my family safe online?
For full protection of your whole family, check out our top-rated VPN provider ExpressVPN. It secures your family's private data with lightning-fast speeds and offers protection from a variety of scary cyberthreats, including malware, trackers, and adware. Check out our VPN coupons page (updated weekly!) to learn about the best deals on outstanding VPN software.
Back to Best Parental Control Apps list
Bottom Line
Online threats and cybercriminals pose a serious risk to your kids in today's internet-focused world. These first-class parental control apps offer a simple solution to keep your little ones safe even in the moments when you can't be watching them directly.
If you're still having trouble deciding which parental control app is the best choice for your family, I highly recommend Qustodio for its powerful web-filtering technology, modern, intuitive design, and industry-leading safety features.
To learn more about how to protect your family online, check out our ultimate guide for protecting your child on the internet.
Privacy Alert!
Your data is exposed to the websites you visit!
The information above can be used to track you, target you for ads, and monitor what you do online.
VPNs can help you hide this information from websites so that you are protected at all times. We recommend ExpressVPN — the #1 VPN out of over 350 providers we've tested. It has military-grade encryption and privacy features that will ensure your digital security, plus — it's currently offering 49% off.