5 Best VPNs for Google Bard — Access From Anywhere in 2023
Google Bard is a valuable AI technology tool, but it's currently only available in the US and UK. This is because the chatbot is still being tested, and Google may need to enhance its infrastructure and resources before rolling Bard out in other countries and languages.
Luckily, you can access Google Bard from anywhere using a VPN. VPNs mask your actual location and allow you to borrow an IP address from the US or UK — granting you access to the chatbot. However, not every VPN has a reliable server network that can unblock Google Bard.
My team and I conducted tests on over 35 VPNs to identify the best one for Google Bard and ExpressVPN is my top recommendation. It's impressively fast and has excellent server coverage across the US and UK, making it easy to access the chatbot from any location. Thanks to a 30-day money-back guarantee, you can also try ExpressVPN risk-free. If the VPN doesn't live up to your expectations, getting a refund is easy.
Try ExpressVPN for Google Bard
Short on Time? Here Are the Best VPNs for Google Bard in 2023
Here's why you can trust vpnMentor
All our reviews are written by experts who test and compare dozens of VPNs on a weekly basis - and we're fully transparent with the results.
Find out more about how we test.
Best VPNs for Google Bard — Full Analysis (Updated in 2023)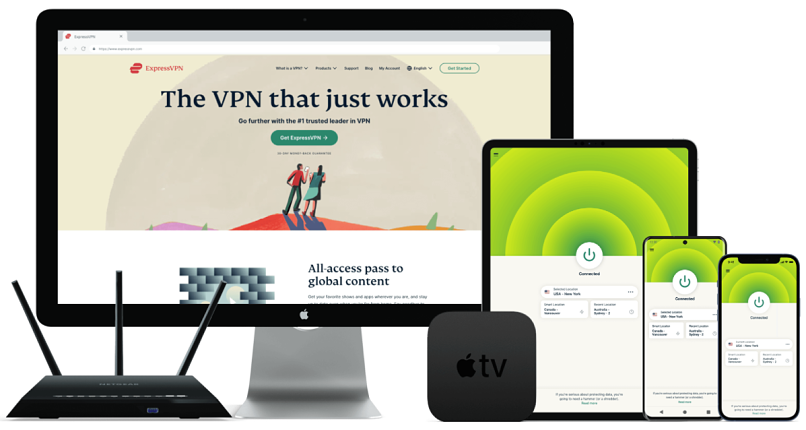 Editor's Choice
Editor's Choice

Tested May 2023
Try Risk-Free for 30 Days
Available on:
Chrome
Router
Smart TV
More
www.ExpressVPN.com
| | |
| --- | --- |
| Best Feature | Proprietary Lightway protocol offers consistently fast speeds and robust security for Google Bard |
| Average Speed | 93Mbps (7% drop) |
| Security and Privacy | Military-grade encryption and Network Lock (a kill switch) to keep your Google Bard activity private |
| Server Network | Servers in 24 US and 5 UK server locations for reliable access to Google Bard |
ExpressVPN was the fastest VPN for Google Bard I tested. This is due in part to its Lightway protocol, which provides a fast and secure VPN connection for accessing Google Bard from anywhere. Its lightweight and efficient design provides faster speeds, so you can use the chatbot without interruption. All ExpressVPN servers also support obfuscation, disguising your VPN traffic as regular internet traffic. This is useful if you're trying to access Google Bard from a restrictive country like Iran or Russia.
During my tests, ExpressVPN's US servers delivered fantastic results. The chat loaded very quickly with no noticeable slowdowns or extended loading time. With ExpressVPN, my download speed only decreased by 7% to 93Mbps — which felt indistinguishable from my base connection. Plus, it gives you unlimited bandwidth so you never have to worry about your data usage while chatting with Google Bard.
The VPN also protects your Google Bard chats with powerful security features. Military-grade encryption ensures your connection cannot be intercepted or read while using the chatbot. In addition, the service uses Perfect Forward Secrecy which changes up your encryption key every 15 minutes — making your connection even harder to meaningfully decrypt. Lastly, the VPN also has an audited no-logs policy, meaning anything you do on Bard isn't recorded or stored.
My only gripe is that the service is a bit pricey. However, ExpressVPN frequently offers generous deals and promotions. By choosing a long-term plan, I received a 49% discount along with 3 additional months of service for free. As a result, the total cost was reduced to just $6.67/month. In case you don't like the service, ExpressVPN is also backed by a 30-day money-back guarantee (I tested it via the 24/7 live chat and got my money back quickly).
Useful Features
Split tunneling. This feature enables you to choose which apps use the VPN and which don't. For example, you can access Google Bard with the VPN IP while using your banking app with your normal IP — allowing you to avoid fraud checks and other alerts.
Headquartered in a privacy-friendly country. The VPN's HQ is located outside the 5/9/14 Eyes Alliances in the British Virgin Islands. This means ExpressVPN isn't subject to any privacy-violating data retention laws.
Shortcuts feature. You can add Google Bard to ExpressVPN's "Shortcuts" feature to launch the site directly from the app.
TrustedServer tech. All ExpressVPN servers are RAM-based, meaning that your activity on Google Bard is inaccessible and regularly wiped with every server reboot.
Try ExpressVPN for Google Bard
| | |
| --- | --- |
| Best Feature | Built-in ad and tracker blockers guard against malicious sites pretending to be Google Bard |
| Average Speed | 84Mbps (16% drop) |
| Security and Privacy | Independently audited no-logs policy ensures your Google Bard activity isn't stored |
| Server Network | Servers in 11 US and 3 UK locations with reliable speeds across the network |
CyberGhost keeps your Google Bard experience free of malware. For example, cybercriminals are using sponsored ads to distribute links to fake Google Bard applications that can compromise your device. Thankfully, CyberGhost's ad and malware blocker prevents many of these appearing — so you can access the official service easily and safely. It also offers AES 256-bit encryption, making your connection unreadable to anyone who may try to intercept or monitor it.
The VPN's nearby connections offer the quickest speeds, while its faraway servers can be marginally slower. Connected to the UK server, I measured 84Mbps (just a 14% drop from my base connection), while its US server produced 82Mbps. Even though the server further away in the US was slower, it was still fast enough to use Google Bard without delays.
Using CyberGhost on your favorite device is easy. The Smart Rules feature even lets you automate certain actions. For example, I set it to auto-connect on startup and open the browser I use for Google Bard. You can also save your favorite servers for quick access later or use the WiFi Protection feature to auto-launch the VPN on unsecured public hotspots. If you run into any issues, the 24/7 live chat team is very helpful.
Just bear in mind that monthly plans come with a reduced refund period (only 14 days). That said, if you opt for long-term plans (which start at just $2.11/month), you can try CyberGhost risk-free for a long 45 days.
Useful Features
Easy-to-use apps. CyberGhost provides a good mix of intuitive user-friendly design with plenty of customizability in the form of advanced settings. You can do as much or as little configuration as you like.
NoSpy servers. These servers are owned and managed directly by CyberGhost and are located in privacy-haven Romania. This setup prevents any unknown third party from monitoring your Google Bard activity via the VPN server itself.
URL exceptions. This feature lets you choose specific URLs to exclude from the VPN tunnel. This is useful when you need to download something at maximum speed on your normal connection while still using the secure VPN tunnel to chat with Google Bard.
Kill switch. This feature automatically cuts off your internet if the VPN connection drops, ensuring your Google Bard activity is protected from accidental leaks.
Try CyberGhost for Google Bard
| | |
| --- | --- |
| Best Feature | 53 US server locations to bypass Bard geo-restrictions |
| Average Speed | 82Mbps (18% drop) |
| Security and Privacy | Leak protection to prevent exposure of your real location |
| Server Network | Also covers 3 UK locations, offering you even more options for accessing Google Bard |
Private Internet Access (PIA) is a US-based VPN, so it has servers in nearly every state. This means you get thousands of IP addresses to choose from that can access Google Bard. I tested 15 of PIA's 53 US server locations and each one worked with the chatbot. There are plenty of UK IP addresses too, if the UK is nearer to your real location (connecting to closer servers gives you the best speeds).
The only downside to the VPN being located in the US is that it's not exactly a privacy-friendly country (the US is a founding member of the 5 Eyes Alliance, for example). However, PIA operates a strict zero-logs policy that has been independently audited to prove it doesn't record anything you do online. So it wouldn't be able to hand over logs of your Bard chats to anyone, even if legally requested by the US authorities.
Like CyberGhost, the MACE feature also prevents ads and malware from leading you onto fake Google Bard sites. MACE operates at the DNS level — if your browser makes a request for a malicious domain, it will be automatically blocked from accessing and loading anything from it. This means intrusive trackers and potentially dangerous ads won't even begin to load in your browser.
You can get PIA for as low as $2.03/month. Every plan comes with a reliable 30-day money-back guarantee, so getting a refund is hassle-free.
Useful Features
Adjustable encryption levels. My PIA app was set to 128-bit AES encryption by default. This level of encryption gives you faster speeds for accessing Bard without delays. Alternatively, you can switch to 256-bit AES encryption for maximum security.
Unlimited simultaneous connections. With one subscription, PIA lets you and your family use Google Bard on all your devices simultaneously. The VPN supports all major platforms and even has browser extensions for Chrome and Firefox.
Plenty of protocols. Most PIA servers support OpenVPN, WireGuard, IKEv2, and LT2P/IPSec protocols. For the best speeds, I recommend using WireGuard — but if privacy is a big concern, I'd go with the ever-trustworthy OpenVPN.
| | |
| --- | --- |
| Best Feature | The apps are user-friendly, making them a great choice if you haven't used a VPN before |
| Average Speed | 81Mbps (19% drop) |
| Security and Privacy | An audited no-logs policy and RAM-based servers for private Google Bard sessions |
| Server Network | Servers in 16 US and 4 UK locations, along with servers optimized for privacy and security |
NordVPN's app is user-friendly and lightweight, ideal if you're new to using a VPN with Google Bard. The application offers a map interface that allows you to select US or UK servers and connect with just one click. It also only took me a few minutes to install NordVPN on several of my devices. Everything was preconfigured and good to go — I had no slowdowns using the app with Google Bard on my Windows laptop, the Edge extension, and my Android phone.
Interestingly, the Double VPN feature adds an extra layer of encryption to your online activities. This feature routes your internet traffic through 2 separate VPN servers, making it even harder for anyone to monitor your Google Bard conversations.
Similar to PIA and CyberGhost, NordVPN also comes with a built-in ad-blocker and malware scanner (called Threat Protection). However, when I had Threat Protection activated, it blocked access to my Google Bard account. Fortunately, the Lite version of the feature doesn't have this problem, so I enabled that instead and had no further issues.
Subscription plans begin at $3.29/month. To get the most out of your money, I suggest choosing the 2-year plan. You can try NordVPN risk-free with its 30-day money-back guarantee.
Useful Features
Audited no-logs policy. The VPN's logging policy is watertight. It's also located in privacy-friendly Panama, meaning it isn't obligated to share any information (like Google Bard conversations) with government agencies.
Dedicated IP addresses. For an extra fee, you can get your own private VPN IP address to use with Google Bard. This can help you avoid constant CAPTCHA checks, as most regular VPN IPs are flagged as suspicious by Google.
24/7 live chat. I found NordVPN's support team very helpful when I was having trouble with Threat Protection blocking Bard. They gave me a good solution promptly.
| | |
| --- | --- |
| Best Feature | Camouflage and NoBorders modes help you access Google Bard even if you're in a country with tough internet restrictions |
| Average Speed | 79Mbps (20% drop) |
| Security and Privacy | AES 256-bit encryption and a kill switch to prevent anyone from intercepting your private information |
| Server Network | Servers in 25 US and 4 UK locations to bypass Google Bard blocks from anywhere |
Surfshark's offers multiple features designed to let you use Google Bard in restrictive countries. Camouflage mode disguises your VPN traffic as regular traffic, letting you evade VPN-blocking firewalls. Another feature, NoBorders mode, also offers a list of the best servers to use if it detects you're in a country with strict internet regulations. Both are useful in countries or regions where VPN use is heavily regulated or Google services are restricted.
Unlimited device connections also means you can use Google Bard simultaneously on all your devices. I connected my smartphone, 2 tablets, and 2 laptops and didn't encounter any slowdowns while using Google Bard on all of them. Surfshark's performance was great across all the devices I tested.
My only issue is that the speeds drop quite a bit on faraway servers (by 25%). But even with this reduction, the VPN is fast enough to use Google Bard without significant delays.
You can get Surfshark's long-term plan for just $2.30/month. I recommend the 2-year subscription for the best savings. If it doesn't meet your standards, there's a 30 day money-back guarantee.
Useful Features
CleanWeb. By blocking trackers, this feature prevents advertising companies from monitoring your Google Bard activity. Additionally, it blocks domains linked to malware, such as fake Google Bard sites.
Double VPN. Like NordVPN, Surfshark allows you to route your connection through two VPN servers for added protection. Nicely, you can specify the exact servers you'd like to use.
Quick Comparison Table: Google Bard VPN Features
If you're struggling to pick a service, the comparison table below can help you find the best VPN for Google Bard.
I focused on server coverage and speeds as these are essential factors for using Google Bard from any location. I've also covered whether each VPN offers a form of server obfuscation, which is key in being able to access Google Bard privately from restrictive networks.
Try ExpressVPN for Google Bard
Tips on Choosing the Best VPN for Google Bard
While all the VPNs on my list offer impressive features for Google Bard, you can refer to my checklist if you want to conduct your own tests:
US and UK servers. Opt for a VPN that has reliable servers in the UK and the US, where Google Bard is available.
Robust security and privacy features. For secure and private use of Google Bard, your VPN should come with AES 256-bit encryption, a no-logs policy, a kill switch, and IP/DNS leak protection.
Ease of use. You don't want to get lost fiddling around in a VPN app — you want to use Google Bard. That's why you should choose a VPN that lets you set it up and connect to a US or UK server in minutes.
Fast speeds. It's crucial to select a VPN that doesn't significantly slow down your internet speed. Otherwise, you may encounter delays when using the chatbot.
Trustworthy money-back guarantee. This will let you try the VPN service with Google Bard risk-free. If you're not a fan, you can pursue a full refund.
Prompt support. A reliable 24/7 live customer support service is important, so you can get help when you need it without waiting around.
Try ExpressVPN for Google Bard
Quick Guide:
How To Use Google Bard With a VPN in 3 Easy Steps
Download a VPN. ExpressVPN is my top recommendation due to its fast and reliable server network, perfect for accessing Google Bard from anywhere. You can try ExpressVPN without risk (it's backed by a 30-day money-back policy).
Connect to a server. Google Bard is only available in the UK or US. Choose a server in whichever of these two countries is closest to your real location for the fastest speeds.
Start using Google Bard. Sign into your Google account and enjoy having private access to the AI chatbot, even on restrictive networks.
FAQs on VPNs for Google Bard
Why do I need a VPN for Google Bard?
Because the chatbot is only available in 2 countries. If you're not based in the US or the UK, you need a VPN to borrow a UK or US IP address to unblock Google Bard. Otherwise, you'll see the message: "Bard isn't currently supported in your country. Stay tuned!".
VPNs can also offer online privacy and protection while using Google Bard. Good VPNs use strong encryption to hide what you do online from hackers or other third-party monitoring. Many VPNs also feature ad and malware blockers that prevent malicious domains from serving you virus-laden ads for fake Google Bard services.
Where is Google Bard available?
The US and the UK. Since the chatbot is still in beta, it's currently only available in these 2 countries. Google has suggested that the chatbot will be rolled out to more countries when it's out of testing and if demand is high enough — although its release depends on the AI regulations in each country. In the meantime, you can use a VPN to access Google Bard if you're based outside the US or UK.
Is it safe to use Google Bard?
Yes, Google Bard is safe. However, the service collects conversation content, metadata, your location, and other information. This poses a privacy concern, as these datasets could potentially become targets for cyberattacks.
To ensure your privacy, it's recommended to use a quality VPN to hide your real location. It's also a good idea to use a burner Google account that isn't linked to any social media or other services that could be used to identify you, and to avoid entering personal information into the chatbot.
How can I use Google Bard for free?
Google Bard is free to use. Just keep in mind that the service is only currently available in the US and UK. To access the service outside the testing region, you need a VPN with reliable servers in the US or UK. There is also a Google Bard waitlist you may have to join if demand is particularly high. Just sign up for the waitlist with your Google account and you should receive access in the coming days.
What do I do if my Google Bard VPN isn't working?
There are a few troubleshooting tricks you can try. However, before you try any of them, ensure that you are using a reliable VPN that has been verified to work with Google Bard.
If you are using a quality VPN and still encountering difficulties, here are some other steps you can take:
Connect to a different server. The server you're currently connected to might have been blocked by Google, so try disconnecting and reconnecting to another one.
Try a different protocol. Your VPN protocol may be too slow for use with Google Bard. Switch to a faster one like Lightway or WireGuard.
Update your VPN app. You may be encountering a bug that has already been resolved in the latest update.
Disable your firewall and antivirus. Some software can identify your VPN as malicious and stop it from working. Either disable the software or whitelist your VPN in the firewall settings.
Ask customer support for help. If none of the aforementioned solutions work, contact your VPN's customer support team for assistance.
Can I use a free VPN to access Google Bard?
You can, but it's not recommended. Most free services are simply too slow to unblock Bard without long delays, plus you'll likely have to deal with annoyances like ads, frequent disconnects, and data caps. Additionally, many free VPNs collect and sell your data. A better option is to use a low-cost premium VPN service with a trustworthy money-back guarantee for reliable and private access to Google Bard.
Get the Best VPN for Google Bard
Google Bard is a fascinating technology that can enhance productivity in numerous ways, but it's only available in the US and the UK. Using a VPN can help overcome Google Bard's limited availability, but not all VPNs are ideal for the task. Some may not have crucial security features or only offer sluggish speeds that can hamper the chatbot's performance.
I recommend ExpressVPN for Google Bard. It comes with fast speeds and plenty of US and UK servers to use Google Bard securely from anywhere. It's also backed by a 30-day money-back guarantee, meaning you can test ExpressVPN risk-free. Getting a refund is hassle-free if you're not entirely impressed with the service.
To summarize, these are the best VPNs for Google Bard...
Privacy Alert!
Your data is exposed to the websites you visit!
The information above can be used to track you, target you for ads, and monitor what you do online.
VPNs can help you hide this information from websites so that you are protected at all times. We recommend ExpressVPN — the #1 VPN out of over 350 providers we've tested. It has military-grade encryption and privacy features that will ensure your digital security, plus — it's currently offering 49% off.