5 Best VPNs for Ukraine in 2023 for Security and Streaming
Updated on 23rd January 2023
Privacy breaches and cybercrime are common issues you may experience in Ukraine. Unfortunately, popular IT services like Kaspersky are blocked, along with the payment platform WebMoney. Online censorship remains prevalent in the country. On top of that, if you're visiting Ukraine, you won't be able to access services from your home country (like Netflix US) due to licensing restrictions. Similarly, Ukrainians may also face geoblocks on content when abroad.
My team and I tested 75+ VPNs to find the best options for Ukraine. All of my shortlisted VPNs have robust security features to maintain your online privacy, including no-logs policies, top encryption, and a kill switch. Additionally, these VPNs have high-speed global servers capable of unblocking sites worldwide.
ExpressVPN is my top choice. It uses several advanced security features to protect your data. Plus, incredible speeds and an expansive global network (including servers in Ukraine) are great for uninterrupted streaming of local and international content. There's no risk in trying ExpressVPN for yourself (it provides a 30-day guarantee).
Get the Best VPN for Ukraine Now!
Important: Some websites are blocked in Ukraine. Our team at vpnMentor doesn't condone using VPN to bypass government rules and regulations. Make sure you're up to date with the latest laws regarding VPN use and online restrictions in Ukraine, so you don't accidentally break any rules.
Short on Time? Here Are the Best VPNs for Ukraine in February 2023
Try ExpressVPN Risk-Free Today!
Best VPNs for Ukraine — Full Analysis (Updated in 2023)
Only the best VPNs made it to my shortlist. These VPNs provide rock-solid security and privacy. Plus, they're simple to install and offer quality customer support. Additionally, they have high-speed global server networks to unlock content worldwide. Some even have quick-connect buttons to make finding the fastest server easy.
The best part is, you can try them risk-free as they come with trustworthy money-back guarantees.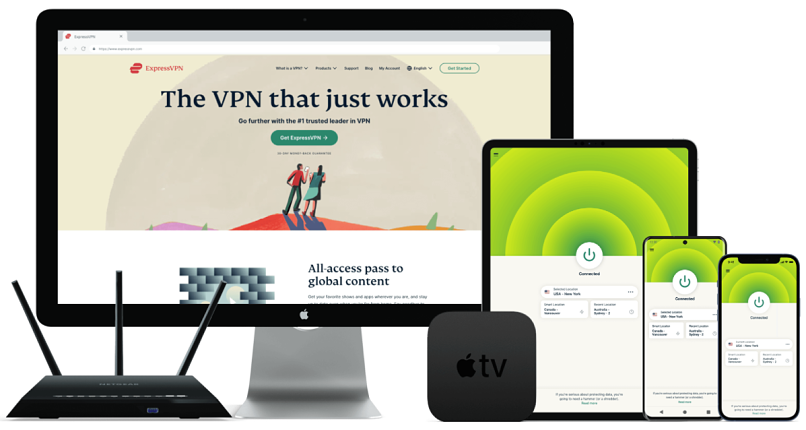 Editor's Choice
Editor's Choice

Tested February 2023
Try Risk-Free for 30 Days
Available on:
Chrome
Router
Smart TV
More
www.ExpressVPN.com
Server speed and location: Extreme speeds on 3,000 servers in 94 countries, including Ukraine
Security and privacy: Military-grade encryption, a kill switch, and TrustedServer tech
Simultaneous device connections: 5
Can stream local and global content: Netflix (US & Ukraine), Amazon Prime Video, 1+1, BBC iPlayer, Hulu, 2+2, Disney+, ICTV, and more
Compatible with: Windows, Android, iOS, Mac, Chrome, Firefox, and more
ExpressVPN's security measures, like TrustedServer tech, safeguard your online privacy. Servers wipe all session data when you log off; your web activity is never stored. It even uses 256-bit AES (the same encryption method the US military employs) to maintain security. Additionally, there's IP/DNS/WebRTC leak protection to stop any accidental data exposure. When I tested ExpressVPN, my IP address and DNS requests remained concealed. Network Lock (ExpressVPN's kill switch) further prevents location exposure by disconnecting you from the internet if the VPN drops.
Data protection is enhanced with tools like Perfect Forward Secrecy. This feature changes your encryption keys regularly. That way, if a hacker does get hold of your data, it would be unreadable. Also, with reliable obfuscation, your VPN use remains hidden. ExpressVPN follows a strict no-logs policy which means your personal information won't be collected or shared with anyone.
Server speeds are extremely-fast, too, for smooth streaming and browsing. I watched my Netflix US account from Ukraine in UHD, buffer-free (speeds reached 48 Mbps). ExpressVPN also provides unlimited bandwidth and allows P2P on all servers, so you can enjoy quick, limitless downloads. Even the longer-distance servers don't significantly slow your connections. A Smart Location feature automatically finds the fastest server for you based on your actual location.
Thanks to its vast global network, you can watch your favorite shows abroad. With servers in 94 countries, including Ukraine, ExpressVPN is excellent at bypassing geoblocks. I watched my Netflix Ukraine account back home in the US, as well as ICTV and 2+2.
I found the app straightforward to install and use. Its MediaStreamer feature even provides you with a DNS address to unblock US services on devices without app support, like Smart TVs and gaming consoles. ExpressVPN also provides 24/7 live chat support — an excellent feature if you travel because help is available all day regardless of what time zone you're in.
Plans are expensive, with the lowest price at $6.67/month. Luckily, ExpressVPN regularly offers fantastic savings. I got a 12-month subscription at 49% off and a few months of free service. The long-term plans give you the best value, as they offer the same features as the more expensive short-term ones.
Additionally, you can try ExpressVPN's features worry-free, thanks to its 30-day money-back guarantee. If you find the VPN isn't a good fit, you can just ask for your money back. Getting a refund is simple. I contacted support via live chat and canceled my subscription. My credit card was reimbursed in 2 days.
Server speed and location: Very fast connections on 9,753 servers in 91 countries, including 58 servers in Ukraine
Security and privacy: Strong security protocols, a kill switch, and WiFi protection
Simultaneous device connections: 7
Can stream local and global content: Netflix (US & Ukraine), Amazon Prime Video, 1+1, BBC iPlayer, Hulu, 2+2, Disney+,and more
Compatible with: Windows, Android, iOS, Mac, Chrome, Firefox, and more
The VPN offers servers in 91 countries, including over 50 in Ukraine. That means you can unblock your local and international accounts almost anywhere. Specialized servers for streaming, torrenting, and gaming give you the best experience. I quickly accessed my Netflix US and Disney+ accounts in Ukraine using the streaming-optimized servers. In my CyberGhost tests, local content from Ukraine (like 1+1) worked perfectly from abroad.
High speeds make CyberGhost great for streaming. My speeds averaged above 45 Mbps (not quite as fast as ExpressVPN) on all the servers I tried. I watched 1+1 and 2+2 with zero buffering using a Ukrainian server in the US. The VPN also provides unlimited bandwidth, an excellent feature for limitless downloads.
Security tools like WiFi protection promise top-level safety. This feature automatically launches the VPN whenever it detects a new WiFi network. So, your data is safe even when you forget to switch on the VPN. CyberGhost also offers a NoSpy data center (for a small extra fee) that only the VPN team can access, providing less risk of third-party meddling. Tools like AES 256-bit encryption and a kill switch add to your protection. Privacy isn't a concern with the trustworthy no-logs policy and leak protection.
It also offers a very user-friendly app design. Server lists have labels with the service each is best at unblocking (Netflix, Hulu, etc.). Plus, you're always able to get help when it's needed, as the VPN offers 24/7 live chat support. I found its mobile apps just as streamlined to use.
Monthly plans are pricier and have a shorter guarantee (14 days vs. 45 days on higher tiers), but luckily there's a better option. I chose CyberGhost's 2-year plan — it was only $2.19/month, and you get the extended guarantee. So, you can test all its features for over a month to make sure you're happy with your decision.
I tested the refund process, and it was very straightforward. I logged into my account on CyberGhost's website, canceled my subscription, and put in my money-back request via email. It only took 4 days for the VPN to reimburse my PayPal wallet.
Server speed and location: Fast speeds on 29,650 servers in 84 countries, including Ukraine
Security and privacy: Customizable security settings, a kill switch, and MACE ad/malware blocker
Simultaneous device connections: 10
Can stream local and global content: Netflix (US & Ukraine), 1+1, Amazon Prime Video, Hulu, 2+2, Disney+, ICTV, and more
Compatible with: Windows, Android, iOS, Mac, Chrome, Firefox, and more
Server speeds are ideal for bufferless streaming. During testing on PIA, I could consistently stream 2+2 uninterrupted using a Ukrainian server. If you're into file-sharing, this VPN is a good fit because it provides unlimited bandwidth and data. So, large files download quickly. Connecting to servers farther away doesn't hugely impact your performance either.
The VPN has over 29,650 servers worldwide, including Ukraine. This is great for viewing local Ukrainian TV channels online. PIA also easily unblocks international streaming accounts and other services while visiting Ukraine. I had no problem accessing my Amazon Prime Video and e-banking accounts using a server in the US.
Security measures don't disappoint, either. An all-in-one ad, malware, and tracker blocker (MACE) help prevent anyone from tracking your actual IP address and stops annoying ad disruptions while streaming. In addition, essential measures like a kill switch and a trustworthy no-logs policy safeguard your browsing habits.
PIA doesn't have particularly user-friendly apps (especially in comparison to CyberGhost) due to its high level of customization. However, you can use its preconfigured settings to get started right away. I chose 256-bit AES encryption with OpenVPN for greater security, but it also offers 128-bit AES and WireGuard for a speed boost if that's your primary VPN need.
My 3-year subscription was only $2.19/month. All plans offer the same features, so I recommend choosing the longest one for the best value for money.
You can test PIA free for Ukraine using its 30-day money-back guarantee. Asking for a refund is simple. I just emailed my request to support, and the money was back on my credit card in 5 business days.
Try Private Internet Access Today!
Server speed and location: 2,000 fast servers in 75 countries
Security and privacy: A kill switch, no-logs policy, and privately-owned network
Simultaneous device connections: Unlimited
Can stream local and global content: Netflix (US & Ukraine), 1+1, BBC iPlayer, 2+2, ESPN, ICTV, and more
Compatible with: Windows, Android, iOS, Mac, Chrome, and more
Enjoy Unlimited simultaneous device connections and easy installation. During testing on IPVanish, I secured all my devices without difficulty. Regardless of the number of connections, my speed wasn't compromised either — it remained fast enough for uninterrupted UHD streaming. You can quickly cover multiple devices in Ukraine.
With reliable servers in 75 countries, IPVanish can also unblock many of your favorite online services. I had no problem using the network to access my Netflix US account. The Scramble feature disguises VPN traffic as regular traffic to further help bypass geoblocks. Servers also allow P2P activity, with unlimited bandwidth for endless torrenting.
Privately-owned servers reduce the risk of hackers and snoops getting their hands on your data. I was concerned that the VPN is US-based, part of the 5 Eyes Alliance (a group of countries that collect and share citizens' data). However, I discovered the VPN was independently audited, and its no-logs policy is solid. Your security is further covered by the reliable kill switch.
My 2-year subscription was just $3.33/month. Monthly plans are always a bit more expensive, so I recommend the longer-term plans which offer the same features at a lower price.
Plus, thanks to its 30-day money-back guarantee, you can try IPVanish for free. I tested the refund policy, and it holds up. Simply click on "Subscription" after logging into your account, and cancel auto-renewal. I didn't even have to request a refund. They actioned mine automatically. The money was in my bank account within 7 days.
Server speed and location: Decent speeds on 200 servers in 63 countries, including Ukraine
Security and privacy: 256-bit AES encryption and Stealth VPN
Simultaneous device connections: 10
Can stream local and global content: Netflix (US & Ukraine), 1+1, Amazon Prime Video, 1+1, BBC iPlayer, Hulu, 2+2, Disney+, ICTV, and more
Compatible with: Windows, Android, iOS, Mac, and more
PrivateVPN's developers deliver valuable support, including free remote installation. I had an instant response on live chat while testing PrivateVPN. Support is provided by knowledgeable professionals that know the VPN inside and out, so you're in good hands.
Server speeds are high enough for you to stream without delays. I watched my usual shows in UHD. Plus, there wasn't a major streaming service PrivateVPN couldn't unblock in seconds while in Ukraine (including my Hulu, Netflix US, and BBC iPlayer accounts).
PrivateVPN lives up to its name with robust security features protecting your data. It has a strict no-logs policy, so it won't share your browsing data with anyone. While it provides enough security for online privacy protection, it doesn't offer as much security customization as PIA.
The 3-year plan offers the best value overall — you can get PrivateVPN's long-term coverage for just $2/month. I was a bit disappointed that I couldn't subscribe using Google Pay, but there are plenty of other payment options, including cryptocurrencies.
There's no obligation with PrivateVPN's 30-day money-back guarantee. Getting a refund is easy — I used the "Contact Us" form on the webpage to make my request. It only took 8 days for the money to show in my PayPal account.
Quick Guide:
How to Set Up a VPN for Ukraine in 3 Easy Steps
Download a VPN. My top choice is ExpressVPN for Ukraine. It offers high-level encryption to secure your data and superior unblocking ability with high-speed global servers. ExpressVPN can be used obligation-free (it has a 30-day money-back guarantee).
Connect to a server. Use a server in the country with the content you want to access. For example, connect to a server in Ukraine to stream ICTV.
Start browsing. You can now safely access local and international content from anywhere.
Tips on How to Choose the Best VPN for Ukraine
I chose the most secure and fastest VPNs for Ukraine. The VPNs on this list all have unique security and privacy features and plenty of servers to bypass geoblocks worldwide. Still, if you'd like to do some research on your own, the criteria below will make it easier to find a good VPN:
Security and privacy — Look for a VPN with 256-bit AES encryption for data security, a kill switch to prevent location exposure, and a strict no-logs policy.
Global and local servers — A sizable global network makes it easier to avoid geoblocks, while servers in Ukraine give you access to local content.
Fast speeds — Choose a VPN that ensures buffer-free streaming and fast browsing — a quick connect feature helps you find the fastest server in one click.
Ease-of-use — Quick installation on all supported devices is essential. Additionally, live chat and email support ensure you have help if you need it.
Trusted money-back guarantee — Choose a VPN that offers a refund if it's not right for you.
Try ExpressVPN Risk-Free Today!
FAQs on Using a VPN for Ukraine
Are VPNs legal in Ukraine?
Yes, VPNs are legal in Ukraine, but you should be mindful of how you use them. VPN's are, first and foremost, a great way to keep you safe online. And while all the VPNs on this list can bypass geoblocks, my team and I don't condone using them to avoid your government's rules regarding internet use. Also, some streaming providers advise against using a VPN in their T&Cs.
It's essential to stay up to date on VPN legality and internet regulations for any country you live in or visit.
Will A free VPN work for Ukraine?
Maybe, but you could be putting your privacy at risk. Instead, a premium service like ExpressVPN offers much more reliable privacy measures. Free VPNs are often full of security risks created by shortcuts during development to reduce costs. Also, many free VPNs sell your data to marketing firms for a profit.
Free VPNs often limit features too (data, bandwidth, server locations, etc.) so that you'll upgrade to a paid plan. Choosing a premium option means no risks to your data or limitations on features.
Why do I need to use a VPN in Ukraine?
Using a VPN in Ukraine will keep your online activity private and secure. That way, you can browse safely, and in addition, access accounts you'd typically use back home. The VPNs on this list offer international servers to bypass global geoblocks, and most (except IPVanish) have Ukrainian servers to help unblock local content abroad.
Try ExpressVPN for Ukraine Now!
Bottom Line
It's easy to protect your sensitive information and maintain access to your online accounts while living in or visiting Ukraine. Choose a trustworthy VPN with robust security features and widespread server networks like the VPNs on my list.
ExpressVPN is my go-to VPN for Ukraine. It has robust privacy features and an extensive network of secure servers. Plus, the speeds are phenomenal for streaming, and you get a 30-day money-back guarantee with all its plans. So, you can try ExpressVPN's features without any risk.
To summarize, here are the best VPNs for Ukraine
Privacy Alert!
Your data is exposed to the websites you visit!
The information above can be used to track you, target you for ads, and monitor what you do online.
VPNs can help you hide this information from websites so that you are protected at all times. We recommend ExpressVPN — the #1 VPN out of over 350 providers we've tested. It has military-grade encryption and privacy features that will ensure your digital security, plus — it's currently offering 49% off.