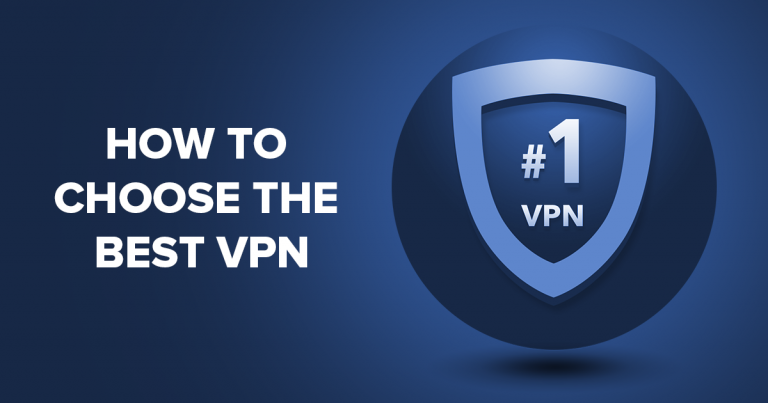 How to Choose the Best VPN in 2022 – 8 Tips for VPN Beginners
You're in the market for a VPN. That's great!
VPNs have tons of benefits from encryption and security to anonymous browsing and different IP addresses, but I'm sure you know that already.
If you don't, or you want to learn more about them, click here.
(If you're still debating whether a VPN is right for you, our pros and cons list can help.)
Now that you've started looking for a VPN, you probably noticed that there are a lot of them.
Actually, there are over 300 VPNs on the market now! So, how do you know which one is the best for you?
Simple. You figure out what you're looking for in a VPN and then you find one that matches.
But how do you know what to look for?
Take a look at the list below. Our 8 tips will help you figure out what to look for in a VPN and how to choose the best one.
Figure out what you need a VPN for

You're not going to enter an Apple store and buy the first laptop you see. The same applies to VPNs.

If you want a VPN for your entire household, a router-based VPN – or one that allows for multiple simultaneous connections – is what you should look for.

If you're planning on streaming movies online, you need a VPN with high speed, reliable connections, and unlimited bandwidth.

Meanwhile, regular travelers who are largely reliant on public WiFi networks need a VPN that offers excellent security and has servers situated all over the world.

Once you know what you will be using a VPN for, write down a list of the features that are important to you and those that you can forgo. After completing that process, you will have a much easier time deciding what VPN to use.

Look at each VPN's qualities

Every VPN company prioritizes something. It could be speed, it could be encryption, it could be anonymity – you need to make sure your priorities match theirs.

If you want to watch content that is geographically blocked, a VPN that has a reputation to unlock content is a priority.

For example, many VPNs have trouble bypassing Netflix's VPN block, but ExpressVPN and CyberGhost continuously succeed in negotiating those obstacles.

If you are a journalist, or someone else who values their privacy and anonymity, a VPN that does not retain logs and has a secure encryption, should be your priority.

It's also worth checking the security protocol and if the VPN includes a kill-switch feature.

Check which devices are compatible

Although most VPNs support the main platforms of Windows, Mac, Android, Linux, and iOS, some VPNs are not available on all platforms.

If you have a Windows computer but use an iPhone, then you want to ensure your VPN has a platform and app for both.

It's also a good idea to see how many devices you can connect to at once. Some VPNs allow unlimited devices, while others only let you connect up to three.

Find a VPN with a user-friendly interface

The setup and user-interface on a lot of VPNs can be quite complex. So, if you're not tech savvy and do not want to trouble yourself trying to configure a VPN, it's important to find one that offers simple procedures and a user-friendly platform.

Some VPNs offer a virtual setup, so you never have to lift a finger.

Ensure your important locations are covered

The number of servers and locations can be the deciding factor for some VPNs.

If you live in a less populated or developed country or are planning to travel or live there for some time, you'll need a VPN that has servers in that location or nearby.

China is renowned for its limited internet service and having a VPN that can effectively tackle their censorship and restrictions is essential if you are going to live or work there.

Decide what payment plan you prefer

Payment is always important to consider when looking for a VPN. Prices differ depending on a VPN's features and subscription length.

How you pay is also important. Some VPNs offer completely anonymous payment systems, like BitCoin, while others allow you to buy gift cards to avoid using personal information.

While free VPNs are tempting, we do not recommend you use one. Even if you don't pay for it with money, you will be paying for it another way, whether that's with ads, unreliable protection, or bad quality streaming.

If the price is an issue, consider using one that offers great discounts and coupons.

Look for a VPN with reliable customer service

One of the most overlooked but super important factors of a VPN is if the provider offers 24/7 customer service.

VPNs change all the time, and it's important you can easily contact someone who will help you with whatever snag you hit.

We prefer VPNs who offer live-chat because emails and tickets can take hours – if not days – to answer.

Make sure it includes a money-back guarantee

A money-back guarantee is a great way to ensure you don't get stuck with a product you do not want.

If you happen to choose a VPN but decide it is not the right one for you, getting out of your contract can be a big issue.

Look for a VPN that promises your money back within a specific amount of time, so you are not obligated to stay with one until your contract is up. All of our top VPNs offer a free trial or money-back guarantee.
Don't be fooled into believing that all VPNs offer the same service.
Figuring out what you need a VPN for and deciding what features are important to you will help you choose the best one.
If you don't have time to search through the hundreds of available VPNs, our recommended VPNs are compatible with most devices, have servers in thousands of locations, offer great payment plans and customer service, and all include a money-back guarantee.
To summarize, here are the best VPNs in 2022...
Privacy Alert!
Your data is exposed to the websites you visit!
The information above can be used to track you, target you for ads, and monitor what you do online.
VPNs can help you hide this information from websites so that you are protected at all times. We recommend ExpressVPN — the #1 VPN out of over 350 providers we've tested. It has military-grade encryption and privacy features that will ensure your digital security, plus — it's currently offering 49% off.