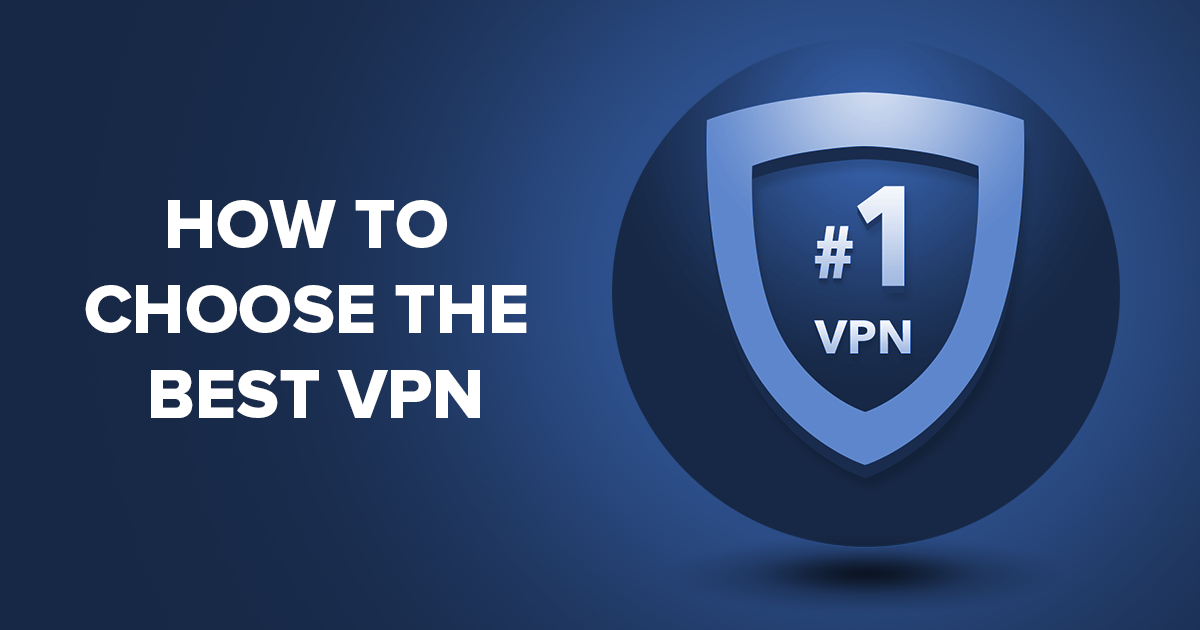 How to Choose a VPN: 9 Things to Consider When Buying
Some VPNs are better at certain tasks than others. Some are just poor services in general: with weak security features, unreliable servers, or super slow speeds. Even worse, some VPNs have been caught logging and sharing your data — compromising your privacy rather than protecting it.
To help you make the right decision, we've compiled a checklist of the most important factors to consider when choosing a VPN. These include security and privacy features, a reliable server network, fast speeds, and more.
We also list some of the best VPNs available today — ExpressVPN is our #1 choice. Out of the 200+ VPNs we regularly test, it came out on top in regard to speeds, reliability, security, and privacy. Most competing VPNs only do well in 1 or 2 of these areas, yet ExpressVPN excels in them all. Additionally, since it's backed by a 30-day money-back guarantee, you can easily get a refund if you're not impressed.
Quick Guide:
How to Get a VPN in 3 Easy Steps
Choose a VPN. Read ahead to find out what to look for. Or you could just go with ExpressVPN. It's our top recommended VPN, but if you try it out and find it's not for you, you can get a full refund within 30 days.
Download your VPN. Download the VPN from its website onto your device.
Start using your VPN. Connect to a server and start browsing, streaming, gaming, or torrenting with the security of a top VPN.
How to Choose the Right VPN — The Ultimate Guide
1. Figure Out Why You Need the VPN
Some VPNs are better at some tasks than others, so it's important to figure out what you're primarily going to use it for. If you're new to them, understanding what a VPN does is your first port of call.
If you stream or torrent a lot, fast speeds are a top priority. If privacy and security are your main concerns, choose a provider that offers an independently verified no-logs policy and a high level of encryption. For large households, a VPN with multiple device connections is ideal.
Once you know what you will be using a VPN for, write down a list of the features that are important to you and those that you can do without. Using that, you will have a much easier time deciding what VPN to use.
2. Make Sure Your VPN Has Strong Security and Privacy Features
If a VPN doesn't offer strong security features or it isn't transparent in its privacy policy, then chances are it's not doing the job it's supposed to. VPNs are meant to protect your privacy online so should have, at the bare minimum, the following features:
AES 256-bit military-grade encryption. It's the strongest out there, used by banks and military to keep sensitive information confidential.
Leak protection and an automatic kill switch. These both prevent your real IP and browsing data from being exposed. The kill switch ensures this even if your VPN should disconnect for any reason.
Good selection of security protocols. Your VPN should support the most secure (and fastest) protocols currently available. These include OpenVPN, WireGuard, and ExpressVPN's proprietary Lightway. Having multiple options allows you to customize your connection based on your preferences.
Strict no-logs policy. A VPN should guarantee that it will not log your personal data or browsing history. This claim should be independently verified by a third-party audit to ensure it can be trusted. Your provider should also regularly wipe its servers clean of all data – for example, ExpressVPN uses RAM-based servers which delete everything upon restart.
Privacy-friendly jurisdiction. Some governments may attempt to compel a VPN provider to hand over customer data. There's a higher risk of this for VPNs based in countries within the 5/9/14-Eyes Alliances, a joint-government surveillance network. However, as long as the VPN has a verified no-logs policy, this isn't an issue.
Extra security and privacy features. Some VPNs go the extra mile by offering additional privacy protection. This can include server obfuscation, which hides the fact you're using a VPN and allows you to safely bypass heavy government censorship. Another example is multi-hop, which is where your traffic is routed through two VPN servers and encrypted twice for an extra layer of security.
Your choice of VPN protocol is particularly important. Each of these can differ not only in overall security but in speed and reliability too. Refer to the table below to find out which protocol is best for you and choose a VPN that offers it:
3. Look for a VPN with Good Speeds
If you don't want your connection to be plagued by constant lag and slowdowns, you should look for a VPN that offers good speeds. A VPN will affect your internet speed to some degree because it takes time for your traffic to travel through the VPN server and be encrypted. However, the best VPNs won't impact your speeds in a noticeable way.
Some of the key things to look out for in a VPN to ensure you'll get fast speeds are:
Fast VPN protocols. As I covered in the table above, some VPN protocols are much faster than others. Lightway and WireGuard offer particularly good performance without sacrificing your security.
Special speed-boosting features. These can include optimized servers for certain use cases (such as gaming or torrenting), the ability to customize the level of encryption (military-grade encryption isn't really necessary for simply streaming Netflix, for example), or even split tunneling, where you can choose to only send traffic of certain apps through the VPN server.
Results of speed tests. The only way to get an exact measurement of the speeds you can expect from any given VPN is by using online speed test tools while connected. Check your ping and download speed, and compare this with results from speed tests on your regular internet. Thankfully, all the VPNs below offer a money-back guarantee, so you can test their speeds risk-free.
ExpressVPN offers exceptionally fast speeds – during my speed tests, I only experienced a drop of 5% over my baseline connection. This is likely due in part to its impressive proprietary Lightway protocol.
4. Choose a VPN with a Reliable Server Network
Make sure to choose a VPN that actively maintains an extensive server network. If your VPN doesn't take this seriously, you'll find yourself unable to reliably use the service you're paying for. A reliable server network is critical for the following:
Speed. If your VPN only has a small number of working servers, these servers will quickly become overcrowded. This can lead to slow speeds and instability for everyone connected.
Streaming geo-restricted content. To access another region's library on any given streaming platform, you'll need your VPN to offer a server in that same region. Some VPNs even offer streaming-optimized servers, which consistently grant access to regional libraries. ExpressVPN's 3,000 servers in 105 countries reliably unblocks many regional libraries across the world, while offering lightning-fast speeds.
Gaming. For secure gaming, you need a VPN that can offer reliable closeby servers to your location. This will give you the lowest ping, allowing you to play online with minimal lag. As with streaming, some VPNs have servers especially optimized for gaming.
In addition to the above, make sure to choose a VPN that performs routine server maintenance. This includes bug fixes, software updates, hardware upgrades, IP updates, and server reboots. All this ensures stable performance, and that you can easily access geo-restricted sites like Netflix, BBC iPlayer, Hulu, and more, without being blocked.
5. Torrent-Friendly
In addition to strong security and a no-logs policy, your VPN should have peer-to-peer (P2P) friendly servers if you're looking to torrent. This lets you download torrent files quickly without interruption.
If the VPN includes port forwarding, that's a huge plus. This increases your download speeds by increasing the number of peers you can connect to. In addition, some providers allow you to connect to a SOCKS5 proxy server, rather than a regular VPN server. It still hides your IP address like a regular VPN, but it skips the encryption of your data.
This increases performance at the expense of security, so keep this in mind. It's also worth noting that the SOCKS5 proxy performs particularly well for torrenting, as it transmits smaller data packets to improve download speed.
6. Make Sure Your VPN is Easy to Set Up and Use
Look for a VPN that has apps for most modern devices. This way, you'll be able to easily install the VPN on all your devices such as Windows, Android, iOS, macOS, and more. If the VPN doesn't have an app for the device you're going to use it on, then setting it up could be quite a hassle.
Plus, your VPN should have a user-friendly interface and come pre-configured in a working state. This allows you to connect to a server within seconds.
7. Look for a VPN with Multiple Device Connections
The ability to have multiple simultaneous connections to your VPN means you don't have to disconnect one device to make room for another. For example, PIA allows you to connect Unlimited devices simultaneously. This is helpful, especially if you have a large household or own multiple devices.
Alternatively, you can look for a VPN that's compatible with routers. By setting it up on your router, you can ensure everything in your home that connects to the internet is covered by your VPN.
8. Responsive and Knowledgeable Customer Support
Choose a VPN that offers responsive and helpful customer support, whether via email, contact forms, or 24/7 live chat. Even the best VPNs can run into problems, so having reliable and technically-proficient support to fall back on can be a lifesaver.
24/7 live chat is the most convenient form of customer support because it saves so much time — you can get answers to all your questions almost instantly.
9. Payment Methods & Money-Back Guarantee
Make sure your VPN accepts popular forms of payment methods, like credit cards and PayPal. If privacy is a concern, you should look for a VPN that offers cryptocurrency payments. This lets you sign up for the service anonymously, without the need to share any personal payment information.
Also, a good VPN shouldn't require you to commit to a subscription. Look for a provider that offers a trustworthy money-back guarantee. For instance, ExpressVPN offers a 30-day money-back guarantee with every plan. This way, you'll have the option to get your money back if it doesn't meet your expectations.
Best Overall VPNs — Full Analysis (2023 Update)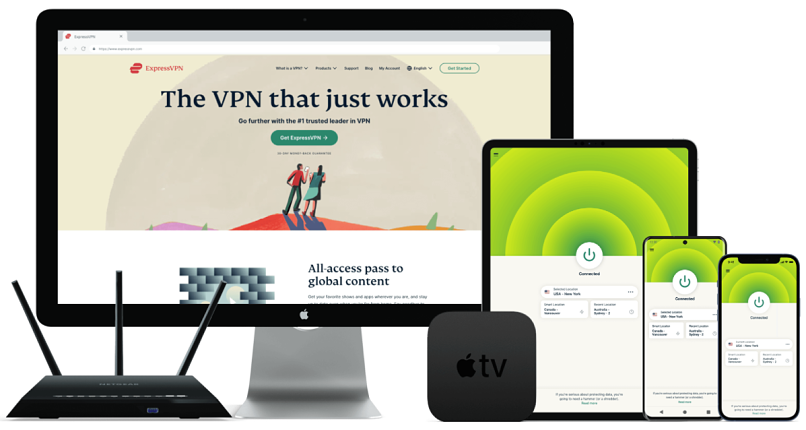 Editor's Choice
Editor's Choice

Tested December 2023
Try Risk-Free for 30 Days
Available on:
Chrome
Router
Smart TV
More
www.ExpressVPN.com
Superfast speeds to browse, stream, and torrent without interruptions
3,000+ servers in 105 countries to reliably unblock geo-restricted content
8 simultaneous device connections
Works with: Netflix, Disney+, BBC iPlayer, Hulu, HBO Max, and more
Compatible with: Windows, Mac, iOS, Android, Linux, browsers, gaming consoles, smart TVs, streaming devices (including Fire TV Stick), routers, and more
Of all the VPNs I tested, ExpressVPN was the fastest. This makes it an ideal choice for streaming, torrenting, or gaming. During my tests on its Houston and New York servers, I received an average download speed of 57 Mbps (a speed loss of only 5%). I watched Ryan Hamilton: Happy Face on Netflix in 4K with zero buffering. Plus, I could download Carnival of Souls (817 MB) from The Pirate Bay in less than 3 minutes.
With its extensive server network, you can easily access geo-restricted content from anywhere in the world. I was able to unblock Disney+, Hulu, and HBO Max with the first US server I tested (Chicago). The connection remained stable as I watched Hawkeye on Disney+. I also tried its virtual Indian server to access Hotstar and had no problems getting on the site. In addition, all its servers are P2P-friendly, so you can torrent without interruptions.
ExpressVPN goes the extra mile to protect your privacy. It's based in the British Virgin Islands (outside of the 14-Eyes jurisdiction) and has a strict no-logs policy that's verified by a third-party security firm. To top it off, ExpressVPN uses RAM-based servers that wipe user data from previous sessions with every reboot. All this ensures that your online activity cannot be traced back to you.
In addition to the features previously stated, ExpressVPN bolsters the safety of your connection with AES 256-bit encryption, leak prevention, and an automatic kill switch. This ensures the protection of your data from hackers, surveillance organizations, and other malicious online entities.
The only drawback is its slightly high price point — the cheapest plan is $6.67/month. However, ExpressVPN offers generous discounts throughout the year. When I signed up for its yearly plan, I got 49% off my subscription, making it a great deal overall. Plus, you can pay in cryptocurrency for added privacy.
You can try ExpressVPN completely risk-free as it's backed by a 30 guarantee. If you're not impressed, it's easy to get a full refund. To put this policy to the test, I reached out to support via the 24/7 live chat option and requested a refund. The agent asked why I wanted to leave and quickly approved my request after I gave my reason. I had my money back in 2 days.
Easy-to-use apps for hassle-free access to geo-restricted content
Robust security with an optional dedicated IP to protect your privacy further
7 simultaneous device connections
Works with: Netflix, Disney+, BBC iPlayer, Hulu, HBO Max, and more
Compatible with: Windows, Mac, iOS, Android, Linux, browsers, gaming consoles, smart TVs, routers, and more
CyberGhost is easy to use and set up, making it a solid choice for beginners to VPNs. It took me less than 3 minutes to download and install the app on my Windows device. Plus, you can secure your connection with just one click.
For added convenience, the servers are organized based on what you want to use them for. This takes the guesswork out of choosing the right server. For example, if you want to torrent with fast speeds, you can choose a dedicated torrenting server. Or if you're looking to game online at low ping, you can connect to a gaming-optimized server.
It has specialized streaming servers as well, which makes it super easy to unblock your favorite platforms. During my tests, I connected to its Hulu-optimized server and got instant access to the platform. Its BBC iPlayer server also worked well — the speeds remained consistent while I streamed Doctor Who in HD.
CyberGhost's security is top-notch and keeps your devices well-protected. It includes military-grade encryption, IP/DNS leak protection, and an automatic kill switch. Plus, its WiFi protection automatically secures your connection when you hop on a public network. At one point, I was torrenting on local public WiFi but forgot to turn on the VPN. However, because I had this feature enabled, I was automatically protected.
The only downside to CyberGhost is the possible lag in its connections over long distances. When I linked to a server in Perth, Australia, my speed dropped to 41 Mbps, marking about a 32% decrease. In contrast, ExpressVPN offered noticeably quicker rates. However, if you start with a speedy connection, this reduction might not be as noticeable.
You can get a subscription to CyberGhost for as low as $2.03/month if you sign up long-term. Monthly plans are also available but at a higher price, and they also only offer a 14-day money-back guarantee. Choosing an annual payment plan or longer extends the guarantee period to 45 days, which is more generous than many VPNs offer.
In order to test the simplicity of obtaining a refund, I decided to contact the support team through their 24/7 live chat and initiated a refund request. Following a brief conversation, the agent efficiently processed my refund. I received the refunded amount in my account within a span of 3 days.
In-depth customization allows you to optimize for speed or security
29,650+ servers across 91 countries, giving you thousands of options
Unlimited simultaneous device connections
Works with: Netflix, Disney+, BBC iPlayer, Hulu, HBO Max, and more
Compatible with: Windows, Mac, iOS, Android, Linux, gaming consoles, smart TVs, routers, and more
PIA allows you to fine-tune your connection to meet your particular needs – for example, you could optimize for performance or security by switching around a few settings. During my tests, I connected to its US East streaming server to unblock and watch Hulu. To get the best speeds, I selected the WireGuard protocol and only encrypted my browser traffic using split tunneling. This resulted in a 43 Mbps download speed (a speed drop of only 28%), while still keeping my connection secure.
If you'd like to configure PIA for maximum security, it offers a setting that combines multi-hop and server obfuscation. Once turned on, your traffic will have 2 layers of encryption and be disguised to look like normal traffic.
PIA also offers unique security features to enhance your browsing experience. MACE blocks ads, malware, and trackers, and worked surprisingly well when I visited an ad-heavy site (BuzzFeed) — it removed all the ads on the page. I also noticed quicker loading times.
PIA offers one of the biggest server networks on the market, with 29,650+ servers in 91 countries. You'll be able to find plenty of working servers that won't suffer from overcrowding for better speeds. Plus, if one VPN server experiences problems, you'll have no shortage of alternatives.
Although PIA is based in the United States, a key member of the 5/9/14 Eyes intelligence alliance, the company maintains a stringent policy of minimal data collection. Impressively, during its decade-long operation, PIA has never released user information, even when faced with government requests.
A subscription will only cost you $2.03/month if you can commit to its longest plan. I recommend it as it offers better value for money (plus, it comes with a year of free encrypted cloud storage and 3 months of service completely free).
Thanks to its money-back guarantee, you can try PIA risk-free for 30 day and get a refund if it's not for you. I requested a refund via its 24/7 live chat. The agent asked about my experience with the service and approved my request in less than 5 minutes. I got my money in 5 days.
FAQs on How to Choose the Right VPN
Are VPNs safe?
It depends on the provider you've chosen. All the VPNs on this list are safe to use.
However, many VPNs (especially free ones) aren't safe to use. They can collect and share your data with third parties. Others lack important security features like leak protection and an automatic kill switch, which can put your privacy at risk.
Worst of all, it's hard to know whether you can trust a VPN with your data — some "no-logs" VPNs have shared personal information about its users when a government or authority requested it.
Therefore, it's important to do your research when choosing a VPN. I'd always recommend avoiding free services as they tend to come with more risks than protections.
Can I use a VPN with my smart TV or game console?
Yes! All you need is a VPN that can be configured to your router, and you should be all set (with a bit of effort). Each VPN on this list is compatible with routers, so you can use them with your smart TV and gaming consoles.
ExpressVPN offers a unique feature called Mediastreamer, which allows you to unblock streaming apps directly on your smart TV or gaming console. This way, you can watch geo-restricted content on the big screen without a complicated router setup.
Are VPNs legal?
Using a VPN is legal in most countries. That's because it's just a privacy tool meant to improve internet freedom, allowing you to send and receive information securely. However, you still have to follow the law while using a VPN — anything that's illegal to do online is still illegal with a VPN connection.
In addition, VPN use is restricted or banned altogether in some countries, like China and Iran. We don't condone illegal activities, so make sure to check your local laws regarding VPNs to avoid getting into trouble accidentally.
Get the Best VPN Today
Choosing the right VPN can be a bit overwhelming, especially if you don't know what to look for. But by following the guide above, you can easily find a VPN that's right for you. Consider what you're looking to achieve with a VPN. Whether it's unblocking content, safely torrenting, or securing your data — the best VPN for you should cater to your particular needs.
ExpressVPN is the most versatile VPN overall. Not only does it have impressive connection speeds but it's also incredibly reliable for torrenting and accessing geo-restricted sites. You can try ExpressVPN risk-free since it's backed by a 30-day money-back guarantee. If you don't like it, you can get a full refund.
To summarize, here are the best overall VPNs in 2022…
Privacy Alert!
Your data is exposed to the websites you visit!
The information above can be used to track you, target you for ads, and monitor what you do online.
VPNs can help you hide this information from websites so that you are protected at all times. We recommend ExpressVPN — the #1 VPN out of over 350 providers we've tested. It has military-grade encryption and privacy features that will ensure your digital security, plus — it's currently offering 49% off.
We rank vendors based on rigorous testing and research, but also take into account your feedback and our commercial agreements with providers. This page contains affiliate links.