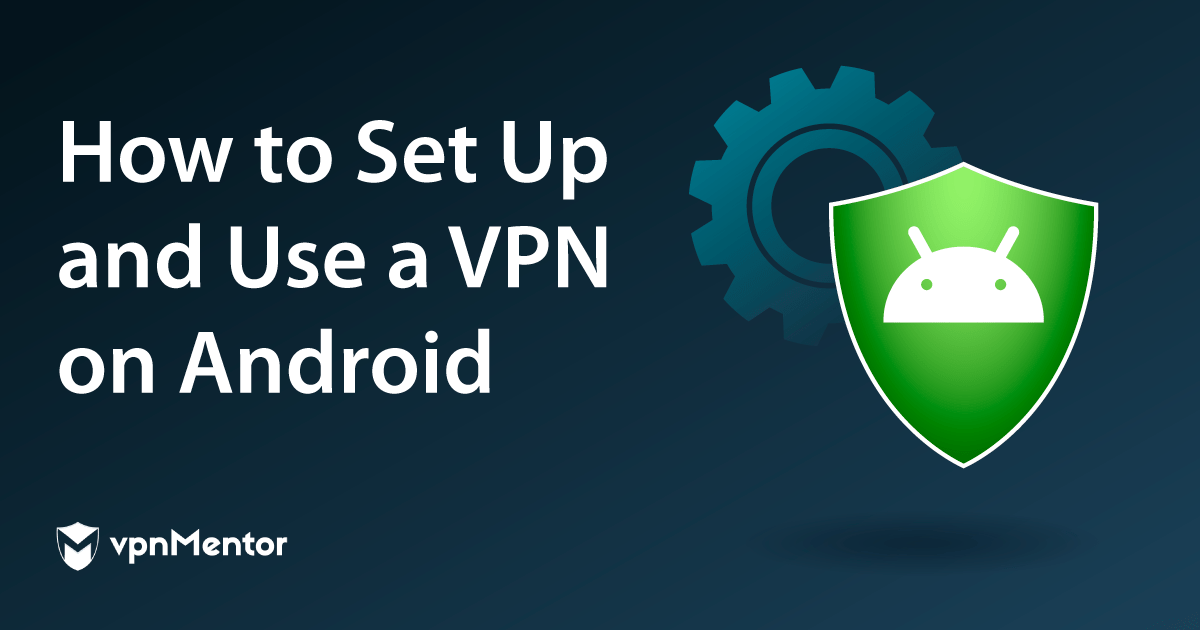 How to Set Up and Use A VPN on Android in 2023 (Easy Steps)
Your phone stores a lot of sensitive information about you. From personal information and family photos, to your physical location and online banking details, hackers and spies can learn a lot about you when you don't protect your data.
Using trustworthy apps and a good antivirus is a great way to start. But the only way to keep your personal information private is to install a high-quality VPN on your phone.
Try ExpressVPN's Android App Risk-Free for 30-Days!
VPNs encrypt your data, making it completely unreadable to hackers, trackers, and spies. They also mask your IP address to make it look like you're browsing from a different location. This is useful if you need to bypass censorship or geoblocks.
Most premium VPN providers offer apps for Android, but installing the apps can be a daunting process. That's why our experts have created an easy, step-by-step guide to installing the best VPNs on your Android.
Why Do I Need a VPN on My Phone?
VPNs encrypt all the data that travels on your network. This prevents hackers and spies from stealing your personal information because they can't break that encryption to read your data.
It will also stop sneaky websites tracking your browsing activity and creating targeted ads from your history. If you live in a country where internet surveillance and censorship is prevalent, a VPN will also help you access blocked content anonymously.
And, even if your internet isn't censored, you'll be able to use your VPN to watch geo-restricted content, like Netflix US and Hulu.
Some workplaces even use VPNs to create a secure way for employees to connect to their network. If you're using a VPN for business purposes, don't worry – we've got you covered. We will also show you how to connect to an existing VPN network on your Android phone below.
Find out more about protecting your cybersecurity with our comprehensive beginners' guide.
How to Install a VPN on Android?
Installing a VPN on your phone is the best way to protect your personal information. Most providers offer lightweight apps that don't use much data to download. In fact, you can even use some VPNs to monitor your usage if you're on a limited data plan with your cell provider.
In this guide, we show you how to install ExpressVPN on your phone. But you can use the same steps to install almost any VPN app.
We recommend ExpressVPN because it is a high-security provider with fast connections and a global network of servers. It's easy-to-use, and the lightweight app won't slow your phone down as it runs in the background.
1. Go to ExpressVPN's website on your Android, navigate to the.APK download page and click "Download".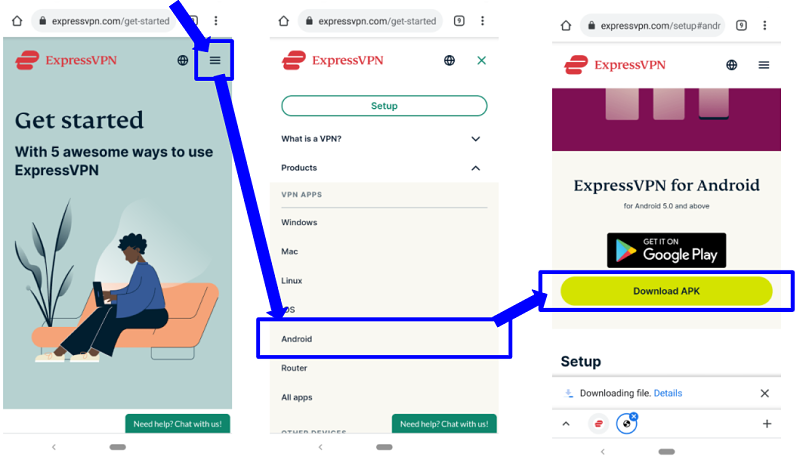 You can sign up for an account before or after you download the app on your Android
2. Open the APK file once it's finished downloading and click "Install". ExpressVPN will install automatically — then click "Open" when prompted.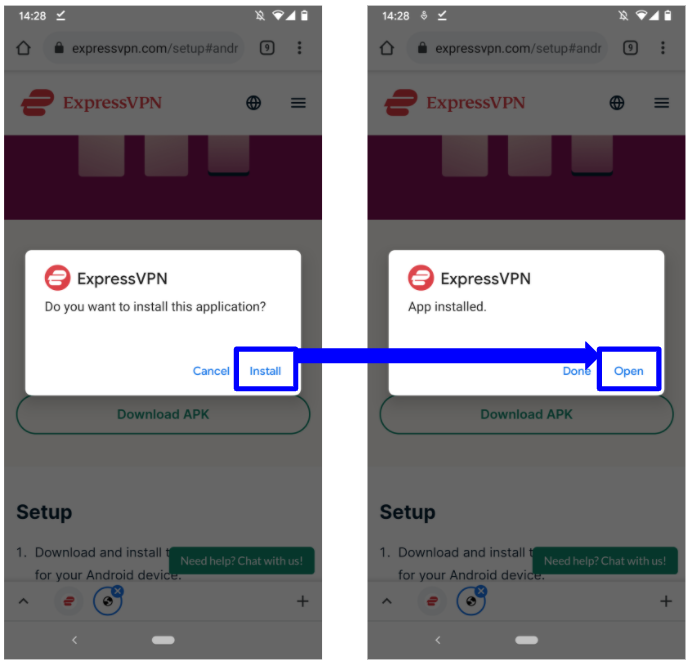 You might get a "Connection request" before installing — just click "OK".
3. Sign in with your credentials once the app opens and click the big power button to connect to the fastest server depending on your location.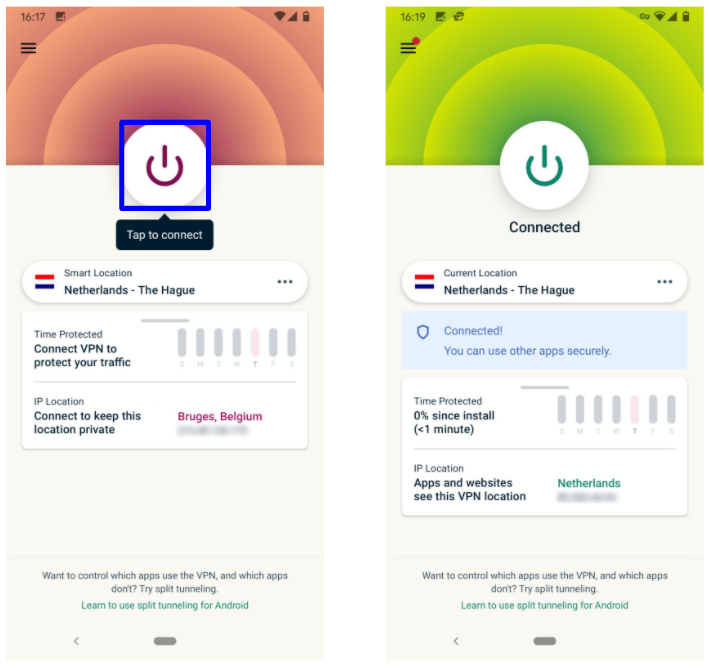 Your Android is now protected!
How to Connect to an Existing VPN Network
If your workplace uses a VPN to login to its network, don't despair! It's also easy to connect to a pre-existing VPN network with Android.
All you need to do is ask your network administrator for the VPN network's name, type, server address, and your login credentials.
1. Open your phone's settings, and tap Wireless & Networks.
2. Select VPN, and then click Add VPN Profile.
3. Enter the VPN network's information as given to you by your network administrator, then hit save.
4. On the next screen, tap the name of the VPN profile you just created.
5. Enter your login credentials and hit connect. You're done!
Summary
A VPN is the easiest way to protect your personal information when you're using your phone. It will encrypt your data and mask your location to prevent it from falling into the hands of hackers, trackers, and spies.
This will also stop targeted ads and let you bypass censorship and geoblocks.
We recommend ExpressVPN for Android because of its powerful security features and easy-to-use apps. ExpressVPN offers a 30-day money-back guarantee so you can test it out on your Android risk-free.
Get Started with ExpressVPN NOW!
FAQ
Does Android have built-in VPN?
Android does have a built-in VPN client but it may not give you all of the protocol options that you would get with a premium VPN provider. This is especially true of newer protocols like WireGuard.
Do I need a VPN on my Android phone?
Phones are used for so much more than calling and texting nowadays. We keep banking, business, and client information on them. A premium provider like ExpressVPN can help protect your Android device from malware and other third-party data that can put sensitive data at risk.
Are there any free VPNs for Android?
There are several safe, free VPNs for Android. Many premium VPNs also feature money-back guarantees that allow you to test the service for yourself risk-free. Check out our article on the best VPNs for Android for more information.
Further Reading
Want to save some of your hard-earned cash? Our budget-savvy experts have compiled a list of the best VPN deals currently available.
If you're looking to try out some VPNs before you decide, here's a list of the best VPNs with free trials.
Have an Apple device you need to protect? Check out the 10 Best VPNs for iOS.
The best VPNs for Android in 2023 are…
Privacy Alert!
Your data is exposed to the websites you visit!
The information above can be used to track you, target you for ads, and monitor what you do online.
VPNs can help you hide this information from websites so that you are protected at all times. We recommend ExpressVPN — the #1 VPN out of over 350 providers we've tested. It has military-grade encryption and privacy features that will ensure your digital security, plus — it's currently offering 49% off.