Does a VPN Drain Phone Battery — Battery-Saving Tips (2023)
Phone security and battery life are top concerns for many smartphone users. All VPNs use your phone's battery (like any other app), but some drain your battery faster. Therefore, the ideal situation is if you can find a VPN to protect your phone at all times without needing to charge it throughout the day.
After testing 70+ VPNs, my team and I found the best VPNs that won't drain your phone battery quickly under most circumstances. We also provide some actionable tips that can help preserve battery power for longer while using a VPN.
My favorite VPN that's battery-friendly is ExpressVPN. Its lightweight proprietary protocol makes it ideal for mobile devices as it boosts speeds and uses less battery. Plus, its security features make it ideal for safely accessing your favorite streaming accounts anywhere. Thanks to its 30-day money-back guarantee, you can try all ExpressVPN features risk-free. If you're not 100% happy with it, you can request a refund.
Try ExpressVPN for Your Phone Today
Quick Guide:
How to Use a Battery-Friendly VPN in 3 Easy Steps
Get a VPN. My favorite is ExpressVPN because of its fast speeds and Lightway protocol that doesn't drain a lot of battery. Plus, it's backed by a 30-day money-back guarantee.
Connect to a server. Select a server in the country that has the content you need and connect.
Start browsing. Keep your smartphone protected for an extended period without quickly draining the battery.
Why Does a VPN Drain Your Phone Battery?
Several phone and VPN factors contribute to the amount of battery being drained. The best thing you can do for your battery is to not run your VPN continuously in the background at all times.
With that in mind, here are some other reasons:
Encryption — VPNs protect your phone by encrypting your connection (most use strong AES 256-bit), meaning all the sent and received data gets encrypted. The encryption process drains the battery because it takes up processing power. Some VPNs allow you to choose a slightly less secure 128-bit encryption, but you won't be as well protected.
Security protocols — Depending on your VPN, you might have a choice of tunneling protocols — the way the VPN transmits your online traffic. A highly secure protocol like OpenVPN will consume plenty of battery power, while an older one like IKEv2 will use less. Just remember, more robust protocols use more power but provide the highest level of privacy.
Mobile signal and data usage — Strong signals like 3G, 4G, and 5G use less battery because your phone won't have to increase its signal receiver to stay connected. On the other hand, having a weak signal will result in more power usage. This is always the case, whether you're using a VPN or not. In fact, a weak signal is usually worse with VPNs because they use up more power to maintain your connection. But even with a strong connection, you'll still drain your battery if you use plenty of data, so be careful.
CPU usage — Newer iOS and Android phones have an optimized CPU designed for heavy battery usage. This is due to hardware-accelerated AES encryption, which encrypts data on the app instead of the CPU. Older phones lack this feature, so they often drain batteries faster.
Background usage — Most VPNs will stay open in the background, even when you're not connected. The VPN app always tries to maintain an active connection with a server when it's turned on, so it's ready to go when needed. Consequently, this uses up the CPU and your mobile radio chip, further draining your battery. Therefore, you might only want to turn your VPN on when visiting websites or using apps you don't trust.
Your VPN provider — Not all VPNs are equal when it comes to battery usage. You might want to consider using a different VPN service that includes battery-saving features, for example, data compression tools.
Best VPNs for Battery Longevity in 2023
All of the VPNs on my list have battery-friendly smartphone apps that are easy to install and use. Whether you want to stream videos, access content from your home country while traveling or protect your online activity, you can do so without draining your phone battery too quickly.
Additionally, you can try them with confidence as they all come with a money-back guarantee. This lets you get your money back within a certain timeframe if you don't end up liking it.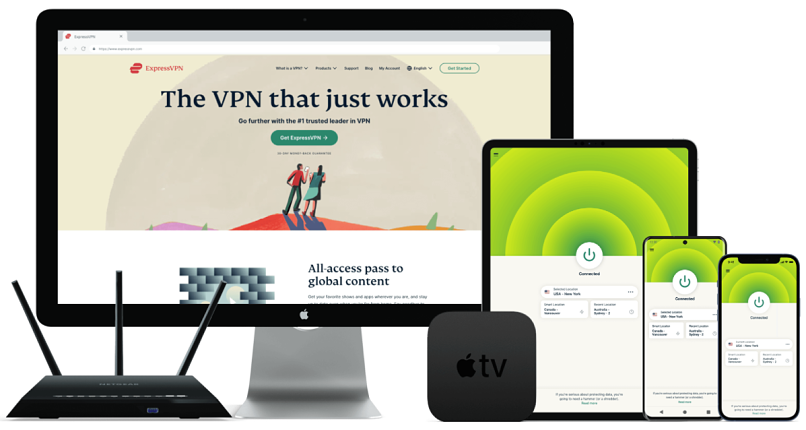 Editor's Choice
Editor's Choice

Tested February 2023
Try Risk-Free for 30 Days
Available on:
Chrome
Router
Smart TV
More
www.ExpressVPN.com
Lightway protocol for lightning-fast speeds
5 simultaneous device connections
3,000 servers in 94 countries
Can unblock: Netflix, Disney+, HBO Max, Hulu, BBC iPlayer, Vudu, and more
Compatible with: Windows, Mac, iOS, Android, Linux, routers, Apple TV, and more
ExpressVPN's Lightway protocol establishes connections in less than a second. This lightweight VPN protocol provides lightning-fast speeds (it only has 1,000 lines of code), meaning you can use your phone to stream, download, and browse without interruptions. And it does all this without draining too much of your battery. When I connected to ExpressVPN's US and UK servers, I recorded an average download speed of 49.7 Mbps while watching Netflix. Considering you only need 25 Mbps for Ultra HD, I streamed Netflix on my phone for over 3 hours and didn't experience any buffering.
Its smartphone app for iOS and Android is lightweight, intuitive, and easy to install. It took me less than 15 seconds to install it on my Android phone, and I could find and connect to any server with 2 clicks. After leaving ExpressVPN on for most of the day, I noticed it only used 8% more battery when compared to non-VPN use. Therefore, your battery will last longer when using ExpressVPN on a quality phone.
With Military-grade encryption and a solid no-logs policy, you don't have to worry about your data falling into the wrong hands. Plus, its kill switch (called Network Lock) cuts your internet connection should the VPN unexpectedly drop, protecting you from accidental data exposure.
The only drawback I could find was the VPN's price, starting from $6.67/month. But ExpressVPN regularly offers special deals on its website that let you save. I got 49% off my 12-month subscription and 3 months of service for free.
Additionally, it comes with a 30-day money-back guarantee. To see if the refund policy is trustworthy, I asked a 24/7 live chat representative to cancel my subscription. She proceeded with my request after I answered a question about my service experience, and my bank account was fully refunded after 3 business days.
Easy to use
7 simultaneous device connections
9,753 servers in 91 countries
Can unblock: Netflix, Disney+, HBO Max, Hulu, BBC iPlayer, Vudu, and more
Compatible with: Windows, Mac, iOS, Android, Linux, routers, Apple TV, and more
CyberGhost's user-friendly app is available on most devices, including iOS and Android. I downloaded and installed it from Google Play within a few seconds. What I like most is its data compression tool — by compressing images and web content, I saved more of my battery life while testing CyberGhost (where I was on the road and dependent on mobile connections). Its interface is straightforward to navigate and apps look and work similarly on various operating systems.
Your online privacy is protected with a no-logs policy and advanced security protocols. I recommend IKEv2 as it automatically restores dropped connections (due to its mobile IP support) and thus places less strain on your battery. I could use my phone for the entire day without charging it.
While CyberGhost is not as fast as ExpressVPN, it's still great for buffer-free streaming. My average download speed was 39.7 Mbps, so I could watch the latest Hulu movies in 4K quality.
One drawback is CyberGhost's expensive short-term plans Plus, they come with a reduced money-back guarantee (only 14 days). However, long-term subscriptions are available from $2.19/month.
If you aren't sure the service is right for you, you can test CyberGhost completely free using its 45-day money-back guarantee. To see if I could get my money back, I asked them to cancel my subscription using the 24/7 live chat function. After providing a reason for canceling, they processed my request. My money was returned to my credit card 5 business days later.
Choice of encryption and security protocols
10 simultaneous device connections
29,650 servers in 84 countries
Can unblock: Netflix, Disney+, HBO Max, Hulu, BBC iPlayer, Vudu, and more
Compatible with: Windows, Mac, iOS, Android, Linux, routers, Apple TV, and more
You can save more of your battery by customizing PIA's security features. For example, you can choose from various protocols (including OpenVPN, IKEv2, and WireGuard) and your level of encryption (256-bit vs. 128-bit). While slightly less secure but still sufficient, AES 128-bit with the WireGuard protocol gave me the most extended battery life while testing PIA. Plus, you can disable camera access and cookies, which further help preserve your battery power.
Thanks to its server network of 29,650 servers in 84 countries, you can also easily unblock your favorite streaming accounts from your smartphone. When I tested PIA's US and UK servers, I easily accessed my Netflix US and BBC iPlayer subscriptions while abroad. I binge-watched shows for hours before running out of battery.
I was worried when I learned that PIA is based in the US, which is part of the 5 Eyes Alliance data sharing pact. But because of its verified no-logs policy, I can confirm it doesn't collect any user data.
A long-term PIA plan is available at only $2.19/month. It comes with the same features as the more expensive monthly plans, so I recommend it.
It also has a 30-day money-back guarantee, which lets you test PIA risk-free. I asked a 24/7 live chat representative to cancel my subscription and found the refund process hassle-free. My money appeared in my bank account that same week.
Try Private Internet Access Now
Tips on How to Reduce Battery Drain While Using a VPN
The following points will help your battery last longer while using a VPN on your phone:
Install a VPN on your home router — Switch the VPN off on your phone and instead install the service on a VPN-compatible router. All devices connected to your router (including your phone) will benefit from the VPN. You'll save phone battery and protect your other devices (like computers, Smart TVs, and tablets). Just remember to switch the VPN on, on your phone when away from your router.
Bring extra power — If you travel a lot, then you probably use unsecured public WiFi networks. Therefore, you want to have your VPN on at all times, or malicious parties can intercept your connection. Since using a VPN can quickly drain the battery, you should consider carrying an external battery bank as a backup.
Limit your VPN use — Simply turn your VPN off if you aren't using it. One way to do this is to disconnect your VPN, log out, and quit the app altogether.
Adjust your VPN settings — Check your VPN settings to see if it has a battery-saver mode and enable it. Same with your phone. But make sure you know what happens when you do, as it may compromise your security. A "power saver" feature can also help, which shuts down your VPN when your device's screen goes blank.
FAQs on VPN Use and Your Phone's Battery Life
Will a VPN drain my battery?
Yes, a VPN will drain your phone battery, but the extent depends on several factors. For example, keeping your VPN running in the background, the age of your phone, and your signal strength all contribute to how long your battery will last. However, you can take steps to reduce the impact your VPN has on your phone battery.
How much battery does a VPN use?
A VPN consumes around 5-15% battery on iOS and Android devices. Of course, each phone is different, and the actual amount depends on various factors. These include the VPN encryption level, the level of mobile coverage, and whether the VPN always runs in the background. If you use a lower encryption level, consistent mobile coverage, and switch your VPN off when not using it, your VPN won't use much battery.
Should I leave my VPN on all the time?
From a security point of view, it depends on the apps you use and the websites you visit. Make sure you use a VPN if you're visiting unsecured websites that don't use SSL/HTTPS, as these sites can easily track you without a VPN. For credible websites, using a VPN won't make much of a difference to your security. Note that if you leave your VPN on all the time, your phone battery will drain faster due to the power encryption.
However, it's best to keep your VPN on if you frequently change between secured and unsecured WiFi networks. If you use public WiFi without a VPN, hackers can easily intercept your data and obtain sensitive information.
Will a VPN affect the battery life of my iPad?
An iPad has a bigger and more powerful battery than a phone, so a VPN won't affect its battery life that much. To protect your online activity without compromising speed, you might want to consider a VPN that's compatible with iOS. But even with an iPad's larger battery, you can conserve more of it when logging out of your VPN when you aren't using it, so it doesn't keep running in the background.
Try ExpressVPN to Lessen Battery Drainage Now
Get a Battery-Saving VPN Now
All VPNs consume your phone battery, but some can drain it much faster than expected. The best VPNs provide full-time security without needlessly draining your phone battery.
Out of the many VPNs with smartphone apps, I recommend ExpressVPN. Its Lightway protocol allows fast speeds without putting pressure on your battery while providing all-around protection. Plus, it's backed by a 30-day money-back guarantee, so you can test ExpressVPN on your smartphone risk-free.
To summarize, the best VPNs for your phone's battery life are…
Privacy Alert!
Your data is exposed to the websites you visit!
The information above can be used to track you, target you for ads, and monitor what you do online.
VPNs can help you hide this information from websites so that you are protected at all times. We recommend ExpressVPN — the #1 VPN out of over 350 providers we've tested. It has military-grade encryption and privacy features that will ensure your digital security, plus — it's currently offering 49% off.