The Fastest BitTorrent Clients in 2018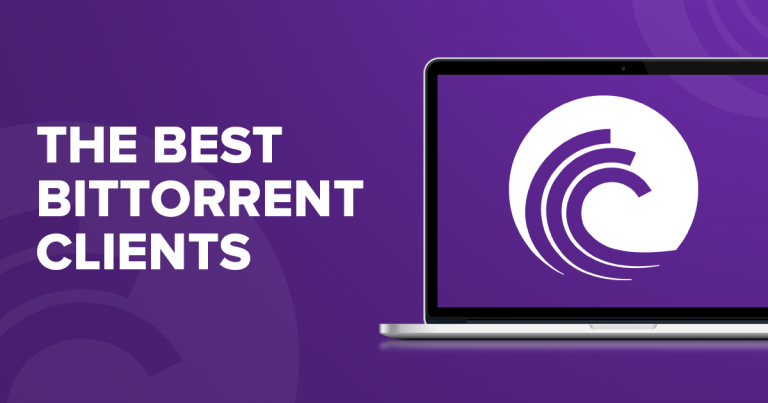 From downloading open source software to large files such as games, the importance of a really good BitTorrent client cannot be overemphasized.
Unlike conventional downloads that move files from one source directly to your computer or device, BitTorrent clients use peer-to-peer (P2P) technology to speed up transfers.
When you start a download, the component parts are gathered from other users who are also downloading the same file.
If you're wondering which client to choose from among the many out there, you're in the right place. This article looks at the best five BitTorrent Clients and what makes them stand out from the rest.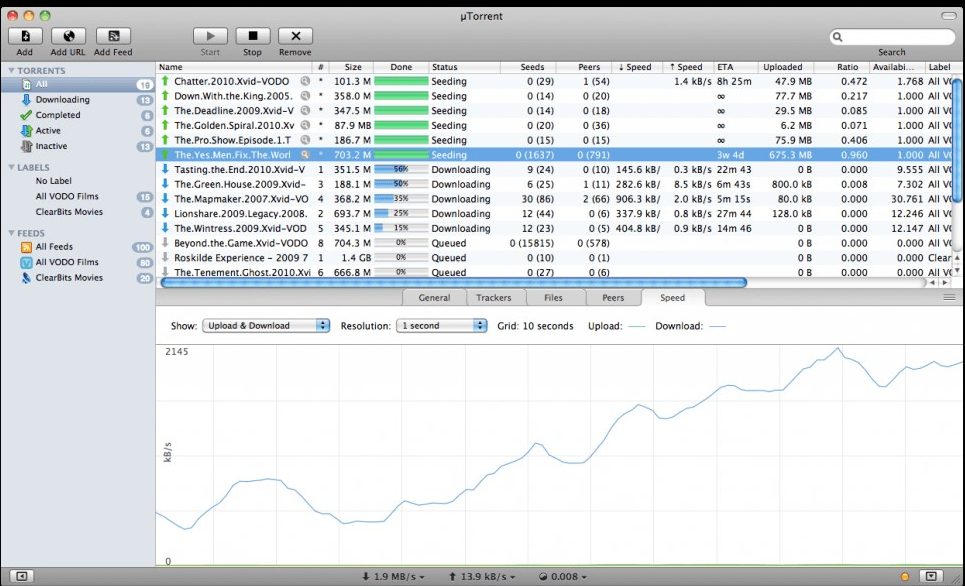 Very light app
Fast downloads
Low CPU usage
Scheduled downloads
uTorrent, currently managed by the BitTorrent project, is considered the most useful client in existence outside China. This is mainly because of its low CPU usage and overall efficiency. The entire application is less than 2MB in size meaning it'll use up hardly any unnecessary computer resources.
One of its most useful features is that it allows users to schedule large numbers of torrent downloads. Apart from being compatible with Mac OS, Windows, and Linux computers, it's also available on Android. This means that you can download large movies, songs or games directly to your mobile device.
Although it's free, it's full of ads. Users have also complained in the past that it's usually bundled with other software meaning that if you're not careful, you could end up unwittingly installing something you weren't expecting during the initial setup.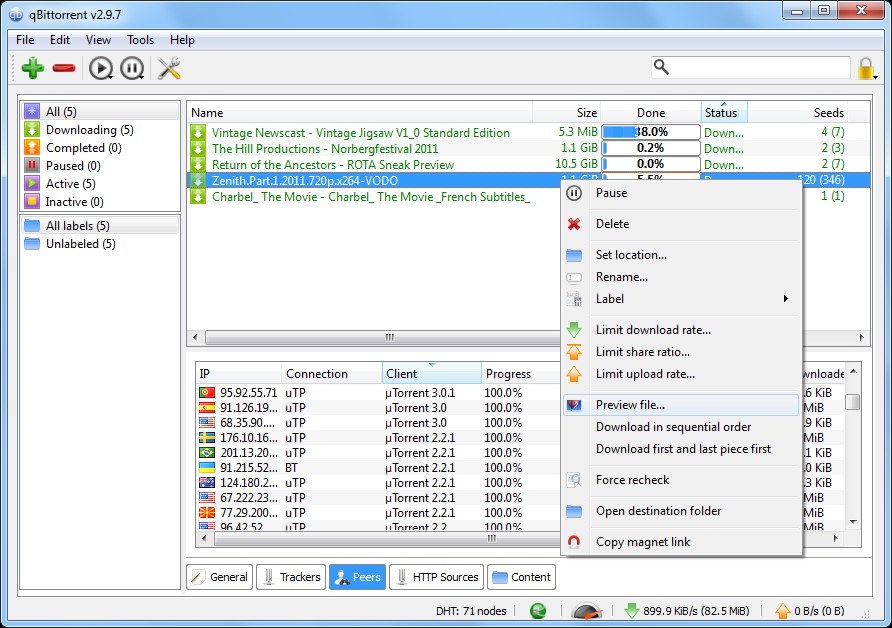 Free
No ads
Simple Graphical User Interface (GUI)
Available in 70 languages
Considered by many to be the most reliable alternative to uTorrent, qBittorrent provides users with a simple and neat outlook combined with efficient CPU usage. This means that you can use it simultaneously with other software on your computer.
It's also completely free to use without any distracting ads. It is currently developed by volunteers and survives solely on donations. Currently available on Linux, Mac OS, and Windows computers, qBittorrent offers regular services you can expect to find from most clients such as torrent queuing, IP filtering and torrent prioritization.
The major downside is that it is not currently compatible with mobile devices running iOS and Android.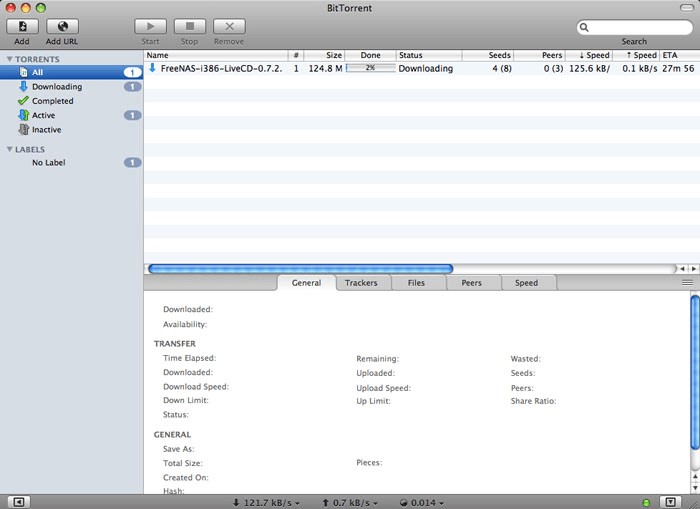 Lightweight app
Fast and Scheduled downloads
Available for mobile devices running Android
Too many ads
Many users sometimes wonder why BitTorrent runs its own program alongside uTorrent. Initially, there were slight differences, but recent releases have seen them become more similar.
BitTorrent is available for Mac OS, Windows, and Android. Users with mobile devices running Android can install it and download their favorite movies and playlists.
Like uTorrent, the BitTorrent application is filled with ads. This is its main source of revenue for sustaining the project.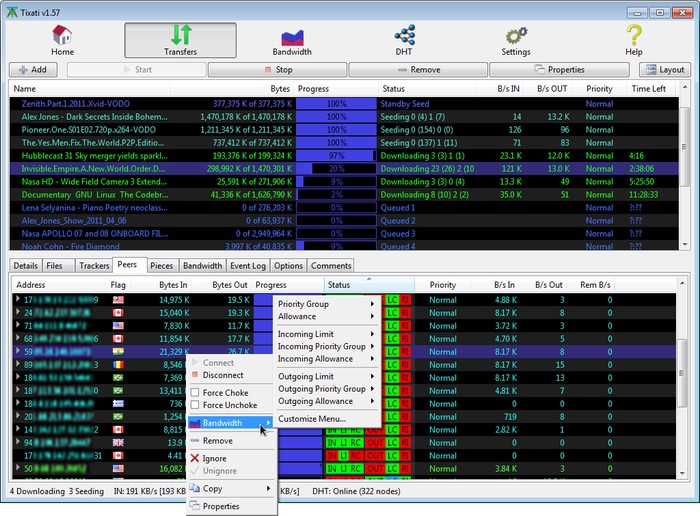 100% free without ads
No Spyware
Easy and quick install
Detailed bandwidth management and reporting
Tixati is widely popular for its powerful functionalities such as support for magnet links, IP filtering and event (download) scheduling hidden behind its extremely simple and easy to use user interface (UI).
For Windows and Linux users, Tixati is quick and easy to install mainly because it is small. Users usually consider it to be considerably faster than other BitTorrent clients. It's completely free to use and does not push any ads to users as it relies solely on donations.
The only downside is that it is just available for Windows and Linux native users so Mac OS, iPhone or Android users will be out of luck.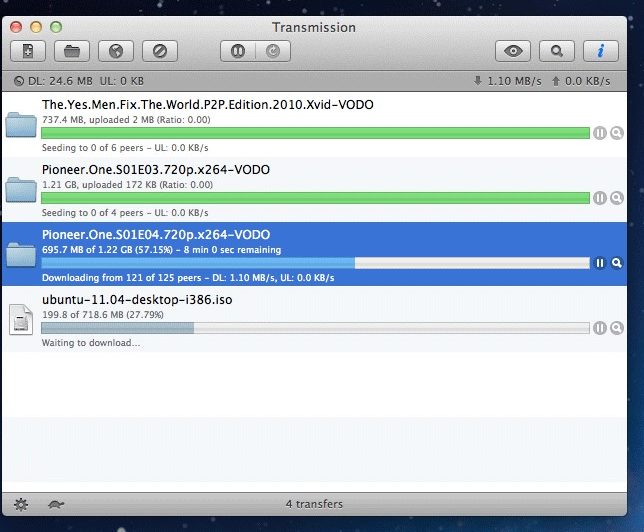 Very low memory usage
No usage tracking
No third party ads
High-level encryption
The Transmission BitTorrent client is popular among Mac and Windows users as it is predominantly considered to be the best for the Mac OS. The biggest benefit is that it uses very little system memory – it's generally considered to consume the least of all major BitTorrent clients.
Transmission is not currently available on Android, iOS or Windows Mobile so you can't run it on mobile devices.
How a VPN can improve your torrent experience
While torrents are a great way to download some of the most amazing files and content on the Internet, it is important to note that your identity may be exposed. This can be easily avoided by using a VPN to keep your privacy intact even as you download torrents.
However, not all VPNs support torrents so before getting started, be sure to check whether it is compatible with your BitTorrent client and whether it supports P2P downloads. If you'd like more information on the best and worst VPNs for torrents, click here.
Before using any BitTorrent client, be sure to check that it suits your needs especially in terms of speed and CPU usage. This will ensure you do not adversely affect other activities on your device.
If you're concerned about privacy or security as you download, click here for some amazingly reliable VPNs compatible with your mobile devices and computers.