Hola Does Not Work with Netflix? Here's What to Do
Updated on 3rd September 2020
Netflix is constantly working to block VPNs so users can't bypass their geo-restrictions and access the movies they want. Hola is one of these VPNs. Fortunately, you still have other options to solve this problem. Share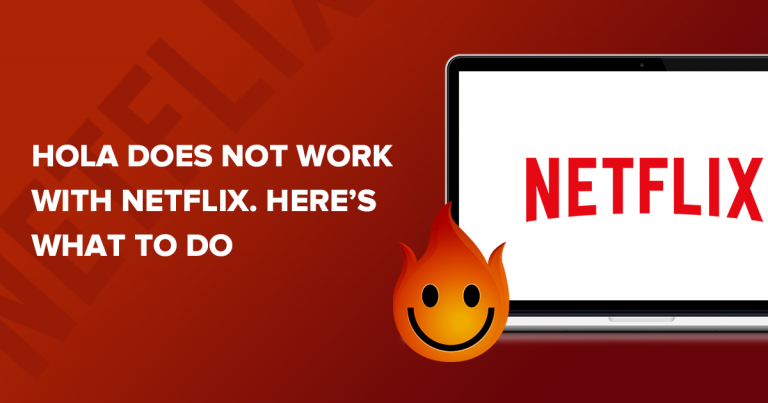 So you've figured out Hola won't get you access to US Netflix. You may be bummed now, but don't worry. There still exist reliable VPNs that will get you the movies and TV shows you want to see. ExpressVPN and NordVPNare two of the fastest VPNs out there, making them perfect for bufferless streaming – and yes, they will get you Netflix. Plus, both constantly offer money-saving deals.
Why Does Hola Fail at Unblocking Netflix?
Geoblocks are common for a lot of region-specific content, but Netflix is much stricter than most services.
Recently, the king of streaming introduced tighter measures on VPNs and DNS proxies. By blacklisting entire IP ranges and otherwise preventing workarounds, Netflix has become a big challenge for many VPNs – including Hola.
If you've tried to access regional versions of the streaming platform using Hola, you've probably seen the following (really frustrating!) message:
"Woops, something went wrong… Proxy Detected. You seem to be using an unblocker or proxy. Please turn off any of these services and try again."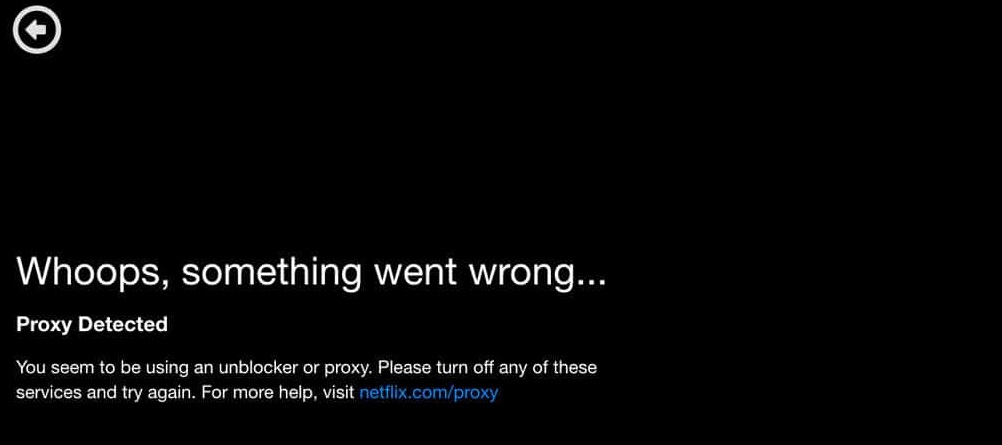 Hola isn't known for extraordinary unblocking capabilities, so you shouldn't expect that something will change and they'll start being able to unblock Netflix anytime soon.
However, hope is not lost. There are alternatives out there that will be able to unlock the holy grail of streaming for you – while giving you even better speeds and security.
ExpressVPN and NordVPNare two VPN providers that consistently bypass the Netflix block.
That said, we know what you're probably thinking. Likely the main reason you chose Hola in the first place is because it's free.
It's probably not what you want to hear, but if you REALLY want Netflix, you're going to need to go with a paid service.
Fortunately, these don't need to break the bank. Both ExpressVPN and NordVPN offer discounts. In particular, NordVPN, one of the most popular VPNs in the world, maintains its position at the top by keeping its pricing really competitive.
How are ExpressVPN and NordVPN Able to Consistently Unblock Netflix?
ExpressVPN and NordVPN are two of the leading VPN providers on the market, and the fact that they're so big gives them a major advantage in taking on Netflix.
They each have an enormous, constantly expanding network of servers with a ton of IP addresses, plus the support staff necessary to track which IP addresses Netflix has newly discovered and blocked. This means that as soon as one IP address is blocked, they're ready with another that Netflix doesn't yet suspect belongs to a VPN.
Plus, because they have so many IP addresses, Netflix is less likely to notice that lots of people are using them to try to stream. Basically, they're really good at staying one step ahead in a cat and mouse game.
And in some cases, ExpressVPN and NordVPN can actually improve your Netflix connection. That's because some Internet Service Providers (ISPs) purposely limit their customers' bandwidth if they see they're doing a lot of streaming. But with a VPN, your internet traffic is encrypted, so your ISP won't be able to see that you're streaming at all, and therefore won't be able to slow you down.
Another nice feature ExpressVPN provides is a simple tool that tells you which of their servers will get you the fastest speeds, so you can choose the one most optimal for streaming.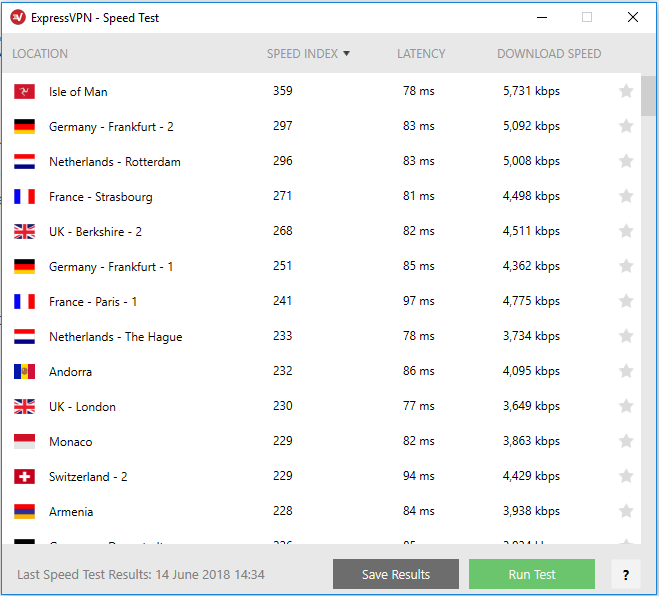 Image: ExpressVPN speed test showing which servers are currently the fastest for you.
In short, ExpressVPN and NordVPN are both tried and true options that have the resources and dedication necessary to give their customers what they want.
That said, we should mention that while NordVPN is really consistent about getting access to US Netflix (which is most sought after since it has the biggest library of movies and shows), it won't get you access to French or Polish Netflix. So if for some reason you really want those two, go with ExpressVPN.
You can also choose one of these other top rated VPN providers that reliably get passed the Netflix block.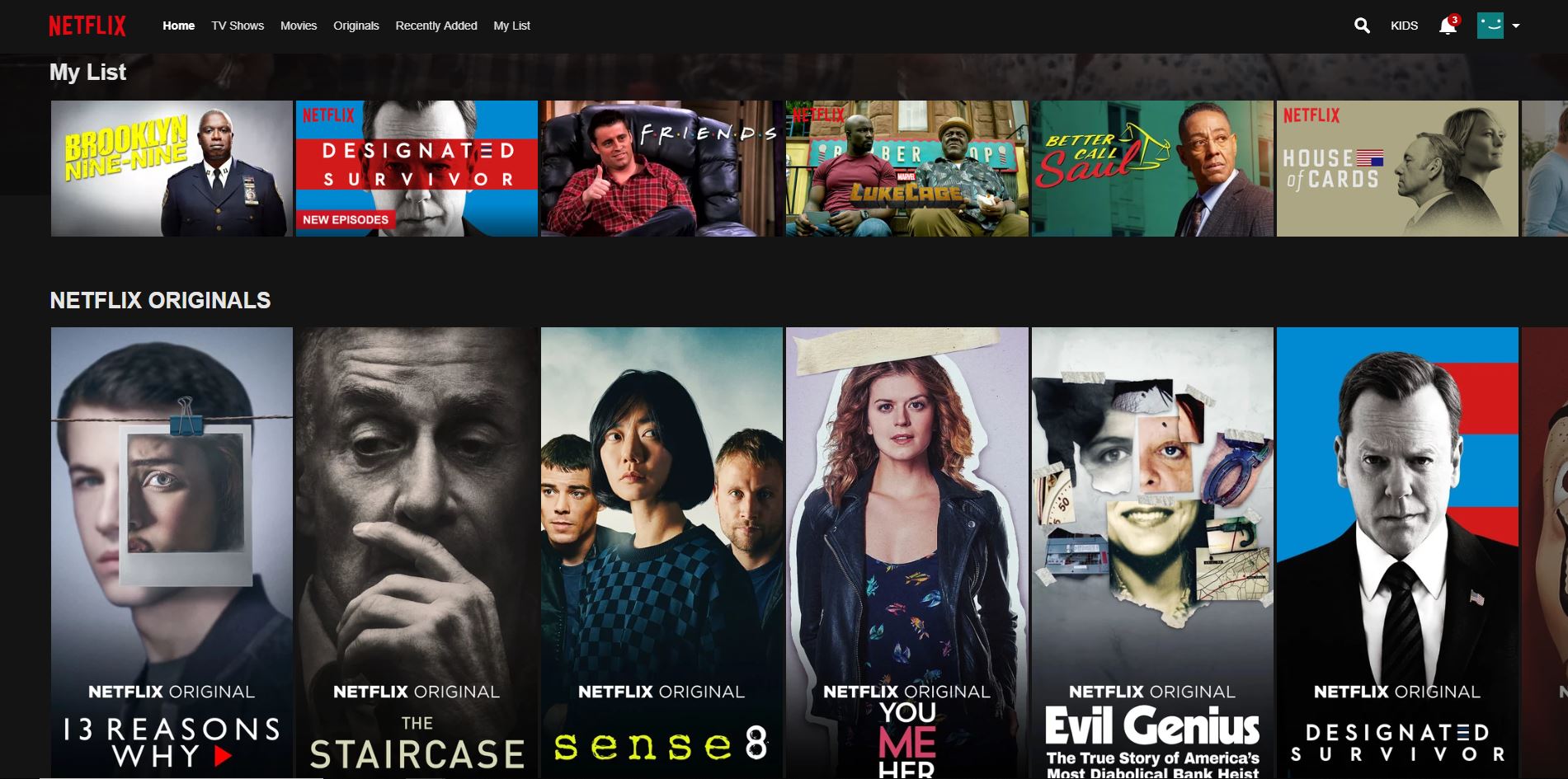 There are More Reasons Not to Use Hola. But Don't Worry, There are Other Free Alternatives Out There
We'll also add here that there are other reasons using Hola isn't the best idea.
Yes, their P2P server system – in which they use their subscribers' computers as servers instead of hosting their own – is super innovative. But you've probably noticed that it can really slow down your internet. Worse, because you're letting a bunch of strangers use your IP address, you could end up being held responsible if they do do something illegal online.
Moreover, Hola sells your bandwidth to those who subscribe to Luminati, their premium service, which they market to businesses. And in the past, hackers have exploited the network (i.e. the computers of Hola subscribers) to carry out botnet attacks.
But don't worry. There are plenty of free VPNs out there that won't compromise your security. Bear in mind, however, none of these will get you Netflix. For that, there's really no choice but to go with one of the paid services discussed above.
Get Started Watching Netflix
Now you have all the tools you need to get on Netflix and start binging all the movies and TV you want. Enjoy!
Privacy Alert!
You are exposing yourself to the websites you visit!
The information above can be used to track you, target you for ads, and monitor what you do online.
VPNs can help you hide this information from websites so that you are protected at all times. We recommend NordVPN — the #1 VPN out of over 350 providers we've tested. It has military-grade encryption and privacy features that will ensure your digital security, plus — it's currently offering  68% off.