How to Access Twitter in China: Use Your Account Freely (2023)
Published on 18th January 2023
Numerous websites aren't accessible in China, including Twitter. Gmail and Google don't operate there either. The government also heavily censors and monitors Chinese alternatives to Twitter and other social media sites.
However, there's a way to safely tweet from China. Premium VPNs mask your IP address and let you quickly access your Twitter account. My team and I tested 50+ VPNs to find the best ones. They encrypt your traffic to keep your internet data safe from snoops and have ample global servers to access the content you need anywhere.
My top choice for unblocking Twitter from China is ExpressVPN. It has a vast network of obfuscated servers to access your favorite services securely. Plus, its excellent speeds allow you to browse the web without interruptions. You can try ExpressVPN risk-free as it's backed by a 30-day money-back guarantee. If you're not fully satisfied, getting a refund is hassle-free.
Important: VPN services are restricted in China unless approved by the government. We at vpnMentor do not condone any unlawful activities. So, please review the latest regulations before using a VPN in China to avoid breaking any rules.
Quick Guide:
How to Access Twitter From China in 3 Easy Steps
Download a VPN. Using a reliable VPN is the best way to access Twitter from China. I recommend ExpressVPN, with its extensive server network, to quickly unblock the content you need. It also has robust security and privacy features for safe web browsing.
Connect to a server. Choose a server in a country where Twitter operates, for example, the US, Japan, or Singapore.
Start using Twitter. You're ready to get access to Twitter again by logging in to your account or downloading the app from Google Play Store, or the Apple App Store.
Note: The best way to get a VPN working is to set it up before arriving in China. Most VPN sites, Google Play, and App Store VPN applications are blocked there. However, there are several ways to download the VPN app from China if you're already in the country. You can also use the internet freely in Hong Kong and Macau (outside Mainland China).
Why You Need a VPN to Access Twitter in China
Twitter has millions of active users; however, it's restricted or banned in several locations. China, Iran, and North Korea are among the countries where Twitter doesn't work. The Chinese Communist Party censors selected content and has blocked many internet services and social media platforms (including Google, Facebook, and Gmail). Among other restricted websites are Wikipedia, Twitch, Pinterest, and certain news sites.
Many foreign apps, like Twitter, are also blocked to utilize local social networks and give Chinese businesses an economic advantage over foreign competition. So, accessing your accounts in Mainland China can get challenging as the government controls the internet.
A VPN masks your real location and makes it look like you're in another country. This means that if you connect to the server outside China, a VPN assigns you a new IP address, making it seem like you're actually browsing from that country. It lets you bypass geoblocks and safeguards your data from snoops.
However, to access Twitter you need a premium VPN with robust security features. Obfuscated servers help access restricted services without issues. Plus, a no-logs policy and leak protection keep your sensitive information private. Besides, VPNs work on many devices, including laptops, smartphones, and iPads.
Access Twitter From China With ExpressVPN
Best VPNs to Access Twitter in China - Full Analysis (Updated in 2023)
All the shortlisted VPNs work in China and let you quickly access your Twitter account. They also offer advanced security features to protect your online activity. This helps you stay safe from snoops and cyber threats, even on public WiFi networks in China.
The VPNs provide easy-to-install apps and come with professional customer support. Plus, they can be used on several devices simultaneously.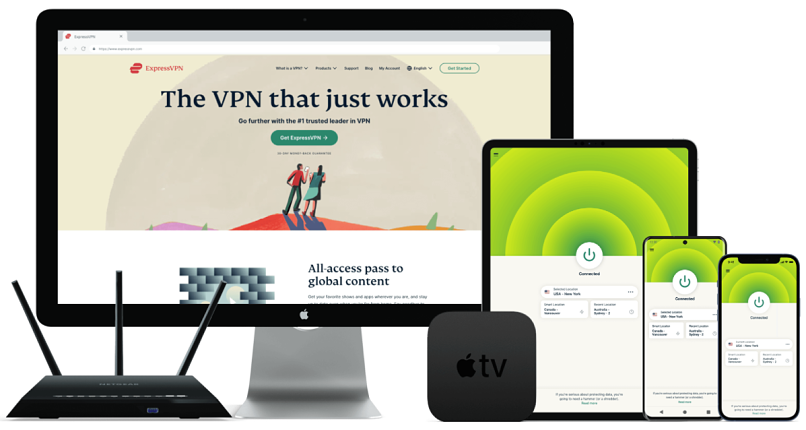 Editor's Choice
Editor's Choice

Tested February 2023
Try Risk-Free for 30 Days
Available on:
Chrome
Router
Smart TV
More
www.ExpressVPN.com
| | |
| --- | --- |
| Security & Privacy | Military-grade encryption and obfuscation tech for safeguarding your data from snoops |
| Speeds | Fastest VPN tested on this list to browse the web and watch videos interruption-free |
| Server Network | 3,000 servers in 94 countries to access Twitter in China without issues |
| Can access | Twitter, Google, Gmail, YouTube, Facebook, Reddit, Instagram, WhatsApp, Snapchat, Twitch, and more |
ExpressVPN's generous server network covers 94 countries. While testing ExpressVPN, I easily unblocked Twitter, Facebook, and YouTube using a US server. I also accessed my streaming accounts (like Netflix US and BBC iPlayer) without issues on an iPad. ExpressVPN comes with obfuscated servers that mask your VPN connection, helping you avoid detection.
Military-grade encryption keeps your internet connection safe in China. The DNS/IP leak protection safeguards your actual location from snoops and hackers. Network Lock (a kill switch) cuts off your internet connection if the VPN disconnects suddenly, but it didn't happen during my tests. This protects you from accidental IP exposure, so you can use Twitter with extra privacy no matter where you are.
No user data is stored as ExpressVPN follows a strict no-logs policy. The TrustedServer tech (RAM-based servers) deletes all information with each reboot. Plus, the service is based in the privacy-friendly British Virgin Islands, outside the 5/9/14 Eyes Alliances — intelligence-sharing countries. This means you can browse your favorite sites in China without worrying about your data being shared with third parties.
Using the proprietary Lightway protocol gave me improved page loading time. While connected to the US and South Korea servers, I got an average download speed of 153.7Mbps. It was just a 3.9% drop compared to my base connection — fast enough for 4K streaming. Only 25Mbps is required to watch shows in UHD buffer-free.
It's best to download ExpressVPN before you travel to China, as the website might be blocked there. However, you can also use up-to-date mirror links for downloading ExpressVPN in the country. The app works across multiple devices, such as iPads, Android smartphones, and Chromebooks. Plus, MediaStreamer (SmartDNS) allows you to bypass geoblocks on devices without native VPN support, like gaming consoles — Xbox, PS5, and Nintendo Switch.
The only downside is that the plans are quite expensive, starting at $6.67/month. Luckily, ExpressVPN regularly offers generous discounts that help you save some money. When I signed up for the 12-month subscription, I got 49% off and the bonus of a free 3-month extension. It's also possible to use the service on up to 5 devices simultaneously.
All plans have 30-day money-back guarantees, so you can get a refund easily. I tested the policy by contacting support through 24/7 live chat to cancel my subscription. After answering a few quick questions about my experience with the VPN, the rep approved my request. The money was transferred back to my bank account in just 2 days.
| | |
| --- | --- |
| Security & Privacy | Obfuscated servers to hide your VPN traffic in China |
| Speeds | High-speed connections for UHD streaming and lag-free gaming |
| Server Network | 5,384 servers in 60 countries to tweet without issues anywhere |
| Can access | Twitter, Google, Gmail, YouTube, Facebook, Reddit, Instagram, WhatsApp, Snapchat, Twitch, and more |
NordVPN offers impressive speeds to load and use your Twitter account without interruptions. Unlimited bandwidth means you can download files, browse the internet, and stream content as much as you want. While testing NordVPN, I watched UHD videos with no buffering. So, you don't face any slowdowns while using Twitter or Gmail in China.
Like ExpressVPN, you get robust security features, such as DNS/IP leak protection and a no-logs policy to keep your online activity safe. Additionally, the service has a kill switch, so your data doesn't get exposed accidentally. Besides, AES 256-bit encryption and a large selection of tunneling protocols (including proprietary NordLynx) safeguard your connection from prying eyes.
24/7 live chat support can walk you through the settings of this VPN and answer all your queries. I found the NordVPN installation straightforward, and it works on up to 6 devices simultaneously. It's also possible to set it up on a router to protect your whole home network, including devices like PS5, Nintendo Switch, and iPad.
One issue with the app is that some servers took too long to reply, resulting in connection time-outs. However, the network is large, so finding a reliable server takes just a few seconds. The service also offers obfuscated servers to help unblock Twitter. They make your connection look like regular internet traffic, so accessing your favorite platforms from China isn't an issue.
You can get the VPN for as low as $3.49/month. I found its long-term plan to be the best value for money (you get the same features as the short-term subscriptions, but you pay less). So, getting the 2-year plan is the most pocket-friendly option.
It's possible to test NordVPN in China for free as it's backed by a 30-day money-back guarantee. Contacting customer support and getting a refund is hassle-free if the VPN isn't right for you. I tested this policy by applying for a refund through email. The request was quickly approved, and my credit card was reimbursed after 4 days.
| | |
| --- | --- |
| Security & Privacy | StealthVPN obfuscation feature to keep your connection hidden from firewalls |
| Speeds | Fast speeds for browsing and streaming without delays |
| Server Network | 113 servers across 57 countries to quickly unblock your Twitter account in China |
| Can access | Twitter, Google, Gmail, YouTube, Facebook, Reddit, Instagram, WhatsApp, Snapchat, Twitch, and more |
Astrill VPN uses a kill switch to keep your data safe from accidental exposure. Besides, AES 256-bit encryption and OpenVPN protocol (golden standard for security) offer you robust online protection in China. When testing Astrill VPN, App Guard allowed me to manually select the apps I want to run with the VPN on my Windows laptop. This keeps your IP address hidden when needed, or boosts your speeds if VPN use is unnecessary.
Site Filter (Smart Mode) lets you choose which websites are routed through the VPN and which use your regular IP address. So, you can access Twitter with a secure tunnel while checking your AliPay with a Chinese IP. Like NordVPN, the service obfuscates your traffic. StealthVPN makes it much harder to be detected and blocked by firewalls and ISPs.
Freely accessing your favorite sites isn't hard with a network across 57 countries — just connect to a server outside the country and access Twitter easily. I also had no problem unblocking my favorite streaming platforms, such as Amazon Prime Video.
Fast speeds are great for gaming, torrenting, and UHD streaming interruption-free (and you can do it on 5 devices simultaneously). My average download speed on the US and UK servers was 71.2Mbps. Plus, unlimited bandwidth allows you to browse Twitter without limits.
Unfortunately, there's no money-back guarantee. However, it's possible to get a whole month for free if you refer a friend who signs up for a paid plan.
You can get Astrill VPN for $12.50/month, which is very affordable. I recommend getting a 2-year subscription that saves you the most in the long run.
Access Twitter With Astrill VPN
Tips on Choosing a VPN to Access Twitter in China
All listed VPNs have plenty of servers to unblock Twitter from China and provide advanced security features and decent speeds. However, if you want to test the VPN services yourself, here are the criteria I used:
Global server network — To make Twitter and other platforms (like Reddit and Facebook) accessible in China, pick a VPN with a vast server network around the world.
Strong security and privacy features — Get a VPN with robust AES 256-bit encryption, a no-logs policy, and a kill switch to protect your online presence in China.
Fast speeds — You need a VPN that offers decent speeds to avoid interruptions while browsing and tweeting in China. Speed drops of more than 50% from your base connection aren't good.
Easy-to-use apps — Choose a VPN with a minimal UI, a simple setup process, and reliable 24/7 customer support to help you with all your queries while installing the service for China.
Trustworthy money-back guarantee — The VPNs you're looking for should offer a tried-and-tested money-back guarantee so you can get a refund hassle-free if it doesn't meet your needs.
FAQs on Accessing Twitter in China With a VPN
Is it legal to access Twitter in China?
Only government-approved (heavily monitored) VPNs are legal to use in China. However, they are solely available to state-owned enterprises and don't keep your data private. Fortunately, there are other premium VPNs that work there. All you need to do is connect to a server in a country where Twitter operates.
If you're planning to visit China, just remember to download and install a VPN before setting foot in the country. This is because most VPN websites are blocked there. China fights VPNs and Twitter by technologically blocking the services, not by chasing after tourists who use them. Plus, it's best to inform yourself of VPN use laws in China to avoid breaking any rules.
Are Telegram and Reddit banned in China too?
Telegram and Reddit aren't accessible in China. So, a VPN is the only option to unblock your social media accounts. While most VPNs are also blocked in the country, some work without issues. Choose a VPN with obfuscated servers to bypass geoblocks and use platforms like Telegram, Reddit, and Twitter.
What else can I do with a VPN (besides unblocking Twitter)?
VPNs protect your internet connection with advanced security and privacy features. They also help unblock your international streaming platforms like Netflix US, HBO Max, and BBC iPlayer while abroad. Connecting to a VPN server allows you to bypass restrictions  and access social media securely.
Just make sure your VPN works and you've obtained a new IP address. Go to an IP lookup website, like vpnMentor's IP checker — if the displayed location isn't China, your IP address has successfully changed
What are Twitter alternatives in China?
The closest alternative to Twitter is Weibo, a microblogging platform, but among other popular Chinese social media are WeChat (Weixin), Douyin, Bilibili, QQ, and Douban. These apps allow you to chat, post, and interact with people online. However, the government heavily censors and monitors them. So, using a service like ExpressVPN is the best way to keep your internet connection safe from snoops.
Can I use a free VPN to access Twitter in China?
Yes, you can use a free VPN to access Twitter, but it's risky. Most free VPNs can't get around the geo-restrictions set in China. Free services don't have vast server networks, either. The safest option is to use a low-cost premium VPN that works in China.
Besides, free VPNs usually limit your speeds and have terrible security features. They also lack any form of obfuscated servers designed to bypass internet restrictions in China and easily access Twitter. Some have even been caught embedding malware in their apps.
Many Twitter users in China try to access the app through proxies. It's possible to try Shadowsocks (SOCKS5 proxy), SSH tunnel, or SSL/TLS tunnel. However, these services don't offer online security and privacy delivered by a premium VPN.
Access Twitter in China Now
Finding a VPN that works in China and unblocks Twitter can be difficult as the Chinese government restricts many services. Official government-approved VPNs in China are heavily monitored. My shortlisted VPNs provide obfuscation designed to help bypass restrictions, and robust privacy features to protect your sensitive information.
If you want to use Twitter in China, I recommend giving ExpressVPN a shot. It offers a vast server network that works reliably in China to bypass geoblocks. The service is also backed by a 30-day money-back guarantee, so you can test ExpressVPN risk-free. However, if you're not satisfied with the experience, claiming a full refund is easy.
To summarize, the best VPNs for accessing Twitter in China are…
Privacy Alert!
Your data is exposed to the websites you visit!
The information above can be used to track you, target you for ads, and monitor what you do online.
VPNs can help you hide this information from websites so that you are protected at all times. We recommend ExpressVPN — the #1 VPN out of over 350 providers we've tested. It has military-grade encryption and privacy features that will ensure your digital security, plus — it's currently offering 49% off.