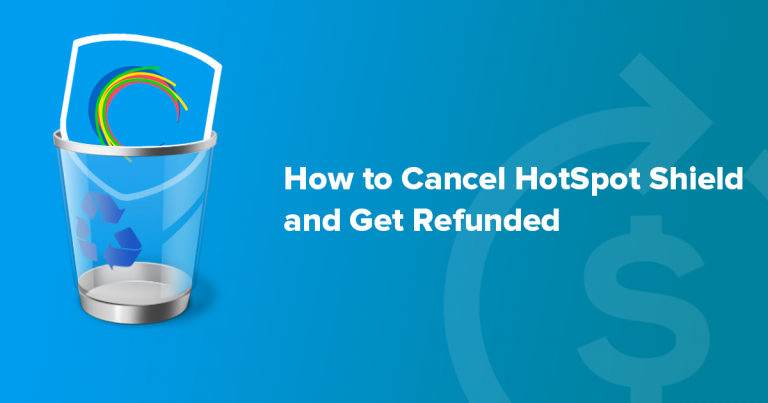 Cancel Hotspot Shield & Get Refunded in 4 Easy Steps (Update 2022)
Most VPN providers offer a money-back guarantee, but Hotspot Shield is unique. Its 45-day money-back guarantee even covers its 1-month plan.
We put Hotspot Shield's refund policy to the test. Even after buying the cheapest plan, we still received a full refund.
If you're looking for an alternative to Hotspot Shield, we recommend ExpressVPN. It offers great streaming access, superior security features, and dedicated P2P servers. Not convinced? Try it risk-free for 30 days!
Canceling Hotspot Shield and Getting Your Money Back

– A Quick Guide
Go to Hotspot Shield and log in.
Create a customer support ticket asking for your refund and answer the message regarding cancellation to get your refund.
Cancel automatic payments if you have set them up through PayPal or your credit card.
Below, I will take you through each step in detail, with screenshots that show you what to expect. But first, I'll explain how I tested the refund policy so you know that what I did will also work for you.
How I Tested the Hotspot Shield Refund Policy
1. I made sure the refund policy is still in place.
Even though the refund policy is plainly displayed on the company's website, I wanted to make sure it is still in effect. So I contacted customer support via live chat and received an answer within a minute. I asked them if the 45-day refund policy applies to their 30-day package too. They confirmed that it does.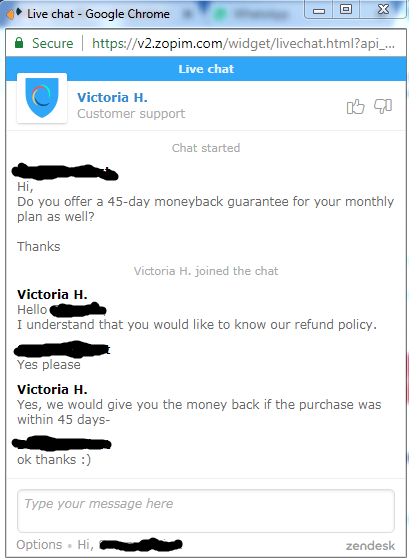 2. I purchased a plan.
I went to the pricing page and purchased the monthly plan for £12.99. Hotspot Shield also has long-term plans, including a 3-year plan, with significantly lower monthly costs. However, I specifically wanted to test whether the refund policy would be honored for the smallest plan offered.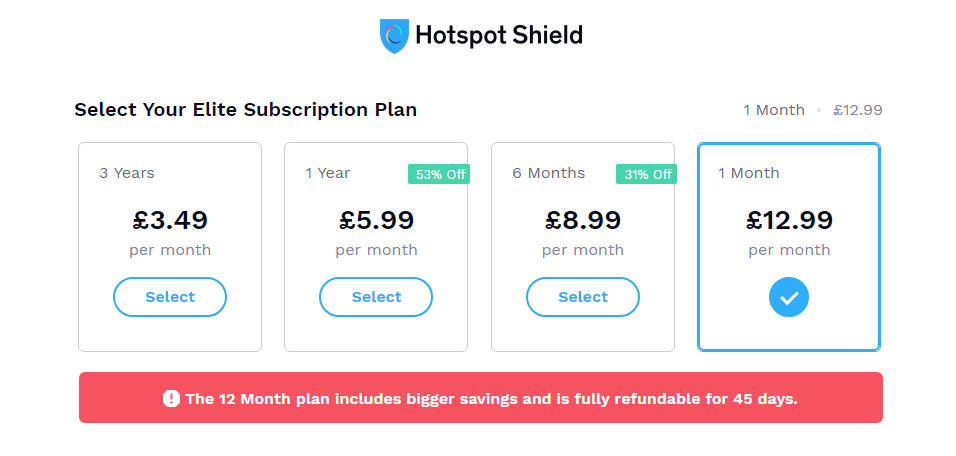 I paid using PayPal and my purchase was activated immediately.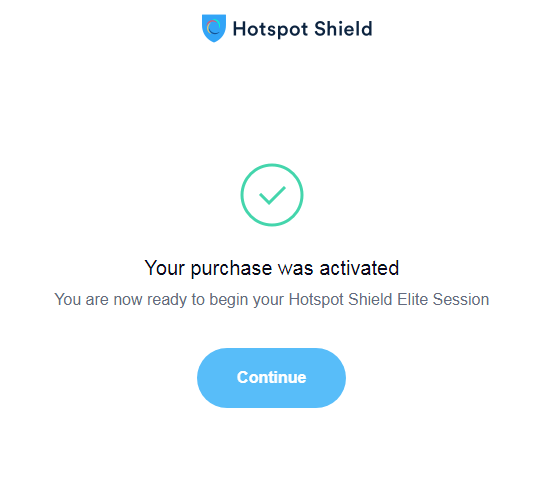 3. I logged in and set up my account.
Once the purchase was confirmed, I was able to choose a password and create my Hotspot Shield login credentials. I could then log into the control panel, where I was able to download the VPN client software.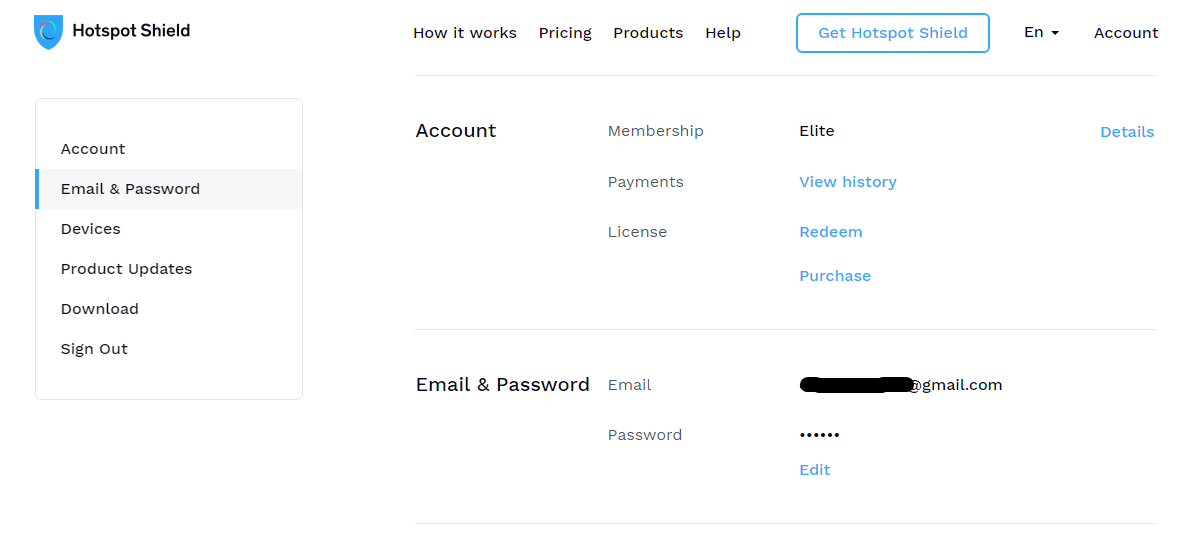 4. I used the VPN.
I wanted to use the VPN for a couple of days to find out if they would refund the complete amount I paid even if I had used their bandwidth. So I downloaded the app and installed it, which didn't take long, as Hotspot Shield is very easy to set up and use. To be honest, the VPN worked great and their customer service was really responsive. I almost didn't want to cancel the service!
After using the VPN for two days, I requested to close my account and receive a refund. The process turned out to be quick and painless.
How to Close Your Hotspot Shield Account and Receive Your Refund in 2022
Here's a detailed look at the steps I followed in order to cancel my subscription and get my refund.
Step 1. Cancel automatic payments.
Since I paid for my subscription using PayPal, I went to my PayPal account and cancelled the automatic payment option that I had set up for Hotspot Shield.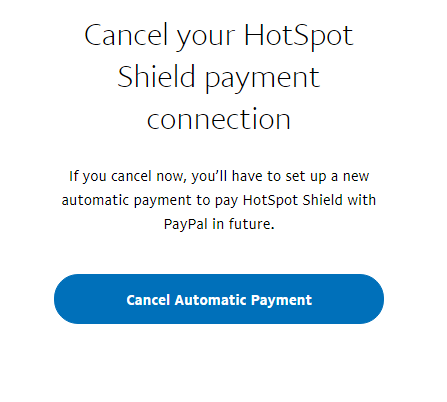 It took just a few clicks and the auto-recurring payments were cancelled.
Depending on how you paid for your Hotspot Shield account, cancelling automatic payments may require contacting your credit card company or bank.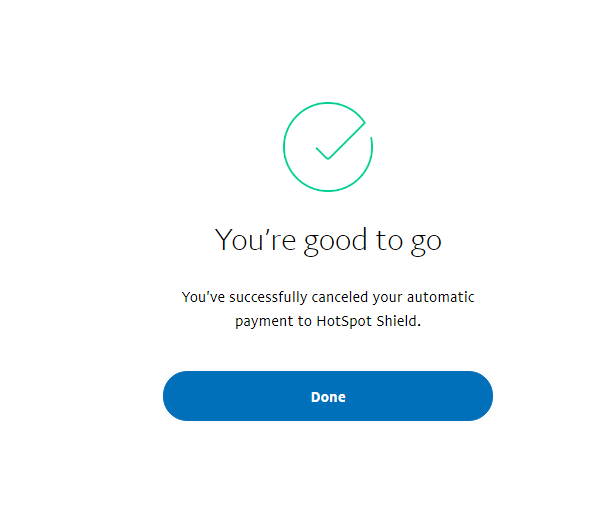 Step 2. Create a support ticket requesting a refund.
I initially planned to request a refund via live chat, but for some reason, I couldn't find the live chat plugin on the Hotspot Shield website. Perhaps it was a temporary glitch and using live chat will work for you. In my case, I ended up emailing customer support instead. I went to the Contact Us page and created a ticket with my refund request.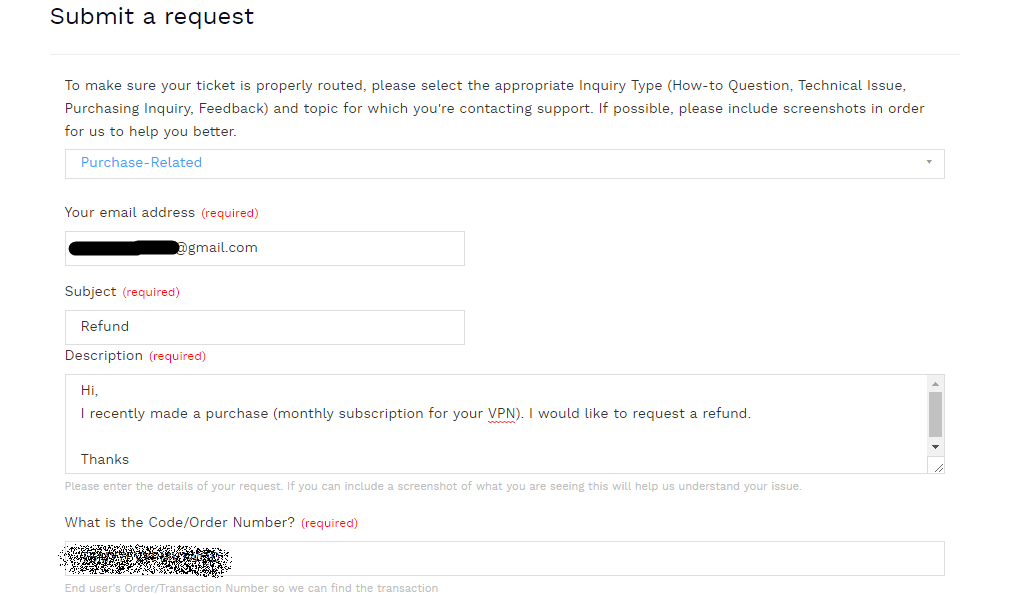 The form required me to enter my order number. I looked around and found the order number in my control panel, in the Payment History tab. You'll want to look up this information before making your refund request to make things easier.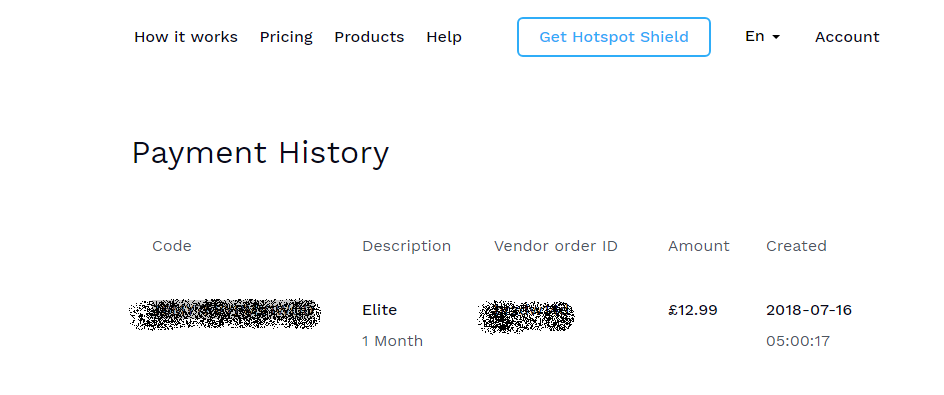 Step 3. Answer the reply message.
I received a reply within just a few minutes. The customer service agent asked for my reason for cancellation.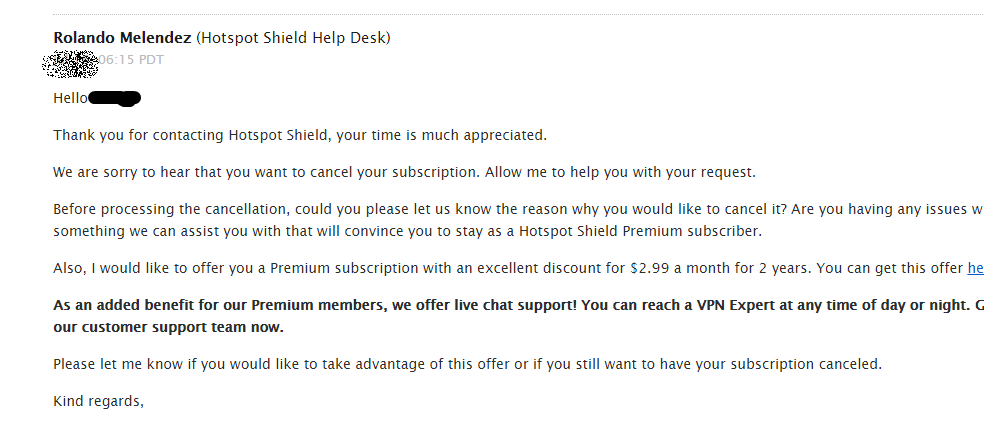 I wanted to see if they would give a refund without a specific reason, so I just said that I don't want a VPN at this time.

Step 4. Get your refund!
As soon as I sent my reply that I don't want a VPN, I got an email from PayPal saying that my refund had been issued. That was quick!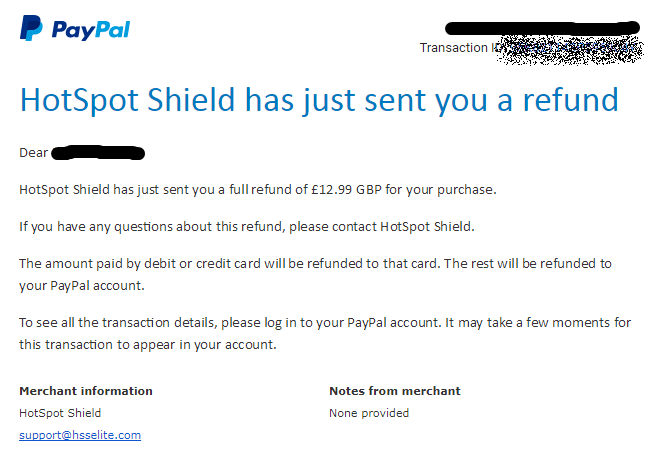 I was very happy with the hassle-free refund process. My test confirmed Hotspot Shield's promise of a 45-day refund policy for all plans. Soon after I got my refund, I also got an email from Hotspot Shield asking if there was anything I didn't like about their service and saying that they hoped I had a positive experience with them.
I definitely did. Good job, Hotspot Shield!
Choose Another VPN
If you cancelled your subscription to Hotspot Shield VPN because you were unhappy with the service, you still need the privacy protection and access to global content that a good VPN provides.
Here are our other top-rated providers, all of which offer excellent service. Plus, several of them are currently offering special deals with huge savings on subscriptions.
Privacy Alert!
Your data is exposed to the websites you visit!
The information above can be used to track you, target you for ads, and monitor what you do online.
VPNs can help you hide this information from websites so that you are protected at all times. We recommend ExpressVPN — the #1 VPN out of over 350 providers we've tested. It has military-grade encryption and privacy features that will ensure your digital security, plus — it's currently offering 49% off.